10- The Game (1997) - Teaser Trailer: The teaser trailer for David Fincher's psychological thriller intrigued audiences when it was first shown in cinemas in 1997. Not because it actually showed anything, but because it didn't. A computer-generated marionette is pulled by its strings this way and that, while we hear carefully chosen segments from the film's soundtrack (mixed to ominous perfection). The result: a darkly intriguing teaser, that proved to be better than movie itself.
Watch it here: http://www.youtube.com/watch?v=XAa-J7l0MK4
9- The Forgotten (2004): As the trailer starts, and we see a grieving Julianne Moore frantically searching for a son everybody tells her doesn't exist, we think: "This looks like just another clichéd psychological thriller". Then the final shot comes, of a man being pulled into the sky, and wham! Everything we think we know about this movie is blown to bits. The trailer also manages to capture the tone of the film perfectly. Talk about truth in advertising!
Watch it here: http://www.youtube.com/watch?v=HYdiGm7im1I
8- Speed (1994): The trailer for this blockbuster is as good as it gets. Quick shots of photogenic stars and epic explosions, perfectly edited into a thrilling montage, and backed by a rousing score. It got millions to go see this movie, hoping it was that good. Well, it almost was.
Watch it here: http://www.youtube.com/watch?v=XBgl7ps7UQA
7- Fright Night (1985): No fan of 80's horror cinema hasn't watched this film numerous times. It's an 80's classic, featuring brilliant performance by Chris Sarandon and Roddy McDowell, great optical effects by Richard Edlund, and perfectionist direction by Tom Holland. But let's not forget the trailer itself, a perfect slice of class, with a Gothic, piano score, and perfectly edited images culminating in a shot of the film's villain, master vampire Jerry Dandridge, bursting into flames. Classic.
Watch it here: http://www.youtube.com/watch?v=1ISgM9sjza8
6- The Thing (1982): John Carpenter's remake of the Howard Hawks-produced American classic, is a masterpiece. With Carpenter finally getting his hands on a big budget, and a bleak, uncompromising script, The Thing (1982) was way ahead of its time in terms of special effects, tone, and mashing of genres. The film's trailer is also as good, with its disturbing opening, ominous score, and its overall ambiguity. We never really know what it's all about. But we know we are scared watching it.
Watch it here: http://www.youtube.com/watch?v=5ftmr17M-a4
5- Ghostbusters (1984): The movie itself doesn't need any introduction. It is one of the most successful comedies of all time, and made superstars out of Bill Murray and Dan Aykroyd, despite the fact that, if you look too close, this is one of the weirdest, darkest, and most frightening horror-comedies ever made for a mainstream audience (of course, a brilliant marketing campaign helped). The trailer reflects that, capturing the tone of the film perfectly: Part macabre humor, part slapstick comedy, and part horror movie. Unmissable.
Watch it here: http://www.youtube.com/watch?v=q30IcfCVanA
4- Bram Stoker's Dracula (1992): When it was announced that Francis Ford Coppola, the director of The Godfather and Apocalypse Now, would be making his own version of Bram Stoker's novel, Dracula, critics and audiences were baffled. Coppola hadn't made a horror film since Dementia 13, the Roger Corman-produced cheapie, and people questioned Coppola's motives, since it was clear that Coppola, whose film company was on the verge of bankruptcy, needed the money. But when the trailer came out, his detractors were, for the most part, silenced. The trailer showed that Coppola was capable of producing images that were ethereal, sexy, haunting, and frightening. Featuring a tremendous score by Wojciech Kilar, the trailer pulls you in and never lets go. Aided by this trailer, and an aggressive marketing campaign, the film ended up making more than $200 million dollars. To this day, this is one of the finest trailers ever produced.
Watch it here: http://www.youtube.com/watch?v=fgFPIh5mvNc
3- The Dark Knight Rises (2012): The ultimate blockbuster, The Dark Knight Rises, the final part of Christopher Nolan's Batman trilogy, was eagerly awaited by critics and fans alike, especially after the untimely death of Heath Ledger (who'd played The Joker in the previous installment, The Dark Knight). People wondered, would Nolan be able to make a film as powerful, and successful, as The Dark Knight, without The Joker? After seeing the trailer, the answer was a resounding YES! Epic is the only word to describe this trailer, with images of an aging Bruce Wayne trying to fight a seemingly invincible foe, Bane, intercut with awesome sequences of action and destruction, all building up to the film's title rising to the screen against the background sound of goosebump-inducing monastic chanting. Again, epic is the word.
Watch it here: http://www.youtube.com/watch?v=g8evyE9TuYk
2- The Matrix (1999): I remember seeing this trailer for the first, on my PC, and feeling my brain actually hurt trying to process it all. Not since Jurassic Park (1993) had any filmmaker dared to push technology so far. It was beyond ambitious, beyond visionary. And it wasn't just me. All over the world people began talking, blogging, and emailing each other about it (that was before Twitter and Facebook), unable to contain their excitement and awe about what they were seeing. This was the start of a new era of filmmaking, and it was exciting to be there to witness it.
Watch it here: http://www.youtube.com/watch?v=1CCYxgSz6IU
1- Psycho (1960): At the height of his Hollywood fame, thanks to the success of North By Northwest (1959) and his Hitchcock Presents TV show, Alfred Hitchcock decided, for the first time, to introduce his latest picture, Psycho (1960), to audiences himself. The trailer for the film featured Hitchcock, as droll as ever, strolling through the premises of the Bates Motel, where two "horrible murders" had taken place. Hitchcock serves as our host, showing us how scary and Gothic-looking the place is, all the while poking fun at us, and himself. It all leads up to a shock cut of Janet Leigh screaming in the shower, a taste of what would later be considered one of the best suspense sequences ever put on film, the "shower scene". Although the trailer hasn't aged as well as the film itself, it heralded the arrival of the post-modern horror film, and it shattered the conventions of film marketing forever. After all, Hitchcock wasn't only a genius filmmaker, he was also a master of showmanship. This trailer proves it.
Watch it here: http://www.youtube.com/watch?v=DTJQfFQ40lI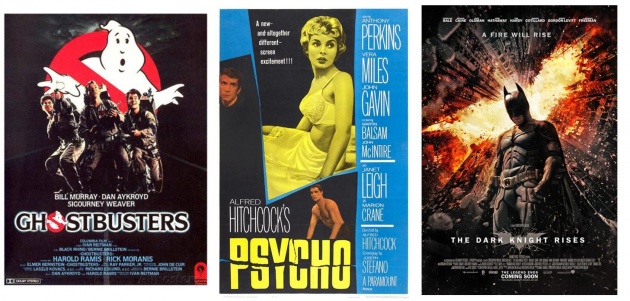 About The Author: Ahmed Khalifa is a filmmaker and writer. He is the author of Beware The Stranger, a horror novel, and Egyptian Gothic: Stories. Both books are available on Amazon here. He is also the director of The Weapon, Egypt's first action/supernatural Web Series, which centers on a vigilante called "The Hunter". You can watch the complete first season, for free, here.