10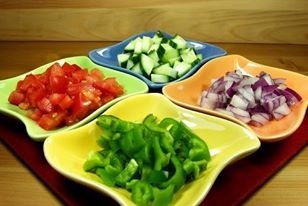 Simple Salads receipe
1. Spicy Carrot Salad: Microwave grated carrots and minced garlic in 1/4 cup water until crisp-tender. Drain; toss with lemon juice, olive oil, salt, red pepper flakes and parsley.

2. Asian Apple Slaw: Mix rice vinegar and lime juice with salt, sugar and fish sauce. Toss with julienned jicama and apple, chopped scallions and mint.


3. Tomato-Peach Salad: Toss tomato and peach wedges with red onion slices. Drizzle with cider vinegar and olive oil; season with sugar, salt and pepper.

4. Creole Green Beans: Combine blanched thin green beans and red onion slices. Toss with Creole mustard, red wine vinegar, olive oil, salt and pepper.

5. Herb Salad: Whisk 1 part lemon juice with 3 parts olive oil, and salt and pepper. Toss with dill, basil, chives, tarragon and lettuce.
6. Squash and Orzo Salad: Sauté zucchini, yellow squash and scallions in olive oil until tender. Toss with cooked orzo, parsley, dill, goat cheese, salt and pepper.

7. Champagne Greens: Whisk 1 part champagne vinegar with 3 parts olive oil, and salt and pepper. Toss with Boston lettuce.

8. Watercress-Fruit Salad: Toss peach wedges and watermelon cubes with watercress. Drizzle with olive oil and lemon juice; season with salt and pepper.

9. Caesar Salad: Purée minced garlic and anchovies, lemon juice, Worcestershire sauce, salt, pepper and 1 egg yolk; with machine running, slowly add 1/4 cup olive oil. Toss with romaine; top with Parmesan and cro