I had the pleasure to meet Sasha Marini while attending the La Jolla Fashion Film Festival a few weeks back. He flew in from Europe to introduce his film '100% Model' in its U.S. premier, to a very receptive crowd. I was struck by the passion Sasha displayed while on stage discussing this work, which he also starred in, and the initiative for which it was created, shout up you can.
According to Sasha, "'100% Model is a social campaign whose first goal is to remind all models to base their career on values like; respect for their body and mind, dignity, integrity, and professionalism. A slave attitude is not the rule to foster a model career." His goal is to use his passion and his years of experience as an international fashion model to express a positive message and to make people think.
We're excited to promote to our audience Sasha's powerful film and wish for you to view and share it as well. Please read further and reach out to Sasha if necessary.
What is shout up, you can?
An ethical and social project, to say stop to sexual abuses within the fashion system.
Don't shut up! SHOUT UP, SCREAM: YOU CAN, NOW.
This is the meaning of the strong social campaign that invites young models and emerging professionals of the fashion world to rise against, and NOT BE silent against attempted sexual abuses they might suffer in their career. The campaign "shout up, you can" aims to increase awareness for young aspiring models and the dangers they may encounter in their work. The awareness that lowest attitudes should be reported without fear. Achieving success in this world requires tremendous commitment, dedication, perseverance and professionalism withpout the stress of harassment.
It's not by chance the testimonial's choice, Sasha Marini (www.sashamarini.com), a model of international standing and worthy expression of Made in Italy, who has been able to get brilliant results in his career due solely to his own stubbornness, tenacity, determination and integrity. The social campaign 'shout up, you can' is a fruit of precious collaboration and communication between young professionals within the fashion's world.
Why ~ Purposes & Objectives?
Social purposes
The campaign's authors will take charge of any notification that might arrive at info@shoutupyoucan.com and will be forwarded to the competent authorities.
Ethics purposes
"shout up, you can", as an instrument of protection for models, will help to certify the model being respected with the essential requirements of social and ethical responsibility in the work place including the following;
-Non-use of forced labor, or done under duress
-A healthy and safe work environment
-Implementation of the non-discriminatory practices
-Non-use of disciplinary practices detrimental to the dignity
-Implementation of control systems externally verifiable and reportable
Specifically this will be done by filling out a form / questionnaire to check the professional related to the work session, to certify the absence of hardship, objective difficulty, and emotional and relational aspects, too. To certify the absence of psychological conditioning and abuse of all kinds.
shout up you can
@shoutupyoucan
Facebook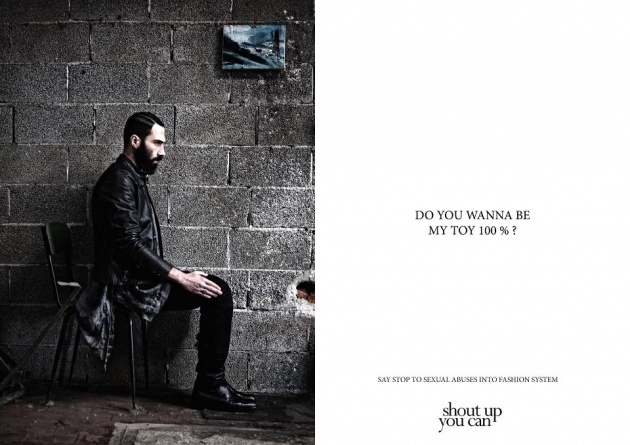 '100% MODEL' Starring Sasha Marini