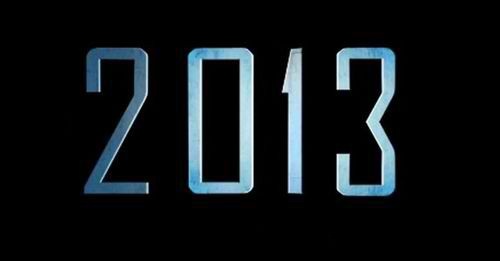 Year 2013 has been a great year for technological and scientific innovations and discoveries, we have to remember the most important stories and discoveries that happened in 2013, so we have to remember where the human mind has gone or reached in the fields of Space, technology, robotics and even in unmanned aerial vehicles. So let's take a tour in the year 2013:
Commercial/Private Spaceflight to carry terrorists owned by Virgin Galactic Inc.:

And in that photo we find the shortest movie in the world and it called "A Boy and His Atom", IBM Inc. for researches announced that movie and it tells a story about a boy and an atom meet and become friends:

Amazon website revealed a new technology to use it later; its air delivery for products and goods to customers in less than 30 minutes with an unmanned plane and it the recent technology has been developed by Amazon laps and it's called "Amazon Prime Air":

This building contains 4 Floors it's a "Barge" (big giant ship) for Google Inc., and it floats near an island called "Treasure" between San Francisco and Oakland, and when it first appears was a mystery which everyone wanted to find a solution for so Google announced that this Barge is one of another four will be used for its exhibits for VIPs and for developing new technologies:

Twitter decided to issue its shares for the first IPO and the share reached 26 dollars, and that IPO was considered a successful start for Twitter and its investors:

This photo was published by NASA and it points a giant hexagonal storm going towards the north pole of "Saturn" and it will cover a space of 20 kilometers and the wind speed reaches to 200 miles per hour:

Earlier this year, Scientist of Princeton University in New Jersey state reached a giant break throw in Cell Transplantation field, they have been able to make "Cochlear" (bionic ear) to treat the people who have (Hearing Loss, Hearing Impairment, or Deafness):

The one in the picture is Larry Page, chief executive of Google Inc., and in that picture he was on the stage talking to the audience about the future, and about google doing a lot of researches on the development of Motor Vehicles:

A very meaningful image, A very happy moment describing happiness of the people of the Norwegian town "Rjukan" when for the first time they saw the Sunlight since the advent of winter to them (in months), when this mirrors on the mountain reflected the sunlight:

How the Earth look like from a nine hundred million miles distance:

In this picture "Reid Hoffman", internet entrepreneur and co-founder of LinkedIn –Social network specialized in fields of Business and job searching– talking about one of the most important problems facing the united states of America "Immigration" to which Hoffman is asking to create a comprehensive reform program:

Number of German scientists working for the German Research center for Artificial Intelligence have been able to create a robot looks like a monkey in an attempt to improve the ability of mobility, and it might be used later in space:

Steve Wozniak one of the founders of Apple Inc. and a Steve Jobs friend appears in the annual conference for developers on his electric bike:

The

Defense Advanced Research Projects Agency

(DARPA) reveals its newest Robot "Atlas" and it's a Robot with two legs which allow him to do many things like walking and climbing and it is six feet tall:

Researchers from Massachusetts Institute of Technology (MIT) and Harvard University have been able to create Laser beam like the one in the star war movie:

Some researchers from Harvard University have been able to create Robots in the shape of A BEE, and it has a weight of less than 10 grams:

In that picture you will notice something weird during the lunch of one of NASA missions to study the atmosphere of the Moon, a small –Frog has been observed flying in the air like the rocket:

The biggest Robot in the world on the shape of a fire breathing Dragon, and its thirty feet tall:

Wildfires is one of the biggest problems that is always facing America, and as usual a huge cloud of smoke created in California's forests leading to a huge fire as California is considered to be one of the most active area for Wildfires:

A huge break throw happened in the treatment of neurological diseases & stem Cells & Brain:

Google Glass, one of the most important inventions of 2013, it allows you to take pictures and record videos and upload it to the internet on the same moment and it also allows you to communicate with your friends via text & audio chatting:

We didn't forget music that became like the air we breathe, during that year Apple Inc. launched its new service called "iRadio" and "Spotify House" which allow you to listen to Radio Stations that streams its music to the internet:

In this picture we find X-47B (Demonstration unmanned combat air vehicle), It's the newest unmanned air vehicle and what makes it special is its abilities to takeoff and landing aboard the aircraft carrier with precision:

"Edward Snowden" –Former systems administrator for the Central Intelligence Agency (CIA) –, He leaked information about a highly classified and importance spying program and he was accused with treason, and now he is in Russia (temporary asylum):

The latest break throw in smart phones screens "Flexible Displays", Samsung Inc. was the first company to provide such technology:

And eventually we go back to space with the Canadian astronaut "Chris Austin Hadfield", when he filmed a water bubble floating with Zero Gravity:
And eventually i hope that year was a happy year for everyone and i hope to achieve all of your dreams this year.
Check the Arabic version of this blog here: goo.gl/opdPXB
Check my other blogs from here: goo.gl/w7rLOD & goo.gl/VSd93r & goo.gl/hSqLwT
Check my galleries from here: goo.gl/a2Zl5C
Check my microblogs from here: goo.gl/Ho4hWa
Don't forget to Buzz & share if you like my Blog and please subscribe.