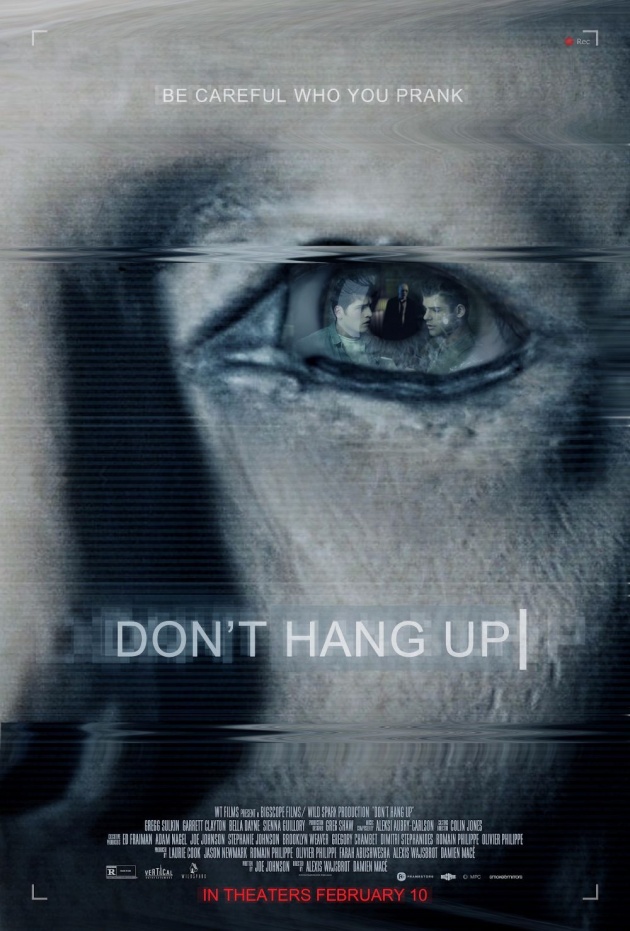 Image Source: Don't Hang up via Wikipedia
Hang up.. or die..
DON'T HANG UP
Hello People of bitlanders! NellShaOza again! I'm back again and again for another scary blog, Visit my blogs and read more. I'm done with Dramas, actions and now, let's have horror ~ What is the different in this movie? Well, Not so much honestly but I think that I should share it with you. Hope you'll like my simple and short review. Its my second time to make a movie review like this. So sit back, relax and Don't Hang up ~
ABOUT
Don't Hang up is a 2016 British horror-thriller film which was first seen in cinema as premiere on June 4, 2016 at Los Angeles Film Festival and in February 10, 2017, it was officially released in theaters in the United States . It was directed by Alexis Wajsbrot and Damien Mace.
Alexis Wajsbrot and Damien Macé mentioned they made Don't Hang Up (2016) as an homage to the teen slasher movies from the 90s including Wes Craven Scream (1996) and Jim Gillespie I Know What You Did Last Summer (1997).

- Don't Hang up via imdb
It was produced by Jason Newmark and Romain Philippe, and was distributed by Vertical Entertainment. Movies under this entertainment which is it's co movies are Undrafted, A Family Man, Playing it Cool, The Crash, Eloise, Speech Debate, The Hollow Point, Final Girls and Many more. Honestly I've never heard any of this movies. Well Vertical Entertainment is American independent film distributor and production company but I'm hoping to watch more from their production and be satisfied with it ~

Image Source: Vertical Entertainment via Google
Image Source: Don't Hang up via Youtube
STORY OF DON'T HANG UP
Ever been in a situation where you want to Prank somebody and it turns out badly? Well, For these teenagers namely Sam Fuller, Brady Mannion and some friends, Pranking somebody is just for fun even the people their pranking can have severe trauma and heart attack. They have a Media Channel which gathered hundred of views. Making fun of somebody is just their daily routine.
They capture every moment when they prank someone to post Online and everyone in the media will make fun of it.They are influential and most known in the Site, So people eventually knew them and thats the reason why they prank others for more.
Image Source: Movie Scenes / Edited by Me
One Simple day of pranking, Sam and Brady stayed at Sam's home and lay, eat, watch and of course prank someone till they don't feel it anymore. The two are having a great time ruining someone's day when a mysterious call destroyed their high beat happiness. The Mysterious caller seems having fun like the way they do every time they wreck someones day.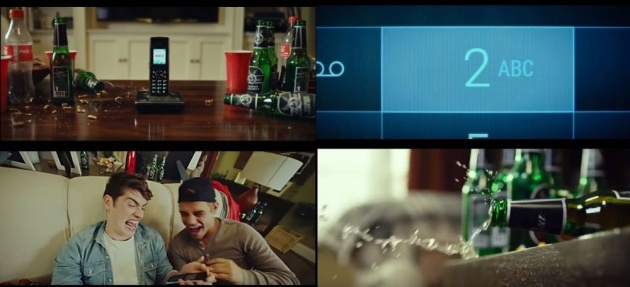 Image Source: Movie Scenes / Edited by Me
It was a call from someone who doesn't take Prank as a joke, This anonymous caller threaten them to don't hang up or else something will happen, but as Prankster they thought that they are just being prank by their friends.
Nonchalantly, They drop the call many times until night comes, The mysterious caller with a deep dark voice told threatens them again and again. They became scarily cat as their smiles in their faces fades into frown.

Image Source: Movie Scenes / Edited by Me
Many Circumstances shows that the caller know everything about them, The control of the entire house, the electricity (Lights out and Lights on) someone's looking at them literally, and everything they do was noted to them by this Mister Caller which namely Mr. Lee..
Will they know the caller behind this? Will their life change for the better or for worse? Is it too late to take back everything? Just One Rule.. DON'T HANG UP..
Pranking is never been a good idea
CAST AND CHARACTERS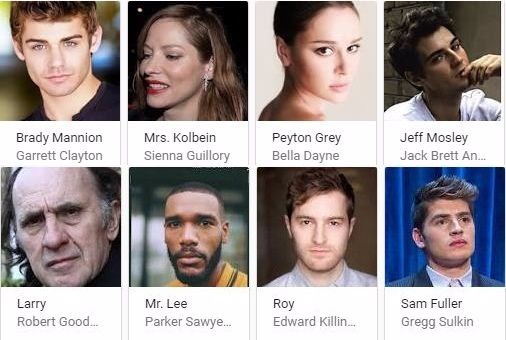 Image Source: Dont Hang up Cast via Google
1. Sam Fuller - Main Protagonist that is also a member of Prank Group, It's his family house where they continuously prank people.
Actor: Gregg Sulkin
2. Brady Mannion - Bestfriend of Sam. An absolute pranker, He doesn't care about anyone unlike Sam who sometime slow down with his actions.
Actor: Garrett Clayton
3. Peyton Gret - Girlfriend of Sam, She also did a big part in the story progress. Been the reason why things have been complicated to Sam and Brady.
Actress: Bella Dayne
Other Characters are especially introduce in the movie, its a thriller movie so Expect what is Unexpected ~
When I first saw the movie, I've invested a lot of expectations especially the visual and presentations of quality is really unpredictable. The Actors and Actresses gave what they must give but I was kind of getting a 'THEY SHOULD IMPORT MORE EMOTIONS' feeling. A little bit more sense of face structure you know what I mean? The Lead (Gregg Sulkin) actor also reminds me about a famous actor here in the Philippines, James Reid. They have common face and body built, so the whole time I was thinking of James ~
And for the second leading actor, Which is Garrett Clayton. Somehow he was reminding me of Zac Efron. No comparing intended but It's true. even my Sister thought that he is Zac, The voice and face resemblance. It's for you to judge ~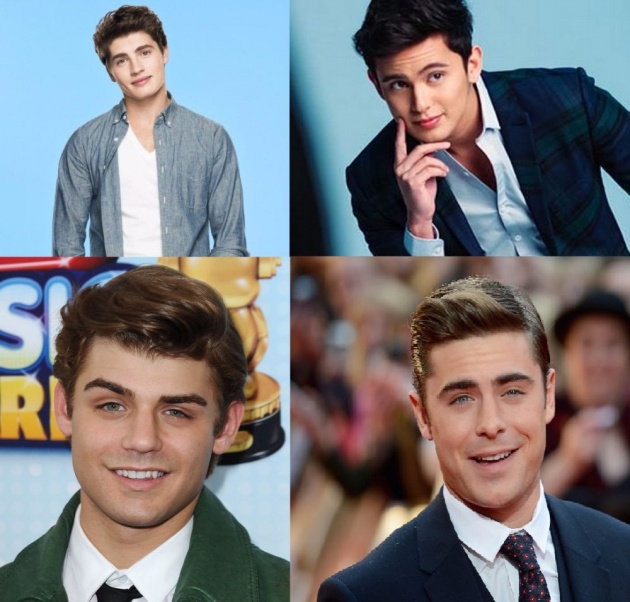 Image Source: Edited byja Me
Do they look like each other?
FRIGHTENING PHONE CALLS
I was thinking of something interesting in the movie but then I remember the frightened and scares the Mysterious phone call gave to me. I was writing this late at night and I was literally looking at the side and back of where I'm sitting. And even if you watch the movie goosebumps will conquer your body.
Its fun to watch this kind of genre movie because YOU and The Character doesn't know who or what it can do. Is it true? Or just a prank? Should you get scared or not?

Image Source: Movie Scenes / Edited by Me
Imagine yourself in the middle of the night and then the phone rings, you answered in nonchalantly and in the other line, a sound of a dark voice saying, DO THIS AND THAT OR DIE. The Two Prankster eventually realize the pain and agony that the pranking someone and telling them that they must or someone is, Can Destroy one's life opposition and mind.
And One thing that I observed, Mr Lee or the Mysterious Caller voice is more likely sounds like the antagonist in Saw Movies which is Jigsaw, and that is more creepier because I love watching Saw movies.
No Object is mysterious. The mystery is your eye
HUMANIDADES
For me this movie triggered almost all kind of emotional's couping. From Family, Love one's, Best friends in the sense of Revenge, Betrayal, Love, Happiness, Fear, Disturbance and many more.
I believe it was started in a emotions where anyone can do anything to get back, The increasing want of serve justice. There is a scene in the movie where they need to choose whether they'll choose this or that or someone will die, Even the hardest decisions test the characters in how long they can survive the emotional pain.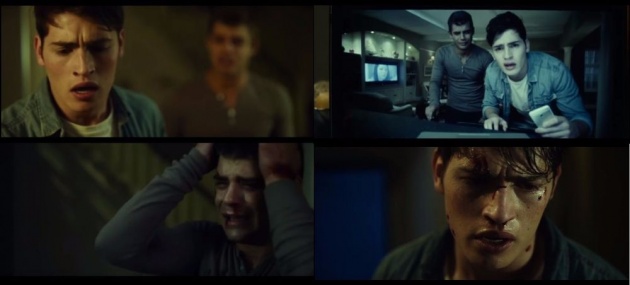 Image Source: Movie Scenes / Edited by Me
They knew how to improvised things from the first to the middle till the end. I was satisfied by their method of frightening audience/viewers. They really targeted your emotional state, believe me or not. Watch the movie and you'll know what I'm talking about ~
GENIUS BUT 'LEFT YOU STARE AT THE MONITOR' ENDING
Stressing but Genius, Expect a big twist. You might know the ending but sure you wouldn't. You'll enjoy the whole movie but it will give you the questions - WHYYYY. Which literally we did.
It was fun to watch this at the same time depressing ~ The technical content of the movie is great, You can observe it when they are revealing the secrets. The setting of the movie is not that wide but it has sense of excitement in each scenes
You'll never get bored. So this is another MUST watch movies that you may share watching with your friends or family. Let someone who loves prank calls watch this, He'll eventually learn the most significant rule of all:
Do not do unto others, if you do not want others to unto you

- The Golden Rule
Video Source: Don't Hang up Interview via Youtube
All I want to say is that, Give this movie a shot ~ It's worth watching.
So People of Bitlanders,
Thank you for reading my short movie blog.
Hope to see you again next time!
THANK YOU
FOR NOT HANGING UP
and
KEEPSAFE!
Best Regards,
July 2017