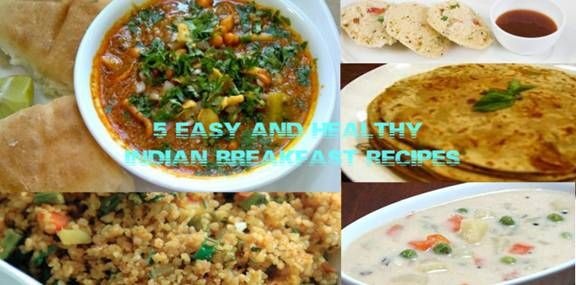 Everyday new morning bring for us new hopes, opportunities and even challenges. And most important to cope with these we need lot of energy and good health. So you don't think it's better to start energies our body with nutrition doses from breakfast. Breakfast, which is the most important meal of the day, furnish our body and brain with fuel after overnight sleep. It's the first but crucial meal to energies our body to work smartly and efficiently.
Breakfast! How about to add up the nutritional rich wholesome breakfast recipes of different countries in your first meal menu? If you are thinking to pep-up your breakfast with delicious, simple and nutrition rich recipes then you are on right place. You know India is one of the foody countries who well know for their healthy and wholesome breakfasts. Here the five magnificent Indian recipes are discussed to tiptoe your breakfast with Indian flavors rich in nutrition.
1. Oats Idli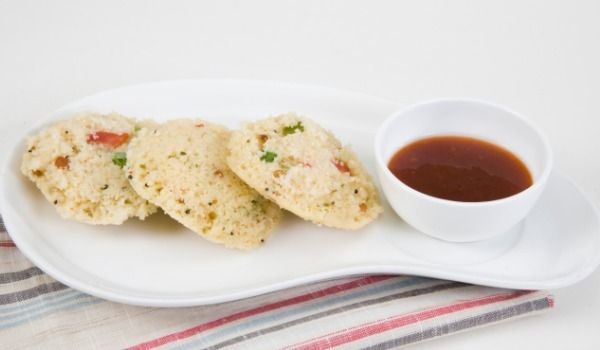 Image Source - NDTV.com
Idli is one of the traditional healthy Breakfast recipes of South Indian households. These aromatic cakes are well famous and demanded through out the India for their easy to made and healthy properties. Traditionally idlis are mini rice cakes which are made by steaming the mixture of fermented rice and black lentils. But with the time and popularity of these mini cakes many variations are made over the traditional methods of idlis to make these healthier. One of these quick, easy and even healthier versions is Oats idlis.
As name suggested the main ingredient used to ready this savory treat is oats. Oats are combined with semolina and other healthy vegetables. Then a well consistency batter is made and steamed in the idli-stand to make the healthy idlis. Let's watch its recipe.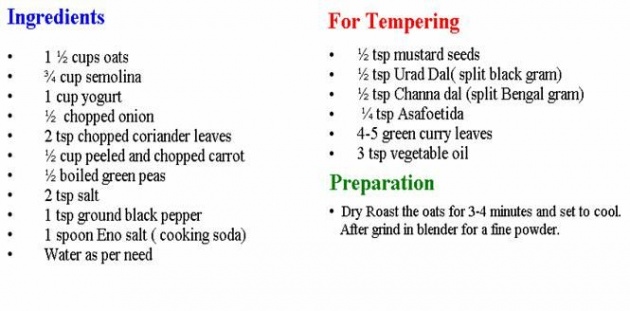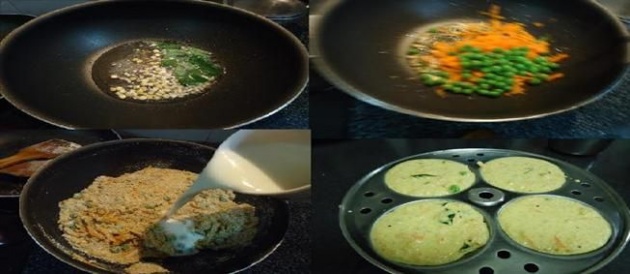 Direction:
a) In a pan pre-heat vegetable oil and splutter mustard seeds then add urad dal, Channa dal and sauté until golden brown in color. After add curry leaves, green chilies, carrot, peas, coriander and onion cook for 4-5 minutes. After cooking off the flame. Keep aside the mixture for 2-3 minutes set to cool.
b) Now in the cool tempering add roasted oats powder, semolina, curd, salt and black pepper. Mix well all ingredients and add water as per need to ready a dropping batter.
c) Just before steaming the batter add Eno salt mix well and pour the batter in greased idli stand. Steam for 5-10 minutes. Check with skewer if come clean off the flame or if not steam for few minutes more.
d) When ready off the flame and poke the idlis with knife. Now serve the idlis with tomato or coconut sauce as you like

This mini steamed cake is well compound of healthy ingredients one of which is oats. Whole grain Oats is rich in fiber, vitamins and other antioxidants good for health. Oats help to control cholesterol, weight and other health issues. And most important this recipe give you a another healthy version of oats over daily porridge or muesli. Instead of oats freshly used vegetables and curd make it more nutrient rich.
Nutritional facts of 1 serving or 5 idlis
Energy

Fat

Carbohydrates

Protein

Dietary Fiber

Calcium

72.4 kcal

0.4 g

17.9 g

3.2 g

5 g

40 g
2. Dal ka Paratha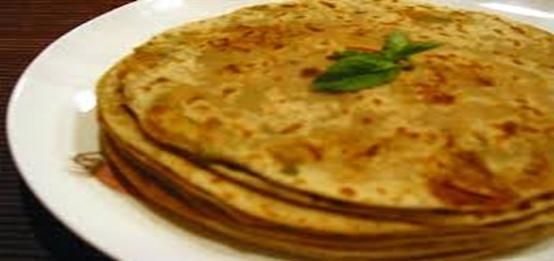 Image Source - Google
Paratha's are the staple of north of India where wheat is grown in abundance. These are types of flat bread made with wheat flour and sometimes stuffed with variety of healthy ingredients. These flat bread parathas are one of the famous Indian traditional breakfast recipes which are made on tava (type of plain flat heavy pan) and shallow fried with oil.
Parathas are crucial part of traditional south Asian Breakfast. This shallow fried bread is famous throughout the India. Many different varieties of parathas cooked in throughout the Indian different regions which are Simple Paratha, Aloo paratha, dal paratha, Gobi paratha etc. Many Health Conscious or calorie count people may consider it unhealthy because of using oil to cook it but the goodness is you can cook this evergreen healthy breakfast with less oil or even without oil. A little bit of change in taste may be but still these will serve a delicious healthy breakfast.One of the famous and healthy verities of parathas is Dal paratha which is made of yellow bengal lentil. Let see its recipe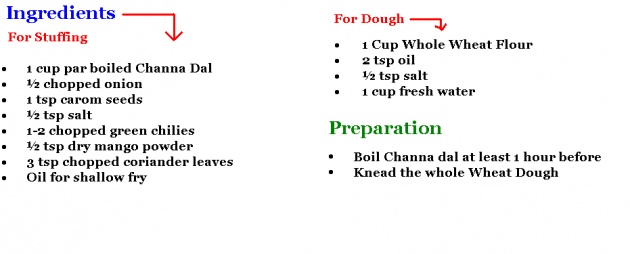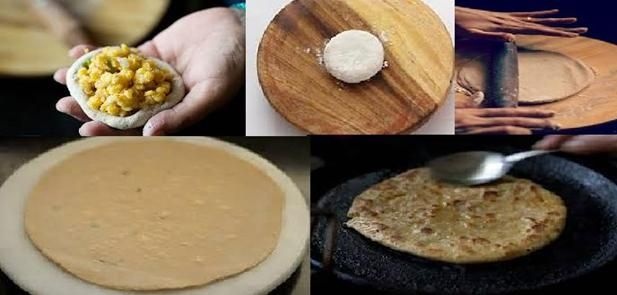 Direction:
a) First sieve the flour. To make dough in a mixing bowl mix salt, oil and water in flour. Bind all ingredients together to make soft and supple dough. If needed use water.
b) Now secondly in mixing bowl mix Bengal lentil and all other ingredients of stuffing.
c) Make small ball from the dough and roll it in small round to stuff mixture. To bind mixture bring the edges in center and join them.
d) Now roll out the dough in a big round shape with rolling pin carefully.
e) And finely cook with oil or without oil on pre-heated tava.
f) Serve with curd or butter.

This famous Indian delicacy is made of whole wheat flour which is well recommended for their nutritional rich properties and health benefits. Whole wheat is rich in fiber, vitamins, and minerals and in many health protective antioxidants. Wheat helps to maintain health fitness if consumed properly. These dal parathas with whole wheat use protein and fiber rich lentil which make it best nutrition breakfast. But one think you must keep in mind use less oil while cook it.
Nutritional facts of 1 serving or 1 paratha
Energy

Fat

Carbohydrates

Protein

Dietary Fiber

Calcium

207 k cal

7.7 g

28 g

6.5 g

6 g

41 mg
3. Kerala Vegetable Stew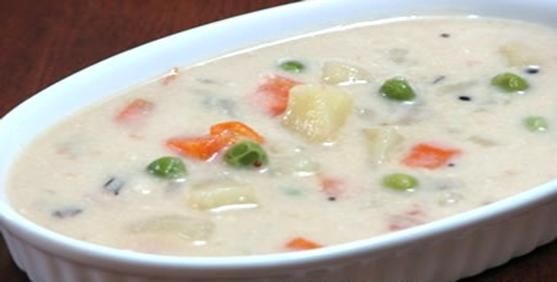 Image Source - Google
Stew which is the jumble of solid vegetables cooked in liquid. This famous Kerala vegetable stew is also cluster of healthy vegetables cooked in liquid coconut milk. In Kerala, which is a state of South West India, coconuts are grown in abundance that's traditionally in Kerala in almost recipes coconuts are used. Kerala cousin is well famous for the use of coconut and spices in recipes which give recipes sharp but mild tanginess. The Vegetable stew is also one of the famous recipes of Kerala which is made of with combination of vegetables - beans, potatoes, carrots, and peas. This tender mild taste stew is spiced up with cinnamon and cardamom.
Mostly this vegetable stew is served with Appam that is the pancake made of with rice flour and coconut but you can enjoy it also with rice or as starter. Let's see its mouth watering recipe.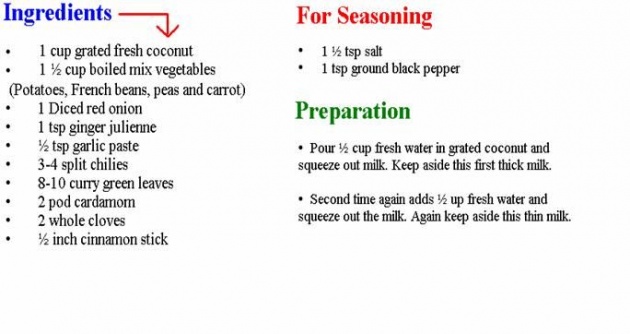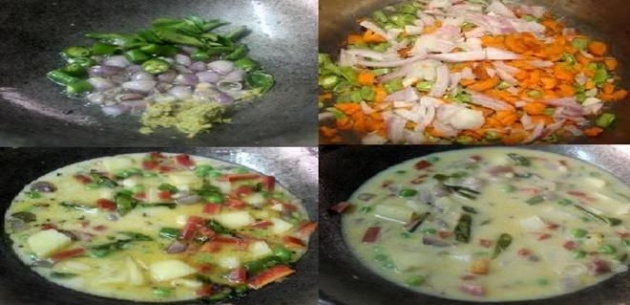 Direction:
a) In a Frying pan pre-heat the oil and add cinnamon, cardamom and cloves. Now add onion, ginger, garlic and curry leaves. Sauté onion until partly golden brown in color.
b) Now add boiled vegetables and extracted thin coconut milk. Cover the pan with lid and cook for 5-10 minutes.
c) Now dissolve the rice flour in water and add it in mixture to give it little bit thick consistency. After add salt.
d) Finally add thick milk in the stew and cook for 3-5 minutes. Off the flame and season stew with back pepper and serve as you like.

This aromatic vegetable stew contains the freshness and nutritional contents of vegetables and coconut milk which makes it a light healthy breakfast to start your day. Fresh boiled vegetables are rich in vitamins, minerals and fiber. And on other hand coconut milk is also good source of vitamins and minerals like calcium, iron and potassium. Sometime coconut milk is debated for high content of fat but as per many specialist coconut fat is converted in body into highly beneficial complex. And you can use moderately 1 or 2 times in a weak to consume.
Nutritional facts of 1 serving or ½ cup
Energy

Fat

Carbohydrates

Protein

Dietary Fiber

Calcium

204 k cal

10 g

27 g

4 g

4 g
4. Spicy Vegetable Dalia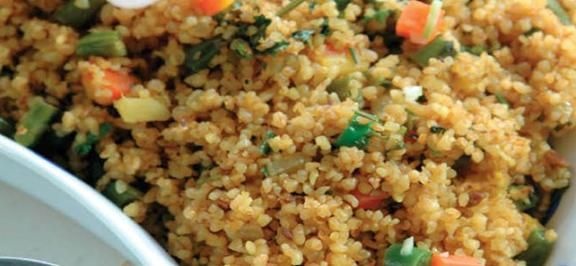 Image Source - Kitchen Platter
Dalia, well known as cracked wheat, is famous through out the India But especially in wheat consuming North India Regions. Traditionally Dalia is used to cook sweet with milk and sugar. But one of the famous versions of Dalia used to eat is Vegetable Dalia Palou. This recipe is very easy to make and healthy to eat. You can easily cook this nutritional rich light but perfect breakfast recipe with few steps. Let's see its recipe.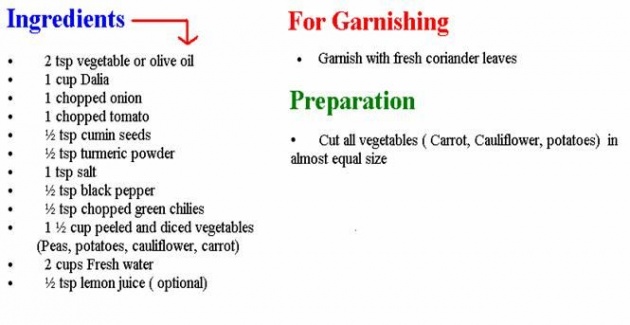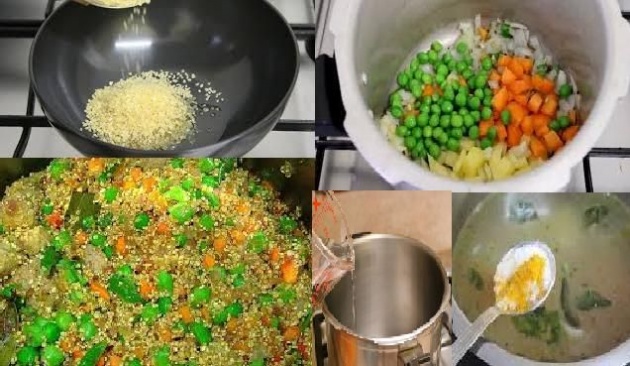 Direction:
a) In a pan pre heat 1 tsp oil and roast cracked wheat or Dalia until light brown in color and set aside.
b) In pressure cooker pre-heat 1 tsp oil and splutter cumin seeds. Next add onion and tomato and sauté for 3 - 4 minute.
c) Add all vegetables and roasted Dalia and cook together for 2-3 minutes. Add water and spices – salt, black pepper, turmeric powder and green chilies.
d) Cover the cooker with lid and give two whistles. After off the flame and just leave it for 4-5 minutes in cooker to cook in steam.
e) After open the lid and garnish with coriander leaves and lemon juice.

Dalia which is the broken or cracked wheat is a type of whole wheat. As we already discuss whole wheat is a excellent source of vitamins and minerals to maintain the ourselves physically and mentally fit. But here this recipe adds up the nutritional value of wheat with clipping it with fresh healthy vegetables. That's no doubt Dalia is the best and healthy breakfast option to energies the body with required nutrients.
Nutritional facts of 1 serving or 1 cup
Energy

Fat

Carbohydrates

Protein

Dietary Fiber

Calcium

217 k cal

3.8 g

66 g

5.9 g

4 g

36 mg
5. Misal Pav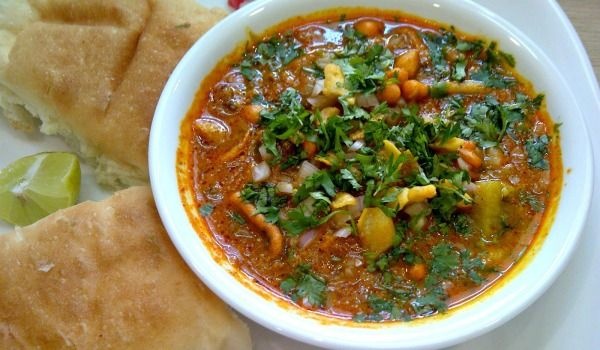 Image Source - NDTV.com
Misal Pav is one of the Traditional Breakfast or branch recipes of the Maharashtra which is ready sprouted beans or moth (In Maharashtra word Moth is used for sprouted beans). Misal Pav is well denoted as a healthy breakfast recipe because of its protein rich ingredient sprouted beans. This Maharashtra specialty dish is famous in many different region of India and everyone cooks it as their own style and taste. But one common and vital ingredient of the recipe is sprouted beans or moth to make this Misal Pav recipe although whatever method to cook is picked.
After preparing the Misal Pav it is garnished with coriander, sev ( famous Indian snack made with chickpea flour paste), lemon and grated coconut. Misal Pav is served with Pav which are bread buns to make your healthy sprouted dish healthier it's recommended to use whole wheat Pav or bread.
Here the missal Pav recipe divided into two parts first steam the moth and Second Prepared Red Sauce or gravy for steamed moth beans then finely mix the both to serve with whole wheat bread buns. Let's note its note recipe to make your breakfast healthy.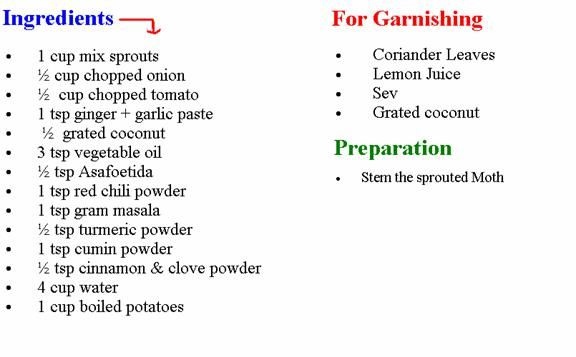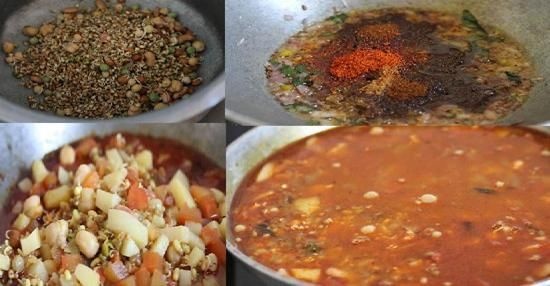 Direction:
a) In a pan heat 2 tsp oil and sauté ginger garlic paste and onions till golden brown. Then add Chopped tomatoes and grated coconut. Sauté all ingredients for few minutes until oil separated. After switch off the fame and keep aside the mixture to cool.
b) After few minutes when mixture get cool blend it in blender to make a smooth paste. Now again keep aside this paste.
c) Now in a pan once again pre-heat 2 tsp oil and add Asafoetida powder. Then add ready paste cook for 2-3 minutes and mix all spices - turmeric, cumin, and chili powder and also gram masala.
d) After add water and cover the pan with lid and cook gravy for 5-10 minutes.
e) Finally add steamed moth and boiled potatoes in sauce or gravy and cook for 5 minutes. Off the flame and garnish with lemon juice, coriander leaves, grated coconut and sev.
f) Serve with whole wheat Pav or bread.

This Maharashtra famous recipe use the moon sprouts as basic and main ingredients. Sprouts which are most nutritional and healthy food are well recommended by health specialists to add up in diet menu. Sprouted legumes and even other grains and seeds are highly rich in proteins, fiber and vitamins. Sprouts help to purify blood and strong the immune system. Moreover these are good for physical and mental fitness and help to develop these efficiently.
Nutritional facts of 1 serving or 422.6 g
Energy

Fat

Carbohydrates

Protein

Dietary Fiber

Calcium

395 k cal

12 g

61.3 g

13.6 g

12 g

160 mg
Why Breakfast is important Meal ?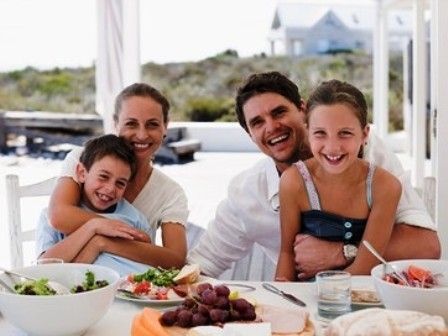 Many of us because of laziness skip breakfast and even sometime fill our plate or mug with junk foods. It's totally type of torturing your body. You know as per the nutritionists, having healthy breakfast can make us more vigorous and attentive than those who don't have or eat healthy breakfast. Let's quickly discuss the beneficial facts of breakfast to stop you to skip breakfast next time:
* Healthy breakfast is good for your waistline means you can get healthy weight as comparison to skipper
* It helps to protect us from risky health issues like cholesterol, blood sugar etc.
* Healthy breakfast helps to boost the memory and enhance the concentration power
* To skip the unhealthy habits of junk foods and to make yourself active breakfasts is not negotiable
That's it's always better to start your day with healthy diet to make the day bright and to keep ourselves fit. With early morning wake up healthy breakfast must be our priority along-with other activities. Now the question may be - what is healthy Breakfast? When the word healthy sounds in mind may be some very common healthy foods like oatmeal, cereal, or green vegetables, fruits may knock. Is it Right?
You know its matter what you pick but we can't deny it also matter in what style you eat it. Let's have an example, egg is good for breakfast if you eat pouched or steamed it's good for health but if you prefer fried eggs in breakfast it's totally unhealthy breakfast. Mean to say your way of cooking matters a lot with healthy ingredients. A healthy breakfast must be a fine source of good carbs, fiber and proteins. As per the nutritionist we should have 1/3 of daily required calories from our breakfast.
As per researcher those who eat healthy breakfast is more healthy and active as compare to breakfast skippers. That's in this busy and hectic full life breakfast must add in your list of Priorities.
NOTE - (All nutritional Data are collected from caloriecount.com and these are approximate nutritional values just for informative purpose)