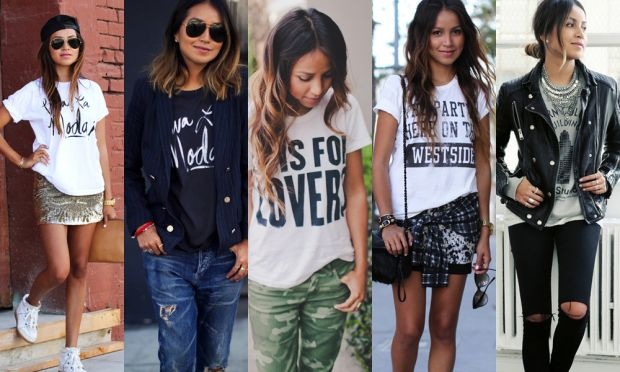 1. Add a blazer:
A well-fitting blazer makes a cartoon-y star wars t shirt look borderline professional. While you might not be able to wear the ensemble to your office, you're getting closer! Seriously though, a t-shirt plus a blazer is part of my standard convention wardrobe. I like to show my appreciation for a given franchise but if I'm on a panel or conducting interviews, a blazer makes me feel more like a grown-up. Silly? Perhaps. But, it's effective.
You can find blazers in stores from Target to Urban Outfitters (my personal favorite) to Macy's. Classic colors like black and gray go with a wider variety of tees, but it's fun to choose brighter colors like blue or salmon. They'll set off darker colors nicely.
2. It's all about a big necklace:
Statement jewelry can make all the difference in any outfit, and it especially stands out against plain clothing. Look over your t-shirt collection and make notes about the most common colors. With that in hand, head to your preferred accessory store and choose a few complementary pieces – the bigger, the better. Giant jewelry seems to be in right now, and you can find chunky necklaces and earrings at shops like Charming Charlie or Forever 21. If you don't feel comfortable with big jewelry, a simple faux pearl necklace also does wonders.
3. Fancy footwear:
For me, shoes are about comfort. I adore the look of high heels, but they are too painful for me to endure. However, if you can stand them, heels of any height make a t-shirt and skinny jeans or leggings look fantastic. Knee-high boots add something extra too, even if they're flat. And, if you don't plan to touch heels, you can find flats that have the same effect. Choose flats with sparkles, spikes, or a gloss finish.
4. Find a cute skirt:
Skirts go with graphic tees. Don't listen to anyone who tells you otherwise. You can make them work with straight styles as well as A-line and even pencil skirts. Solid colors work best, and this is definitely an area where you can find plenty of bold shades. One of the skirts I wear most is a red, pleated style I picked up at Charlotte Russe. You can wear the shirt tucked in or out, it's entirely up to you ( loose is better for pencil skirts).
Look at these examples of t shirt and skirt and get inspired.
5. Ditch the denim:
you cant take the sky or my blue jeans from me, but I'll try out other styles once in a while. Swap out your regular jeans for dress pants in any color, striped pants, or leather (real or fake) pants. Actually, even changing to colored denim can make a difference. Along this line, wear leggings with your t-shirts – leggings are more comfortable than jeans. They're like Thanksgiving pants, but they look fancier.