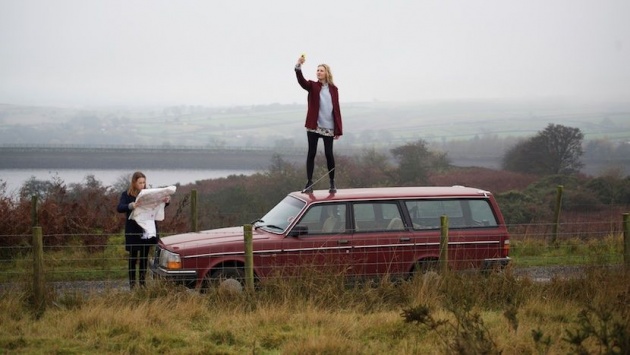 The British road movie is a niche genre. The journey can be spuriously motivated. An artist (Peter Capaldi) travels from London to Glasgow by 1971 Triumph Herald to claim a family inheritance in 'Soft Top Hard Shoulder' (1992). A naked groom (Martin Clunes) has to get back from Scotland to London in time for his wedding in 'Staggered' (1994). A misfit couple (Steve Oram, Alice Lowe) go on a random murder spree in 'Sightseers' (2012). An anxious father-to-be (Tom Hardy) drives to London to be present at the birth of his child in 'Locke' (2013). Common to all of these films is a change in the final emotional destination of the protagonists, as well as a plethora of regional accents justified by the changing location. The vehicle too is important reflecting the status of the character. Somewhat less important is the landscape. In an average journey there aren't seismic shifts in climate or a sense of the great outdoors. British motorways don't offer the possibility to remake oneself that the American interstate does. Nor do the destinations have a degree of exoticism.
The British road movie is less about the time spent in the vehicle and more about encounters at various way stations. Such is writer Charlie (Charlotte) Covell and director Chanya Button's comedy drama 'Burn Burn Burn' in which two young women, Seph (Laura Carmichael) and Alex (Chloe Pirrie) fulfil the wishes of their best friend, Dan (Jack Farthing) to scatter his ashes at various locations that mean something to him. The premise is somewhat flawed. Generally, if you are best friends with someone, you have heard a good proportion of their stories. So you would know why they might want part of their remains deposited in Glastonbury, Cardiff, York and Ben Lomond in Scotland. At no point in the movie do the self-absorbed Seph and Alex, the former having just lost her job as a nanny, the latter having caught her girlfriend, Pandora (Eleanor Matsuura), reminisce about their dead friend, rather react to what he says in the series of videos that he recorded in increasing states of declining health.
The best aspect of the movie is its cast. Jack Farthing is the heir to Hugh Grant's floppy haired, charmingly self-deprecating Englishman. Given that all of his dialogue scenes are to camera, he brings intensity, musicality and wit to his speeches. Chloe Pirrie is particularly good as a young woman with a cross to bear and unwilling to open up about it, who ends up, quite literally, in a crucifixion scene. Laura Carmichael provides the source of most of the comedy, with wannabe actress turned nanny Seph drifting into situations that threaten to spiral out of control; her responses are almost always physical and unguarded, a contrast to her inhibited and angry friend.
The four locations represent four states: communal living, hedonism, religious and finally familial. Each one represents an alternative way of defining oneself, giving in to a partially charismatic group leader (Julian Rhind-Tutt) in Glastonbury, losing oneself in sex and alcohol in a Cardiff nightclub, being confronted with the symbols of religious sacrifice in York and finally bonding within sight of the edge of the horizon in Ben Lomond. If Dan's intention is to show his two friends bits of him that he never allowed them to see – in Glastonbury, he peed in public as a child; in Cardiff he lost his virginity; in York his parents got married; in Ben Lomond he bonded with his stepfather – he doubtless succeeded. But I wanted to know what he did with his two best friends instead of waiting until he is dead to tell them to sort their lives out.
With the relationship between the trio not being believable – I couldn't work out why they were best friends – you accept the premise of a leap of faith. The young women have no reason not to fulfil Dan's dying wish – and he knows they have issues to sort out. ('Alex – tell Seph about Amy!')
Seph's crisis is that she doesn't love her boyfriend, James (Joe Dempsie) but can't bear to tell him. There is something predictable about his sex eyes. At Dan's funeral, she tells people her boyfriend is an osteopath rather than a banker. His misguided belief that his cute talk will unlock her simply makes him less attractive.
But Seph doesn't really know what she wants. Button and Covell don't solve this problem, but divert our attention away from it by giving the two friends someone else to save, in the form of an elderly woman, Diana (Alison Steadman) escaping an abusive husband.
The film flirts with edginess at various points, when Seph and Alex encounter a group of offensive sexist yobs in a corner shop (where Alex hopes to use the cash point) and Dan verbally abusing Alex and Seph for not guessing how sick he was and believing him. ('Alex, you complimented me on my beanie,' he says mockingly.) The progressively darker tones of Dan's video messages – Seph and Alex have to play each one at designated locations – derail the reason for fulfilling his wishes. Essentially, he didn't spend enough time with his father before the latter died.
On a scene by scene basis, the film is extremely well-directed and has a lot more imagination and humour than writer-director Rachel Tunnard's similarly themed 'Adult Life Skills' (2016). Comic highlights include encounters with an unhelpful and uninformative Glastonbury Cathedral guide (Alice Lowe), a queue to deposit ashes over York's city walls and Alex standing in during a technical rehearsal of 'The Passion of the Christ' (not to be confused with the Mel Gibson film). Dramatic highlights include an overnight stay in Alex's mother's house and Alex telling her story.
Though it suggests both burning rubber (motoring) and opportunities hedonistically wasted (the recklessness of the young), the title doesn't really work. Not that I can think of an alternative, but 'Burn Burn Burn' sounds like a sequel to 'The Witch'. Another association is burning one's connection with the past, but this isn't right either. Covell is better at dialogue than titles – I particularly liked Dan's step father (Nigel Planer) describing 'the Man from the Crem'. In spite of the flaws in the plot, it is confidently made, with Matthew Kelly as an amateur actor rounding out the quirky cameos.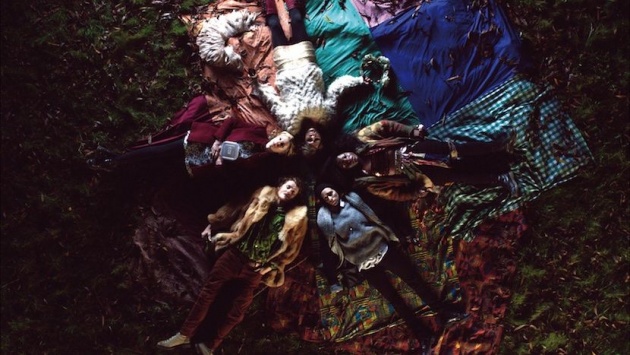 Reviewed at the Arthouse Cinema, Crouch End, North London, Saturday 28 October 2016, 18:00 screening with director and cast member Q and A