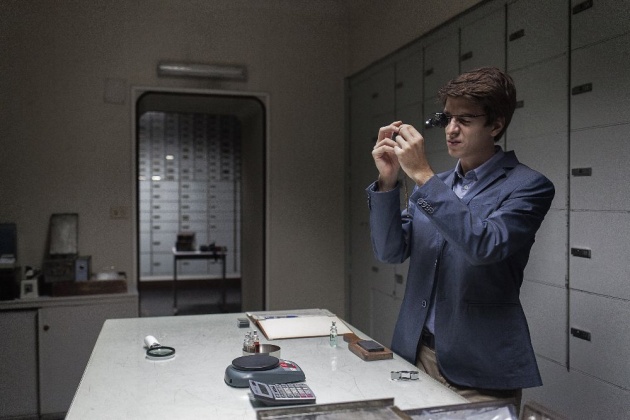 Pictured: Stefano (Fabrizio Falco) examines jewellery in Irene Dionisio's 'Le Ultime Cose' (2016).- courtesy of Cinecitta Luce
We see them through a window, the anxious crowd, middle-aged or older, waiting, anxiety mixed with apprehension. A key is turned, locks unsecured and they file in, in singles, or, as we see later with their young children. They are pawning their luxury goods, coats, jewellery, passing them to be appraised and then an offer made – the loan. The owners leave with their ticket – the item's buy-back value – but every item is undervalued, feeding a secondary market in single older men who buy the tickets. Pawnees – the name in common with a diminishing Native American tribe – have to return within an agreed time to repay the loan and interest and retrieve said item, or else it is sold at auction. Loan arrangements are renegotiated, stretched by Pawnees desperate to retrieve items pawned on the sly, heirlooms hocked out of the sight of spouses ('she doesn't know I pawned it'), fearing the confrontation that will result once the item is missed. 'You pawned the clock my mother gave us, why not the painting given by your mother?' 'It is of my mother.' 'Exactly – even she did not want it.'
Welcome to Turin. Welcome to austerity à l'italia. Welcome to the world of Le Ultime Cose (Pawn Streets) the debut fiction feature film by Italian writer-director Irene Dionisio.
We've seen pawn shops in movies before, notably in director Sidney Lumet's The Pawnbroker (1964) starring Rod Steiger as a Holocaust survivor who runs a pawn shop in East Harlem. The story was not about those who are forced to part with their items – the sympathetic poor finding themselves in hard times – but on the appraiser, an individual wrestling with their conscience in the face of needfulness. Dionisio doesn't focus on one character for dramatic moral impact but three: a young appraiser, Stefano (Fabrizio Falco) who is learning his craft under the tutelage of hardened Sergio (Roberto de Francesco); Michele (Alfonso Santagata), a grandfather who takes a job working for a loan note buyer to pay for his grandson's hearing aid; and Sandra (Christina Rosamilia) a transsexual who has pawned her luxury fur coat, minus one button, unable to connect, even when offered help.
Michele is the film's most interesting character because he is drawn into a world – the secondary loans business, although that does not quite describe it – that, if not exactly corrupts him, soils him, puts him in danger, makes him feel that at any point the police could come from him; promissory notes, or the pawn shop equivalent, are sold on or discussed in cafes. Sergio is the most suspicious character. He may be making some money at the expense of the pawn shop clientele through under-valuing, or so Stefano comes to suspect. Sandra is an intriguing character. We keep expecting a storyline to emerge, involving her settling into a new home (for transsexuals, abused women, or another marginalised group, we aren't sure) and struggling to pay the rent. Stefano reaches out to her but because of her (newly-claimed) sexuality Sandra keeps him at arm's length. There are other customers that we get to know, a man who wants to extend the loan on a picture frame and a mother who brings in some jewellery.
Escape Rooms
When I tried to find out what Turin was famous for, besides the Turin Shroud, Juventus Football Club, the Palace of Venaria, Nutella (or gianduja, to give it its Italian name), the white truffle and a cinema museum, 'escape rooms' came up (there are seven of them). Yes, get out, now – go on, try! I had no idea that 'escape rooms' were a thing, as opposed to panic rooms, in which you lock yourself when there are intruders. Turin also has three pawn shops, but Dionisio didn't film in any of them. Instead she created her own for fear of tarnishing an existing business.
The film makes a statement about Italy's economic woes and the desperate ways people try to make money. There is no finger point, no call to arms. We are asked to consider the status of Italian society that its people find themselves unprotected in the pawn industry.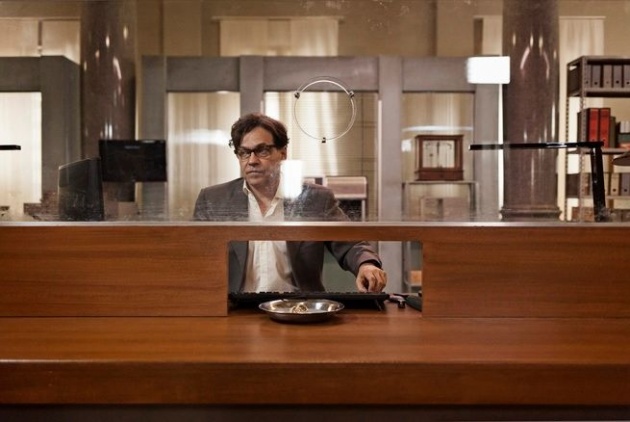 Three thousand Euro for a hearing aid?
I didn't immediately understand how some of the secondary buyers made a living. There are too, too many of them, like ticket touts outside a football stadium. Dionisio doesn't fully explain the various schemes that take place. She also doesn't explain why a hearing aid for a child costs Euro 3,500 (USD 3740).
There are two significant pieces of action – one when a robbery takes place, the other when grandfather, Michele redeems a note. There are also the hints of impropriety: Stefano wants to discuss Sergio with his boss – but Sergio is in the room. We worry that Stefano will be sacked to protect Sergio. How corrupt is this industry?
Dionisio leaves the issues open. It's a fiction, based on anecdotes. It isn't a fire-in-the-belly expose. At the end of the film there is a montage of spaces that we have come to know. One of them is empty. This space moves us. Subtlety impacts!
Reviewed at Cine Lumiere, South Kensington, Saturday 4 March 2017, 18:15 screening. With thanks to Premier PR and 'Made in Italy'