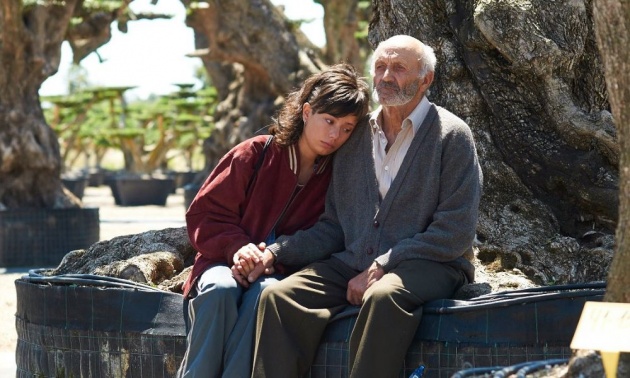 Pictured: Anna Castillo and Manuel Cucala in El Olivo. Still courtesy of Axiom Films (UK); E One (Spain)
Icíar Bollain (born 12 June 1967 in Madrid, Spain) is an actress turned director who came to prominence with her 2003 drama, Take My Eyes (Te doy mis ojos) about a woman fleeing domestic violence. After appearing in such films as Victor Erice's El Sur (1982) and Pablo Llorca's Jardines colgantes (1993), she made the transition to feature film directing with the comedy Hola, estas sola in 1995. Several feature films followed including Flowers from Another World (1999), Mataharis (2007), Even the Rain (2010) and Katmandú, un espejo en el cielo (Katmandu, a mirror in the sky) (2011). Her most recent film is the documentary, En tierra extraña (Strange Land), about three unhappy Spanish migrants living in Edinburgh. Not by coincidence, Bollain is married to a Scot, the screenwriter Paul Laverty, who frequently collaborates with Ken Loach. Also not by coincidence, Bollain appeared in Loach's Tierra y libertad (Land and Freedom) in 1995.
El Olivo, scripted by Laverty, is Bollain's seventh fictional feature. It has in common with several of her other works the theme of taking a journey for the purpose of changing one's situation. Its hero, Alma (Anna Castillo) works on a chicken farm, estranged from her father (Miguel Angel Aladren) and frustrated by the young local, Rafa (Pep Ambròs), who won't ask her out. For fun, she goads her uncle (Javier Gutiérrez) who lost his trucking business, by telephoning him claiming to be from the bank. Well, when you are shooing chooks all day, entertainment opportunities are at a premium. Alma is absolutely devoted to her grandfather, Ramón (Manuel Cucala) who is catatonic. At the start of the film, he goes missing. He has been deprived of an ancient 1,000 year old olive tree, uprooted and sold for 30,000 Euro in order to help his two sons with a business venture that subsequently went south. When we discover what the 30,000 Euro was used for, we are even more appalled. Alma is determined to find out where the tree ended up – in a flashback we see her younger self climb the tree in a desperate attempt to stop it being taken. She discovers that it has been relocated to Germany - Düsseldorf, to be precise - as the logo for an energy company, RRR. Argh, indeed! Set on repatriating it, she persuades Rafa and her uncle to borrow a truck and undertake the 1,800 km journey to RRR Energy's headquarters.
Letters pray
Just how does one persuade two men with something better to do to collect a tree from Germany? By waving a fake letter from a priest (we already know from the opening that Alma can make stuff up). The letter claims that the tree was planted outside a church. Hearing her tale, its 'owner', a German minister has pledged to let her collect it. Through her internet savvy friends, she hooks up with a Spanish girl living in Germany, who expresses sympathy, does some digging on RRR Energy and its exploitative ways and sets up a Facebook site. On the road to Germany, her uncle stops off at the house of a man who owes him money and steals a reproduction of the Statue of Liberty.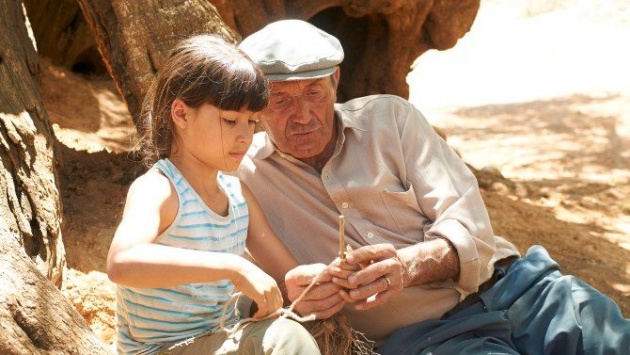 Like the tree itself, El Olivo has solid foundations and spreads its roots far and wide. It is about variously: the neglect of history and nature's gifts; the perils of the sure thing; corruption in municipal authorities; the power of the internet to make friends and ignite passions; icons losing their power when taking on the road (the Statue of Liberty bit); the gap between rich and poor; the joy of mooning at an American icon; and the importance of family, even the older members.
Simple yet effective
As with Laverty's work for Loach, the film doesn't offer elaborate plot twists or surprising reversals of fortune. The ending is predictable. What it has in super abundance is heart – heart and craft. The opening, alternating music and silence as Grandpa goes walkabout is arresting. It also, coincidently, makes chicken farming visually pleasurable – we are not in a factory set up here.
Then there's Alma: feisty, fiery and fathomable. Anna Castillo gives a terrific performance, allowing us to see into Alma's heart.
The film inherits some of the flaws of Laverty's work for Loach. It is not a debate. RRR Energy is not presented as a fully rounded character as represented by its employees. It is rather the establishment and, as such, rather too easy to kick.
Woe, logo!
Of course, Alma didn't have time to wage a legal campaign arguing that the tree's image rights were unfairly exploited and that some of the profits generated by advertising should have gone back to the community. The tree was sold but not for the purpose of revenue enhancement. The film also offers a salutary lesson: be careful what you sell. I hope, however, that I have sold El Olivo to you.
Reviewed at Stratford PictureHouse, Tuesday 11 April 2017, 18:30 screening, Screen Four