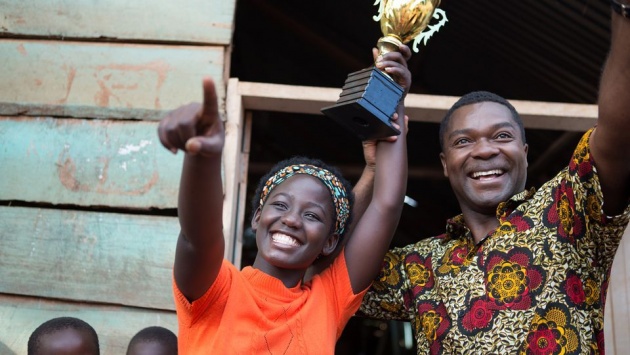 The poor box office numbers for 'Queen of Katwe' ($8.7 million worldwide gross to 25 October 2016 against an estimated $15 million production budget) doesn't tell the whole story. Chess movies are not box office.
Here are some comparators.
'Searching for Bobby Fischer' (1993) written and directed by Steven Zaillian grossed $7.2 million on its release in 1993. It is the top grossing chess-based movie when adjusted for inflation.
'Pawn Sacrifice' (2014) directed by Edward Zwick grossed $5.6 million from a $19 million budget.
'The Luzhin Defence' (2000) directed by Marleen Gorris and starring John Turturro and Emily Watson grossed $1 million dollars on its US release in 2001.
Before you ask, although it begins like one, Ingmar Bergman's 'The Seventh Seal' (1957) is not a chess movie. You might be better off making a film about 'Monopoly' (I believe it's in development).
Then there are mainstream Hollywood films with an all African (as opposed to African-American) cast. I put the search term into google and nothing happened.
So 'Queen of Katwe' is a pioneering film, a brave piece of work masquerading as feel-good family entertainment. But a mainstream audience was not primed for it. Why? Because it is a bad time for Hollywood films not about America!
'Wanna see that new film starring Lupita Nyong'o? She was in 'The Force Awakens' and that Oscar selfie. It is set in Uganda?'
'Nah, I'd rather wait for 'Boo! A Madea Halloween!'
I'm sure audiences were much more discerning than that, but we don't get Tyler Perry movies in my country. I don't think we get Tyler Perry period, though he was all right in 'Gone Girl'.
'Queen of Katwe' is against the grain. But Disney, who produced it, were clearly hoping for another 'Million Dollar Arm' or 'McFarland, USA' – sports movies the studio released in 2014 and 2015 that made $39.2 million and $45.7 million respectively.
Both those films were set in America. 'Queen of Katwe', written by William Wheeler from an ESPN piece by Tim Crothers, is not.
The decision to green-light the film was made by Disney executive Sean Bailey in consultation with Tendo Nagenda, who the film's director Mira Nair credits with getting the film made. Who is Tendo? He helped produce the live action version of 'Cinderella' which was a box-office success and, more importantly, is of Ugandan and Belizean descent.
At $15 million, the film is essentially a low risk for a studio that makes hundreds of millions of dollars with the Marvel Cinematic Universe, Pixar Animation and now 'Star Wars'. But it could cost women directors hoping to work in Hollywood some work. It is now a statistic of commercial failure.
Is it an artistic failure? No. It does what it sets out to do within genre constraints, honouring its heroine and her family.
The titular character is Phiona Mutesi (newcomer Madina Nalwanga), a young girl living in a Kampala slum with her single mother (Lupita Nyong'o) and various siblings, who, at the age of ten, joins a chess club run by sports coach Robert Katende (David Oyelowo). Phiona has a talent for the game. She beats the club champion and alienates the boys. Robert wants to enter her club for competitions against schools. The negotiation takes some doing – the club isn't recognised. But at the tournament, Phiona tastes victory. Then she gets the opportunity to leave the country for an overseas tournament. Mother, who discovers her daughter's secret, isn't keen. In Russia, she gets a rude awakening.
There is a sub-plot involving Phiona's older sister dating a boy on a motorcycle. She is out all night. Then there are the difficulties Phiona's mother has in paying the rent. She is evicted. The family moves to an old church that is unprotected from flooding.
At no point in this film does religion make an appearance. Kampala is a church-going capital city (from my six week stay there in 2008). But Christianity can be defined in an African city as showing off finery – how good you look at church – and pleading for money. It's a business model that uses God instead of the internet.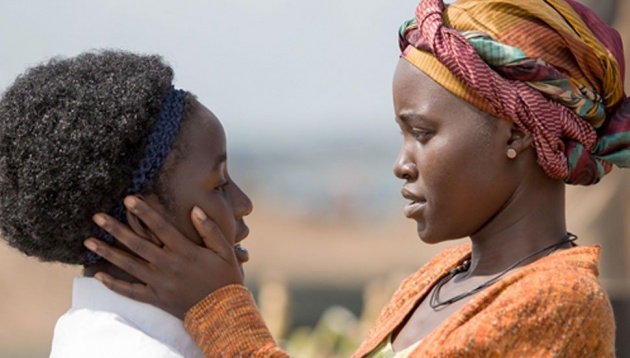 'Queen of Katwe' celebrates intelligence – how going with that boy on a motorcycle is far less transformational than moving pieces on a black and white board. The characters – Phiona's fellow chess players – have a good time, dancing to 'Number One Spice' and beating the city kids. If there is something missing from the film, it is Phiona's emotional journey. She has an on-off relationship with chess – victory spurs her on – but we don't see how this transforms her relationship with others. Her mother disapproves only to the point at which she gives way to Robert's belief in her daughter.
We don't see what happens to the other clubs Robert runs either. If the chess club can go to Russia, why can't the local football team play in a big league? Is there something to be said where chess teams have more support on a municipal basis than mass participation sports like soccer? You are more likely to see a Ugandan wearing an Arsenal or Chelsea shirt than one bearing the image of Garry Kasparov or Bobby Fischer.
Nair keeps it simple. Chess is a metaphor for a young girl's potential. See it, she says to her audience, see it. The reality is, as seen in this year's US Presidential elections, large groups of disaffected people don't want to see it.
Reviewed at Crouch End PictureHouse, North London, Sunday 16 October 2016, 11:00am screening