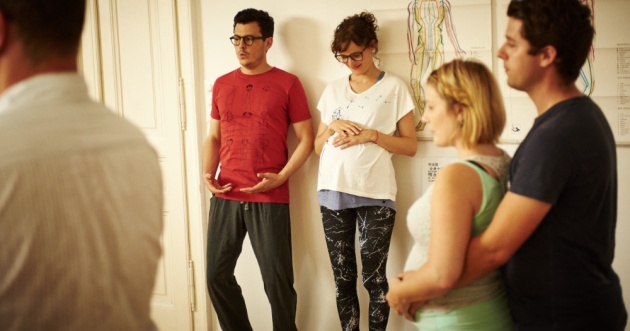 Still: Chris (Manuel Rubey) and Stella (Vicky Krieps) wait for their respective partners at birthing class in We Used To Be Cool. Photograph courtesy of Novotny and Novotny film.
How many Austrian comedies can you name? Arnold Schwarzenegger doesn't count. A google search did yield one curiosity, The Unfish, a 1997 film by Robert Dornhelm about a young woman who discovers that whoever sleeps with her in the body of a preserved whale will be granted one wish. I know what that wish will be – a bed from IKEA. The point is that Austria is not known for its sense of humour. It is practically a lachenfrei zone. This makes writer-director Marie Kreutzer's comedy, Was hat uns bloß so ruinert (We Used To Be Cool) so unusual. It doesn't exactly tear down the stereotype but when you see one of the characters ride a bicycle at the same time as trying to pull a suitcase, you appreciate the effort.
We Used To Be Cool will put you in mind of TV series like Thirtysomething and Cold Feet or films such as What to Expect When You're Expecting. It is about three couples who become parents at the same time. One pair, Ines (Pia Hierzegger) and Chris (Manuel Rubey) split up shortly afterwards. They name their child Elvis, even though she's a girl. Chris goes to the aforementioned IKEA, buys a mattress and mattress cover and sets up a bed in the hatchback of his car. Another couple, French-born Mignon (Pheline Roggan) and Luis (Andreas Kiendl) decide that their daughter, Lola, is better off without nappies. When Chris tries to apply one, Mignon cries 'rape'. The third couple, Stella (Vicky Krieps) and Markus (Marcel Mohab) seem the most-well adjusted. Stella starts a documentary about her friends' experiences. Markus, who appears happy to be a house-husband and cook, is out of work. Cracks start to appear when they row early on in a taxi. Stella gets out and Markus chases after her. After calming her down, he asks for 12 Euro to pay the taxi driver.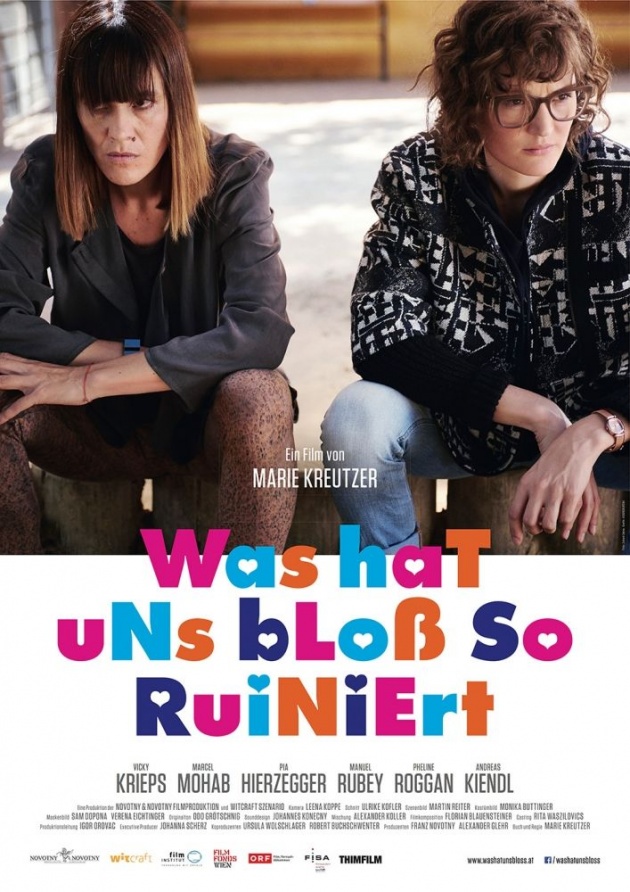 Poster courtesy of Novotny and Novotny film.
The title broadly translates as 'what is it that has just ruined us?' which I think better sums up the tone of the film. It isn't that the characters think of themselves as cool, rather they realise that in the process of two becoming three, something gets lost. They try to carry on as before but the transition to parenthood makes the characters realise that they are locked into a unit. This is it, no escape. The parachutes have been confiscated. The spring has been removed from the ejector seat. It is no surprise that they are driven to rash decisions, like starting a shop that sells organically sourced child outfits that no one can afford.
One of the jokes is that the parents find themselves sitting around at circle time like children. They discuss muesli. There are bitter exchanges about raisins ('disgusting'). Substitutes are proposed. The characters are unashamedly middle class, in good accommodation. They don't talk about the things that younger people might mention: travel, politics and the arts. The biggest absence of all is die Eltern – the characters' parents. Opa und Oma – wo sind sie? This could have saved one character struggling with the aforementioned bicycle and suitcase.
As one of the women falls for one of the men, I found myself not caring. The characters have no life outside the group. There is one promising scene when Mignon interrupts Luis during a Skype call because she is ovulating – they must have sex that moment. We rarely see the six characters in a wider social circle – except in scenes with other parents.
This aspect of the film is probably true. In my experience, relationships develop when children are dropped off at school, and a newly separated mother beelines for an unhappily married father. A man might be attracted to a woman from another country but then cultural differences appear. I don't recall seeing many of my old friends when my son was of school age. Instead, your children dictate your social life as you find yourself in a kitchen on kids' birthdays drinking too much wine and comparing notes - part competition, part apology.
Fundamentally, I found myself not enjoying the company of Kreutzer's characters and becoming a little bored. The most dramatic thing that happens is an injury to one of the children, bitten by a jealous child. My responses froze partly because the characters paid so little attention to their young offspring, all of whom are under three. The children are more charming than the adults – unpretentious, natural. When you see a child sitting in front of Stella's (black and white) camera, you cannot help but smile. You can't make cinema out of showing your children's photographs, though interestingly you might want to try.
Reviewed at Loco Comedy Film Festival, BFI South Ban Screen Three, London, Friday 5 May 2017, 20:30 screening