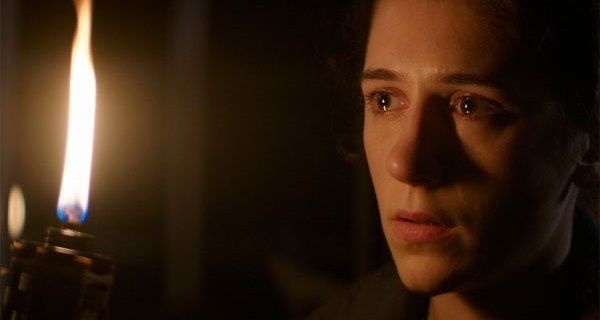 Pictured: Clover (Ellie Kendrick) makes a series of unpleasant discoveries in The Levelling. Photo courtesy of Peccadillo Pictures
'An auspicious debut' is one way to describe writer-director Hope Dickson Leach's first feature, The Levelling. 'A bloody good film' is another. This low-budget but perfectly-formed British movie is the story of a young trainee vet, Clover (Ellie Kendrick) who returns to the family farm after the death of her brother, Harry (Joe Blackmore).
Clover hasn't forgiven her father Aubrey (David Troughton, the voice of Tony Archer in BBC Radio Four's rural soap, The Archers) for sending her to a boarding school and not calling her when her mother died. Aubrey hasn't forgiven Clover for not coming back when the farm was affected by a flood. Aubrey decided to pack it in and hand over control to Harry. There was a party – and then Harry went and shot himself.
'It was an accident,' Aubrey insists with perfect Tony Archer reasonableness. I half-expected him to go off and work on his Fordson (an Archers reference). Instead he drinks way too much.
It's not that Aubrey holds Clover responsible for his son's death, but if she had come back, things would have been different. Clover gets round to the chores her father cannot face, including cleaning up the bathroom in which Harry died. She finds the dog locked up and dog faeces everywhere. Aubrey and Clover occupy the same space but do things at different speeds. They grieve individually.
There isn't that much dialogue in the film. Scenes are broken up with farming activity. Some local lads turn up to tidy up. Clover finds a young man, James (Jack Holden) who was around Harry at the time of his death. The opening of the film suggests Bacchanalia, rowdy male horse play! It must have been a heck of a party.
Clover discovers that some of the stock is to be sold – the family's money problems will come to an end. Then there is another unpleasant discovery.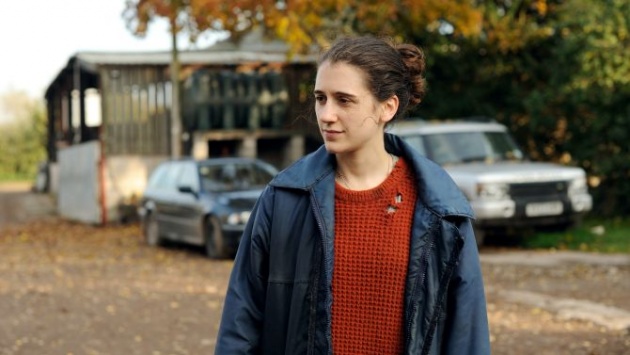 Photo: Surveying the lay of the land. Clover (Ellie Kendrick) in The Levelling. Courtesy of Peccadillo Pictures
The drama is highly naturalistic. There is no superfluous plot. Clover is at odds with her father partly from being a vegetarian. Shepherd's Pie (a minced lamb and potato concoction) is served but Clover won't touch it. 'Just eat the potato,' says Aubrey, drinking. Meals are taken in a mobile home where Aubrey sleeps.
Clover doesn't have the moral authority or even demonstrable love for her father to stop him from drinking. Yet he isn't the Neanderthal silent brute you might expect from a farming drama. (As we know from The Archers, farmers are quite erudite.) Although described as 'not the easiest dad to live with', he has a matter of fact tone, though drinking is also involved.
The finale – which I won't spoil – is shocking. Aubrey has come to the end of his tether and Clover has to deal with it. She makes an uncomfortable compromise that would be best for all concerned.
There are few supporting characters. A neighbour offers the family some food and brings flowers on the day of the funeral. There is no priest. Nor is there a representative from the National Farmers Union - where is David Archer when you need him? When a person dies in a close-knit farming community, there is no one to take their place. You live with the absence. Community is represented by the single gesture rather than the provision of ever-present comfort. Farming is lonely.
The Levelling presents a truth about the inability to run from your past. At a certain point, you have to embrace poop. You're in a muddy field with your father and he's doing bad stuff. Dickson Leach doesn't try to turn the story into a metaphor. It is unapologetically specific and yet wholly truthful. You wonder how Clover will assimilate what has happened, whether she will reach some sort of understanding of her brother. By the end, the mystery is solved but there are still emotions to deal with.
As a result of this movie, first screened in the United Kingdom at the 2016 London Film Festival, Dickson Leach won the first ever IWC Filmmaker Bursary award - £50,000. No sooner than she had completed The Levelling than she had directed another short film, Silly Girl, written by her star, Kendrick. She isn't a young director –she was born in 1976 – though she has a fresh and persuasive talent. Moreover, she worked in America, on Todd Solondz's film, Palindromes, as his assistant, and made her first short, Cavities in the same year (2004). Amongst her other credits are the shorts, Ladies in Waiting (2005), The Dawn Chorus (2006) and the documentary series 3MW (2009).
Reviewed at Crouch End PictureHouse, London, Monday 22 May 2017, 18:30 screening