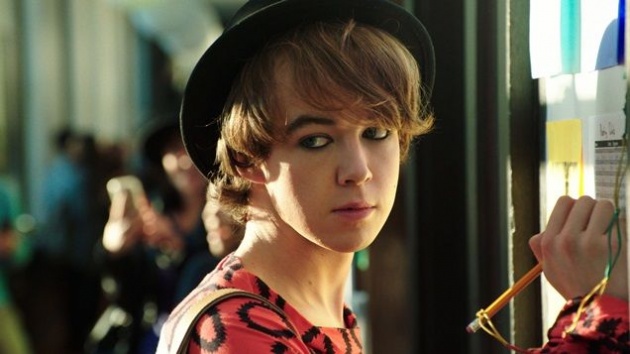 Pictured: Billy Bloom (Alex J. Lawther) goes through his Boy George phase in 'Freak Show', the film adaptation of James St James' 2007 novel. Still courtesy of Maven Productions
Until she made her feature directorial debut with Freak Show, an adaptation of James St James' 2007 novel, 63 year old Worcestershire-born Trudie Styler was best known as an actress turned movie producer. She appeared in the television series Poldark (the Robin Ellis one), as well as Kelly Monteith, Funny Man, The Bell and Miss Marple: The Body in the Library. She married her husband Gordon Sumner (aka Sting) before making her home in New York raising children Mickey, Eliot, Jake and Giacomo. Mickey Sumner followed her mother into acting: you will have seen her in Noah Baumbach's Frances Ha in 2012. Styler is best known for producing Guy Ritchie's break-out film Lock, Stock and Two Smoking Barrels in 1998 and has cultivated the career of writer-director Dito Montiel, producing and executive producing his films A Guide to Recognising Your Saints (2006) and The Son of No One (2011) respectively. Her other high-profile producing credits include Duncan Jones' 2009 debut Moon and Girl Most Likely (2012) starring a post-Bridesmaids Kristen Wiig.
So what pushed Styler to make the transition from producer to director? In an interview with movie trade paper Variety, she describes having an accident with a truck aged two and a half leaving her face lined with deep red scars; she was dubbed 'scarface' by cruel children. At its essence, Freak Show is about a response to bullying. Actually, Styler only opted to direct the film after the original director (unnamed) pulled out. She does, I can report, a creditable job.
James St James (born James Clark) is famous in his own right as the author of Disco Bloodbath, about the club kid phenomenon in New York in the 1990s. It was turned into a film, Party Monster, in 2003 by directors Fenton Bailey and Randy Barbato, with Seth Green (Austin Powers) as St James and Macaulay Culkin as wild party organiser Michael Alig. Freak Show was published in 2007 and is based on St James' high school experiences. 'The concept is completely autobiographic', said St James in a 2007 interview with Brian Kenney of School Library Journal. 'The house, the school, it's all me.' It is autobiographic, but also an exercise in wish fulfilment. In High School, James got quieter and quieter. His 17 year old surrogate, Billy Bloom, the protagonist of Freak Show, got louder and louder.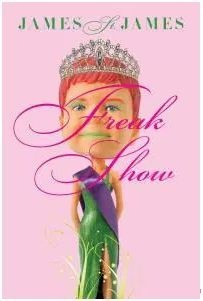 Pictured: the cover of James St James' 2007 novel. Courtesy of Penguin Random House
The film begins with Billy (Alex J. Lawther, who played the young Alan Turing in The Imitation Game) arriving at his father's house – nay, a mansion. Daddy William (Larry Pine) is fabulously wealthy but mother (Bette Midler) is just fabulous. Billy idolises his mother, his Muv, with a passion and is bitterly disappointed not to live with her. William has custody of young Billy until he becomes of age and sends him to the preppy red brick High School (Dwight Eisenhower in the book) where his taste in make-up and girl clothes singles him out for hostile stares and ostracism.
Billy makes two friends: a girl whose name her never learns whom he dubs Blah Blah Blah (AnnaSophia Robb from Bridge to Terabithia, a film about retreating into fantasy as a response to bullying) and the local jock, Flip Kelly (Ian Nelson), the football star for whom everything comes all too easily.
Quite apart from the other boys who attack Billy quite brutally at the film's mid-point – Billy and Flip bond as he recovers – Billy's main antagonist is Lynette (Abigail Breslin). In an act of defiance, Billy decides to stand against her to be voted High School Queen of the Prom, an election campaign that gets TV coverage.
The film is firmly in Young Adult (YA), teen movie territory – and what the heck is wrong with that? It is powered by an engaging performance by Lawther, who throws himself into wardrobe choices. His enactment of Zelda Fitzgerald as a book report is an eccentric highlight. The script by Patrick J Clifton and Beth Rigazzo (Raising Helen) brings the 2007 story bang up to date with anti-DT barbs. 'Let's make America great again,' trumpets Lynette as the caricatured villainess as part of her campaign. The film is slightly unfair to her: the girl isn't the prettiest and her campaign is based on arrogance and prejudice rather than a defence of heterodoxy as a means of surviving in 'America First' USA.
Some reviewers have sniffed that the film isn't particularly subtle. Its tone is taken from its protagonist who is über-confident and clearly defined. Yet it has nuance. Billy discovers that his view of his mother is romanticised and the crotchety housekeeper, Florence (Celia Weston) becomes a sympathetic source of support. When Billy returns to school, he is appropriated as a symbol of progress. The institution attempts to support him, if only for fear of a lawsuit.
The supporting cast is eclectic and includes John McEnroe as a gym coach. The 72 year old Midler is in amazing shape and at one point raises her leg with the dexterity of a gymnast. Okay, she's too old to be Billy's mother if you do the math, but disbelief is there to be suspended.
It may be significant – or a coincidence – that women rather than men are directing films about the transgender experience. Just Charlie from British director Rebekah Fortune, 2016's Don't Call Me Son from Brazilian director Anna Muylaert and 2015's About Ray (director: Gaby Dellal) starring Elle Fanning, Naomi Watts and Susan Sarandon are recent examples. There is certainly a distinction between these movies about The Danish Girl (director: Tom Hooper), which is more about the experience of transgender artist's Lili Elbe's wife (Alicia Vikander) than the artist herself and Walter Hill's 2016 genre actioner (Re)Assignment starring Michelle Rodriguez as a male assassin forced to undergo gender reassignment surgery. The most significant mover in the genre is Jill Soloway, creator of the TV series Transparent, based on her father, Harry, coming out as transgender. Just as Harry Soloway became Carrie, so Mort (Jeffrey Tambor) became Maura. At some point, transgender directors will make films about their own experiences. For now, you feel like you are watching a genre being formed, heading towards its most perfect expression. In western terms, we are at the Tom Mix stage rather than the John Wayne one.
Freak Show feels like an anomaly in Styler's CV. She formed Maven Pictures with Cecilia Rattray to support women in filmmaking, with productions including Novitiate by writer-director Margaret Betts and The Kindergarten Teacher by writer-director Sara Colangelo; Maven also produced last year's American Honey, written and directed by Andrea Arnold. Styler is an example of a considerable number of women – and actors in general – who turn to directing for the experience, rather than making a career out of it. However, she is an important force for women in film, with an executive producer credit on Turkish writer-director Deniz Gamze Ergüven's upcoming Kings set in South Central Los Angeles in the run up to the riots that took place in 1992. The film stars Halle Berry and Daniel Craig and will be screened at this year's Toronto Film Festival
Reviewed at Edinburgh International Film Festival, Saturday 24 June 2017, 09:15am, FilmHouse, Edinburgh (Press Screening)