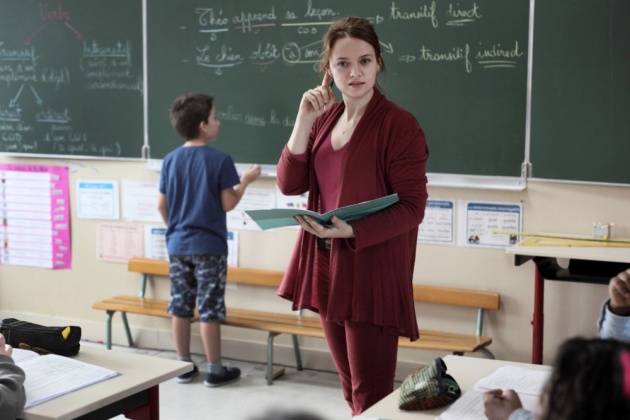 Pictured: Florence teaches transitive verbs in 'Primaire' co-written and directed by Hélène Angel. Still courtesy of Unifrance
A director's past work is no indication of what they might produce. This is abundantly true of Primaire (Elementary) directed by Hélène Angel from a screenplay she wrote with Yann Coridian, Olivier Gorce and Agnès De Sacy. Set in Grenoble in France, a city in south-eastern France close to the French Alps, it describes the struggle to a young primary school teacher, Florence (Sara Forestier, redefined by this movie) to balance life and work. Both are thrown out of whack by two events. Her ex-husband wants their ten year old son Denis (Albert Cousi) to travel with him to Asia. Then a troubled kid, Sacha (Ghillas Bendjoudi) abandoned by her mother ends up having a fixation of her. Throw in a class inspection, a pupil who struggles with reading, Greek myth, a difficulty with the special needs assistant who is coaxing one pupil a little too much and a Oriental food delivery guy, and there is a super abundance of incident to keep viewers absorbed over the film's 105 minute running time. Believe me - you'll stay to the very end just to enjoy the closing, uplifting song.
So who is Hélène Angel? Born on 3 May 1967, she came to prominence with her 1999 directorial debut, Skin of Man, Heart of Beast (Peau d´homme, coeur de bête), an acclaimed but little seen drama about Coco (Bernard Blancan) who returns home with a dubious story about having been in the foreign legion but then behaves erratically. She followed it in 2003 with Rencontre avec le dragon, a larger-budgeted medieval adventure film starring Daniel Auteuil in heavy armour as an immortal knight scarred by fire. She co-wrote the screenplay of Sister Welsh's Nights, released in 2010 before helming the 2011 thriller Propriété Interdite (Forbidden House) about a bourgeois couple, Claire (Valérie Bonneton) and Benoit (Charles Berling) who return to the dilapidated family home where Claire grew up to discover that the house might be occupied. Most of her work as a director deals with troubled or literally scarred men, but there is also a sub-theme in three of her films (Skin of Man, Rencontre avec le dragon and Primaire) about the relationships between adults and pre-pubescent children.
The tone of Primaire is lighter than Angel's previous work and is her first to primarily focus on a female protagonist. We first see Florence attempting to get young Tara (Tara Dechaud) to read the word 'Aventure' (adventure) syllable by syllable, whilst two boys, Lamine (Lamine Mara) and Timothée (Timothée Fournier) also in the classroom hurl insults. Incidentally, many of the child cast share their character's first names, which must have made it easier for Forestier to play teacher. Tara struggles. Florence doesn't just teach at the school, she lives there. She isn't just a mother. Her son Denis is also in her class. Her world is complete but small: 20 to 30 children, the school administration. She has text books in her kitchen. No boundaries.
Denis is more than a little embarrassed by his mom. She showers him with kisses and endearments that even an eight year old might baulk at. Denis wants to be with his father, to travel. That would mean disrupting his schooling and Florence being on her own.
Florence is really tested when Sacha is brought into her class. He doesn't have his sports kit. He looks older, broader, more physically imposing than the other children. Denis complains that he smells and moves away from him. Sacha has been given money but has no clean laundry. His mother has disappeared. Eventually, the school contacts Sacha's mother's ex-boyfriend, Mathieu (Vincent Elbaz), a delivery man whose job doesn't allow him to care for Sacha full time.
One day, Sacha isn't collected from school and is taken into Florence's flat. He roots around the house and steals a scarf. He teases and fights with Denis. The two boys end up in a classroom and end up spray painting one class's pet rabbit. The rabbit then escapes (wouldn't you?).
A relationship grows between Florence and Mathieu after she covers him with pancake mix in her apartment; he remarks on the books in her kitchen. Florence isn't looking for romance but she wants Sacha's mother to take responsibility for him. One of the film's best scenes has Florence confront the woman in the clothes shop where she works. She is emotionally closed and is in no mental state to care for another human being. Sacha's mother offers Florence a scarf which comforted Sacha when he was younger; it is only the slightest recognition that she cares.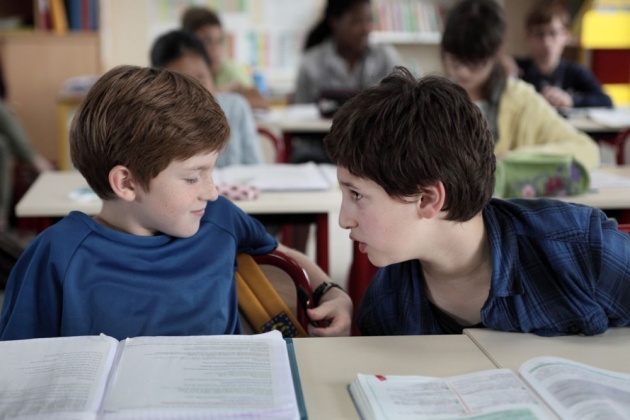 Pictured: Denis (Albert Cousi, left) and Sacha (Ghillas Bendjoudi) get acquainted in 'Primaire', co-written and directed by Hélène Angel. Still courtesy of Unifrance
At one low point, Florence leaves the school building and goes for a walk in the evening haze. She sits high above the city with a troubled look on her face. The panorama is stunning. We realize that the majority of the film is set in interiors. This scene represents release. On her way back, somewhat cleanses by the clear air, Florence catches sight of the painted rabbit.
The film has something to say about modern primary school education in France. Teachers complain about a focus on 'pupil production'. Florence doesn't teach Christian or Islamic religion; the school's show focuses instead on Greek mythology, which doesn't have tied to it a code of conduct to be followed in the 21st Century. In freeing young minds, it is important to teach facts and stories that don't determine how one should behave, not to assign gender roles – so girls as well as boys can use (toy) weapons – and the children can pick their own parts. It makes for an interesting alternative to teaching in the United Kingdom and America, which introduces children to religion at a young age.
There are other testing moments for Florence, when a parent accuses her of giving a girl a role that reflects her learning difficulties. When the school inspector sits in her class, Florence asks the class to calculate the numbers of dictations that she has given in her career so far and how many she might give before she retires – the children are very competent at maths but the inspector asks if Florence might like to take a break. There is also a moment of vindication: Tara being left to wander alone and reading all the school notices. Education is liberation.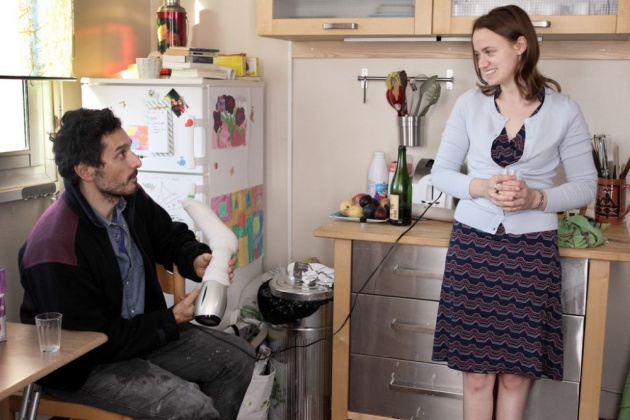 Pictured: Sock-drying Grenoble-style. Vincent Elbaz and Sara Forestier in 'Primaire'. Still courtesy of Unifrance
Some reviews have criticised the film for being preachy, confusing the setting with the drama itself. Primaire isn't didactic. Yes, it is about education giving young children confidence to discover the world on their own (or with Papa) and about persistence and self-belief (Florence assures Tara that all her children learn to read). But it has one scene that is far from preachy, when the special needs assistant visits the child that she formerly supported and is barely recognised. There is the heartbreaking implication that teachers are sometimes invisible, present but not seen.
I don't know who rates films on imdb but '6.6 out of 10' for Primaire seems awfully harsh. '10 out of 10' is nearer the mark - I was knocked out by it.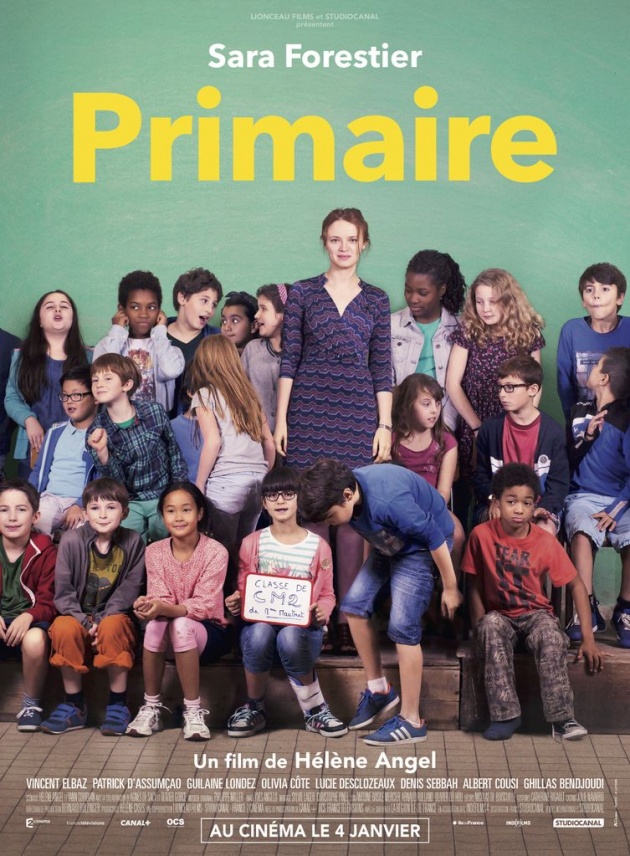 Reviewed at Cine Lumiere, South Kensington, London, Friday 8 September 2017, 20:40 screening