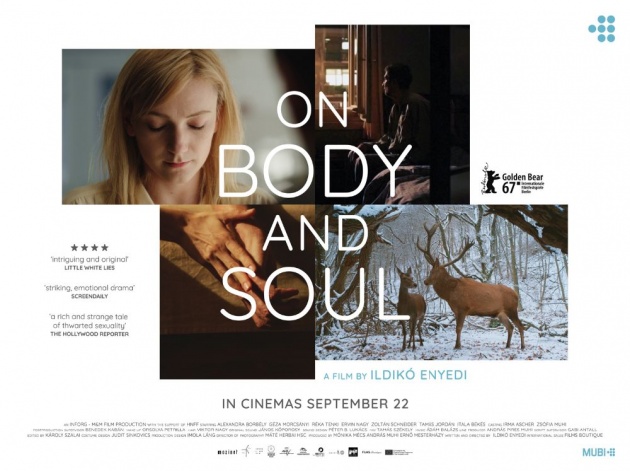 Pictured: Quad Poster of 'On Body and Soul' (director: Ildikó Enyedi). Courtesy of Mubi
On Body and Soul (Teströl és lélekröl) was the surprise winner of the Golden Bear at this year's Berlin Film Festival. Its director, sixty-one year old Hungarian Ildikó Enyedi, had not had a film released in cinemas since 1999 - Simon Mágus or Simon the Magician, a French-Hungarian co-production starring Péter Andorai and Hubert Koundé, about a Hungarian magician asked to help solve a murder. Enyedi's films deal with the fantastical – she made her feature debut in 1989 with the Cannes prize-winner, My Twentieth Century, about two identical twins separated at birth who meet for the first time on the Orient Express. Dreams feature a lot in her work, as they do here. For On Body and Soul deals with an unlikely couple, each desensitised in their way, who fall in love because they share the same dreams, of two deer, a stag and a doe, in a form of courtship ritual in a snowy forest by a small frozen lake.
Maria (Alexandra Borbély) is the new meat inspector at a slaughterhouse. She is blond haired, timid and awkward. We first see her standing in the shade, self-consciously withdrawing the tips of shoes from sunlight so they are completely covered in shadow. She does not interact with people well. 'Don't call her Marika', says one employee, the burly put-upon HR manager, Jenö (Zoltán Schneider). There is a running joke that Jenö advocates forceful male behaviour whilst being told by his wife, who works in the same factory to pick up the children and fetch the shopping too, so she can have a night out with her other colleagues. (Jenö acquiesces without complaint.) Endre (Géza Morcsányi) is the slaughterhouse's financial director. He has a withered left arm that is completely useless. He mostly invites respect, though not from a new employee, Sanyi (Ervin Nagy), a younger man, whom Endre asks whether he feels sorry for the animals. Sanyi imitates the sound of the killing of a cow ('bam') and replies to the negative. 'You won't last long here,' observes Endre.
Endre first catches sight of Maria in the courtyard standing away from other employees. She has replaced Bori, another female inspector who has left to take maternity leave, two months before the baby is due. The female employees at the slaughterhouse liked Bori; she would have a cup of tea with them. They are afraid of Maria. One of the older women shuffles towards her to invite her to join their group and then thinks better of it.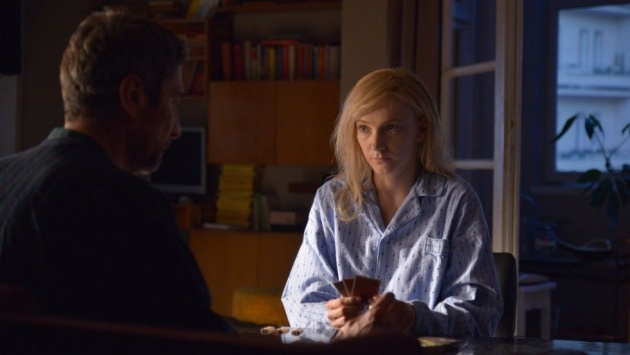 Pictured: Maria (Alexandra Borbely) and Endre (Géza Morcsányi) play cards in 'On Body and Soul'. Still courtesy of Mubi.
The characters are all introduced in a montage in which the sun suddenly appears bright in the sky, having escaped cloud cover – even one of the cows looks up in her cage. It is almost the equivalent of an eclipse, but it is Enyedi's way of introducing a change of season into her film; the very first scene is between stag and doe, the first of eight winter dream sequences which punctuate the movie at regular intervals. Endre introduces himself to Maria in the canteen, discussing the food. Only the sorrel is good here, he remarks. Does she know why? 'Is it because you only have one arm and it is easier to eat?' replies Maria without malice. She isn't being intentionally cruel, rather factual. Endre calls her Marika to intentionally provoke her. 'I don't like it, surely your friend told you that,' she remarks. All in all, not a great first encounter.
Enyedi cross-cuts between Endre and Maria at regular intervals. For the most part he sits in front of the TV with a meal. In her well-appointed apartment, clean, modern, Maria replays the conversation between Endre and herself using salt and pepper pots, uttering the unspoken bits; later she will use Playmobil figures. Endre will be represented by a knight with his right (not his left) arm missing; his left holds a shield. Maria visits an analyst, specifically a child analyst, who calls her Marika. That's why she doesn't like it.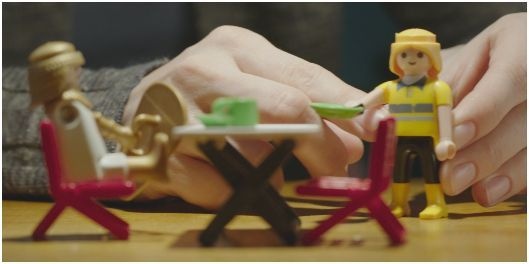 Pictured: Reviewing the day using Play Mobil. Maria (Alexandra Borbely) analyses her feelings in 'On Body and Soul'. Still courtesy of Mubi.
The inciting incident (as prospective screenwriters call it) occurs when the company orders some mating drugs - bull stimulants. They are used in the building by person unknown. We never find out how the equivalent of bull Viagara was deployed, only that the factory showed signs of a break-in. The police encourage Endre to bring in a psychiatrist. She is young, female. Endre finds himself looking at her breasts. 'How are they?' she asks. The psychiatrist asks a bunch of questions about Endre's sex life and then a clincher: 'do you dream?' The same question is asked of Maria. It becomes apparent when the psychiatrist sits Endre and Maria down together in the same room that they share the same dreams (about a stag and a buck). Each can scarcely believe it; as if Maria rating the factory's meat 'B' as it is too fatty by millimetres was bad enough.
The next day, Maria and Endre write their dreams down and compare notes. Yes, they are the same. It means something. Maria asks her psychiatrist if people can share the same dream but he doesn't answer. Endre invites Maria to lunch at his favourite restaurant, where they are the only customers and the service is terrible. You sense that the young waiter disapproves or can't be bothered. He has been in the job too long, has few prospects but enjoys his youthful insolence – you sense all this from his demeanour rather than expository dialogue ('are we here to chat?' the waiter asks when Endre enquires about the previous owner). They end up in a café eating from plastic plates. Incidentally, Maria prepares her own meals for pictorial effect: rice and fish fingers positioned to resemble a rising sun. She covers the prepared dish with cling film, either to microwave later or just to have something sunny to look at.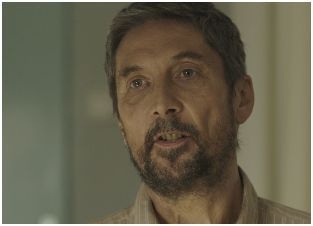 Pictured: Endre (Géza Morcsányi) in 'On Body and Soul'. Still courtesy of Mubi.
The film comes to a head when Endre invites Maria to sleep with him. Not to have sex, but to sleep next to him. She has the bed, he lies on an air bed on the floor. Restless and self-conscious, they end up playing cards. The experiment isn't concluded and Endre, who by his own admission, has given up on romance – he's pretty brusque with others, not wanting to help his adult daughter who asks for money or let a woman who has sex with him stay the night – eventually calling it a day, even though Maria has described him as 'beautiful' repeating one of her rehearsed conversations.
In the final third of the film, Enyedi ventures into dark comedy, with Maria asking her therapist how she can feel. He encourages her to stroke her own face and listen to music. She puts her hand in mashed potato to feel the texture. She watches hard porn. She takes a walk through the park and spies, intrusively, on other couples. She lies on the grass until the sprinklers suddenly come on. She goes into a music store to listen to a stack of CDs. Each one has no effect on her – the first is heavy metal. As the store closes, the music store employee recommends her favourite CD, by Laura Marling. Maria buys it without listening to it. One song about a disappointing relationship ('Suits Me Well') gets to her, but she only listens to part of it. Later, when Endre says there is absolutely no hope for them, she listens to it again in the bath, using a meat hammer to smash a window to cultivate a shard of thick glass.
On Body and Soul arrives at a naturalistic conclusion: the magic of a relationship only exists until it is grounded by matters of the flesh. It features one of the least exploitative sex scenes you are likely to see. It is also about the ways in which men deal with sexual frustration, either by drugs or boorish behaviour, and the ways in which they call each other out. There are moments of comedy in which the aged cleaning lady teaches Maria to make the best use of her height and how to walk (not too pronounced). In short, it is a date movie, one which features the killing of livestock, sparingly shown, but when meat is pulled apart, you wince. Incidentally, Enyedi didn't stage any of the slaughterhouse scenes but just filmed what happened in a working factory. It is enough to make you think about meat. There are grace notes – Endre's conversation with young Sanyi who mocked Maria after the identity of the bull mating pill abuser is discovered. In its own way, it is a charmer, though every time I looked at Géza Morcsányi, I kept thinking of the Austrian director, Michael Haneke (similar age, beard, eyes). This is a recommendation of sorts.
Reviewed at Crouch End PictureHouse, Screen 4, North London, Tuesday 3 October 2017, 18:10 screening