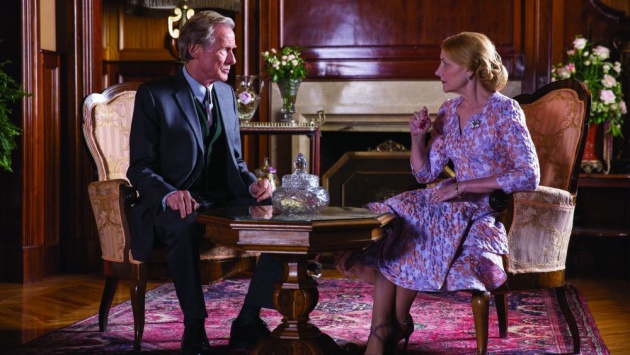 Pictured: Edmund Brundish (Bill Nighy) makes it abundantly clear that Mrs Gamart (Patricia Clarkson) should not interfere with the bookshop opened in the coastal town of Hardborough in 'The Bookshop', a 2017 film directed by Isabel Coixet. Still courtesy of Celsius Films
There can never be enough films in which a stranger comes to town and says, 'I'm going to open a ...' - please complete sentence.
Juliette Binoche opened a cake shop in Chocolat. Fancy? Seriously, she sold fancies. In The Bookshop, adapted by Spanish writer-director Isabel Coixet (Learning to Drive, Elergy) from Penelope Fitzgerald's celebrated 1978 novel, a young-ish widow, Florence Green (Emily Mortimer) moves to the coastal town of Hardborough and has bought The Old House (that's its name) with the intention of opening a bookshop. 'A bookshop?' cries leading toff Violet Gamart (Patricia Clarkson). She doesn't object but she would rather Mrs Green opened it in a less central location, say in the premises of a local fishmonger. I can hear the conversation: 'do you want kippers or Kipling? Plaice or Plath?' Florence is not deterred from her mission. The house is empty. She has acquired it. A bookshop would be a suitable way to honour her late husband, though she never displays his picture or indeed names the bookshop after him.
Early on, Florence makes a shocking admission: she loves books but she's not much of a reader.
Now, I have to confess that I did not have many objections to the film whilst watching it, save one. I was perturbed when Mrs Green wrapped up a copy of the Philip Larkin's 'Collected Poems' to despatch to her only customer, Edmund Brundish (Bill Nighy). 'Collected Poems' was first published in 1988. The drama is set in 1959.
Larkin is representative of the kind of literary grenade that Florence wishes to detonate. Yet The Bookshop offers no such shock to the system. It is a typically British story of a young woman who clings to her convictions courageously in the face of stiff-upper-lip opposition. She regards books as potential suitors to her customers, or rather customer. This is not to say that her shop is devoid of traffic, so much so, that she is 'advised' to take on a helper, Christine (Honor Kneafsey), the youngest of the three Gipping sisters, who helps out after school for the modest wage of 12 shillings and six pence a week.
The reclusive Edmund Brundish is one of those men who hold life at arm's length. Rumour – unimaginative rather than vicious – has it that his wife died whilst picking blackberries. He keeps his distance by despatching a young boy to Mrs Green's bookshop to ask her to supply him with a few recommended volumes. Florence sends him some poetry and a copy of 'Fahrenheit 451' by Ray Bradbury. 'I don't care for the others,' responds Brundish. 'But send me more volumes by Ray Bradbury.' Florence mails him 'The Martian Chronicles'.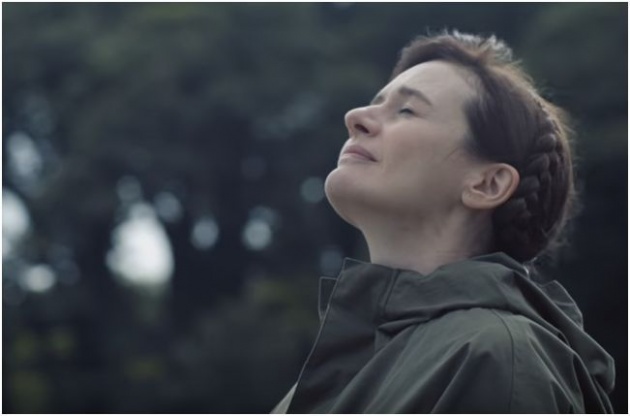 Pictured: Florence Green (Emily Mortimer) breathes in whilst wearing character-appropriate clothing in 'The Bookshop'. Still courtesy of Celsius Films
Insinuating himself there or thereabouts is the questionable personage of Milo North (James Lance), whom Florence first becomes acquainted at Violet Gamart's bash. He is a rake, one who has been left in the garden too long and has acquired puppy fat. Milo works for the BBC or rather doesn't since application is not one of his strong suits. He is malleable – perfect for Mrs Gamart's bidding in the second half.
Early on we are signalled the perils of a gas heater. Florence advises young Christine Gipping, who incidentally is quite partial to Mrs G's China tray and would like it bequeathed to her in Florence's will, that both knobs should not be switched on at the same time. This is an obvious plant. Whenever someone says 'don't', we know that someone 'will'. But then the heater is taken away; we sigh with relief.
Courtly love
The drama is defined by the sexless courtly relationship between Mr Brundish and Mrs Green. When they stand together in the plain air, we listen to them breathing. Mr Brundish takes the unheard of step of inviting Mrs Green for tea. He does not quite know how to execute his plan, so when Mrs Green arrives at the house, she finds the door open and climbs the stairs. Mr Brundish is waiting for her. He doesn't attend to the cake that has been baked on his request; Florence has to serve it. Yet the couple are fused by mutual admiration, Mr Brundish giving Florence his opinion of Vladimir Nabokov's 'Lolita', acquired by Florence in the Olympus Press two-volume edition – complete with typographical errors – rather than the single volume 1959 Weidenfeld and Nicolson edition that you feel she would have ordered. Upon Mr Brundish's recommendation, Mrs Green stocks 250 copies. The response increases her footfall, as do the smutty cards that have also been sent to her by sales representatives.
Coixet's last moderate success was Learning to Drive, in which Patricia Clarkson's character got behind the wheel and steered her own course, metaphorically speaking. That film also dealt with prejudice and a tentative relationship. The Bookshop builds to a 'big gesture', one that has alarming consequences. So much so that Violet's husband, General Gamart (Reg Wilson) gets an ear-full.
Frances Barber makes the briefest of appearance as a woman who sells Mrs Green a red dress. As if red and not green was her colour. There is also a narrator (Julie Christie) who describes the patronising nature of the local bank manager, Mr Keble (Hunter Tremayne).
Dandelion Wine
The most interesting aspect of the film is Mrs Green's veneration of American literature (Nabokov, Bradbury) above the English novel. I don't believe that Coixet is flattering her American audience, who may not claim Nabokov as one of their own. Rather she is illustrating that American literature is more attuned to social change and reflecting real hopes and feelings than its English counterpart – Philip Larkin aside. There is also Mr Brundish's quite strange embrace of genre fiction. I have never heard Ray Bradbury described as a literary figure. He was the Stephen King of his day. Brundish's appreciation of Bradbury speaks of a man who had suddenly discovered the peanut butter and jelly sandwich and found it rather good.
The lengths to which Violet Gamart goes to 'get her way' are chilling, even involving Parliament. This finally is about the power of the establishment. Fitzgerald (nee Knox) spent part of her life living on a houseboat. She married an Irish lawyer who subsequently retired in disgrace. You sense that Fitzgerald was an anti-authoritarian writer who preferred to plough her own furrow or furrow her own brow, you get the gist. Such acts of dissent didn't take her very far. Mrs Green similarly suffers. The final image hints at a Pyrrhic victory - but for whom?
Reviewed at Berlinale Palast, Berlin, Sunday 25 February 2018, 18:15 screening, Berlinale