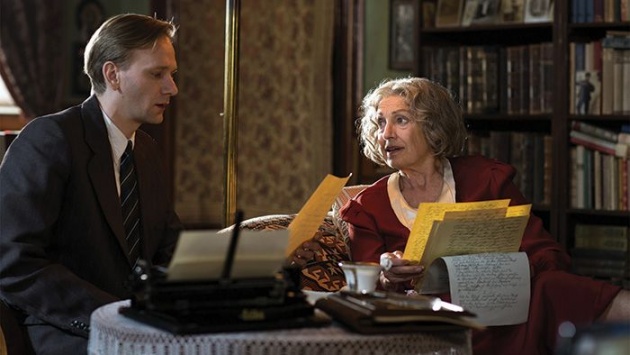 Pictured: 72 year old Lou Andreas-Salome (Nicole Heesters) collaborates with her biographer Ernst Pfeiffer (Matthias Lier) in 'Lou Andreas-Salome', a German language biopic co-written and directed by Cordula Kablitz-Post. Still courtesy of Avantimedia
At the start of the biopic, Lou Andreas-Salomé, there is a caption: 11 May 1933. The Nazis are in a book burning mood. Psychiatry is seen as a Jewish profession, therefore all books on the subject must be destroyed and all practitioners - well, we can imagine. The earnest (read: cash-strapped) student Ernst Pfeiffer (Matthias Lier) visits 72 year old noted psychiatrist Lou Andreas-Salomé (Nicole Heesters) whose privacy is jealously, nay, religiously guarded by her 'housekeeper' Mariechen (Katharina Schüttler). 'Frau Andreas-Salomé does not see patients anymore,' Ernst is told. He writes her a note, which Mariechen dutifully passes to Lou. 'Well, let him in,' she instructs. The note refers to a matter of life and death.
The nervous Ernst starts talking. He has a friend who has a wife to support and is a student with a crisis of confidence. He wants to kill himself. Lou – and the rest of us – sees through him. 'You are married and you want to kill yourself.' Ernst nods. Fortunately, Lou has a job for him. Not cleaning windows or telling Nazi officers, 'kein Gehirnarzt hier' ('no brain doctor here' - he means 'Psychiater' but the Nazis might not understand). Ernst starts typing her memoir. The early renunciation of God – 'God is everywhere,' intones a priest; 'is he in Hell as well?' asks sixteen year-old Lou (Liv Lisa Fried) before she marches out of church and embraces the rain – there is a lot of Lou getting soaked in this movie. The fall from a tree - six year-old Lou (Helena Pieske) wants shoes like her brother, she tells her father (Peter Simonischek of Toni Erdmann fame) as he advises her not to tell mother. Lou's father dies when she is sixteen. She has a voracious appetite for learning and is directed towards a castigated 17th Century Dutch philosopher, Baruch Spinoza ('fear cannot be without hope, nor hope without fear') by a friendly pastor, Hendrik Gillot (Marcel Hensema) who is a bit too friendly as we discover later. She persuades René Maria Rilke (Julius Feldmeier) to change his first name to Rainer, to be taken more seriously as a poet - it worked. Lou writes poetry, we see her throw a text to the ground. In 1895, she publishes a novel, 'Ruth', about a young woman and her mentor.
The heart of the film features Katharina Lorenz, who plays Lou between the ages of 21 and 50. She forms a relationship with fellow philosopher Paul Ree (Philipp Rauß) and his best buddy, the extravagantly moustached Friedrich Nietzsche (Alexander Scheer), he of 'that which does kill us makes us stronger' fame. We enter a 'Jules et Jim' situation: both men are in love with her. But Lou is unlike the heroine of François Truffaut's film – she won't sleep with or marry either of them. Although she is very companionable with the two men and jumps into a lake in her blue dress to demonstrate her independence of thought, she earns the ire of Nietzsche's sister (Katrin Hansmeier), who is far less quotable than her brother – and ruder too.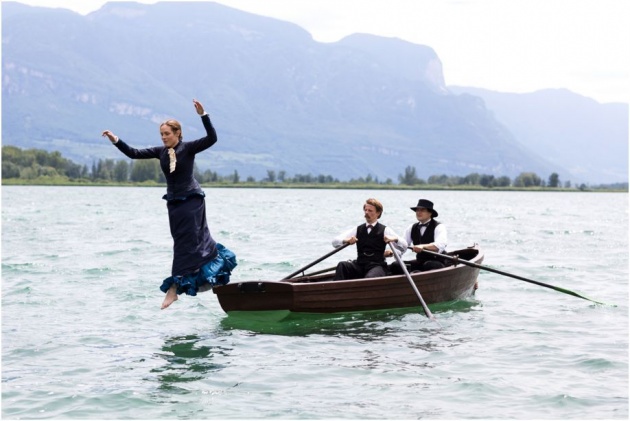 Pictured: 'If that's what you think of Baruch Spinoza, I'm off!' Lou (Katharina Lorenz leaps before she looks in 'Lou Andreas-Salome', a German language film directed by Cordula Kablitz-Post. Still courtesy of Avantimedia
The film is a 'who's who' – as opposed to a Lou's Lou - of German intelligentsia. Lou makes the acquaintance of Dr Sigmund Freud (Harald Schrott) who puts her on the couch. We see Lou appear in digital recreations of old photographs, stepping out of a carriage or crossing the street. Lou does indeed lose her virginity, not to her eventual husband, Friedrich Carl Andreas (Merab Ninidze), who has his own penchant for scandal, but – well, I won't spoil it. There is a question of Mariechen's identity – 'you're not just the housekeeper,' says Ernst. Another tree moment follows.
For much of its length, Lou Andreas-Salomé has a driving energy, emanating from Lorenz's central performance. I for one was quite happy that Lou adopted an Apollonian philosophy rather than a Dionysian one – she doesn't believe physical love making will set her free, rather having well-read friends with whom to argue and compare notes.
Is Lou Andreas-Salomé a depressingly conventional biography rather than a movie worthy of its subject? It doesn't deal very much with her work on narcissism, essentially describing how the self-regarding individual dissolves into their surroundings. Except that it does: Lou doesn't want to be seen as an object of desire, but as a friend, like a man. She maintained celibacy for years, partly as Freud puts it because the early death of her Papa meant that she did not let go of her father figure – so her father is a constant unseen presence. She even 'sees God', whom she is convinced looks a lot like Freud rather than Toni Erdmann with real teeth. Director Cordula Kablitz-Post, who has a background in documentary, never once makes us feel that Lou needs to be sublimated to a man to give her life purpose. We admire her independence and her inability to catch a cold when her clothes are dripping wet.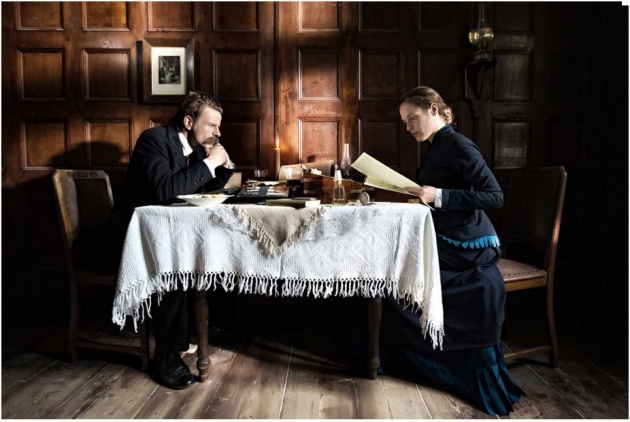 Pictured: Friedrich Nietzsche (Alexander Scheer) and Lou Salome (Katharina Lorenz) compare notes in 'Lou Andreas-Salome' a German language film directed by Cordula Kablitz-Post. Still courtesy of Avantimedia
We see Lou's impact on the men who court her – and on her mother - but never on the wider world. Nor do we see her practicing psychoanalysis. Great female lives aren't always defined by texts that change people's thoughts rather by the seriousness of their purpose and the example they provide for future generations.
Kablitz-Post's film was originally released in German cinemas in 2016 and has taken two years to open in the United States and be screened in the UK. It impresses with its vivid portrayal of a woman more of us should know. This reviewer was both educated and entertained.
Reviewed at Oxford International Film Festival, Saturday 12 May 2018, Curzon Oxford, Westgate Centre, 17:50 screening