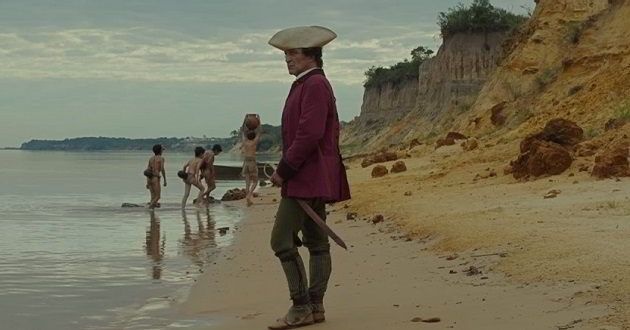 Pictured: Don Diego de Zama (Daniel Giménez Cacho) stares out to sea in the opening of 'Zama' an adaptation of Antonio di Benedetto's 1956 novel, written and directed by Lucrecia Martel. Still courtesy of New Wave Films (UK) /Strand Releasing (US)
The first time I attended a screening of Zama, Argentine writer-director Lucrecia Martel's fourth feature, I 'watched' it – it unspooled in front of my eyes – but I didn't see it. It was October 2017. Less than 24 hours earlier in the same venue, the Odeon Leicester Square in Central London, I had seen – and was blown away by – Greta Gerwig's Lady Bird. After a great movie, you don't necessarily want to go back to the cinema straight away, even if it is the London Film Festival. You want to pat your belly and say, 'I'm stuffed – please, no more'.
Seven months later, I finally 'saw' Zama, with a post-screening question and answer session with Martel. It is fair to say that she doesn't sell her films, well, this one in particular, encouraging the viewer instead to swallow it like an exotic drink that they might otherwise refuse. I was thoroughly absorbed – nay, wowed – by the movie, a near comedy about hope, despair and indifference to colonization. In many ways it is radical film from a radical filmmaker. You won't accept the 'great men of history' version of events ever again – well, not easily.
Adapted from the 1956 novel by Antonio di Benedetto, it tells the story of the tragi-comic Don Diego de Zama (Daniel Giménez Cacho), a magistrate, or Corregidor (administrator). We are not told exactly when and where we are, but judging by the hats and the mud-baked locals, I would say somewhere in the Americas in the late 1700s. When we first meet him, Zama is looking out to sea. He is waiting to be recalled to Spain, having served his time. He dispenses justice – or rather doesn't – amongst the great titled families who have settled in this corner of paradise. He has a wife and a child and, as we discover, a bastard child from a local woman, entirely indifferent to him. Circumstances prevent him from leaving. The mayor, who can formally make the request, has gone quite mad. When a colleague misbehaves it is he, not Zama, who is sent back. Then there is the fear of the bandit Vicuña Porto, whose ears the mayor wears around his neck and uses as a stake during cards. Porto may not in fact be dead. He may need to be apprehended for the sake of the Empire-Republic, whatever.
Whatever else Zama is, he's definitely lonely. He hides up above a beach watching a group of women, whose naked bodies are clearly visible under mud. One of them notices him. 'Voyeur!' she cries. Zama, who was caught in the act of pleasuring himself, retreats in shame. 'Voyeur,' a woman cries again. One woman chases him up a slope and grabs his leg. He slaps her and we gasp.
Is Zama punished? Not a bit of it. The woman, who does not speak his language, has no recourse to the law – or we assume this. Martel does not show any follow up to this incident. Instead, after a while the music on the soundtrack suggests a luau – Hawaiian music to laze the days away. Every day is sunny. There is no farming or tax collecting. If the Spanish had conquered the land, the locals don't look particularly subjugated. There is no oppression – and no tension.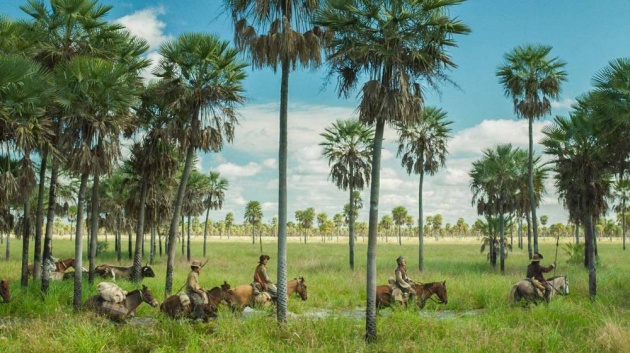 Pictured: The search for Vicuña Porto as shown in 'Zama', director Lucrecia Martel's first film in ten years. Still courtesy of New Wave (UK) / Strand Releasing (US)
This is the heart of Martel's radicalism – the absence of a plot or other connecting narrative tissue, save for Zama's own melancholy, which is expressed administratively. Martel doesn't frame Zama from a distance as if to say, look how absurd he is. She is right there with him. His absurdity is a mirror – to her, to us – reflecting pretensions of significance.
Zama is in love with Luciana Piñares de Lunega (Lola Dueñas), a socialite of some importance said to be the most beautiful woman he has never slept with. The description covers all three tenses: past, present and future. Luciana the bewigged is aware of Zama's attention but keeps him at a distance. No scandal should occur – at least not with him. Zama lives in a house with three women – his landlord's adult daughters. When he comes home, a man flees. One of the women is semi-naked, but does not speak to him. In fact, as the scene progresses, the woman and her sisters make the bed. Martel fills the screen with action that is not germane to the plot. (What plot?) Zama is constantly displaced, figuratively in the frame, and literally as he is forced to move house to the edge of town, near the woman who fathered his child.
How effective a Corregidor is Zama? He hears the case of a Spaniard whose 'name' hasn't been recognised and judges that he is entitled to 40 slaves. His colleague disagrees: the family has no claim to the locals. They quarrel. It is this colleague who is later told he will be sent back to Spain. Zama hears another case and dismisses a man, who subsequently rams his head into a wall. People want judgment but it isn't dispensed in an effective or appropriate manner.
Luciana is later seen with another man and events build to a point when the mayor finally agrees to petition the King – though the first petition, Zama is told, is never heard. The King has to be petitioned at least twice.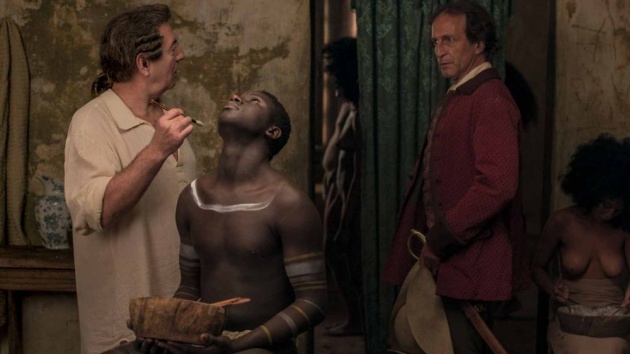 Pictured: a local is examined in the presence of Don Diego de Zama (Daniel Giménez Cacho) in 'Zama', directed by Lucrecia Martel. Still courtesy of New Wave (UK) / Strand Releasing (US)
The last forty minutes of the film takes place some years later. Zama has a beard and joins a group of men in search of Vicuña Porto. At this point, action of a sort kicks in. Two natives take the only horse that the group has. The group are attacked but not before one of the men (Matheus Nachtergaele, last seen in Anna Muylaert's Don't Call Me Son) announces that he is, indeed, Vicuña Porto. ('Don't tell anyone.') The men are captured. Porto is daubed in red paint. Then they are released. Zama reveals Porto's identity and is immediately called a traitor. Porto and his men want 'the cocoanuts'.
If the film has a moral, it runs 'the greatest punishment is to live'. Without giving too much away, the film ends on this point. There is violence but it is sudden and not aesthetically pleasurable. A man, about to have his hands cut off, is told to drive his stumps into the sand. If he's lucky, they'll congeal.
Running at almost two hours, the film expresses the essential comedy of human existence: limited pleasure, no control. It could be a metaphor film a certain kind of filmmaking – artists working within commercial constraints. Martel is exempt. She has succeeded in making a film that flirts with our indifference but it feels like a whole. Some reviewers may get it on first viewing: I think it takes two. The first ends with 'what the heck is this?' The second: 'what the heck!'
Reviewed at BFI South Bank Screen One, London, Tuesday 22 May 2018, 20:20 screening