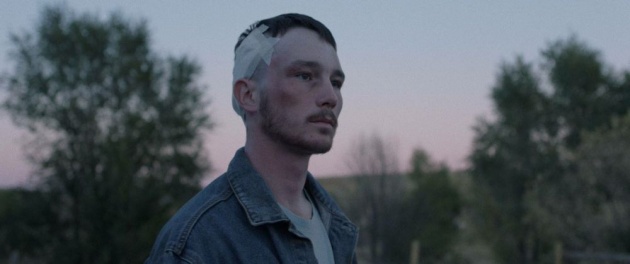 Pictured: Brady (Brady Jandreau) shows off his head injury dressing in 'The Rider' a fusion of drama and documentary from writer-director Chloe Zhao. Still courtesy of Altitude Releasing (UK)
Genres can be great fun, but they also constrain. You know what you're going to get more or less from a horror, romance or superhero movie, but although the story beats can be expertly timed, the laughs and tears might be mixed to the right amount, the surprise element is zero. The movies that you love and clasp to your bosom - or bruised man boob in my case, a consequence of having my ICD replaced on 29 August this year – take genre and shove it where the sun don't shine.
The Rider, the second feature by Chloé Zhao (Songs My Brothers Taught Me) is such a film. It is a mixture of documentary and fictional filmmaking that achieves the power of both – truth and transcendence. It captures expertly the push-pull feeling of being unable to do the thing you love because it will most likely kill you but being drawn to the flame nevertheless. It doesn't just show it, it places you the viewer inside that feeling. It is as immersive as a virtual reality experience but with the kicker quality of art.
Brady Jandreau, a real life Dakota-based horse trainer plays Brady Blackburn, a man who we first see replacing the bandage on a nasty head wound, an injury incurred whilst riding a bucking bronco. Brady shows us his scar and applies plastic film to it. The scene tells us a lot. Brady is restless. He also cannot afford healthcare. He improvises. He wants to get back on a wild horse even though it busted him up. He is of course in no condition to ride. Everyone tells him so. He has a best friend, Lane Scott, barely able to communicate and requiring constant medical attention as a living warning. As a bucking bronco rider, Lane was the best.
We meet Brady's feckless father, Wayne (Tim Jandreau) and Brady's autistic sister, Lilly (Lilly Jandreau) of whom Brady is instinctively protective. There's a bar scene in which a man tries to get Lilly drunk and we know why; Brady intervenes. Wayne owes payments on their caravan. He gambles. Lilly, whose autism is severe and makes her resemble a child – at one point she decorates Brady's torso with stars – cannot work. Brady's mother is dead (we see him visit her makeshift grave in a field). Brady needs to get a job and takes one at a local shopping mart, stocking shelves and working the till. A young boy wanting a picture reminds him of his fame. 'I want to see you ride,' the kid says innocently. So does Brady.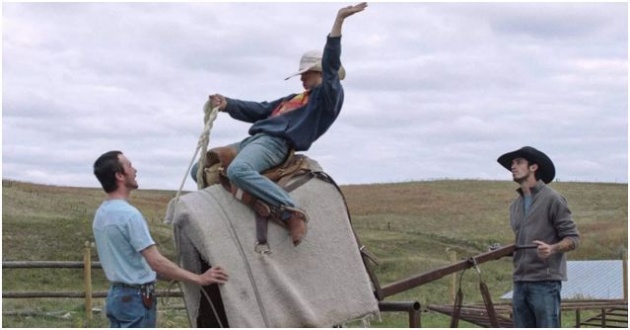 Pictured: Brady (Brady Jandreau) in coaching mode in 'The Rider'. Still courtesy of Altitude Releasing (UK)
It is clear early on that no one in the film is really acting. Brady's injury is real, as is Lilly's autism. For the most part, everyone on screen is natural, save for one scene where Brady's buddies talk about Lane Scott and the wild stuff he did; the dialogue clunks and you can almost hear Zhao nudging, 'tell us the story about –'. The scene is important but does not prepare us for our introduction to Lane, who can barely communicate. When Brady helps Lane relive the bucking experience, pathos is turned up to eleven.
What Brady wants to do is go back to horse training. He gets his chance. When we see Brady with a stallion, we are conscious of the real danger in which he places himself. Brady isn't acting. He (Brady Jandreau) is showing us what he does. He has equine rapport. You sense that at any moment the horse could bridle, temper-flared. Brady becalms the horse by touching its face, its nose. The horse trots to his command.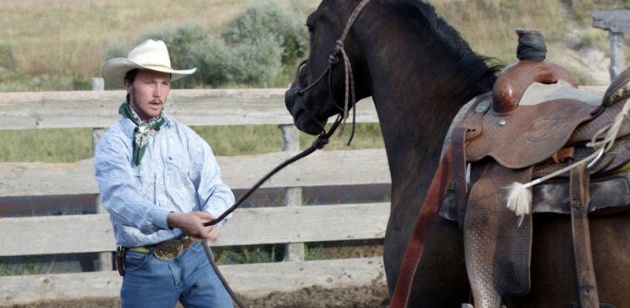 Pictured: Horse trainer Brady (Brady Jandreau) at work in 'The Rider'. Still courtesy of Altitude Releasing (UK)
Zhao shows us Brady in a field, his white hat reflecting the last of the sun's rays as night approaches; yellow wheat gently bowing in the breeze, a grey smoulder taking the day. The film aches with beauty and romanticism. The cowboy is an iconic version of masculinity: silent, stoical, noble. Brady isn't a cowboy anymore; he works in a store. His father is an embarrassment, unable to provide. There isn't a role model to be found, save on the small screen, where Brady and his friends watch Lane doing his stuff.
There are moments of near heartbreak, such as Brady taking his saddle to the pawn shop (or 'used western goods' retailer) and then deciding that he doesn't want to sell it, even though he needs the money to buy another horse, Apollo. The saddle represents his connection to his past and his future – a better way.
As in a traditional drama, there is conflict, when Brady decides that he wants to participate in a rodeo and his father says, 'go kill yourself, I don't care'. The ending is beautiful, the antithesis of a sports movie; the film takes genre expectations and subverts them.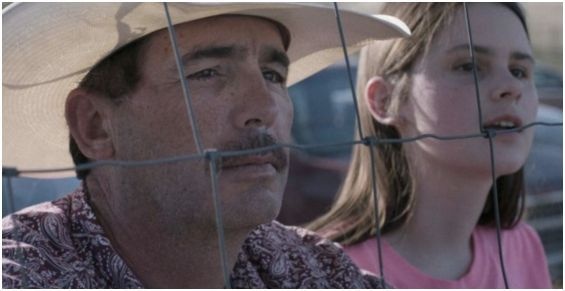 Pictured: Wayne and Lilly Blackburn (Tim and Lilly Jandreau) fear for Brady (Brady Jandreau) in 'The Rider'. Still courtesy of Altitude Releasing (UK)
In this series, '52 films by Women', I can think of few films that I can recommend as much as The Rider. It has a singular power. It also has something in common with another film in this series, writer-director Rachel Israel's Keep The Change (review forthcoming) in which the protagonist is played by a man who shares his condition. If women are denied budgets and are unable to work with movie stars, turning to non-professionals makes sense. It is also a 'f-you' to Hollywood, for not allowing them to participate in the industry to the same extent as men, yet showing that they can make films with more truth and real suspense than anything $100 million can buy.
Reviewed at Soho Screening Room Preview Theatre, Thursday 30 August 2018, 18:30 showing; with thanks to Altitude Releasing