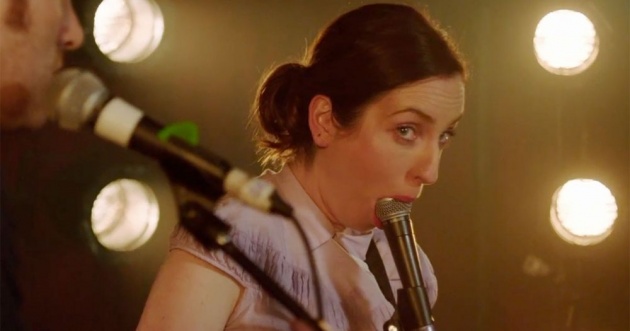 Pictured: 'No chance of mic drop here.' Anna (Zoe Lister-Jones) makes a a nervous gulp during open mic night in the comedy 'Band Aid', a Mister Lister Production. Still courtesy of IFC Films
In American cinema, the transition from comedy actress to director is a familiar one. Penny Marshall graduated from starring in the hit TV series, Laverne and Shirley, to directing a string of box office hits in the 1980s and 1990s: Jumping Jack Flash, Big, Awakenings and A League of Their Own, the latter about a women's baseball team. Two box office failures (Renaissance Man, The Preacher's Wife) and one drama later (Riding in Cars With Boys) and Marshall has not directed a feature film for the big screen since 2001, although she's done some work in TV. Next year (2018), she'll be making a comeback with the documentary Rodman about basketball star turned actor turned best buddy of North Korea Head of State Kim Jong-Un, Dennis Rodman. Apparently, Rodman didn't want to tell his story to anyone else, so I guess Marshall will be the first to hear all about what it is like to work with Jean-Claude Van Damme on Double Team. Betty Thomas made a similar transition, from starring in the long-running TV series Hill Street Blues, admittedly not a comedy, to directing comedy hits such as The Brady Bunch Movie (1995), Dr Dolittle (1998) and Alvin and the Chipmunks – The Squeakquel (2009). Her most recent credit is the TV movie The First Wives Club (2016) starring Alyson Hannigan – not to be confused with the Diane Keaton-Bette Midler-Goldie Hawn film of the same. I could add others: Elaine May (but don't mention Ishtar), Barbra Streisand, Diane Keaton and, more recently, Elizabeth Banks (Pitch Perfect 2, 2015).
Less familiar is the transition of comedy actress to writer-director-star. OK, I could mention Barbra Streisand and Elaine May again, but generally actresses don't control their own on-screen career through directing in the way that say Woody Allen, Tyler Perry and, erm, Louis C K, have. There are a couple of actresses who may change that: Lake Bell got rave reviews for her voiceover artist comedy, In A World, back in 2013, though her 2017 follow-up, I Do... Until I Don't had a dismal reception. Then there is Zoe Lister-Jones, co-writer-director-star of Band Aid.
Quite apart from the clever title – ahoy, quipmate - Band Aid has a terrific logline: 'a couple attempts to overcome their marital disagreements by setting them to music'. It is so terrific that its originality has been buried by a limited US cinema release in June 2017 (box office gross: $248,370) and availability on movie streaming sites (you can rent it for $4.99 on Amazon).
Call me crusty, but I think that cinema releases confer value and respectability on movies and their creative talent. You prove your value in the marketplace by how much your movie earns and this in turn gives you the opportunity to pursue your career. When Netflix acquired Dee Rees' compelling drama Mudbound, it should, like the other streaming giant, Amazon, have insisted on a theatrical platform first. Alas, not. The film may generate some awards heat, but the opportunity to see it without subscription is remote. I do not like watching films on my mobile device or TV: I am captivated by the immersive experience of cinema. For those most part, audiences won't experience Mudbound in the environment for which it was designed. Rees won't be buoyed by the box office returns of a well-received film, like say, Greta Gerwig's solo directing debut, Lady Bird (box office gross, $10.7 million at 30 November), but instead will have to wait to prove herself in the marketplace to realise other projects just as ambitious as Mudbound.
What about Band Aid? Lister-Jones plays Anna, a Los Angeles Uber driver whose relationship with logo designer Ben (Adam Pally) has reached an impasse. Ben works from home but does not do the dishes. His heart isn't in his work, watching deadlines come and go. Somehow in the course of a row, Anna describes herself as coming 'from a long line of Holocaust survivors'. 'How can you come from a long line – that's two generations at most?' Still, the tap drips and the dishes don't get done. What is the source of their distemper? Here's a clue.
Ben's mom: 'When are you going to make me a grandmother?'
Anna and Ben don't have children. This makes them the odd couple out when they go to a best friend's children's party. There they pick up musical instruments and play. It feels good. They re-bond musically speaking and just in time too because their therapist is moving to Canada.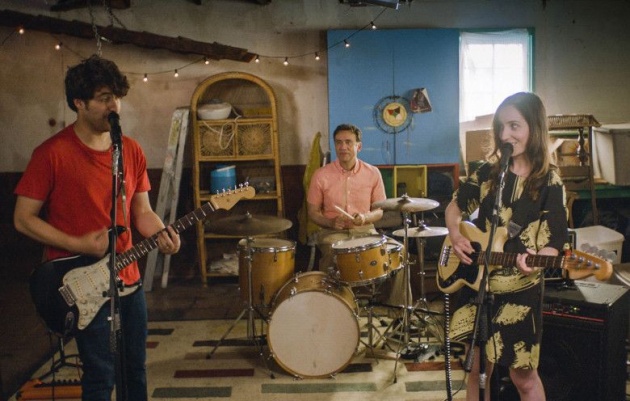 Pictured: Ben (Adam Pally), Dave (Fred Armisen) and Anna (Zoe Lister-Jones) thrive on their non-creative differences in 'Band Aid', a Mister Lister Production. Still courtesy of IFC Films
Their musical instruments are in the garage. They can start a garage band. Their next door neighbour Dave (Fred Armisen) is inquisitive. He wants to join. He can play the drums.
Roll credit.
Lister-Jones captures the excitement of making music. Not playing music, but making it: putting a melody on top of a disagreement and making sure they end on a rhyme. You got it: going from bad to verse. The arguments can seem bitter – Ben and Anna write a list, otherwise known as their first album – but Dave, in between them, is shocked by their intensity. Drummers don't want to be around rowing band members: he's seen Spinal Tap. You wish that Lister-Jones had displayed cultural awareness, but that's the thing about New Millennial comedy, you don't go meta. Besides Lister-Jones prefers light guitar to heavy meta(l).
Boom, tish!
Incidentally, wasn't there a film called Uncle Boom Tish Recalls His Past Lives?
We are presented with what a friend of mine called 'classic moments of cinema'. Not Omar Sharif's long walk towards Peter O'Toole in Lawrence of Arabia or Orson Welles' dropping a snow globe in Citizen Kane – President Trump's favourite film after Dude, Where's My Wall - but actual classic moments. These include Anna succumbing to nerves and swallowing the microphone at their first gig. Then there's the frantic sex scene in which Ben gets his foot caught in a mouse trap, painful, but Anna is so close. Then there is the trip to the beach in which the couple decide to compose whilst ingesting mushrooms – Ben tries to take notes on a sandwich. They remember nothing.
Laughter test passed.
In the second half of the film, Lister-Jones into the root cause of Anna's malaise, the elephant in the room, the untitled metaphor 2017.
I will not spoil it. Suffice to say, Band Aid becomes one of those 'learning' films, in which even characters that Lister-Jones appears to have no sympathy for offer sage advice.
If I have a criticism of the film – well, I have several – it is that I wanted Lister-Jones to really run with the 'arguments as creative juice' angle. By this I mean that I would have welcomed a plot development in which Anna discovers that she and Ben cannot do justice to their songs and hand them over to other artists, whose relationship is then affected by the words she and Ben have provided. 'Do you think singers who do covers of Tori Amos are emotionally wounded by the content?' one of the characters might have asked. 'I just think the high notes are a challenge,' another character may have replied. Band Aid is not a music film in the same way that Terrence Malick's Song To Song is not a music film. It is not concerned with the pleasure of music; Ben and Anna create songs that no one ought to hear.
Another criticism is that the songs themselves aren't memorable. I liked the creative process, but I found myself weeks later unable to recall the lyrics.
A third criticism is Dave. He is a recovering sex addict living with two women with the improbable names of Cassandra Diabla (Jamie Chung) and Crystal Vichycoisse (Erinn Hayes) who are also recovering sex addicts. Can we please have some beautiful alluring women who are not airheads? There is one good joke in which Ben ends up in a nurturing snuggle but you want Dave to be more than just the comedy relief in a comedy in which everyone is the comedy relief.
On balance, I can see why Band Aid only grossed $248,370 – though not by individual ticket buyer, I am not Apple – but it defined Lister-Jones as a performer who switch from comedy to drama and back again. Aside from the swallowing the microphone scene – a rare excursion into physical comedy - she doesn't magnify her personality traits to get a laugh. Her performance style is relaxed, naturalistic, though in real life the rows would be brutal.
Lister-Jones has crafted for herself an excellent star vehicle, but one in which she doesn't grab the 2018 Golden Globe Award for Best Actress (comedy/musical) elbowing Michelle Williams out of the way and saying, 'mine, B-.' That's not her style. My fear is that a movie producer might look at Band Aid and say, 'nice, but what do you sound like with an orchestra?'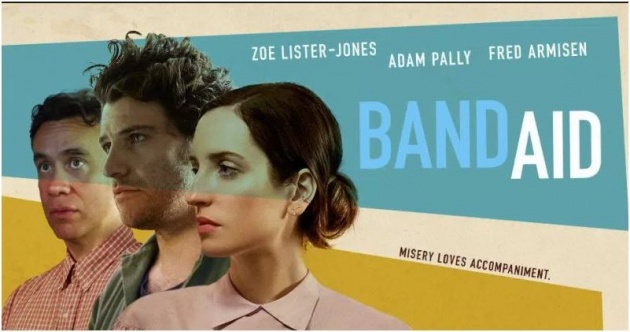 Pictured: 'Band Aid' poster art. Courtesy of Mister Lister Productions/IFC Films
Reviewed at Stockholm International Film Festival, Saga Screen 1, 11:45am, Sunday 19 November 2017