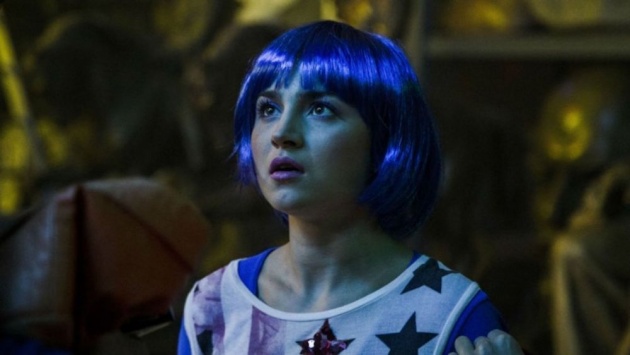 Pictured: Evelyna (Alina Nasibullina) dreams of house music in Chicago and not dancing amongst statues in the Belarusian comedy, 'Crystal Swan'. Still courtesy of Karlovy Vary Film Festival.
Crystal Swan is billed as a comedy but I didn't laugh, nor did many members of the audience of a packed afternoon Press and Industry screening. This is not to say that it is a bad film and it does go for humour, though its major comic character, Alik (Yuriy Borisov) a deranged, sex-addicted drug taking DJ, tries a little too hard; he's more creepy than funny.
It begins with its protagonist, Evelyna (Alina Nasibullina) being berated for her blue wig by a boy on a bus. 'Hey, clown, where's the circus?' Just before that we see the mad charge to get on. Just after, we see the young woman snap on a pair of headphones, switch on her personal stereo and watch the world through a soundtrack. The city is Minsk. The year is 1996. Evelyna – Velya – loves house music and wants to be a DJ in the windy city, Chicago. But first, she has to get a visa. Joining a very long queue, she is coached by a woman giving advice on presentation – mention that you want to study culture. An older man comes out disappointed: he spent all his earnings on his flight. They (the US Embassy) know he's not coming back. Visa refused.
Velya rushes home to find her high school diploma. Her mother (Svetlana Anikey) berates her for throwing her coat on the floor. No diploma, but she locates her passport. Mother, whom we later discover works in a museum – the kids run away when the VHS machine showing a documentary breaks down – tells Velya to get some groceries, including potatoes, but not last year's harvest.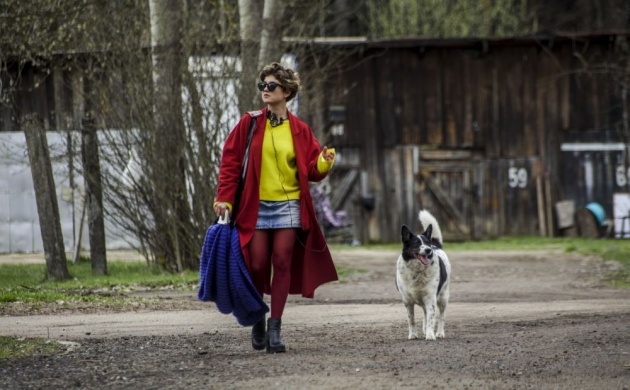 Pictured: Two strays together, Evelyna (Alina Nasibullina) and a dog in director Darya Zhuk's comedy, 'Crystal Swan' Still courtesy of Karlovy Vary Film Festival
Tapping Alik for the extra money she needs, Velya buys a letterhead. Typing in her mother's office, she fakes a letter in which she describes herself as the manager of a factory producing crystal – bowls, glasses and the like – in a place appropriately called Crystal Town. The letterhead is smudged and Velya enters the wrong number. She has to travel to Crystal Town to ask the telephone number's owner to say she is employed with a salary equivalent to $600 a month. The money that Mother gave her for groceries is used for a single ticket, with a little left over.
What could possibly go wrong? She knows that there is a boy at the property – he picked up the phone – as well as a young man. She walks in on a bride being dressed. Stepan (Ivan Mulin), who has recently completed his Belarusian national service, is getting married. He mooches around the house while preparations are made. Velya gains access by pretending to be a friend of the bride, but the groom's mother throws her out. Returning to the house, she helps the family by paying their phone bill, so she can receive the call that she desperately needs. Stepan takes her for a meal and finds her a place to stay. She locks him out of the bedroom. Stepan, his brother and father go night fishing using dynamite.
The rest of the film deals with Velya's time in the village, waiting for the call from the US Embassy. She introduces Stepan's younger brother, Kostya (Ilya Kapanets) to house music. She helps stir sugar into the peaches. Director Darya Zhuk, working from a script by Helga Landauer, developed in part through the Tribeca Film Festival, starts each day with the town's women showing their (paper) passes and setting to work buffing crystal glasses using a mechanical polisher (it sounds like a buzz saw). Velya's day is less monotonous. She wants the phone to work – and it does. She tries the number from another phone though Stepan's mother puts the receiver down on her.
Velya gets to put her lawyer skills to use after a second attempt of night fishing goes awry. Just as Velya becomes tolerated, something nasty happens.
I won't spoil it but the incident changes the whole nature of the film, making it a far less jaunty comedy. During the nasty scene, there is an old man standing at the back of a room. He watches but does nothing.
Both Stepan and Velya present themselves as something they are not. When Velya is asked why she needs to go to America, she explains that her mother is ill with a bad heart. Stepan says he wasn't bullied in the army – Velya tells him the story of a friend who was; the boy subsequently committed suicide. But then Stepan has the word 'bitch' (an army memento) tattooed on his buttock. He has it covered up by a friend in time for the wedding. Stepan thinks that Velya presents herself as a princess, when she comments upon the father drinking vodka. 'No, we drink wine,' he explains. But vodka is the drink of choice. Velya is criticised by her mother for wanting to leave the country. She explains that the country has a beautiful history, though now it is liberated from the Soviet Union, there are no jobs and Velya 'sleeps all day'.
I said that there were few laughs, but the tattoo erasure scene did raise a smile, as did the Chinese tourists who pose in a line next to statues – the sequence is tourist-statue-tourist-statue, etc. They offer the photographer 'gifts from China' but the Minsk city dweller is too overwhelmed to accept them. There is also a notable rave sequence where a small group of partygoers dance next to statues of Lenin and the like taken from the streets. The juxtaposition is odd, but symbolic of a country unable to escape the Soviet shadow. The dancers too are frozen in history.
Alik's playful flyposting gives the film a shot of energy and he is attracted by Velya's mother, deciding to take care of his karma. When they first meet, he asks her, 'do you want love?' Real affection appears to be in short supply. People prefer vodka.
The wedding scene is memorable. Stepan treated by a nurse – his mother in law in a nurse's outfit with a syringe full of vodka. Stepan takes some vodka and chases it with some bread. The group calls to the bride whom Stepan carries to the car. The wedding party is cut short by a storm, but then scuffles break out.
Will Velya sell the jacket onto which she has sewn a Giorgio Armani label? Will we see a crystal swan? There is an amusing pay-off to the former. The film is about a post-Communist country struggling to find its identity, being more destructive than nurturing. If Crystal Swan is a comedy, it is a very dark one. It is also Belarus' entry for the 2019 Best Foreign Language Oscar for films released in 2018. I don't think it will make the shortlist of five, but it is good to see a film from Belarus – it is only the second one I have seen, after Sergei Loznitsa's In the Fog. I also had no idea that Chicago was the home of house music. To paraphrase the late Spalding Gray (and Swimming to Cambodia) it takes a foreigner to teach a country its own history. Note also the aspect ratio, suggesting a 16mm film from an earlier period rather than 1:2.35.
Reviewed at National Film Theatre, Screen 2, BFI South Bank, Waterloo, London SE1, Monday 24 September 2018, 13:00 London Film Festival Press and Industry Screening