Joy shows Nigerian illegal immigrant women struggling to survive in Vienna. The film's director, Sudabeh Mortezai, is of Iranian descent; she moved to Austria, aged 12. It is a tough watch but an honest one. Mortezai's first film, Macondo (2014) focused on an eleven year-old Chechen boy living with his mother and younger siblings in Vienna, who had lost his father in the war, and is forced to grow up too fast. Migration and stolen childhoods are her theme. Both are tackled with great sensitivity.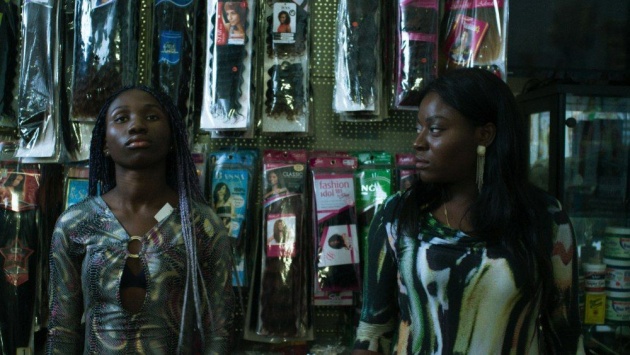 Pictured: Precious (Precious Mariam Samusi) is kitted out with sex worker attire in 'Joy', an Austrian film written and directed by Sudabeh Mortezai. Still courtesy of Venice Film Festival/Austrian Films
The film opens with a Juju priest at work. A young woman, Precious (Precious Mariam Sanusi) is 'blessed' with protection against being picked up by the police in Europe. A chicken is killed in the process, its guts removed and smeared on the back on the future illegal migrant. 'As it is in the day, so it is in the night,' the Juju priest intones. The girl's fingernails and toenails are added to the bundle and hammered, partly by Precious herself, against the wall. We see other bundles. These represent obligations to the priest. A debt has to be paid. Once done so, Precious is free. The priest can cause harm to the young woman at any time, if monies are not paid. As Han Solo might say (Star Wars circa 1977), 'this is some religion'.
Cut to a street in Vienna. Prostitutes, among them Joy (Joy Anwulika Alphonsus), wait for customers. Precious is also there, thin, more child than woman. A car pulls up. 'Not my type,' the driver remarks to Precious. The driver continues to Joy. 'How much?' 'Fifty.' 'Get in.' ('Wieviel?' 'Funfzig.' 'Absteigen.') Precious watches Joy being taken away.
The next day, Joy, a full figured woman perhaps approaching thirty years old but with a gaze hollowed out through experience, escorts Precious back to their digs. For once, 'digs' is an accurate descriptor. The house looks excavated out of its neighbourhood, rather than built from the ground up. In a room where other women sleep, Precious makes her way to the top bunk. There is a telling detail as Precious and Joy walk down the street: there are men with a trolley heading towards them. Joy pulls Precious out of the way.
Watching television, a Nollywood show 'Rumour Has It' – they converse about a personal assistant to a celebrity being a celebrity herself - the women's quiet enjoyment of an afternoon is disrupted by the arrival of Madame (Angela Ekeleme, chilling). Precious doesn't recognise that this is not a social visit. Madame has two goons in tow. The women line up to present money to Madame – one thousand Euro. 'Is it correct?' she asks in English. The woman nods. 'Good.' Joy has her cash to Madame in a plastic bag. 'Why are you giving it to me like this? You see how the other women do it.' The argument goes no further. It is very clear that Precious has not earned 1,000 Euro. Joy presents Precious' money to her. 'No,' says Madame, 'she has to give it to me herself.' Precious does so. 'What's this?' asks Madame. Joy apologises on Precious' behalf. She will ensure that she has the money next week. Precious is taken by the two goons and raped. The scene plays out in real time although we don't see the rape taking place, just one of the men holding her down glimpsed through a doorway. We hear the screams. The other women listen, immobile. None of them act. They can't. Madame has their passports. Their debts might be increased. Precious learns a horrible lesson.
After giving her a pep talk – 'don't trust me. I'll take your money if I have to. Only trust yourself' – Precious has her hair braided and is kitted out in a shop specialising in leather skirts and the like. Her top reveals a bra strap in the centre of her chest. The shoes, or more accurately, clogs take practice. Precious wobbles and is instructed to walk slowly. 'Like on a catwalk,' says another woman unhelpfully. Finally, Joy gives her some lipstick, which Precious applies herself. The effect is transformational.
We learn a little about Joy. She goes to an English speaking church in the heart of Vienna. Her young daughter,Chioma, being looked after by another woman and raised as her own, requires money for kindergarten ('20 Euro'). The child doesn't take to Joy's embraces; it is as if they are not connected, which is probably true of the child. It becomes apparent that Joy's young daughter is not subject to the same fear of deportation.
Precious gets a customer and becomes more self-confident. As the title suggests, the focus is mainly on Joy. There is a party. At first, we think it is just the women celebrating a rare night off. Then two men turn up, Chris and one other. Chris takes Joy to one side and speaks to her in English. He has spoken about her to somebody. He wants her to be free. Joy wishes that he hadn't. 'You should have asked me first.' There is an NGO that wants to see the end of migrant exploitation. Joy takes a meeting. Only the NGO cannot guarantee that Joy's claim for asylum will be accepted. The film presents an unsolvable problem. How do you end migrant exploitation when those testifying against the Madames risk being deported? The system cannot reward illegal migrants for testifying – this would perpetuate illegality. The problem remains unsolved.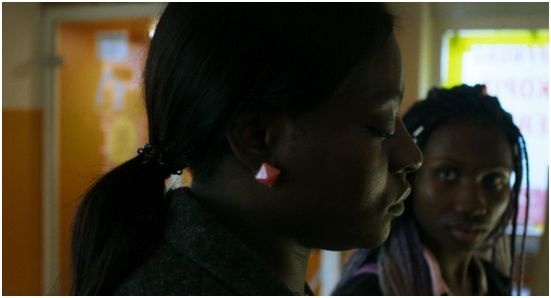 Pictured: 'Don't trust anyone.' Joy (in profile) (Joy Anwulika Alphonsus) keeps her own counsel in 'Joy', an Austrian drama written and directed by Sudabeh Mortezai. Still courtesy of Austrian Films
Joy phones home and receives some bad news. Her father is ill and needs an operation. The cost is five million Naira. Joy doesn't have it, but she'll send what she can. She has a meal with a man who wants to rescue her, to set her up in an apartment for Joy and her daughter. He gives her an envelope full of money. Joy explains that she won't use it for that. She'll send it to her father who needs that operation. The man is disappointed. 'Always stories,' he sighs. Joy also worries about the juju priest. The man takes his money back. Joy believes they should part. Two glasses of red wine remain unconsumed as she leaves.
There is worse to come. Joy gets into a car and is surprised that the customer is driving far out of the city. 'I'll drive you back,' he promises. The car accelerates. Joy asks him to stop. She wants to get out. The man ignores her. She asks him again. Eventually the car pulls up to a clearing. There are two men waiting. The next time we see Joy she is seriously injured, having been gang raped. Precious helps her.
Taken back to her bed, Joy is given painkillers. The bleeding continues. She ought to be taken to hospital,' Precious complains. Madame disagrees. She cannot. She does not have a visa and will be deported. Early on, we see Joy having a check up. There are clinics that treat prostitutes anonymously, Joy being given an injection - suggested rather than shown. The Madame offers to pay for Joy's father's operation. 'Thank you,' says Joy. 'Don't thank me. It's business. You'll pay me back with interest.
Joy survives. She receives unexpected news. The Madame has seen her family in Nigeria. Her father is in good health. The brother has a new car, purchased by her rich sister in Europe. Knowing what it cost Joy, she is appalled – as is the audience.
Joy is given a thankless errand, to take Precious to Italy. If she does, her debt will be reduced. They travel by train. An inspector examines their tickets without comment. Then two police officers appear. Joy and Precious flee from their seat and hide in the bathroom. They get off at the next station. They are in Salzberg, or just outside it. While they wait, Precious asks Joy to let her run away. Joy refuses: 'I will have to pay your debt'. 'Then let's run away together.' 'We are not the same,' Joy explains. 'My debt is almost paid.' 'Let's get out of the cold,' Precious suggests. Joy concurs.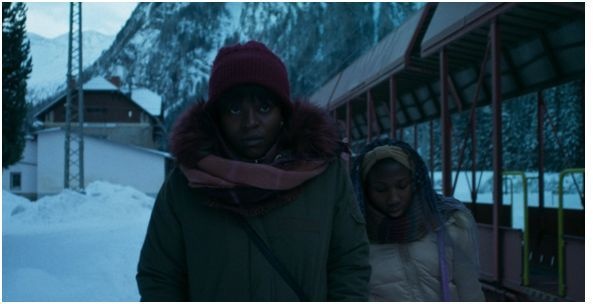 Pictured: Joy (Joy Anwulika Alphonsus) and Precious (Precious Mariam Sanusi) make their way to shelter in 'Joy', an Austrian drama about illegal migration and sex workers written and directed by Sudabeh Mortezai. Still courtesy of Austrian Films
They enter a bar, the only Africans in a sea of white faces. They attract attention but not direct comment. They sit down at a table and drink tea. They then witness an unnerving folk ritual – easily the film's most impressive sequence – in which men in animal costumes perform a rite, referring to the seven deadly sins. The juju priest may have slaughtered chickens, but this lot look as though they killed Sasquatch. The men single the two women out. We have no idea what will happen next. However, this is a Christmas ritual – they refer to Saint Nicholas' Day. Precious claps nervously.
The final part of the film demonstrates what happens when the debt is repaid. Joy has the opportunity to be a Madame. Girls are purchased for Euro 20,000, more than Joy can afford. She speaks again to the NGO. The offer has not changed. She can be protected but on no account is asylum guaranteed. She has sex with a man in a club, demanding more than 50 Euro because her sister is sick. After she leaves the club, we see two Africans – Madame's goons – enter. Joy pushes her daughter on a swing. Then something happens.
The epilogue illustrates the cyclical nature of Joy's experience. Somewhere in Benin, we see huge wedges of banknotes being sold to throw at women. A conversation takes place about documents being prepared in two days. A woman walks away.
The purpose of the film is clearly to warn against illegal migration. Yet I cannot imagine Joy being screened in Nigeria or indeed in any African country. It could have the negative effect of attracting far from right-minded people to sink migrant boats. I cannot imagine that was ever Mortezai's intention. By presenting a problem that cannot be solved in a country receiving migrants, the film can be used as ammunition to argue for more extreme solutions. Sadly, Mortezai has made propaganda that can be co-opted by the far right, all in the name of liberalism. This makes Joy a very dangerous film.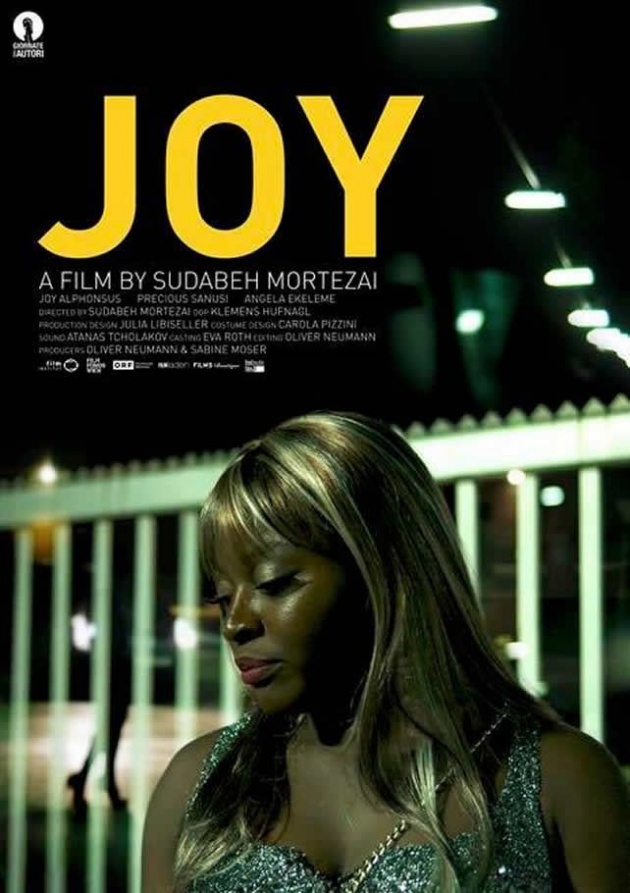 Reviewed at National Film Theatre, Screen Three, London SE1, Wednesday 3 October 2018, 10:00am, London Film Festival Press Screening