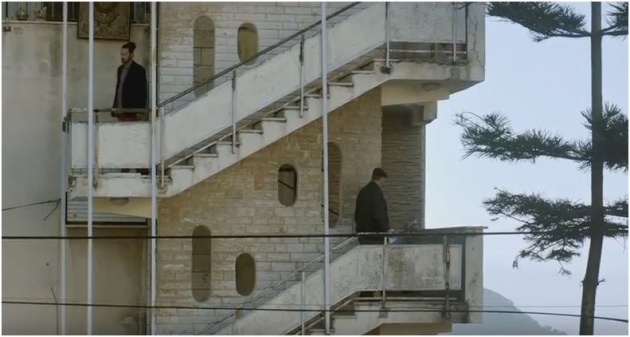 Pictured: Shadi (Saleh Bakri) and Abu Shadi (Mohammad Bakri) take the stairs in Annemarie Jacir's Nazareth-set road movie, 'Wajib'. Still courtesy of New Wave Films (UK)
Some Palestinian filmmakers accept funding from Israel. Not writer-director Annemarie Jacir. For her it is a point of principle. A consequence of this is that not many cinemas in the United Kingdom play her movies, though the word of mouth generated by her 2017 third feature, Wajib, has led to it getting a wider release. The film's country of origin should not be a barrier to the marketplace, so long as its content is not overtly offensive. There are plenty of movies that do offend and are welcomed by multiplexes with open screens. We'll see in the next few months how many cinemas decide to play Lars Von Trier's serial killer movie, The House That Jack Built.
Wajib is at once modest and epic. It follows the course of one day in which a father and son Abu Shadi and Shadi (real life father and son Mohammad Bakri and Saleh Bakri) travel around Nazareth in a metallic blue Volvo licence plate 51.492.80 delivering invitations for Abu Shadi's daughter's wedding. Through the course of the film, the pair enter many houses, imbibe liquid, eat food, compare Palestinian coffee to Italian Cappuccino and debate Shadi's decision to live in Italy with Nada, the daughter of an exiled PLO leader. Abu Shadi has told friends that Shadi lives in America; in reality it is his ex-wife who has settled in the States having re-married, much to teacher Abu Shadi's deep shame. He has also told them that Shadi is studying medicine. The young man, wearing a pink paisley shirt, red trousers with long black hair tied back, works in an architect's office but does not practice.
We first see Abu Shadi sitting in his car listening to announcements on the radio of the passing of such and such person. Details of the funerals are announced. Abu Shadi is inhaling from a cigarette. We later learn that he has recently had heart surgery and is not supposed to smoke. Shadi comes to the car with a box of invitations. He has to remove Abu Shadi's fishing tackle from the back seat. 'Do you still fish?' he asks, slightly amazed. 'Put it in the boot,' Abu Shadi replies, not answering the question. They visit a series of friends and relatives, negotiating traffic and unofficial parking restrictions. To secure one parking spot, Abu Shadi purchases a teddy bear, which he later tries to give away to a West Bank child selling Christmas stuff in a traffic jam. The child refuses the gift.
It is December. There are Christmas lights on a stairway leading to the first house they stop at. There are Christmas decorations inside the house too. They are welcomed enthusiastically. At their second stop, they leave an invitation with a widow (Samia Shanan). Abu Shadi complains about the stairs. He wonders how the woman they are visiting can live there. 'I know you cannot attend,' says Abu Shadi to the widow, 'but it is my duty to invite you. This is wajib.' But how did her husband die? 'Heart attack on the stairs,' she explains.
They visit another family, where a mutual acquaintance, Marwan (Falah Zoabi) is also visiting. Abu Shadi instructs his son to fetch his invitation. Shadi cannot find it. 'In your time away, you have forgotten how to read Arabic,' Abu Shadi admonishes him, before disappearing to the car to hastily write an invitation. The illusion that Shadi has studied medicine is maintained throughout the visit. 'Why did you say that?' asks Shadi. 'I wanted him to feel that you were inspired by him to follow in his footsteps. It makes him feel good.' Shadi's constant complaint is that he believes that people won't be offended by the truth and in many cases don't care.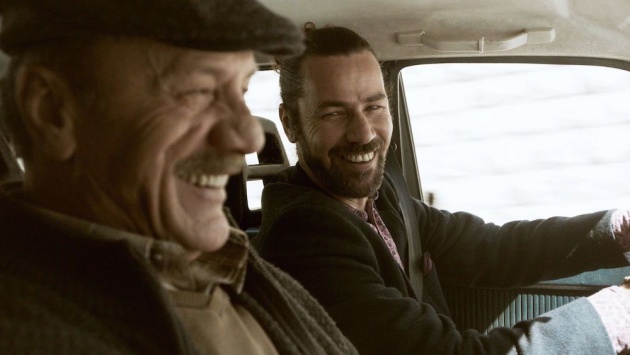 Pictured: Driving along in my automobile, Abu Shadi (Mohammad Bakri) and Shadi (Saleh Bakri) in 'Wajib' a Palestine Road Movie written and directed by Annemarie Jacir. Still courtesy of New Wave Films (UK)
In the course of the day, Shadi will be bitten by a budgerigar, kissed by a lonely woman, Noura (Rebecca Esmeralda Telhami) whom he hasn't seen for many years, have his shirt pocket ripped and face bruised after intervening in a fight outside a petrol station and be left to walk to the family home by himself, where, on the way he is offered a drink and some bread. Abu Shadi gets off lightly; only his tyre is let down after an unfortunate parking infraction. 'Did you see the bastard who did this?' he asks a child. The child runs away.
The Rating Game
Incidentally, Wajib has been given a 15 certificate in the United Kingdom for 'strong language', although there is nothing in it you wouldn't hear in a '12a' rated film. If you can't deny a film an audience though cinema screens, you can have a go by up-rating it. 'Goodness, they use fifteen-rated curse words; I'm not going.'
Abu Shadi would deeply like to see his son remain in Nazareth for Christmas, but Shadi intends to leave after the wedding. Shadi's main complaint is that his father has booked Fawzi Baloot to sing. Abu Shadi plays a CD in the car of Baloot singing, which offends Shadi's ears. 'He has been singing at our family's weddings for 40 years,' Abu Shadi explains. 'He always sings the same songs. You'd think he'd sing something different', Shadi replies. Later that day, Baloot calls Abu Shadi. 'He wants a payment up front,' Abu Shadi explains. 'Unbelievable!' responds Shadi.
The real point of tension is whether the mother of the bride, Um Shadi, will attend. Her second husband is very ill. 'I hope he dies,' curses Abu Shadi, having arranged a winter wedding for daughter Amal (Maria Zreik) to fit in with her plans.
Death punctuates the film. At one point, there is a traffic jam. There is a funeral procession for Jamal Jamil. 'The electrician,' asks Abu Shadi. 'No, that was Jamal Jamal. Jamal Jamil was unemployed.' Uncollected rubbish appears everywhere. One conversation is broken up by a bag of rubbish thrown in a garden. 'Hey neighbour,' the home owner says. The neighbour doesn't want to talk about it.
Abu Shadi facilitates a meeting between Shadi and his cousin Fadya (Rana Alamuddin). Fadya is a successful lawyer. She lived with a man, they broke up and now she is unmarried, with no prospects. 'That is how it is here.' They talk about Italy, various landmarks, the Trevi Fountain. There is a spark. However, Shadi is in a permanent relationship. 'It is a pity that cousins don't marry anymore,' says Abu Shadi, sadly.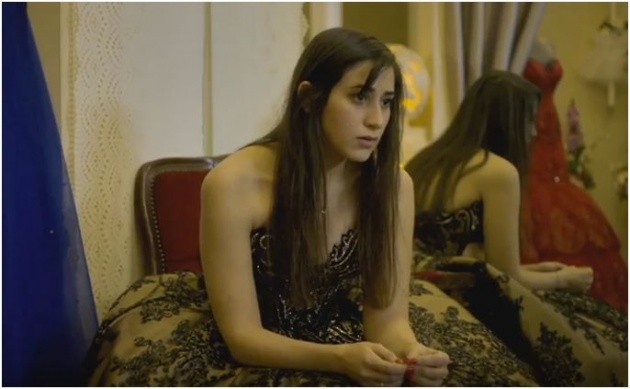 Pictured: Amal (Maria Zreik) receives some bad news in 'Wajib' a Palestine Road Movie written and directed by Annemarie Jacir. Still courtesy of New Wave Films (UK)
Amal doesn't know that her mother might not come. She learns this news at the dress shop. Amal tries two dresses on, a pink figure-hugging one with pearl-like beads and a black dress with sparkly bits that makes Amal look like a cocktail waitress. (OK, I'm not going to be writing for Cosmopolitan any time soon.) When she hears about her mother, she expresses her disappointment. Abu Shadi intercedes. He turns her around and has a good look at the black dress. He prefers the pink one. They hug. Abu Shadi is both father and mother to his two children.
Delivering an invitation at one address, Shadi encounters Georgette Tamal (Zuhaira Sabbagh) who knows the family. She invites him in. She knows Abu Shadi also and brings him a cake. 'Take the tray,' she tells him. 'You can bring it back.' Both Georgette and Abu Shadi are of a similar age. They have both lost their partners. Shadi exaggerates his liking for her dish. 'It's all right,' says Abu Shadi, trying to change the subject.
The biggest point of tension is Abu Shadi's decision to invite Ronnie Avi, an Israeli. In Shadi's eyes, Ronnie was secret service and responsible for him getting arrested for his so-called subversive activities, a cinema club. He spied on Abu Shadi, making sure he didn't teach anything that would inflame anti-Israeli feeling. They argue over this twice. In the first instance, Shadi gets out of the car and Abu Shadi hits a dog by mistake. He is petrified – they are in an Israeli neighbourhood. 'You know what happens if you kill a dog, especially an Israeli one.' The animal stirs. Abu Shadi drives away quickly. We hear the owner call to the dog in the background.
The second time, Shadi gets out of the car again, as does Abu Shadi. They have a full-blown row. Abu Shadi describes Ronnie Avi as his friend. 'You know his language better than anyone yet they treat you like dirt.' Abu Shadi is ashamed that Shadi is living abroad talking about a mythical Palestine. 'I am living in it right here.' Neither family member has the moral high ground. Tensions are unresolved, but Shadi walks home. Abu Shadi drives in circles.
Although the film is preoccupied with the state of Palestine, it has plenty of moments of humour, not least when Shadi speaks to his girlfriend Nada's father and hands the phone to Abu Shadi. 'What do you see?' the ex-PLO leader asks. 'Trees and orange groves and mountains,' Abu Shadi replies as we see bags of rubbish and dirty streets. Abu Shadi is true to his character trait of telling people what they want to hear. He also buys green tarp – one of Shadi's pet hates – to cover the view from the apartment roof.
Do they reconcile? The final scene is beautiful. The sun sets, the men smoke and drink coffee in synchronicity. Abu Shadi agrees about the tarp. The view is better without it. 'But it is what Amal wants.'
Some of the film's most telling political points are made in passing. We hear on the radio how Israelis wish to ban announcements in Arabic on public transport. When Shadi suggests that Abu Shadi could have said that the young man was training to be a pilot, rather than a doctor, Abu Shadi reminds him that such training for Palestinians is not permitted.
Yet the film is a love letter to the Palestinian people, tetchiness and all, notably in the scene when Shadi is invited for a drink. The neighbourhood shares what it has. Jacir's achievement is in examining a pressure cooker situation in a low key way, as a contrast to the high drama of Spike Lee's Do The Right Thing, which has a similar 'life in a day' structure. The camerawork is mostly static, but there is one tracking shot that follows Shadi and Abu Shadi from behind and stops to let a scooter roar past. A frequent complaint about women's films is that they are not 'artistic', that is to say, lack visual flourishes or moments that say, 'look at me, I'm directing'. But there is artistry is all in the storytelling: simple, direct, involving.
Reviewed at Arthouse Cinema, Crouch End, North London (Screen One), Thursday 4 October 2018, 16:50 screening