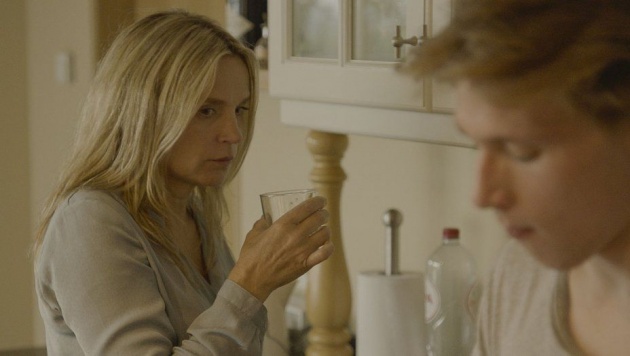 Pictured: Sonja (Karlijn Sileghem) shares a kitchen moment with her nephew Kevin (Sebastian Van Dun) in 'Home', a Belgian drama co-written and directed by Fien Troch. Still courtesy of TIFF
According to the United Nations' 'World Happiness Report', Belgium was the sixteenth happiest country in the world in the period 2015 to 2017, above United States (18th) and the United Kingdom (19th). In the case of the latter, 48% of us aren't very happy about Brexit so we should be lower. However, Belgium doesn't seem such a jolly place from its cinema. At the beginning of Home, co-written and directed by Fien Troch (Someone Else's Happiness, Kid), a teenage girl, Lina (Lena Suijkerbuijk) is reprimanded for suggesting that a teacher abused children, keeping them in the basement. Lina resents the fact that of all the kids who said the same thing, she is the one being pulled up on this. In another film, this might be the catalyst for a drama about telling tales, but Lina, we discover, is just a supporting character. Troch's focus is on Kevin (Sebastian Van Dun), a seventeen year old boy recently released from a juvenile detention centre for his part in a violent and quite possibly racist attack.
Kevin's mother won't take him home – Kevin and his father apparently fight all the time. Instead his aunt, Sonja (Karlijn Sileghem) agrees to look after him. She has a son, Sammy (Loïc Batog) broadly the same age and who is Lina's boyfriend. There is a third wheel, John (Mistral Guidotti) whose mother (Els Deceukelier) is obsessively clingy. I use the world clingy, but that is an understatement.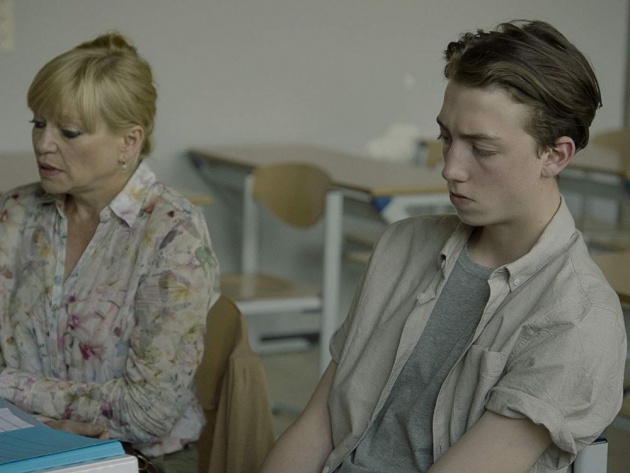 Pictured: John (Mistral Guidotti), a boy with an extremely troubling home life with his mother (Els Deceukelier) in 'Home', a Belgian co-written and directed by Fien Troch. Still courtesy of TIFF
Sonja's husband puts Kevin to work in his plumbing business on an apprenticeship basis. His past is never far away. An old friend, who we discover also took part in the attack, bothers him while he is eating his lunch. Kevin makes his displeasure known. At a party, a guest squares up to Kevin, goading him about his spell behind bars. A single blow ends the one way conversation.
Troch shot the film in academy ratio, meaning that the screen is narrower than in a conventional film, with mobile phone shot footage, showing kids hanging out and mugging for the camera, being narrower still. The intention is to show the limitations of life in Flanders, where the film is set. After a while, Kevin starts going out with Lina.
You might expect this to turn into a point of contention, but the John subplot turns the film on its head. What John's mother does for him – whether he wants it or not (probably not) – is enough to give him a complex. A major incident affects all three boys.
Home is essentially three movies. The first is about how parents can be scarred by relationship breakdowns to the extent that they express their loneliness and desperation in abnormal ways. The second debates whether violence as a response can be unlearned and, if so, under what circumstances. The third is about what parents are prepared to do for their children to save them from mistakes.
Troch presents Kevin as an ambivalent protagonist. We see the act of violence, through mobile phone footage, that got him incarcerated. He reaches out to his mother and his younger brother; the young boy idolises and misses him.
The last part of the film examines the response to the major incident, with Kevin wanting to press the re-set button on his life; he wants to return to education.
The film has a number of memorable sequences showing the awkwardness of adults around teenagers. Kevin's uncle buys him a television for his room and struggles to affix it to its stand. He ends up resting it on a box. John's mother divides the lounge into her side and his and then wants him to join her watching TV. However, the most memorable scene won't be described fully here. It involves John's mother giving her teenage son an unwanted helping hand.
Given the troubling nature of the material, Troch discussed it with her young cast beforehand. She cast non-professionals who showed some evidence of maladjustment, though not on the scale of her characters.
John's mother deserves more explanation. We can only guess why she behaves the way she does – over-compensation, a mental breakdown or a pre-existing (mental) condition might be factors – but it is disappointing that she doesn't feature more in the drama. One of her few scenes with another adult has her criticise him in front of a teacher during a parent's evening. John defends himself; he's not behind on his studies. She convinces herself that she is sacrificing herself to keep him on the straight and narrow but we want to know why.
The finale is hopeful from a young person's point of view, but Kevin isn't the only problem character. Even his aunt isn't quite sure how to act with him, not appreciating that there should be some distance.
Home isn't quite the right title for the film – I would suggest 'boundary issues'. Because of the aspect ratio, some critics have suggested that it is more suitable for home viewing. It has indeed become a hit (of sorts) on Video on Demand. It is, however, an immersive and dramatic experience, finally giving youth a chance.
Reviewed at Mayfair Hotel screening room, Friday 26 October 2018, 19:00 in the presence of the director; with thanks to 'Dirty Movies' website; trailer courtesy of TIFF