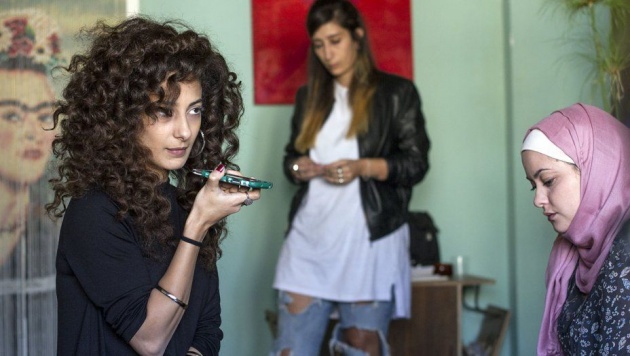 Pictured (left to right): Lawyer Leila (Mouna Hawa) helps student Noor (Shaden Kanboura) plan a means to avenge an act of violence in the Tel Aviv-set drama, 'In Between', written and directed by Maysaloun Hamoud. Still courtesy of Peccadillo Pictures (film's UK distributor)
Palestinian cinema is a problematic concept. The resources for it are all channelled through Israel. Palestinian films are not officially eligible for the Best Foreign Language Film Academy Award because they do not come from a recognised state. Yet Palestinian filmmakers exist. They have stories to tell and periodically their films are released in cinemas outside Israel-Palestine. Yet can we entirely trust these stories? Do they offer a version of reality designed, covertly or overtly, to deny the Palestinian State, to discredit the idea as un-Islamic? In applauding Palestinian cinema, are we contributing to its end?
Palestinian writer-director Maysaloun Hamoud's feature debut, In Between (Bar Bahar) has much to recommend it: vivid characters, issues that transcend geographic specificity and a celebration of female friendship. Just don't mention the state! At one point, a character decides that she's had enough and will settle instead in Berlin. She doesn't leave, but the point is clear: the characters identify with European values rather than Middle Eastern ones. There is an implied question: from a female perspective what sort of Palestine is desirable? And where does it sit in the Middle East?
The most famous contemporary Palestinian film directors are Hany Abu-Asad (Paradise Now, The Idol), who has just made his first Hollywood film, The Mountain Between Us, starring Idris Elba and Kate Winslet, and before him Elia Suleiman, whose acclaimed black comedy, Divine Intervention, fell foul of the American Academy of Motion Picture Arts and Sciences' eligibility criteria. Suleiman followed it in 2009 with The Time That Remains, another black comedy (signature scene: the gun barrel of a tank tracks a boy on his phone as he moves, oblivious to the tank's movement) but nothing since. The most prominent Palestinian female director, Annemarie Jacir (Salt of the Sea, When I Saw You) made her third film, Wajib, in exile in Jordan. Perhaps the most authentic Palestinian cinema cannot be produced in its country of origin.
Hamoud admitted she wanted to 'stir things up', addressing such topics as a woman's right to education, pre-marital rape, the social taboo of lesbian behaviour and a woman's right to her career. For this, she earned herself a fatwa, that is, a formalised death sentence. She is, in interviews at least, undeterred. She is planning two sequels to In Between as well as a television mini-series. The controversy, stoked by Palestinians and Israelis alike, helped keep the film in local cinemas for months.
Set in Tel Aviv, its three heroes are Leila (Mouna Hawa), a drug-taking, hedonistic lawyer, her best friend Salma (Sana Jammelieh), a lesbian DJ who works as a kitchen hand in a restaurant to get by ('no Arabic spoken in front of the customers; it makes them nervous') and Noor (Shaden Kanboura), who is studying medicine and is engaged to Wissam (Henry Andrawes), who moves into Leila and Salma's flat to be closer to her university. Wearing a hijab and deferential to her fiancé – she asks Leila and Salma to vacate the flat in order that she can prepare a meal for Wissam - she is orthodox in many ways. We sense though that she wants her education to lead to a career. She stresses to Wissam the importance of a second income. He is more interested in having a stay-at-home wife.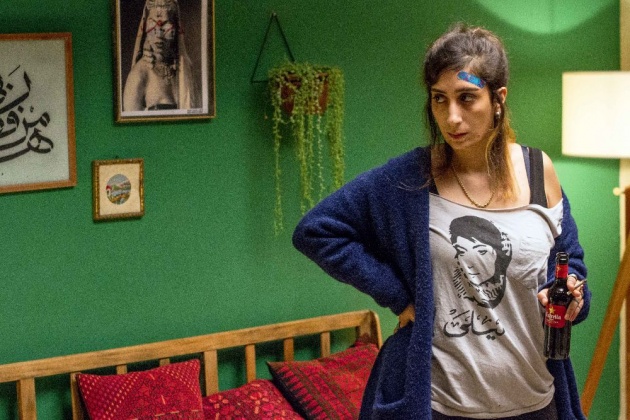 Pictured: Salma (Sana Jammelieh) in 'In Between'. Still courtesy of Peccadillo Pictures
For about the first third of the film, problems are of the second order – significant but not overly dramatic. Wissam disapproves of Noor living in Tel Aviv and offers her a range of options: a car, another apartment. Salma quits kitchen work and gets a job in a bar. Leila's lover seeks to domesticate her. But then there is, as they say in screenwriting manuals, the inciting incident, when Wissam, appalled by Noor's flatmates' 'whorish' ways, attacks her. Salma endures a different sort of humiliation when her parents discover that she is gay.
Hamoud does not present drug taking as a problem. Leila's casual snorting of cocaine isn't symptomatic of a need to escape the male dominated world. Rather it is a signifier of freedom over the body. Women can ingest what they like. In a way, the drug scenes stand in for the other taboo: the representation of sex. Here, we sense the Israeli censorship system kicking in. Hamoud exceeds the limits of representation in Middle Eastern cinema. However, in Israeli cinema, there is no explicit portrayal of sex and female sexual pleasure. This is finally where the shekel stops.
As an aside, for her first American film, My Days of Mercy, the Israeli director Tali Shalom-Ezer (Princess, see no 11 of volume one of this series) filmed several explicit scenes of sex between two women (Ellen Page, Kate Mara). This might be one of the attractions of making films in the US. It certainly helps that Shalom-Ezer has a very supportive producer, Christine Vachon.
Hamoud's characters aren't invincible. After a night of drinking, as Salma prepares to leave her to go to her pick-up's house, Leila throws up. She cannot keep her drink down. Indeed, Leila even cooks her boyfriend a meal. She tries to have it all, to be accomplished at everything – in an early scene, we see her negotiate an out-of-court settlement for one of her clients whilst outside smoking a cigarette. But she cannot quite manage this accomplishment.
The film has one 'punch the air' moment when Noor takes Wissam to see her father so that he can tell him that the wedding is off. You might expect Noor's father to insist on the union and condemn his daughter to servitude. Instead, he criticizes Wissam: 'you are the one who has changed, not my daughter.' In other words, Noor's father had accepted that his daughter is progressive, seeking an education; Wissam clearly does not.
Noor's father (who works in a shop) contrasts harshly with Salma's, who is concerned about his own reputation. Significantly, Salma's father is educated, is well-off and has influence. You might expect him to be more understanding. Instead, he is a reactionary conservative who sees being gay as a sin.
The film ends with the liberation of Noor, dancing at a party. (Her first attempt to smoke doesn't end well.) The title reflects a society in transition, outside the control of opinion-formers like Salma's father.
Yet you may leave In Between with this thought: that the Israeli Film Fund has supported an 'alternative' Palestinian filmmaker in order to criticise Palestinians in general. The problematic relationship between the Israeli State and the Palestinian Territories barely gets a mention. It is as if Palestinians were a racial minority, living in parallel with the Israeli majority. In Between will leave you conflicted as to whether it is a good film, entirely liberated from its means of production. The test will be in where Hamoud chooses to make her next film – and her domestic box-office success ensures that this is likely.
Reviewed at Crouch End PictureHouse, Screen Five, North London, Tuesday 19 December 2017, 18:30 screening