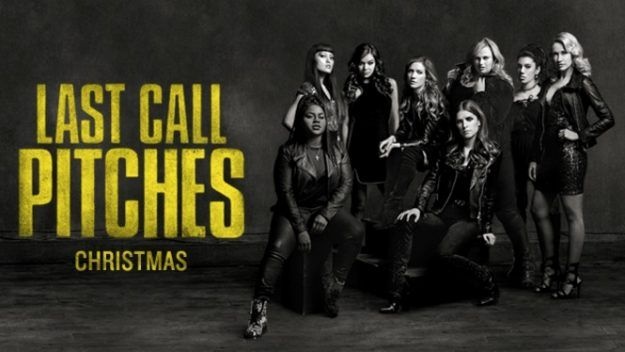 Pictured: The 'Pitch Perfect 3' cast get the Vanity Fair treatment. Still courtesy of Universal Pictures
I love the 2003 pop song 'Toxic', performed in an airline stewardess outfit by Britney Spears. I can barely distinguish the lyrics ('with the taste of your lips/I'm on a ride/you're toxic I'm slipping under') but it's the arrangement that gets me – the upbeat poppy tempo, occasional Bollywood violins and twangy guitar. Cathy Dennis, who co-wrote the song and has a 50% stake in the royalties, earns about $20,000 a year from it (fact courtesy of Billboard) which I hope is paid to her promptly.
Toxic almost book-ends the comedy sequel, Pitch Perfect 3, helmed by choreographer-turned-film and music video director Trish Sie (Step Up: All In, videos for the band OK Go). The Bellas, an A-Cappella all-women singing group, are giving a private performance to a group of gentlemen on a luxury yacht when Amy (Rebel Wilson) crashes through the window and sprays the men with a fire extinguisher. Amy and Beca (Anna Kendrick), the recurring A B notes of the series, then leap from the yacht's stern as a fireball explodes behind them.
The Pitch Perfect films aren't noted for action set pieces or for trashing yachts. What's up?
What's going on?
In the three years since the sequel, Pitch Perfect 2, the brand has itself become toxic. Together its stars (Kendrick, Wilson, Brittany Snow, Anna Camp, Hana Mae Lee, Ester Dean, Kelley Jakie, Shelley Regner) have ruled the box office, but separately have failed to carve out successful solo careers. Wilson is the perennial best friend, experienced, assertive, but can't be arsed. Kendrick plays disappointed but tentatively charmed like no one else – 'oh, my hob, you're actually speaking to me; don't say Jennifer Lawrence is standing right behind.' Brittany Snow made an action movie, Bushwick, with Dave Bautista, about secessionists taking over Brooklyn, and a thriller, Hangman, with Al Pacino that earned a rare 0% score on the movie review website Rotten Tomatoes. (I don't think anyone saw it.) The franchise is rooted in the college setting of the original. Now that Amy, Beca and the girls have graduated from Barden University, there is no reason plot-wise while they would reteam, except for a TV talent contest which they have to win to pay off Amy's massive credit card debts. OK: that's Pitch Perfect 4 sorted.
The plot of Pitch Perfect 3 has the Bellas joining a European tour singing for the troops, who are based not in Germany or the Korean peninsula but in holiday destinations like Spain and the South of France. The Bellas, we discover, are a group of no-hopers with failed employment opportunities. Beca had a promising career as a music producer, but her clients have already produced their version of a track, so she quits. The question 'how are you going to pay the rent' is never answered. I guess, after they travel abroad, Beca and Amy lose the apartment.
Sacred Cows
The US Army is one of America's sacred cows, next to the Bible and Judge Judy. You dare not criticise them. Their boys are doing important work resisting paella and trying to find a French movie with English subtitles. So the army backdrop is resistant to satire. This time the Bellas face up to bands with musical instruments, vying for the opportunity to open for DJ Khaled (playing himself).
I was not familiar with the oeuvre of the New Orleans-born (of Palestinian parents) music producer and Snapchatter DJ Khaled. He spends much of the film looking preoccupied. I can just imagine the deal: 'we're going to pay you [specifies figure] just for checking your phone.' 'Sweet!' I have no idea whether DJ Khaled would say 'sweet', but it is a word designed specifically for him. I see endorsements – perfume, or maybe an air freshener.
Someone who is not a sacred cow is John Lithgow. He turns up with an Australian accent as Amy's estranged father. Growing up, she was his little turnip top. But then he disappeared. Amazingly, he found her – like there is advertising for the tour schedule of troop entertainment – and hopes to reconnect, having 180 million (Australian) reasons to do so.
Accent acute
Lithgow's accent is what some might say an assault on Australian vowels. Damn it, he has vowel cancer. I'm sure the first question he asked his vocal coach was 'do I pronounce the apostrophe in G'day?' In comedy, I understand, it is important not to seem real, or to rehearse. I think Lithgow was doing his best not to put Australian actors out of work. Never mind that Russell Crowe, Guy Pearce, and Hugh Jackman are taking American roles. As for that Melvin Gibson... . The point of Lithgow's performance is not to seem genuinely threatening. I mean, he's not Lord Farquaard here, or Dr Emilio Lizardo ('laugh while you can, monkey boy') – look it up.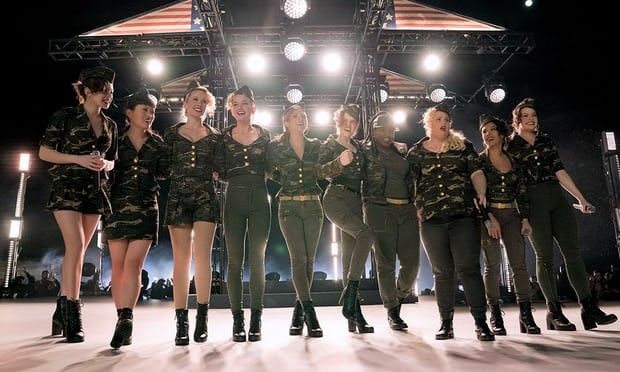 Pictured: The Bellas in fatigues - boy, are we fatigued - in 'Pitch Perfect 3'. Still courtesy of Universal Pictures
More important than the plot twists are the musical cues and the introductory of an apiary in DJ Khaled's hotel suite (recreated in Tyler Perry's studios in Georgia, just so you know). Off screen director Trish Sie actually keeps bees as well as chickens. I guess she didn't miss chicken. The 'hilarious' comedy party closer – accidental fire, the bees get out – is anything but.
The Pitch Perfect films stand or fall on the basis of puns, usually involving 'Aca'. They are a bit flat here suggesting aca-puncture. There is however something funny about the quiet Lilly (Hana Mae Lee) staring at a boy, mouthing 'is it me you're looking for' while a tear dribbles down her cheek. Another character is there to say, 'in my country' followed by a punch line, like 'in my country, they voted a clown as President'. (Not an actual quote.) A third character is a lesbian who failed to get her pilot's licence, one of the more offensive conceits - think of Erica Jong's feminist treatise, 'Fear of Flying'.
Aside from 'Toxic', I was unfamiliar with rest of the Bellas' musical repertoire. I'm the first to say that I'm not familiar with contemporary popular music. I grew up with punk and Haircut 100 – a band, not a razor setting. They don't play pop music on my favourite radio soap opera on accounts of the rights. So I wasn't as moved by the George Michael cover at the climax when Beca accepts the offer she shouldn't refuse but then subverts it. Nor was I stirred by the rest.
Fans of the original will be glad that Elizabeth Banks and John Michael Higgins reprise their roles of two Hollywood actors looking for a franchise. I kept expecting Banks to welcome Kendrick to the Hunger Games. Here, Gail (Banks) and John (Higgins) are making a snarky documentary about the Bellas failure to adjust to life in the real world, reprising their uncomplimentary asides. I see them definitely as judges in Pitch Perfect 4 if they go with my TV talent show idea. Their withering commentary has lost its lustre, in particular for the #MeToo generation of victims of sexual harassment.
It's about family
Ultimately – and just in time for the holidays – Pitch Perfect 3 celebrates families, the ones that made us, biological or spiritual. It does not celebrate Ashley (Shelley Regner) and Jessica (Stacie Conrad). I mean, the running joke is that this pair is entirely surplus to the plot. They can front a picture – just give them a try. The musical scenes suffer from fast cutting, but there is immense pleasure in seeing Rebel Wilson turn into Gina Carano. Haywire 2? 'Hell, I'm not going on a wire.'
Reviewed at Cineworld West India Quay, East London, Screen Six, Thursday 11 January 2018, 20:20 showing