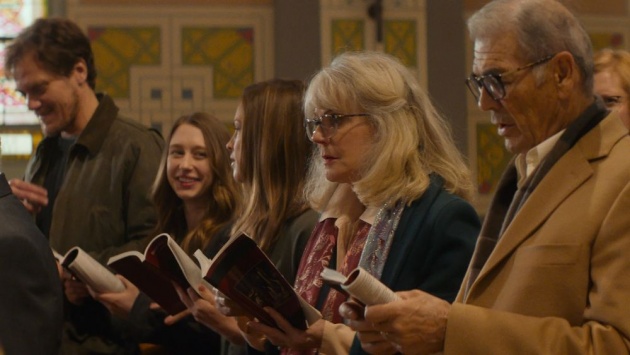 Pictured (from left to right): Nick (Michael Shannon), Emma (Taissa Farmiga), Bridget (Hilary Swank), Ruth (Blythe Danner) and Burt (Robert Forster) attempt to sing from the same hymn sheet in the Chicago-set family drama, 'What They Had', written and directed by Elizabeth Chomko. Still courtesy of Bleeker Street (US), Universal Pictures (UK)
What They Had portrays a child or spouse's worst fear: caring for a loved one with dementia. A dementia sufferer has no idea who you are and experiences disorientation. Their memories – the few they can access – aren't necessarily of life with you. You have to interpret what you think they are thinking, keeping your wits about you. It can seem thankless.
Writer-director Elizabeth Chomko integrates her own super eight footage of her family in a fictional drama, assembling a cast of award nominee calibre actors, headed by Hilary Swank and Michael Shannon. They play siblings Bridget and Nick. She has power of attorney over their mom Ruth (Blythe Danner) who at the start of the drama walks out into the snow, ostensibly heading back to her parents.
She identifies her husband, Burt (Robert Forster) – Bridget and Nick's pop – as her boyfriend. She greets her children as her babies but then she embraces every young person that way.
All of Chomko's characters are in crisis of one type or another. Bridget, or Bit, or Bitty as she is called here, is stuck in a marriage in which love for her husband Eddie (Josh Lucas) has deserted her. She describes her day job as having her hands in raw poultry. Either she works in a chicken processing plant (in California?) or it's a metaphor. At any rate, she never went to college. She wants her daughter, Emma (Taissa Farmiga) to do well. Only Emma is flunking it; she doesn't want to be there and has not enrolled in classes for the next semester.
The drama is set in the build up to Christmas in a Catholic neighbourhood in Chicago. Nick still lives there. He owns a bar, Nick's, and can serve an award-winning Manhattan. Bridget lives in California. She has a chemical sensitivity and drinks 'ten dollar coffee'. How you can afford ten dollar coffee if you deal with raw poultry is a new one on me. When we first meet her she is out for a run. This is a reminder of Swank's star signifier as the 'Million Dollar Baby' boxer of Clint Eastwood's Oscar winning movie. Her running sweats signify another thing: she is alone. When she flies to Chicago, she doesn't wear her wedding ring. Moreover, she has renounced Catholicism.
Her relationship with Emma – a severely underwritten character and surprisingly not addicted to her mobile phone – is terrible. Bridget has to be let into Emma's dorm and hassles the sleeping girl to pack. Emma loves her grandmother, but is less enamoured with her uncle, who has split with his live-in lover Rachel. Nick complains that he 'can't get into women's heads' and knows neither Rachel nor Bridget, the latter with her 'chemical sensitivity'. (Does she mean lactose intolerant?)
Bridget and Nick see their mother in hospital and she's 'fine'. Nick is keen to place her in a memory care facility and enlists Bridget's aid to convince their intransigent father. Pop counters that he is the best memory care facility in Chicago – he has known his wife for sixty years, and buys her gift to him, a tub of macadamia nuts.
Surprisingly music doesn't play a part in the drama as a means to reassure the dementia-stricken mother. She worked in an office for three decades and is a two-time winner of 'administrator of the year'. She knows women in the neighbourhood, but when she attracts scowling looks in church isn't afraid to give a parishioner the finger.
'She drank the holy water,' observes Emma. 'At least she's hydrated,' remarks Nick. Nick considers himself the voice of reason – the man who stayed. Bridget considers him an asshole.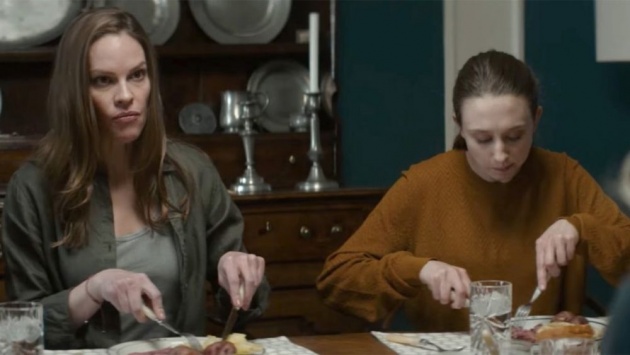 Pictured: Bridget (Hilary Swank) and Emma (Taissa Farmiga) at dinner in the family drama 'What They Had', written and directed by Elizabeth Chomko. Still courtesy of Bleeker Street (US), Universal Pictures (UK)
Burt has had four heart attacks and at one point collapses in the street. He is not a fan of hospitals, but then, who is? When Ruth is submitted to a pelvic examination – women with dementia who wander off are susceptible to being raped with no memory of their attacker – Pop is outraged.
He has traded in the family car for a convertible – only the roof stays down ('I've got to get that fixed'). Why the swap? 'I'm seventy five years old,' he snaps.
Back in the home town, Bridget is recognised by a parishioner, Gerry (William Smillie), who Nick observes has – ahem – masturbation issues at school. I suppose the Catholic upbringing has something to do with it – 'my fault, my fault, my grievous, oh golly!' When the family is out, she invites him round, ostensibly to change the locks. He's a divorcee, he makes the same assumption about her. Locks are changed. Cigarettes are smoked. Then at the moment of a kiss, whilst Bridget is wearing one of her mother's blouses – freshly laundered as she is informed several times later – Nick spots them. 'So you're not divorced,' Gerry says as he stands by his truck. He charges Bridget $500 for the lock change – it includes materials. This apparently for thirty minutes work. He must have charged for lighting her cigarette too. Later, her husband will ask whether Gerry changed the locks for the whole building.
Emma is appalled by her mother, not least because she went into her college account and enrolled her for courses. But Burt is also a meddler, buying Bridget and Emma plane tickets and sending them home.
The ending is surprising but also moving. There is an inevitability to it, but it caught me off guard nevertheless. Burt talks about 'bells and whistles' but there are none in this movie. The characters move on.
Chomko describes how she sat in a church full of farmers at a funeral and decided to tell her grandparents' story. She does great work. An actress turned writer-director she gets solid performances out of her cast. Forster deserves special praise in a role that requires him to emote – normally he is cast as the sheriff. There is one scene that is fantastical: when Ruth remarks about an event 'happening at the right time'. She wouldn't be that self-aware.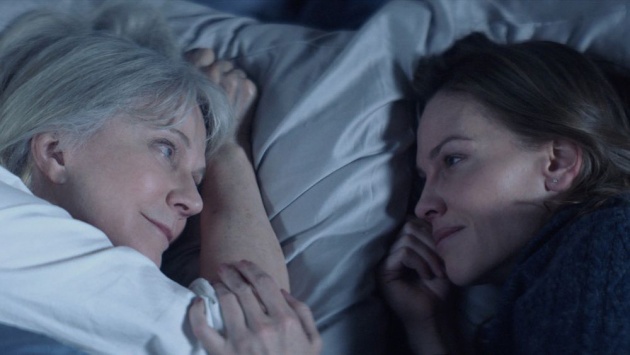 Pictured: Ruth (Blythe Danner) and Bridget (Hilary Swank) share a moment in 'What They Had', a drama written and directed by Elizabeth Chomko. Still courtesy of Bleeker Street (US), Universal Pictures (UK)
In the United Kingdom, the film was released with barely an advertising campaign behind it. Audiences are interested because Alzheimer's, along with antimicrobial resistant viruses, is one of the great ticking time bombs of the next decade.
Reviewed at Cineworld West India Quay, East London (Screen 7), Saturday 2 March 2019, 12:40 screening.