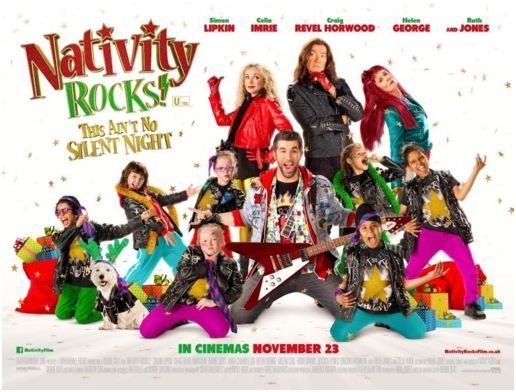 Pictured: The UK release poster for 'Nativity Rocks', the fourth film in a series conceived, cultivated and directed by Debbie Isitt. Image courtesy of Entertainment One (UK)
In the past, I have complained that female directors have never got to make sequels to their commercial successes. Catherine Hardwicke was removed from the Twilight series while Sam Taylor-Johnson was replaced by James Foley for the follow-ups to 50 Shades of Grey. One writer-director who has proved the exception is Britain's Debbie Isitt, who has helmed four films in the Nativity series.
Now, I know what you're thinking: just how many times can I watch the baby Jesus being born? It's not that nativity, exactly. All four films, Nativity (2009), Nativity 2: Danger in the Manger (2012), Nativity 3: Dude, Where's My Donkey (2014) and now Nativity Rocks! (2018) – subtitle 'This Ain't No Silent Night' (I hate double negatives) – are set in St Bernadette's Primary School in Coventry, where the new teacher is tasked with putting on the nativity play, which is important for spurious and frankly irrelevant reasons.
Isitt casts well-known television actors in the leading roles - alumni include Martin Freeman, David Tennant and Martin Clunes. Kids show off on camera. The male and female lead get together and there is a big, potentially tear-jerking finale.
The star of the series is Marc Wootton as man-child Mr Poppy, who appeared in the first three films. He was the excitable side kick who behaved like a child and didn't like having his fun spoilt. However, Wootton was busy with his television series High & Dry (imdb user review 'don't bother with this c-p'). So Isitt was forced to look for a replacement.
Enter Simon Lipkin. He played the chief elf in Nativity 3: Dude, Where's My Donkey. I am willing to wager that no one has noticed that he has been re-cast or, if you prefer, promoted. He plays Mr Poppy's long lost brother, Jerry, who goes in search of his sibling to find that he has gone to Australia. For spurious and frankly irrelevant reasons, Jerry, who starts crying on the headmistress' shoulder, is hired to prepare St Bernadette's pupils for an audition to appear in a Christmas show designed to showcase Coventry as the Christmas town of the year.
In reality, the televised show would be cancelled to allow for a live leaders debate about Brexit. But this isn't reality. This is Nativity ... 4.
Our teacher is Mr Johnson (Daniel Boys), a character so unmemorable that it took me four internet searches to fact-check his name. I'm sure he took his charisma on holiday with him and left it there. ('What do you mean it's not covered by insurance?) At the beginning, we see him talking to children in a variation on 'Children say the Funniest Things'. I can't recall exactly what he said but I think it was something like:
'Timmy, what do you want for Christmas?'
'For you to stop calling me Timmy - my name is Jake.'
'Jake, do you want Santa to bring something nice from the North Pole?'
'No. I want him to stop melting the polar ice caps with all that toy manufacturing.'
'I'm sure that Santa is carbon neutral.'
'How can he be – he voted for Brexit.'
Surely they can't sully a feel-good family film with talk of Britain leaving the European Union. But, boys and girls, they can. The main plot involves illegal migrants, father and son trying to get to the UK in a dinghy. Apparently, they come from Romania, which is still part of the European Union, but in this semi-improvised film they come from Syria. If Isitt can conflate Syria and Romania, it must be entirely true that those up North didn't understand the 2016 In-Out Referendum. Of course, they know what they voted for – to take back control of their laws, their borders and their money. However, the EU is not responsible for the British gig economy, the inability of young people to get a mortgage and an uncontrolled rental sector, not to mention benefit sanctions and people in paid employment requiring food banks. Folk in Brussels didn't do that, it were the government.
Back to the movie: young Doru (Brian Bartle) hides in the back of a truck after his father (Ramin Karimloo) is arrested. He ends up being collected by social services in the form of Miss Shelly (Helen George), who cannot drive properly. She places Doru in the care of a foster mum (Meera Syal) who looks after a whole bunch of young people and is ever so friendly – in reality she would be doing it to inflate her Universal Credit and then send the kids out begging. Doru is invited to join St Bernadette's and attracts the attention of Mr Poppy. He comes up with the absolutely full-proof plan of getting Doru to take part in the aforementioned televised show. Only Coventry's entry is directed, conceived and cultivated by the personality Emmanuel Cavendish (Craig Revel Horwood, better known as one of the judges on Strictly Come Dancing, the UK version of Dancing With The Stars).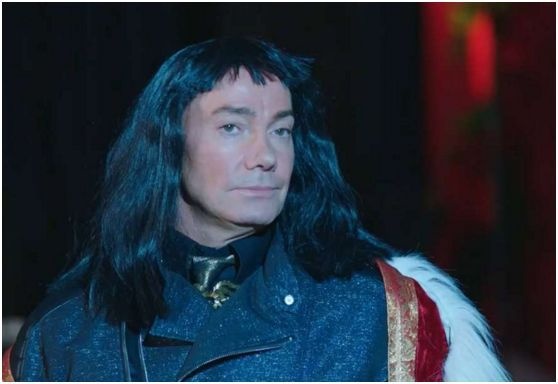 Pictured: Emmanuel (Craig Revel Horwood) prepares to pass judgement in 'Nativity Rocks!' a British family film directed by Debbie Isit.. Still courtesy of MSN.com / Entertainment One (UK)
Poppy's plans depend on Doru being cast. But Mr Poppy, who has also adopted a dog, hasn't got a place to stay. Mr Johnson offers him his spare room, but he can't take the dog, he's allergic. Mr Poppy doesn't believe in allergies – I suspect he likes stories to say what they mean. (Allergies, allegories – reader, I'm trying.) Anyway, there is some disruptive dog fun for those people who didn't see Patrick, which I suspect is quite a lot.
The showcase revolves around the staging of a rock opera. What's a rock opera? Well there's rock (pause), then there's opera. (This is Isitt's joke, not mine.) Anyway, Mr Poppy turns into Jack Black from School of Rock, complete with pinky finger gestures and sticking out his tongue, though not 'read between the lines, sister, read between the lines.' (I'm amazed I still remember that after fifteen years.) The rehearsal songs revolve about rock standards, though not to my disappointment, 'We've got to get out of this place/If it's last thing I ever do' which would surely make it a Brexit musical.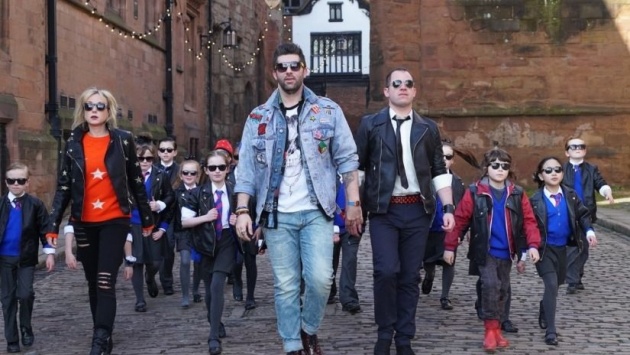 Pictured: The cast of 'Nativity Rocks' get ready to, well, you know... Still courtesy of Den of Geek (UK) / Entertainment One (UK)
Emmanuel comes with a one man entourage and no interest in the local talent. He is intent on taking every part for himself. Doru and Mr Poppy are told to leave and they befriend a boy from a rival school. Barnaby (Rupert Turnbull) lives in a big old house and has a nanny, driver and extra pillows. In a bizarre plot development, Doru and Mr Poppy move into Barnaby's room and get Barnaby to ask for three milkshakes. Barnaby's parents (Hugh Dennis, Anna Chancellor) don't even see the pair when they leave, even when Mr Poppy kisses Barnaby's mother on the cheek over breakfast.
Barnaby teaches his parents the true meaning of Christmas after Mr Poppy fills the house with decorations. His father decides not to go away for business – trading with an EU country, can't be that important. His mother opens up a soup kitchen and lets the homeless use the spare bedrooms. Doru's father meanwhile searches for his son and is helped by a friendly farmer (Ruth Jones), a.k.a. 'stick lady', who likes a bit of music herself.
Jessica Hynes appears as a singer who makes a claim for one of the parts and the big climax is the televised show featuring original songs by Nicky Agar (Isitt's husband).
Of the four Nativity films, this is proving to be the least financially successful. This can't just be put down to the absence of Wootton, rather to the over familiarity with the concept and the high-cost of a family ticket to the movies. The North of England – Brexit Central – hasn't taken kindly to the 'immigrants welcome' message and Isitt doesn't give the kids much to do. They have been crowded out by adults taking their business, which is actually what the villain threatens to do.
Isitt's intention is to re-state the true meaning of Christmas, which as we all know is a whole load of adverts and gut-ache. She may have discovered a star in Lipkin, who is so aggressively childish you want to deny him his tea. Her second intention is to turn Coventry into a tourist destination. I understand the city has its own transport museum, but that's only because the bus company can't afford to renew its fleet. Coventry's local heroine is Lady Godiva, who rode naked on back of t'horse, only because she couldn't buy clothing after her Universal Credit was assessed. But it is also home to Sgt Bilko's Vintage Emporium, which I think consists of one bloke selling his collection without using eBay. It's amazing what you learn researching a film review.
Reviewed at Cineworld West India Quay, Screen Three, Saturday 24 November 2018, 17:20 showing