Pictured: Has she remembered the cat food? Detective Mike Hoolihan (Patricia Clarkson) is overcome with concern in the film 'Out of Blue' directed by Carol Morley. Still courtesy of IFC Films (US) / PictureHouse and BBC Films (UK)
The American actress Patricia Clarkson is in almost every scene of Out of Blue, British writer-director Carol Morley's quasi adaptation of British author Martin Amis' 1997 quasi noir detective thriller, Night Train. Morley has some fun at the expense of Amis: a new character, Ian Strammi, played by the diminutive pug-faced, English actor, Toby Jones is an anagram of the author, and boasts an abscess. Amis reputedly demanded a huge advance for a novel to pay for dental work. Later, we see Strammi in a club filled with exotic dancers; Amis is famously obsessed with low culture – the boozer, the bother, the broken glass. Amis and cinema represent an unhappy marriage. The last Amis adaptation, London Fields, ended in litigation, the director's vision interfered with by the producers. Morley had no such aggro. Then again, there's no such spice.
Clarkson plays New Orleans Police Detective Mike Hoolihan, a former alcoholic investigating the death of renowned astrophysicist, Dr Jennifer Rockwell (Mamie Gummer), felled by a single bullet. Dr Rockwell is obsessed with the possibility of parallel universes. Her death looks like the work of the 38 calibre killer, who gained notoriety in the 1960s. Could a killer step through a black hole and kill again over fifty years later?
Pictured: Dr Jennifer Rockwell (Mamie Gummer) in pensive mood in 'Out of Blue', a New Orleans set detective drama from British director Carol Morley ('The Alcohol Years'). Still courtesy of IFC Films (US) / Picture House / BBC Films (UK)
Hoolihan wears the black leather coat of choice, last donned by Detective Erin Bell (Nicole Kidman) in Destroyer. She has dyed her hair black too. 'You're not a natural brunette, are you?' asks the suspicious and unhinged Miriam Rockwell (Jacki Weaver), Jennifer's mom. Hoolihan doesn't have a partner. We (the audience) look at her from the passenger's seat. She lives at home with her unnamed grey cat. Early on, Hoolihan hears that one suspect Duncan Reynolds (Jonathan Majors) spent the night of the shooting discussing Schrodinger's Cat. 'I couldn't discuss my cat all night,' she remarks. Hoolihan isn't your average cynical detective, inured to the pain of others and therefore able to tolerate the proximity of corpses. She's post-cynical - witty without being in on the joke.
The Hoolihan of Amis' novel was literary. Morley's protagonist is not. Aside from her appearance, age and marital status, she is undefined. She conducts her investigation perfunctorily, at the same time fielding questions from a TV news reporter, Stella Honey (Devyn A Tyler) - or maybe not. It seems a striking coincidence that both women appear at the same Alcoholics Anonymous meeting. Hoolihan is talking to her at one point, then turns to see her on television. Is Stella Honey the companion she always wanted?

Pictured: News reporter Stella Honey (Devyn A Tyler) turns up for an Apparitions Anonymous meeting in 'Out of Blue', a detective drama from British director Carol Morley. Still courtesy of IFC Films (US) / PictureHouse / BBC Films (UK)
Duncan is held for a long time without being charged, demanding a lawyer after being sufficiently agitated. Later, Hoolihan interrupts one of his lectures, which is immediately terminated in the clichéd manner. Just once, I'd like a lecturer to be non-plussed; damned if they are going to interrupt their flow for the police.
One of the defining characteristics of the detective thriller is suspense. Morley is not interested. At no point do we sense that there is a killer out there who could kill again. Neither is there the obligatory chase scene when a guilty-seeming suspect runs away. The film turns into an investigation into Dr Rockwell's family. A family portrait shows Jennifer in the centre of the frame. On top are her parents – her father, Colonel Tom Rockwell (James Caan), is a war veteran who survived being imprisoned in action. Below are her two brothers, Walt and Bray (Brad Mann and Todd Mann), who run the Rockwell family business. With Jennifer, the nominal blonde sun, gone, the Rockwell universe is in a chaos. Mrs Rockwell is particularly unstable. 'You know what happens to nosey girls,' she says to Hoolihan. 'They lose their noses.' As she says this she pinches Hoolihan. The line seems to pay homage to Chinatown (the protagonist's nose was sliced by a thug) but Morley doesn't turn subversion of the detective genre into a pleasure.
Pictured: Guilty pleasure as charged - Miriam Rockwell (Jacki Weaver) in the New Orleans-set detective drama, 'Out of Blue', directed by Carol Morley. Still courtesy of IFC Films (US) / PictureHouse / BBC Films (UK)
At a certain point, it appears that the case is closed, but there is something about Colonel Tom that does not seem right. Sometimes he holds his cane in his right hand, at other times with his left. Hoolihan assaults him as if to prove he's a faker. She makes a discovery about his hobby, which involves a particular fascination with memorabilia.
The plot ultimately turns not on the cosmos, black holes or whether Schrodinger's cat is alive or dead but on a repressed memory that the case awakens in Hoolihan. It plays like another alarming coincidence. Normally such discoveries have an emotional impact. Morley deliberately downplays it. Hoolihan returns to the office with doughnuts, before opening her desk drawer and – well, that would be telling.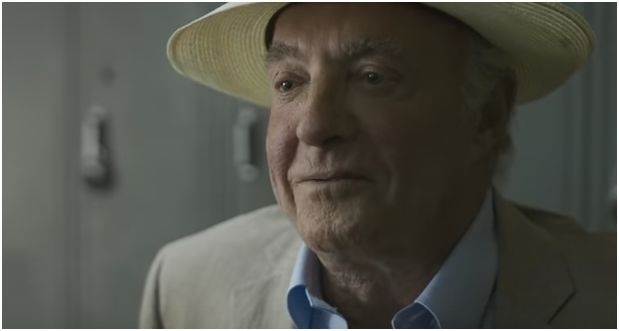 Pictured: Ground control to Colonel Tom (James Caan). Leave your tie at home and put your boater on. A scene from the New Orleans detective drama, 'Out of Blue', directed by Carol Morley. Still courtesy of IFC Films (US) / PictureHouse / BBC Films (UK)
The pleasures of Out of Blue are fleeting. Weaver is deliciously wide-eyed, notably when Miriam Rockwell fulfils her daughter's dying wish by emptying her ashes into a dumpster. She has a need to talk that is partially filled by the police detective. In all movies about former alcoholics, there is the inevitable moment when the protagonist falls off the wagon. Here, Hoolihan dances in an exotic club frequented by Strammi. 'I ought to have known I'd find you in here,' he says to Hoolihan. The line ought to be funny, but it isn't. Strammi also cares a little too much about a telescope.
The Peggy Lee song, 'I'll be seeing you' is a constant refrain. It's a haunting evocation of romantic loss. You don't feel a loss by the end of the film, except perhaps of your time – there were three walkouts at the screening I attended. The final image is of a car driving into the distance as the stars shine above. This feels like a plot hole; someone has forgotten about Hoolihan's cat.

Pictured: Duncan (Jonathan Majors) demands a lawyer in the detective drama 'Out of Blue', directed by Carol Morley. Still courtesy of IFC Films (US / PictureHouse / BBC Films (UK)
Reviewed at Cineworld West India Quay, East London, Tuesday 2 April 2019 18:10 screening