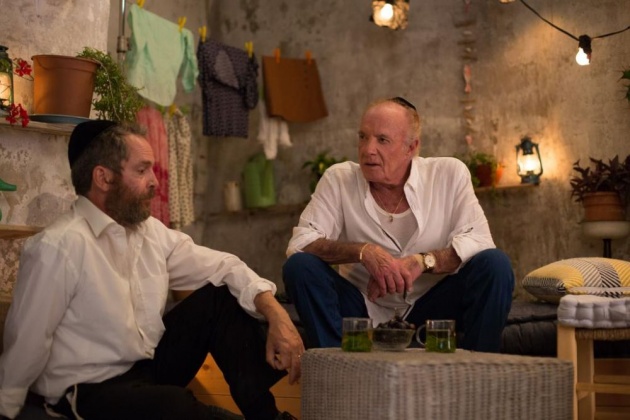 Pictured: Rabbi Moshe Cattan (Tom Hollander) and pig farmer Harry Rosenmerck (James Caan) discuss green tea in 'Holy Lands', writer-director Amanda Sthers' adaptation of her 2010 novel. Still courtesy of Studio Canal / Unifrance
When it comes to turning a book into a film, an author is not the best adapter of their own work. A story that has reached its perfect form in one version is then converted into a different form, a screenplay, and then directed with actors. For Holy Lands, Amanda Sthers has taken her 2010 epistolary novel written in French, written a screenplay in English and directed the film, casting veteran movie star James Caan in the leading role as Harry Rosenmerck, a Jewish American who has retired to Israel to raise pigs much to the distaste and distrust of the local community – except for a neighbour who sews a bandanna for a piglet rejected by its mother. The film focuses on the unlikely friendship between Harry and the local rabbi, Moshe Cattan (Tom Hollander) as Harry attracts the unwanted attention of a zealous (Catholic?) priest who condemns him for being a squatter on Jesus' property.
In telling the story through a series of letters, Sthers (pronounced 'Esthers') created a tapestry of opinions and reported incidents leaving the reader to fill in the blanks. The form doesn't lend itself easily to adaptation because some letters aren't answered. As a screenwriter, Sthers tells the story in a different way through dialogue but jettisons some of the opinions held by the characters. For example, in the novel, Harry's ex-wife Monica (Rosanna Arquette) hopes that Harry would come to one of his playwright son, David's first nights. She doesn't express such a sentiment in the film. Harry has rejected David (Jonathan Rhys Meyers) for his homosexuality. In the film, Harry doesn't discuss his homophobia, but it is clear that he enjoys nurturing the weak abandoned piglet, whom he names Judas. You sense he would want a grandchild and indeed he gets one, through his neurotic daughter, Annabelle (Efrat Dor), who becomes pregnant during a visit to Israel. Whilst taking photographs on a beach, the siren sounds and Annabelle retreats to a shelter. The man who led her there kisses her and one thing leads to another.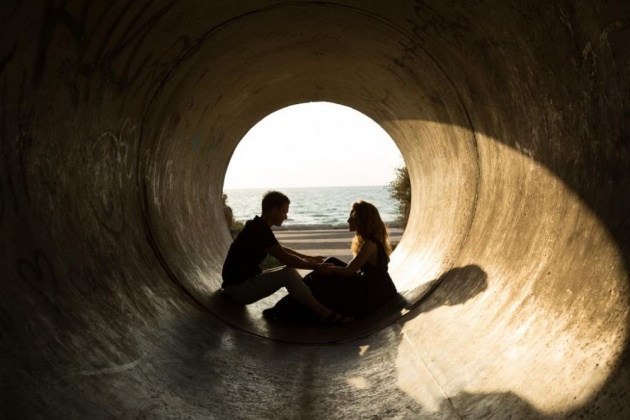 Pictured: Seduction during an air raid. Annabelle (Efrat Dor) and saviour in 'Holy Lands', writer-director Amanda Sthers' film adaptation of her 2010 novel. Still courtesy of StudioCanal / Unifrance
David is an experimental playwright. His drama, about his own relationship with his father, is interspersed with dance, a silent chorus representing an elemental force, a tide of emotion. (The opening credits show dancers in rehearsal.) In the centre of the stage is a huge tree, painted white from its wide stump to its spreading leaves. Neither David nor Annabelle is as strongly defined. David's dolour centres less on his estrangement with his pop, rather his inability to adopt. He is refused permission because of a perception that a playwright offers an unstable home environment, especially when overseeing productions of their work staged abroad. You would have thought that David would have obtained support from his union. Instead, he sulks in his apartment, alienating his partner.
There is a lot missing from the film. For example, David is unconcerned by the reception to his play, which attracts a negative review. Instead, Monica takes up the cause, confronting the reviewer in a restaurant. The reviewer is glib. Monica is righteous. Then she apologises; she has cancer. This tonal shift - a sudden realisation of how to behave decently even in disagreement - is one of the few strong moments.
This scene encapsulates Sthers' concern: how should we behave when faced with a disappointment? Sthers would have made a more emotionally engaging film if she had used this theme as an organising principle. Disappointment can be the result of unrealistic expectations as well as of injustice.
Sthers' novel was comic; some of the humour survives. There is an additional element that the visual medium is especially good at – cuteness. On the page, I doubt if the piglet Judas (let's call him male) was cute. On screen, he is. In one scene, Harry collects one of Moshe's children from kindergarten – the others all have chicken pox. The child does not acknowledge Harry, putting him in an awkward predicament. Then he sees Judas in the passenger seat and changes his mind.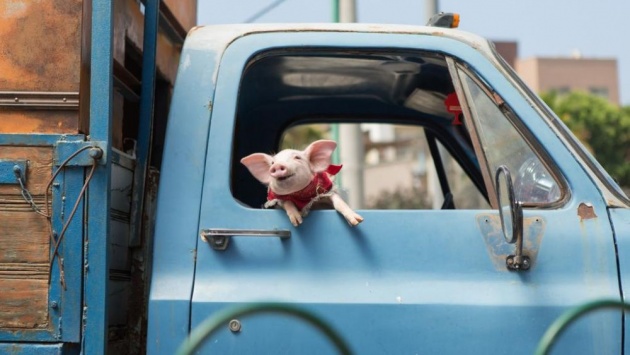 Pictured: 'Are we catching a matinee of 'Babe: Pig in the City' or what?' Judas the piglet shows off his bandanna in 'Holy Lands', writer-director Amanda Sthers' adaptation of her 2010 novel. Still courtesy of StudioCanal / Unifrance
When Moshe calls on Harry for the first time, he ends up in pig poop. Moshe's objections are on religious grounds. Previously he had written to Harry. We see him at home drafting a follow up letter, which Moshe attempts to pass off as his third. He is trying to be clever, to get Harry to search for the missing second letter. To Harry, Moshe on his moped cuts a fairly ridiculous figure. But when Harry visits Moshe's house and spends the night sleeping in the lower bunk bed of the children's room, he warms up. Later, he asks Moshe, 'I know how you declare love. How do you declare friendship?'
Annabelle barely registers as a character. She is studying in Brussels and attends 'child therapy' even though she is 30. Efrat Dor doesn't really portray arrested development; Annabelle doesn't have the scenes that define her neurosis. We know she takes photographs and has an awkward conversation with an Israeli border guard who reminds her that the wall is there for the purposes of survival. She gets a slap from her father for not getting in touch. Is single motherhood really an answer? It isn't enough to lure Harry back to the States for the birth.
Next to Caan, Arquette has the most screen time. Monica discovers she has a year to live and spends it taking selfies in the park, watching old-fashioned 3D movies (well, one) with her daughter and getting together with her doctor (Patrick Bruel, Sthers' ex-husband). Arquette hasn't opted for cosmetic surgery; instead her face is transitioning into late middle age without the 'experience' lines. She has always had an undefined screen persona. Although sometimes cast as spunky (young-looking but defiant), she is for the most part unconfident. In The Whole Nine Yards, she adopted a fake French Canadian accent which was as conspicuous as lipstick on the collar. I couldn't believe in her and hadn't seen her in a movie for almost twenty years. As an actress, I still don't know what she is capable of.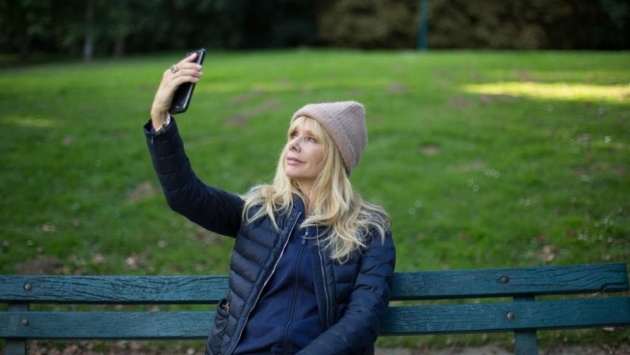 Pictured: 'I'm still here.' Monica (Rosanna Arquette) takes a selfie in 'Holy Lands', writer-director Amanda Sthers' adaptation of her 2010 novel. Still courtesy of StudioCanal / Unifrance
If Holy Lands is remembered at all, it will be for the Caan-Hollander show, two people who exist in different movie universes. Caan will always be Sonny Corleone from The Godfather or Jonathan E from Rollerball or Paul Sheldon from Misery tortured by his biggest fan or Buddy's curmudgeonly father from Elf. Until he showed up in Out of Blue, I wasn't sure he was still acting. You don't see his name above the title in a studio picture any more, unlike his contemporary Robert de Niro. Then again, he chooses projects like Undercover Grandpa. Who represents him – Piddles the Monkey? Hollander has made his name on British television in series such as Rev, Taboo, The Night Manager and Baptiste. He is the guy who turns up to deliver some – very – bad – news, usually slowly. He is rarely the protagonist. You can imagine the pre-production period. 'I can't give him bad news, he's Jimmy freaking Caan'. 'Don't worry – you can sit on a beach together, both of you wearing a face pack.' 'Well, sign me up, Amanda.' 'Watch out, though – he might slip you a copy of Undercover Grandpa.' The reach across a cultural divide is something to see. Their best scene together involves Moshe giving Harry a lift to a church to confront the freaky priest over a crime against cuteness. Harry starts battering the pew then has a heart attack. Moshe hesitates. The church - it's not his faith. Then he behaves like a human being.
Holy Lands is a bit like one of those inspiring ensemble movies that covers death, birth and coming to terms with stuff. It even has that hoary cliché – the hidden study in which Harry has posted a bunch of press cuttings about David. Their relationship really eludes Sthers. She doesn't trust herself to portray a conversation between them and so doesn't. Gay viewers might leave the movie saying 'holy crap.'
Reviewed at JW3, Finchley Road, North West London, Tuesday 16 April 2019, 18:00 screening