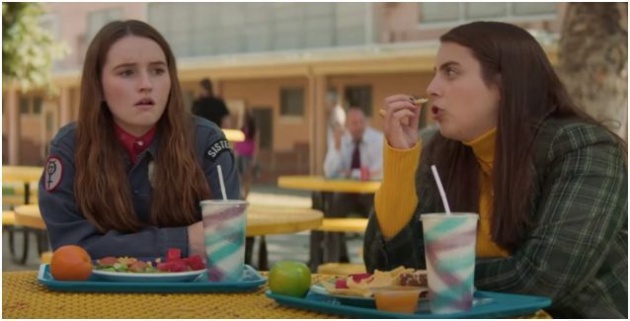 Pictured: Healthy eating isn't everything. Amy (Kaitlyn Dever) and Molly (Beanie Feldstein) do lunch in the High School end-of-term comedy, 'Booksmart'. Still courtesy of Annapurna (US); Entertainment One (UK)
Booksmart is a bit like its central characters, Californian High School students, Amy (Kaitlyn Dever) and Molly (Beanie Feldstein). It tries too hard. From its opening gag, involving a motivational speech (voiced by Maya Rudolph) that lapses into profanity, it goes for a heightened comedy style that does not deliver big laughs. I wouldn't change the premise – about two clever girls who are perceived as not fun who over-compensate for one hearty night on the evening before graduation. I would tweak the execution, which relies heavily on over-needy people. No one wants to go to university ill-prepared for a new social start. Yet most of us arrive at uni with our personas still under construction.
The script is credited to four writers: Sarah Haskins and Emily Halpern, writing partners who created the ABC television series, Trophy Wife; Katherine Silberman, who wrote the Netflix rom-com, Set It Up; and Susanna Fogel, who co-wrote and directed last year's The Spy Who Dumped Me. All four swim in the mainstream, as does the film's director, Olivia Wilde. Wilde previously wrote and directed the short, Free Hugs, for the magazine, Glamour. In it, the protagonist, Billie (Jaclyn Jonet channelling Aubrey Plaza) takes a chainsaw to a teddy bear. Why not a pair of scissors?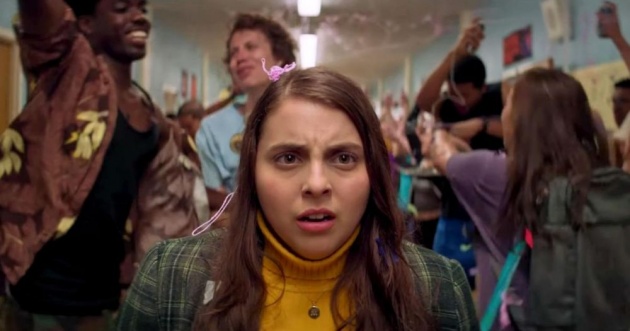 Pictured: Molly (Beanie Feldstein) navigates end of term japes in the comedy 'Booksmart', directed by Olivia Wilde. Still courtesy of Annapurna (US), Entertainment One (UK)
Booksmart is equally overdone. It begins on the penultimate day of term. Class President Molly wants to go over some numbers with her Vice President, Nick (Mason Gooding, the son of Cuba Gooding Jr), who only took the job because he thought it meant parties. He has organised one of his own. His parents are away on a cruise – on the day before his graduation, seriously? They and the other cruisers are seriously ill, which isn't even funny; neither is Cuba Gooding Jr's 2002 film Boat Trip. Nick is going to give his classmates an evening that they will all remember. Molly, who has secured a place at Yale, ordinarily would have no interest. Only in the rest room, which is gender neutral, her classmates are particularly insulting. Molly steps out to tell them that their life choices will condemn them to mediocrity. However, one of the other girls is going to Yale and a boy has a position at Google. Molly has a crushing realization that she could have both partied and studied.
Amy came out in tenth grade. She fancies Ryan (Victoria Ruesga) who Amy is convinced is also a lesbian. She is convinced that all she needs an opportunity to talk, before she goes off to Botswana for the summer doing humanitarian work. Amy and Molly pledge to find and attend the party.
First they have to get past Amy's parents (Lisa Kudrow, Will Forte) who are pretty tolerant. Her father has prepared snacks which all have amusing names. They have accepted Amy's sexuality but would be concerned by alcohol. So Molly convinces them that they are sleeping over at a friend's house.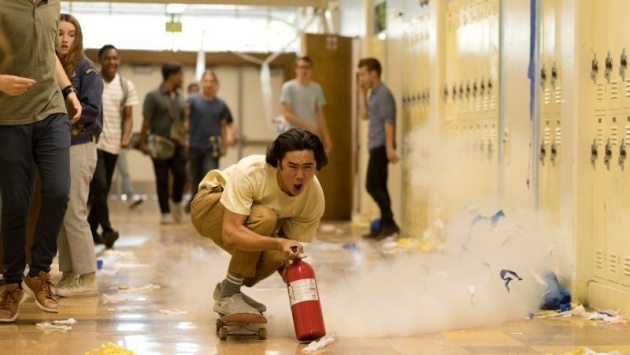 Pictured: Making waves. Theo (Eduardo Franco) lets off some steam in 'Booksmart' and end-of-term comedy directed by Olivia Wilde. Still courtesy of Annapurna (US) / Entertainment One (UK)
The central joke is that the girls don't know where the party is. They see the posts on Instagram, but haven't a clue. It's hard to write what happens next without being a spoiler, but it involves, variously, a yacht, a very needy and unpopular boy, Jared (Skyler Gisondo) who has his faces printed on tee-shirts to hand out as souvenirs, Gigi (Billie Lourd, Carrie Fisher's daughter) who turns up everywhere, a murder mystery event with the host's parents confined to one room waiting for it to finish, a teacher, Ms Fine (Jessica Williams) who is a deus ex machina of sorts – she has given out her phone number – not to mention a pizza delivery guy (Michael Patrick O'Brien) whom Amy and Molly surprise, using their long hair as masks and an interlude involving animation.
Wilde's husband, Jason Sudeikis, turns up as the High School principal who has already shut up shop and has a second job. Not one but two gags turn on characters being banned from stuff. Molly is barred from calling Lyft – customers as well as drivers are reviewed – while Ms Fine is banned from Jamba Juice. These jokes are basically reverse advertising, that is being banned from their services really hurts. For the record, when visiting New York City, I have never been tempted to visit a Jamba Juice store. Trader Vic's on the other hand –
Both Amy and Molly surround themselves with posters supporting female empowerment. They use Malala as a trump card of sorts. If one of the girls says her name, the other should just go along with whatever is suggested. There is, as you might expect, a secret that one of them has, which causes a row. In the end, one of them does something heroic.
At one point, the pair drives a car erratically. Why - because it is supposed to be funny. The car even crashes through a wire fence. The worst aspect of the film is that every student is extremely loud and incredibly close, like that Jonathan Safron Foer novel. It is as if in the school drinking fountain, water had been swapped for Mountain Dew. There is also an intimate scene that ends in vomit, which is par for the course.
The performances by Feldstein and Dever are accomplished; only the characters are not to like. I saw the film at an early public preview in which there was very little laughter. OK, so the screening clashed (in my country) with Game of Thrones, but are they really chasing the same audience?
One scene has Amy and Molly complement each other for wearing dresses given to them by their teacher. I kept waiting for the joke. Comedies work best when they are anchored to protagonists who are believable if slightly overblown. The pizza delivery driver who warns the girls about the dangers of getting into a vehicle with a stranger does not fit that category.
I was reminded, slightly, of last year's comedy, Never Goin' Back, starring Maia Mitchell and Camila Morrone as two friends with money problems. The film also features a botched hold up scene, vomit and drug use. There is a reasonable chance that someone involved in the production of Booksmart might have seen it, though it only grossed $34,589 – that's some creative accounting. Booksmart has the advance buzz and wide release to do much better. I hope that it will lead to more – and better - female-directed comedies in cinemas, preferably without botched hold-ups, vomiting and drug use.
Reviewed at Cineworld West India Quay, East London, Monday 6 May 2019, 19:45 screening