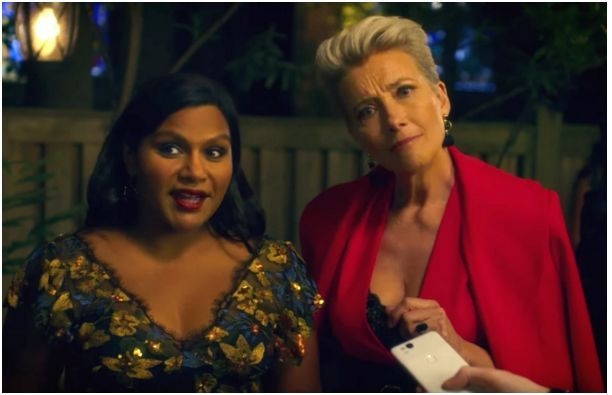 Pictured: Molly (Mindy Kaling) answers questions about being a 'diversity hire' in front of her new boss, talk show host Katherine Newbery (Emma Thompson) in 'Late Night', a $13 million acquisition by Amazon Studios, written by Mindy Kaling and directed by Nisha Ganatra. Still courtesy of Amazon Studios (US) / Entertainment One (UK)
Watching Late Night I had a hard time accepting Dame Emma Thompson as a network talk show host using her English accent. It isn't that Thompson is a bad actress – she's won two Oscars. She was also the go between for James Ivory and Anthony Hopkins on the set of Howard's End, Schlegal very much. Talk show hosts are supposed to cajole their guests into a state of convivial bonhomie, as if they have just made their new best friend – what do you mean, I can't use the green room? Thompson radiates intelligence and an air of 'I will only tolerate your company for six minutes between commercials then it is back to the egg'. I can imagine Thompson running up and down a first class aircraft cabin and reproaching fellow passengers for snoring. Lately, she's been making principled stands, turning down voice work on an animated feature and pledging solidarity with climate change protesters in central London – hang the round trip from Los Angeles. Above all, Thompson has been schooled like the rest of us Brits in sarcasm. We pop out of our mother's wombs, lift our eyes to the heavens and say 'really?'
When she introduces her talk show, Ellen DeGeneres sashays on. She flashes that 'I forgot what you did last summer' smile and those wide eyes that are midway between a Sally Field Oscar-acceptance speech ('you really, really like me') and 'heck, there a truck heading this way'. Thompson's character, Katherine Newbery has been the Queen of Late Night since – what did she win an Oscar for again? She doesn't do 'Carpool karaoke' or run Arnold Schwarzenegger through his entire screen career in six minutes. She doesn't even do Baby Memes. Katherine interviews serious people about serious subjects and thanks the audience for the privilege of their time. She is so day time. I don't think she'd even make The View.
Yes, I had a hard time accepting that Katherine would suddenly be up the tree where her co-star and screenwriter Mindy Kaling places her. She has to make herself relevant or be replaced by hot young comedian Daniel Tennant (Ike Barinholtz) who tells jokes about defecating in his shoe. If it was a Vans shoe, I'd understand it. My sympathy for Katherine was, as they say, the minimum amount. However, she forms an unlikely bond with her 'diversity hire', Molly Patel (Kaling), the one woman in her writing team, and Asian American at that.
Kaling may possibly have seen another Sally Field film, Punchline (co-starring Tom Hanks) in which Field plays a housewife who turns to stand up comedy. Molly certainly follows a similar trajectory, moving from the factory floor to Katherine's writer's room. In a comedy, it only has to be borderline plausible. Molly brings in cupcakes and a set of notes and succeeds in being just another number – Katherine cannot be bothered to learn her writers' names.
Thompson can play disdain – she can sell it proudly for $14.99 plus postage. If she wasn't playing an entertainer, rather a producer, her character would make more sense. She has a good screen rapport with John Lithgow, coasting, rather than screaming, 'laugh while you can, monkey boy' (see The Adventures of Buckaroo Banzai). Lithgow is cast as her husband, an eminent something who has Parkinson's disease and who plays the piano and lets Molly watch.
The comedy comes from Katherine warming to her unlikely gag merchant, who says the things to her that no male joke writer can say to her like 'go on the street and interact with the public – you'll go viral'. 'I'll catch a virus, more like,' you expect Katherine to retort. She does indeed do a piece called 'white saviour', in which she hails a cab for a minority – the unacknowledged irony is, that the cab is driven by one.
Molly also helps Katherine tap into her post-menopausal side and proposes jokes in favour of pro-choice. Katherine is cautioned against it: once you open that box, you can't close it. Indeed, she drops Molly's joke right in front of her.
Pictured: 'That joke stinks, Number Two!' Katherine Newbery (Emma Thompson) in reprimanding mood in 'Late Night' a comedy written by and co-starring Mindy Kaling and directed by Nisha Ganatra. Still courtesy of Amazon Studios (US) / Entertainment One (UK)
The one unbelievable thing about Late Night is that Katherine doesn't interact with the band. Hosts always acknowledge the musicians. A host opens with a different monologue every night while the band plays the same tune over and over. Under those circumstances, you have to express solidarity. Admittedly, some hosts don't have a band. Mimes don't last long in this business. Katherine also doesn't have much of a rapport with her audience, which makes her odd.
If you can forget the contrivance that underpins Late Night – well, I can put it to one side but there's not much left on the plate – then you can enjoy Katherine's emotional journey as she fights back against the new head of the network (Amy Ryan) whose calls she won't return. In the mean time, I started to miss 30 Rock. There is even a visual homage or stock filler shot when Molly visits Seth Meyers (playing himself, as opposed to Jonathan Rhys-Meyers). Katherine surprises Molly by turning up to perform in her benefit gig after firing her and, well, tanking with a line about favourites ('you can only have one favourite') before winning the audience's applause.
The Canadian-born director Nisha Ganatra, who has directed numerous TV shows including (ahem) The Mindy Project, serves her writer-star well. It is however the Emma Thompson show, denuding the crisis Katherine faces without a hint of pathos; she never liked those Musketeers anyway. She has to deliver a speech about 'slut shaming' and holds up the phrase as if it were a piece of road kill.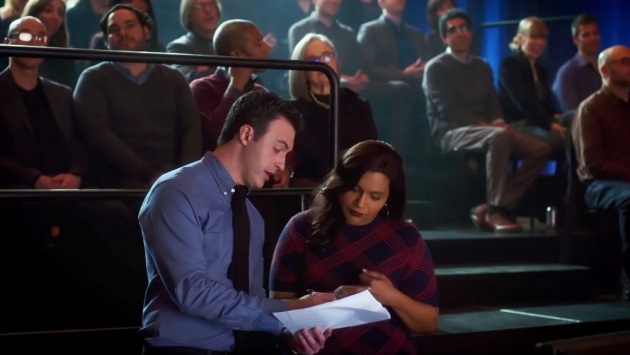 Pictured: 'Do you think we can get Katherine to do the 'Boss Hijack joke?' Molly (Mindy Kaling) goes over her lines in 'Late Night', a comedy which she also wrote directed by Nisha Ganatra. Still courtesy of Amazon Studios (US) / Entertainment One (UK)
Molly has a sort of relationship with another writer, but she is truly in thrall to Katherine. There is an extract from one of Thompson's early television performances back when women comedians wore duvets – patchwork jackets that said, 'make it sew'. Personally, I thought Katherine would hire an expensive lawyer and sue her boss rather than try to keep her show. It doesn't make her happy – or the audience.
The worst scene has Katherine be dismissive of a You Tube star who sniffs her pet's posterior. We don't say butt in England unless it is in a fight. The star calls Katherine out. In reality, the talk show host would have produced a smell-o-rama card and asked the You Tube star to identify the animal from their butt-smell. I know why the scene exists, but I didn't believe it.
Reviewed at Sundance London (Press Screening), PictureHouse Central Screen Four, Piccadilly Circus, London, Wednesday 29 May 2019, 18:00