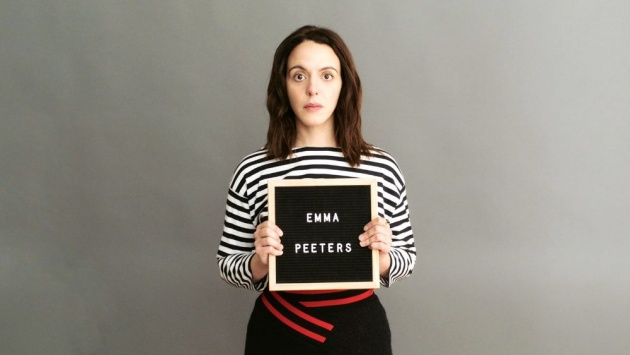 Pictured: Monia Chokri is Emma Peeters in the Paris-set romantic comedy 'Emma Peeters' written and directed by Nicole Palo, a member of the group 'Elles font des films' ('They make films ... women that is'). Still courtesy of True Colours / Glorious Films
One of my favourite black comedies is Harold and Maude written by Colin Higgins and directed by Hal Ashby, both sadly no longer with us, about a socially awkward young man (Bud Cort) who fakes suicide attempts as a cry for help and falls for a lively septuagenarian (Ruth Gordon). You couldn't make it now in Hollywood because focus groups wouldn't like it.
Emma Peeters, written and directed by Nicole Palo, is another suicide-based comedy, about a young Paris-based, Belgian-born actress, Emma (Monia Chokri) who sells televisions at an electrical store, Tardy (a parody of the French chain Darty) who has one advert to her CV and, after one unsuccessful audition too many, can only get acting work as an extra. Even then she waits on a muddy verge and is told that her scene won't be shot today. She lives above a hairdresser's where the two male proprietors, one straight/bi, the other gay, receive a complaint about a dye job. 'You wanted blue hair. We gave it to you. Don't you know that a make-over is top to bottom?' She has a cat – of course she has a cat, Jim, named after Jim Morrison, whom she found in Père Lachaise cemetery near the singer's grave - and visits an old lady, Bernadette (Andréa Ferréol) who is generally unresponsive to solicitous attention. Her best friend is Lulu (Stéphanie Crayencour) who is also an actress and who frequently asks to borrow her apartment for amorous encounters with this or that man. Generally dissatisfied with her lot, Emma decides to commit suicide on her 35th birthday, the year in which young actresses are considered to be past their 'hire-by' date.
There is only one way the story can go – Emma meets a man who persuades her, either directly or indirectly, to live. In this film, he is Alex (Fabrice Adde), equally socially awkward but in the perfect profession as a funeral director: he doesn't make friends, he dresses corpses. Well, maybe not, but he rocks a good coffin catalogue. He appears clumsy but has a good sales pitch, well, until he introduces a video containing professional mourners, three women dressed in black who wail uncontrollably and are like three aunts that you disowned decades ago. At this point, you wonder, isn't that the perfect job for Emma – dress in black (she only has to remove the white stripes from her wardrobe) and emote? The plot doesn't quite go that way, though you do ask yourself: 'does Emma dress like a mime because she doesn't want to be heard?'
Part of Emma's problem is that she is Belgian. The French directors for whom she auditions – the one here is played by Palo herself – would prefer French women. Admittedly, they make fewer films in Belgium and you have to decide whether it will be in French or Dutch, but perhaps Emma is knocking on the wrong door. I once knocked on the door of a supplies cabinet when I wanted to use a toilet cubicle, so it happens.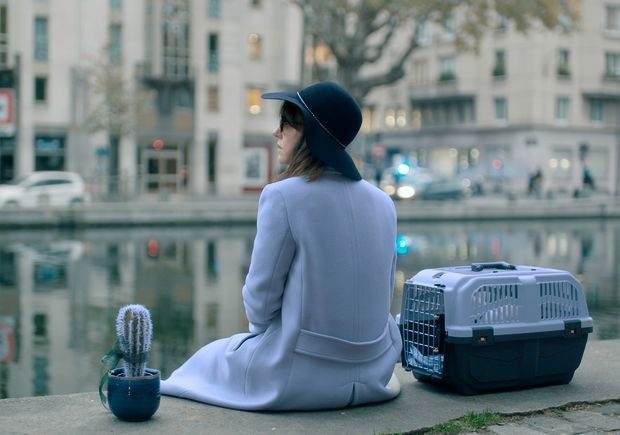 Pictured: 'Imagine no possessions'. Emma (Monia Chokri) tries to solve the 'cat and cactus' problem in the black comedy, 'Emma Peeters', written and directed by Nicole Palo. Still courtesy of True Colours / Glorious Films
Emma tells Alex that she is planning her own funeral and that it will take place in a week's time. After expressing sympathy that she has some incurable disease, Alex gives her some options, including coffins that cost more than her month's rent – but, hey, there are no utilities. Emma decides to go for burial rather than cremation and opts for an 800 Euro casket, which Alex insists is discounted, even though the earlier price he mentioned was 800 Euro. She then decides to write a list of things to do before she dies. First: say goodbye to her parents (Anne Sylvain, Jean-Henri Compère). She explains that she will be going on a long trip. Second: give away her stuff to passers-by, including acting manuals and books by Charles Bukowski - she offers them outside a college. Third: she decides to have sex one last time, so goes on a date with Alex. They move quickly from a meal to the bedroom. The Earth doesn't move; then again Emma doesn't live directly next to a metro station. At one point, we see her walking past Le Grand Rex and nipping into Bonne Nouvelle metro station, being bumped.
Alex upsets her when he asks to film her, offering her the chance to leave something behind. By this point, he discovers that she intends to take her own life, but doesn't think to refer her to the Samaritans or a support group for failed actresses – and if the latter doesn't exist, it should. He is also a bit of an actor himself, going to parties and saying he is on the guest list – he reads a name upside down to gain entry. He then showers a person he hasn't met before with compliments. Emma sees her acting coach at the party, the one who complained that she wasn't emotional enough – early on we see Emma act in a scene opposite Lulu, in which Lulu is over-the-top. Yet it is Lulu, not her, who drew praise.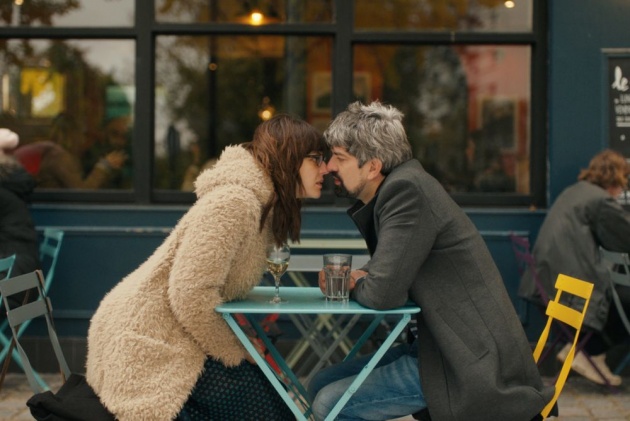 Pictured: Emma (Monia Chokri) and Alex (Fabrice Adde) exchange their first kiss in the Paris-set Belgian-Canadian co-production, 'Emma Peeters', written and directed by Nicole Palo. Still courtesy of True Colours / Glorious Films
Other complications involve Emma trying to procure arsenic to enable her suicide – she considers jumping in the Seine, but just loses a shoe, which she can't retrieve. She then tosses the other shoe into the river and walks back to her apartment barefoot. Then her parents come to visit and insist on staying in her apartment rather than checking into a hotel.
What will happen to Jim the cat? Emma tries to abandon him at the cemetery, but then is plagued by guilt. The ghost of Jim Morrison – or maybe just a lookalike – walks past. Then Emma tries to give him to Bernadette, who has terrible taste in biscuits.
As her 35th birthday gets ever closer, Emma receives no replies to her request to procure arsenic. Then someone with bad French responds, arranging a rendezvous in a seedy hotel.
The best scene has Emma win 'employee of the month' and gets really upset about it. 'I really don't want to sell televisions,' she wails, deeply mortified. I kept thinking: what would she think if the guy who can't sell toasters won the award? Surely it is great to be recognised?
The object of Palo's satire is the over-inflated sense of importance that the French attach to their film industry and the way in which certain industries value beauty over talent. Emma's inability to talk about herself at her audition doesn't help, but then sharing one's biography with a stranger who will almost certainly forget it feels pointless. Jim the cat serves a plot point, but the ending is more or less what we expect. There is a good use of song: Emma cycles as she attempts to warble 'Heaven/I'm in heaven' having decided that death is the answer but like the rest of us forgets the subsequent verses of 'Cheek to Cheek' (Irving Berlin, 1935, first sung by Fred Astaire in Top Hat). Who remembers, 'Oh, I like to go out fishing/In a river or a creek'?
The jazz score by Robert Marcel Lepage (not to be confused with the Canadian director) and zippy 60s-style animated credits settle the viewer into a state of pleasant anticipation. But Emma Peeters stays within its narrow comic range. Perhaps the best gag is when Emma goes to have her chakra flows unblocked – first the specialist waves a small metal bowl above her body. 'There is no energy,' he concludes. Then he waves a pan-sized bowl. Still nothing! I should be grateful for the film encouraging me to learn about the seven chakras: root, sacral, naval, heart, throat, third eye and crown. And there I was thinking chakra was the first name of the singer of 'I'm Every Woman.'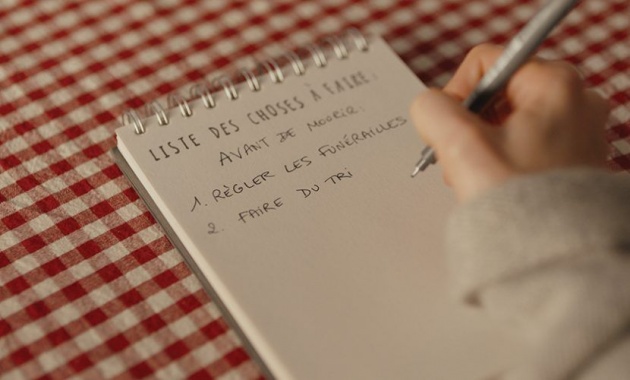 Pictured: Emma (Monia Chokri) starts compiling her death list in the Belgian-Canadian black comedy, 'Emma Peeters', written and directed by Nicole Palo. Still courtesy of True Colours / Glorious Films
Reviewed at the Edinburgh International Film Festival, Saturday 29 June 2019, Vue Omni, 13:00 screening