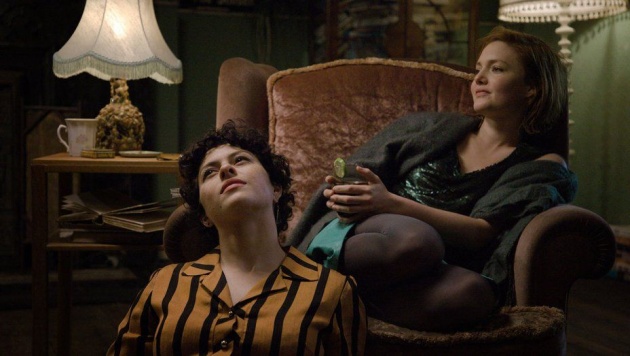 Pictured: Tyler (Alia Shawkat) and Laura (Holliday Grainger) stare wistfully at the ceiling in 'Animals', a comedy-drama of friendship, hedonism and pianist's shoes adapted from Emma Jane Unsworth's 2014 by the author and directed by Sophie Hyde. Still courtesy of Cornerstone Films / PictureHouse Entertainment / Adelaide Film Festival
They call them 'generation rent', young people who can't climb onto the housing ladder because they can't borrow enough money to purchase their first property. They are at the mercy of the landed class, though who can and do buy more than one property to hold the whip hand over others. In my country (the UK), there is very little talk about 'interfering with the housing market', to impose rent control so that young people can have disposable income and that they are not one pay cheque away from homelessness. In my country, in my city (London), you are never too far from a homeless person. Even they have stopped trying.
Animals, the second feature from Australian director Sophie Hyde (52 Tuesdays) is about that generation, specifically two young women approaching thirty, aspiring writer Laura (Holliday Grainger) and practising hedonist Tyler (Alia Shawkat) who share a Dublin flat. They have nothing jobs as Baristas in a cafe we never visit. Why do we never see them at work? Well we don't see them in a rest room either, except, well, taking drugs. They too live in fear of not paying the rent, but they don't talk about it much. It is the elephant in the room, well, outside it, a well connected elephant with access to bailiffs and young men in the goods removal business. You can almost understand why hedonism is an option, so you don't think about how unfair it is, how even political parties 'for the many, not the few', have lost the plot.
The source material is Emma Jane Unsworth's 2014 (second) novel adapted by the author and relocated from Manchester to Dublin, because some of us don't want to get out of the European Union, so we'll move our stories there, thanks very much. I suspect funding was an issue. The location switch means that the spectre of kitchen sink realism is banished from the mise-en-scene (what's in the frame). Plus there's something romantic about Dublin, re-imaged as a hotbed of budding authors, all struggling with their word documents in coffee shops, fighting over the plug points where once notebooks would do. Wandering late at night in Paris last year, I came across an abandoned unused notebook on a street bench. It was an invitation: pick me up, write in me. I imagined a successful author leaving new notebooks in random places to encourage young people – or maybe a few older ones – to shape their thoughts. If you did it in the UK, young people would complain that they didn't leave the receipt.
The novel is described as a female version of Withnail & I, except with no Uncle Monty. Writer-director Bruce Robinson's film captured the allure of inebriation as he looked back at his drama student days, before he made the acquaintance of film director Franco Zeffirelli, who gave him his first gig. Still, he pretty much defined the two young men drinking themselves to oblivion genre – is it a genre? Laura and Tyler drink and partake in crystal meth (which looks like sugar) because it's fun. At no point do we feel sorry for them or worry about what they are doing to their internal organs because their lifestyle has no effect on their bodies. It does give the young women nights that they cannot remember. At the start, Laura finds herself tied to the bed with her own underwear. 'Women are tied to beds for two reasons,' observes Tyler, 'sex or exorcisms'. Amazingly, Laura doesn't write that down – it is hard to extricate her hand from the bed post. Her notebook is full of musings, random sentences that drift off the page like detritus on the river.
Tyler likes living with a writer – she describes herself and Laura's family as 'Laura's team'. It means that she does not have to think about her dad in America, who is a complete [enter rude descriptor here]. In the UK, Tyler would be forced to return to the United States after her studies – did she study? But we are not in realism here. Tyler is the kind of woman who only has rolled notes. She attempts to flatten one out for a taxi driver. It is an admission of guilt – that it was used for snorting cocaine – but Tyler doesn't care. She has the veneer of outrageousness, though unlike Laura, doesn't flash a naked breast in public. Maybe it was in Shawkat's contract – Grainger's had the 'no prudery' clause.
At the start of the film – the real start, not the underwear thing – Laura discovers that her sister, Jean (Amy Molloy) is pregnant. Amazing, congratulations. There is a flashback to Jean's party-self, stripping naked and crawling onto a bar, then exposing her pubic hair to a candle, just so Unsworth can make a quip about a burning bush. This scene is actually a Big Deal: whisper it, but Irish films don't tolerate female nudity. It is taboo. Hyde, of course, doesn't give a buck.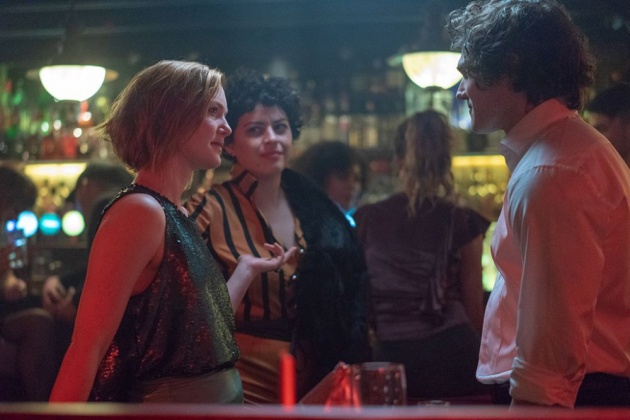 Pictured: Laura (Holliday Grainger) introduces flatmate Tyler (Alia Shawkat) to Jim (Fra Fee), a pianist, in 'Animals' a Dublin-based comedy directed by Sophie Hyde. Still courtesy of Cornerstone Films / PictureHouse Entertainment / Adelaide Film Festival
Tyler disapproves of Jean's journey towards domesticity. She has time for Laura's father (Pat Shortt) who asks pertinent questions like 'how is the novel coming along?' Yes, what's it about? 'It's about ten pages,' replies Laura without a hint of embarrassment. She describes the opening: a young woman frees a spider from its web. At least spiders don't have to worry about landlords. Then, what? Tyler cites Ezra Pound in Laura's defence – 'it took 56 years to write' [what was it again? Oh yes, 'The Cantos'.] Citing Pound in a country that converted to the Euro; why doesn't Unsworth give quips to other characters?
In a bar, whilst Tyler is slipping off to get something, Laura buys a stranger a shot of Tequila. This is after she has a stand-up row with a barman about wine. 'We only have two types, white and red,' moans the barman, implying that if Laura wants any specific type, she can buck off to one of those fancy places. The stranger is Jim (Fra Fee), who has a white shirt, smart shoes but no mobile phone. He's a pianist, having just played a gig. Laura is impressed. She gives Jim her number, writing it on his shirt. 'You'll be surprised how well it washes out,' he says trying to be blasé without a jacket. Tyler only approves of him as limited overs cricket – well, she would if the film was set in Manchester and they had cricket.
Laura meets with Jim in a failed writers' cafe – not that it says that at the front, but, as Laura points out, 'if they made it, they wouldn't be here'. The idea of writing in public is an interesting one. You do it because you don't want to face the dishes but also because having people look at you forces you to work. It also gives you validation; never mind the end product. You are seen to be writing. Jim has a line about aspirations defining the individual; if that were true, I would be a millionaire.
There is the inevitable tension between Jim and Tyler. With Tyler, Laura can meet drug dealers like Chicken Sandwich – that is his name, not a dietary requirement – and run away after Tyler has stolen a jar of crystal meth. Jim is clearly a talented pianist. Laura encourages him to enter a pub and have a tinkle, which she immediately regrets but Jim follows through. There is a reaction shot of two men in the pub who agree that great piano playing is bad for business; people just want a quiet pint or a sing song; nothing in between.
The drinking habits of Tyler and Laura deserve mention. Laura goes to readings for the wine, where she meets aspiring poet Marty (Dermot Murphy) who organises his own salon. He is confident, magnetic and genuine. You might not find his like in Manchester, where it is either 'City' or 'United'. Tyler collects empties – those half-consumed glasses of wine – which she then uses to create two full glasses, one of which Jim takes from her (it was offered to Laura) and promptly vomits.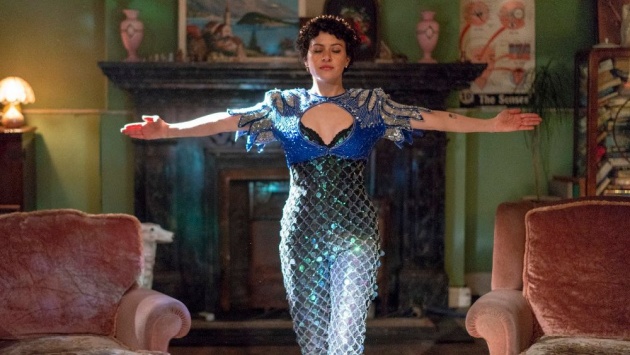 Pictured: 'I am Tyler. First rule of Bright Club, we don't talk about Bright Club.' Alia Shawkat in 'Animals', a 2019 film directed by Sophie Hyde. Still courtesy of Cornerstone Films / PictureHouse Entertainment / Adelaide Film Festival
A word about the animals: Hyde frequently cuts to a cat, a fox on the prowl or a spider in a web. If the film was a poem you wouldn't complain. This trinity has an echo in a conversation about survival. What is most important: sex, food or shelter? I think the cat is meant to represent sex, at least if the trailer for Tom Hooper's film version of Cats is anything to go by. The question really refers to what is most important to Laura. At a certain point, she is asked for rent.
One scene has Laura trying on a wedding dress at a shop that offers complimentary fizz. Do you think they could do that in men's outfitters? Most of the key decisions in life are never improved by alcohol, but that's the point. Life is the tightrope between good and bad decisions. If this was a poem, I could get away with that.
Hyde's film is effortlessly naturalistic and a lot of fun, mostly when Laura refuses Marty's charm; putting coke in her private parts, it's very 1984 porno. Laura and Tyler don't watch a lot of television. In Manchester, they would have to pay for a licence. There is an excruciating sequence involving a new born baby and red wine. Laura's carelessness is almost as legendary as Tom and Daisy Buchanan's (see The Great Gatsby).
Tyler remains an enigma, deepened only after she receives a call about her father; she can't share the news with Laura because the latter is having sex with Jim. As in all friendships, which are really competitions between two people who want better lives for themselves not for others, and benchmark their progress against others, Laura and Tyler drift apart. Liberation means that the people around you become fictional characters. Discuss.
A brief mention of the scene where Fra Fee's hand double plays a piece by Philip Glass – it sends shivers into your covered areas. I liked the song over the end credits – 'If I had you a party, would you come?' Links to a copy on Spotify would be welcome – top fun.
Reviewed at Cineworld West India Quay, East London, Screen Ten, Tuesday 16 July 2019, 20:00 screening