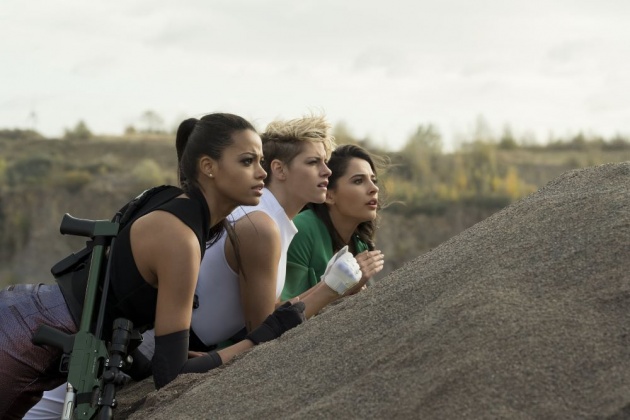 Pictured (from left to right): Jane (Ella Balinska), Sabina (Kristen Stewart) and Elena (Naomi Scott) check out their quarry in 'Charlie's Angels', the latest cinematic reboot of a popular 1970s TV series, written and directed by Elizabeth Banks. Still courtesy of Columbia Pictures (Sony Pictures Europe)
You couldn't run a women-only detective agency in the US in 2019 owing to gender equality laws. So why was rebooting the television series and movie franchise, Charlie's Angels, for the big screen such a great idea? Admittedly there aren't many franchises that present women as action heroes. If you were looking for a brand to relaunch, why not choose Police Woman or Cagney and Lacey? The 2000 film Charlie's Angels starring Cameron Diaz, Lucy Liu and Drew Barrymore alongside Bill Murray proved it has box-office potential– grossing US $264 million against a budget of $93 million. Its 2003 sequel, Charlie's Angels: Full Throttle, without Murray's participation, cost a lot more ($120 million) and grossed a little less ($259 million). Nevertheless, the idea of three women enthusiastically working for a man they never see, Charlie Townsend (voiced in the American Broadcasting Company TV series by John Forsythe) perpetuates the myth that unavailable men are somehow more alluring. The three 'angels' are devoted to a man for whom, it is implied, they would endure long-deferred gratification - although I'm not sure series creators Ivan Goff and Ben Roberts would see it that way.
The director I should like to take on this franchise is Anna Biller, if only to pay homage to 1970s television and parody the discomfort men feel around confident, capable women. Instead, Elizabeth Banks assumed writing, producing and directing duties, working from a story (read: early version of a script) credited to Evan Spiliotopoulos and David Auburn. Banks, who combines her acting career with directing, had a box-office hit with her feature directorial debut, the musical-comedy Pitch Perfect 2 starring Anna Kendrick, Rebel Wilson and Brittany Snow. This was a sequel that didn't stray too far from the original, celebrating singing and friendship. Maybe executives thought she could give Charlie's Angels a Pitch Perfect vibe. This accounts for the casting of Naomi Scott (recently seen as Princess Jasmine in the live-action remake of Disney's Aladdin) as tech designer and angel-in-waiting, Elena; Scott can sing and do comedy.
The opening shot is a statement of intent. The head and hand of Kristen Stewart fill the screen, making you marvel at the colour coordination of her pink lipstick and nail varnish. Her character Sabina is extolling the virtues of women in an intimate dinner with an Asian businessman, Jonny (Chris Pang). Telling him that it takes a man seven extra seconds to perceive a woman as a threat, she ties him up in a curtain in front of his bodyguards. This isn't threatening; Jonny appears complicit in his own entrapment. Just as his bodyguards lurch forward Jane (Ella Balinska) and her crew burst in, bypassing hotel door security. Bosley (Patrick Stewart), the hands-off advisor on operations turns up to say, 'well done' and Jane and Sabina intend to abseil their departure. Only there is a bit of professional tension between them. The sequence ends with Jane kick-starting (as it were) Sabina's descent. She too lost those seven seconds to perceive her female colleague as a threat.
The attempt to replay macho horseplay feels misjudged. Admittedly, Jane is former MI6 and highly trained, speaking with her natural British accent. But there is nothing funny about Sabina (wearing a harness) being kicked off a building unless she had done something mean-spirited to Jane. At any rate, we are not laughing with the women. We are not laughing, period.
The film is on tonally safer ground when Elena is introduced. She is trying to delay the product launch of Calisto, an energy source that she developed for Brok Industries – it looks like something you would press on a game show before answering. This source of cheap power can be weaponised. Her immediate boss, Hodak (Jonathan Tucker) doesn't want to escalate her concerns to the company director, Brok (Sam Claflin) on the grounds that they need to turn a profit. As the Angels discover, he has a more sinister reason.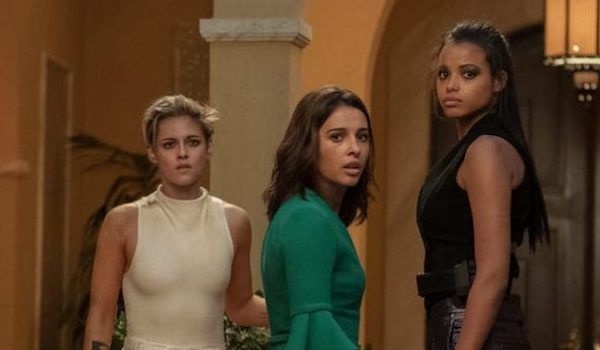 Pictured: Sabina (Kristen Stewart), Elena (Naomi Scott) and Jane (Ella Balinska) get a surprise in the 2019 movie reboot of the television series, 'Charlie's Angels', written and directed by Elizabeth Banks. Still courtesy of Columbia Pictures (Sony Pictures Europe)
The reboot introduces a few tweaks to the formula. Firstly, there is more than one Bosley. 'It is a rank in our organisation, like a lieutenant,' one Bosley explains. As well as an English Bosley, there is an African one (played by Djimon Hounsou) and a female one (played by Banks herself). English Bosley is retiring and gets the obligatory expensive watch for his forty years at the Townsend Agency. The Agency has gone international with branches all over the world. You wait for the Indian version to turn up, but I guess the world isn't ready. There is, however, only one Charlie, but with so many offices you can understand why he doesn't turn up for Bosley's retirement. Still, some facetime on Skype wouldn't have gone amiss.
After an opening in Asia, the main action takes place in Germany, since the film is a US-German co-production - just like the fall of the Berlin Wall. (OK, that was a US-Russian-German co-production, but I'm not sure we'll see one of those for a while.) In an operation in which Jane and Sabina step in to help Elena, African Bosley is inconvenienced, leaving female Bosley to take over.
The action scenes don't exactly compete with The Bourne Identity series, let alone James Bond or Mission: Impossible. There is one scene where Jane hangs out of a car and fires a gun; another when Sabina in a jockey outfit rides a horse after a moving car, but Banks doesn't allow for visually exciting spectacle. The Angels don't use lethal force. They are private investigators - they don't have a licence to kill. Their antics don't involve large scale property damage either - in contrast to in the James Bond films. I suppose this is because Charlie has limited liability – no wonder he is also hiding.
I mentioned there were a few tweaks. Not only does the Townsend Agency have a field office in Berlin – cue a montage of Berlin landmarks, but not shops. There is also the suggestion that a Bosley may be working for the other side - no, not NBC.
The best set piece takes place in a deserted quarry, used by the villains for a meeting. This includes the obligatory fight on a conveyor belt which would take eight seconds in real time but is stretched out in the movies. Elena is locked in an office whilst Jane and Sabina do the action stuff, but then a man bursts in and Elena, who is not an official Angel but has the status of an intern, defends herself. If this is how interns are treated in the Townsend Agency, no wonder Charlie is hiding. The race to rescue Sabina from being crushed musters some suspense.
The untrustworthy Bosley subplot bears fruit, but this is a Charlie's Angels without much Charlie. Sam Claflin makes for a typically British villain and there is an early set piece in which Elena, Jane and Sabina all wear the same disguise to fool security, with a comedy payoff.
Without visually impressive action sequences, or parodies of them, what does the film deliver? There is a montage of women ready to be high-achievers and plenty of Ariana Grande songs on the soundtrack but one of the few scenes to elicit a laugh involves one Angel at the bedside of another starting to cry. Only the Angel in hospital isn't in a coma. By the time we get to Elena's training, not being given a parachute but instead told to land a plane, in the closing minutes of the film (not a spoiler, it is in the trailer), the film is only just hitting its stride. You don't feel you've watched a movie, merely a pre-credits sequence.
There is a conversation about the Birdman of Alcatraz that segues to a well-known DC franchise. 'Was Ben Affleck Batman, really?' This is the nearest Banks (who delivers the line) gets to a zinger. This Charlie's Angels gets by without love interests – almost. But it doesn't have a clear idea of what it wants to achieve. Ethan Hunt has no competition here.
Reviewed at Wood Green Cineworld, North London (Screen Nine), Saturday 7 December 2019, 19:30 screening