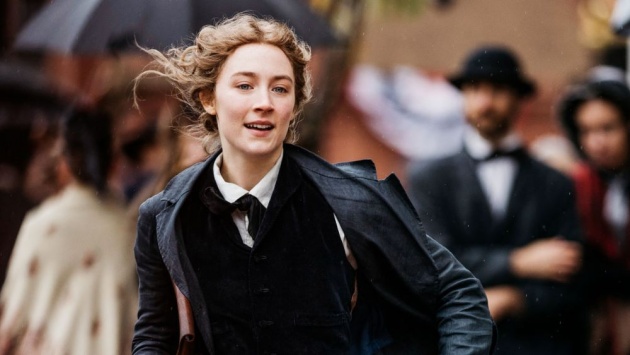 Pictured: Jo March (Saoirse Ronan) races down a New York street having had a story accepted for publication in 'Little Women', a film adaptation of Louisa May Alcott's pair of novels (published in 1868 and 1869 respectively) written and directed by Greta Gerwig. Still courtesy of Sony Pictures.
Based on the 1868 and 1869 pair of novels by Louisa May Alcott, the film Little Women tells the story of the March sisters, so-called because they have a spring in their step or, perhaps because they march towards social progress.
Jo (Saoirse Ronan) is a budding author, whom we first see in New York framed by a publisher's door. She gives her handwritten manuscript to a potential author (Tracy Letts) who proceeds to edit it in front of her ('too long'), then says, 'we normally pay twenty-five or thirty-five for this sort. I offer you twenty.' Jo, who has never been published by Volcano Press before, accepts. She runs through the crowded street elated. In time, her work will be in print, though her reader, a fellow boarder, Friedrich Bhaer (Louis Garrel) withholds his approval.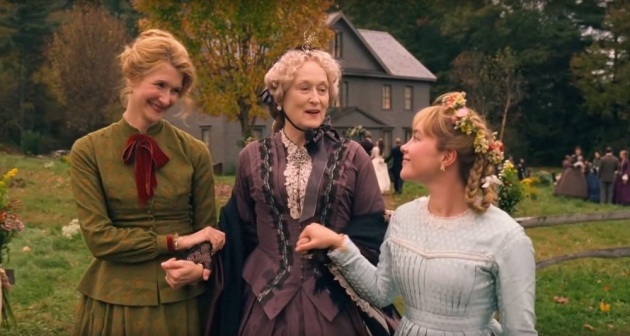 Pictured: 'Do you think this dress would be nice to wear at Midsummer?' Amy March (Florence Pugh, right) consults her aunt (Meryl Streep, centre) and mother (Laura Dern, left) in writer-director Greta Gerwig's film adaptation of 'Little Women'. Still courtesy of Sony Pictures.
Meanwhile in Paris, her sister, Amy (Florence Pugh) is accompanying a rich aunt (Meryl Streep) on her travels. Aunt March believes that the fate of the March family will depend on Amy's choice of husband. Amy only has one suitor, Theodore 'Laurie' Laurence (Timothée Chalamet), a neighbour back in Concord, Massachusetts, who had feelings for Jo.
Meg March (Emma Watson) is married with two small children, but her husband John (James Norton) cannot meet the financial demands of a society wife. Meg spends $50 on green fabric on a dress that the family cannot afford. With this expense, the couple cannot afford a new coat for John.

Pictured: 'Husband, I promise to love, honour and treasure you and spend all your money on green fabric.' Meg March (Emma Watson, left), makes a pledge to her husband (James Norton, right) in 'Little Women', writer-director Greta Gerwig's film adaptation of Louisa May Alcott's pair of novels. Still courtesy of Sony Pictures
Beth (Eliza Scanlen), the youngest, is ailing having caught scarlet fever. News of her illness summons Jo back to Concord. Once home, Jo has no intention of returning to New York, bruised by her literary endeavour.
The film then flips back to seven years earlier as we discover through a series of iconic set pieces, how they ended up where they are. Beth's condition injects some urgency into proceedings and gives us a denouement that we don't expect.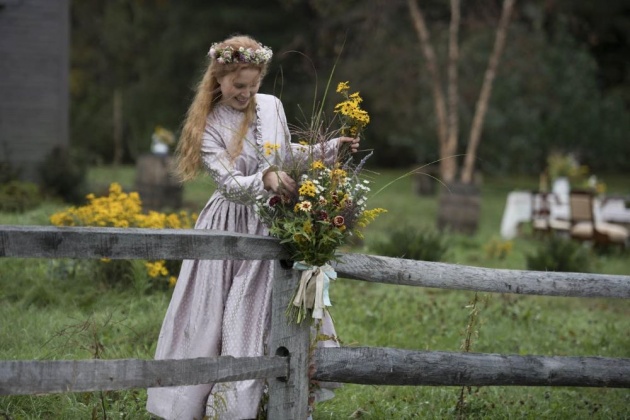 Pictured: Beth March (Eliza Scanlen) discovers a bunch of flowers in 'Little Women', a film adaptation of Louisa May Alcott's pair of novels written and directed by Greta Gerwig. Still courtesy of Sony Pictures.
Greta Gerwig, who both adapted the novel and directed the film, has an affinity with the subject matter. Her autobiographic debut feature, Lady Bird, was also a portrait of a young artist discovering her voice. Jo March asks questions about what is expected of her, refusing to marry and become a man's property. She is prepared to write commercially, but her best material has, like Gerwig's, an autobiographical dimension.
Much of the film luxuriates in the talents of the four sisters: Jo writes, Meg acts, Amy paints and Beth plays the piano. Laurie's grandfather (Chris Cooper) allows Beth to make use of his piano, lacking one of her own; the young woman is then surprised to receive it as a gift. Amy by contrast is bored by her painting. It serves only to represent a feminine accomplishment.
Although Pugh plays Amy with charm and fire, we are not predisposed to like her. Whilst Jo and Meg attend a dance, Amy is left behind. She responds by burning Jo's writing – Jo makes the discovery when she is eager to add to the text. Amy begs forgiveness and suffers herself when she falls through the ice, skating after Jo and Laurie, who explain that the centre of the lake is dangerous. When Aunt March seeks a companion, Jo is shocked that Amy is chosen above her. 'Amy evades hardship,' Jo muses after discovering that the family did not inform her of Beth's illness.
At the core of the film is Jo's refusal to marry Laurie. We half expect them to get together – Chalamet played opposite Ronan in Lady Bird - but Jo refuses to be confined by marriage and breaks Laurie's heart. When Laurie and Amy return from France, it is Jo's turn to be heartbroken. Laurie is one more thing that her sister has taken away from her.
Why is Jo the only March sister who questions the status of women in the 19th Massachusetts society? She discovers that her mother, Marmee (Laura Dern) is equally angry, notably because her husband – the girls' father (Bob Odenkirk) is away doing good work during 'America's shame' (that is, the American Civil War). In one curious scene, during war work, Marmee donates her scarf to one of the men who had lost two of his sons to the fighting. Although we understand that Marmee is faithful to her husband, she has essentially packed and passed over a 'forget me not' – something that asks the man to remember her.
At one point, Marmee has a large breakfast prepared for her family – maid Hannah (Jayne Houdyshell) has done an excellent job - she explains to the girls that there is a family of small children who need to food more than they do. They then present the ailing tots, complete with crying baby, of some sweet treats. The family is rewarded by Mr Lawrence who sees to it that they are well fed. You can't help but wonder why Mr Lawrence didn't help the ailing family directly.
Running at two hours and fourteen minutes, this version of Little Women feels overlong. It doesn't overcome the incident-driven nature of the story which is less about transformation that working through alternatives to Jo's non-marital choice. The film's tone is light and engaging but it stays away from stickier feminist issues, such as resisting men's political choices or even challenging religion – which does not appear at all. Jo is never short of paper or ink. Meg can attend a debutantes' ball, where she is strangely referred to as Daisy – is she considered a pro-typical Daisy Buchanan (from F. Scott FitzGerald's The Great Gatsby) essentially careless? The March sisters don't face any literal impediments to their ambition.
There is a question whether Amy deserves happiness, given she is given the advantage of travel that a woman with real artistic temperament i.e. Jo could only dream of. The experience does appear wasted on her. However, Jo gets a just reward that enables her to do something useful, especially with tutor Friedrich back on the scene.
Of the supporting cast, Streep has the most fun. Aunt March's wealth gives her licence for an opinion and she has no difficulty speaking her mind. She has one scene where Aunt March rebuffs both Mr Laurence (Streep's co-star in Adaptation) and his grandson; she isn't looking for another husband. 'Someday this ring will be yours,' she tells Amy as a means of retaining her companionship. She is a manipulative so-and-so.
The last Hollywood film of Little Women, adapted by Robin Swicord, directed by Gillian Armstrong, with Winona Ryder, Kirsten Dunst, Susan Sarandon and Christian Bale amongst its cast, grossed $50 million from a $16 million budget. Judging by its gross to date ($68 million), the new version should equal its 1994 predecessor when the latter's gross is adjusted for inflation. It is an achievement for Gerwig that she has made a popular movie, second only to Star Wars Episode IX: The Rise of Skywalker at the US box office at 9 January 2020.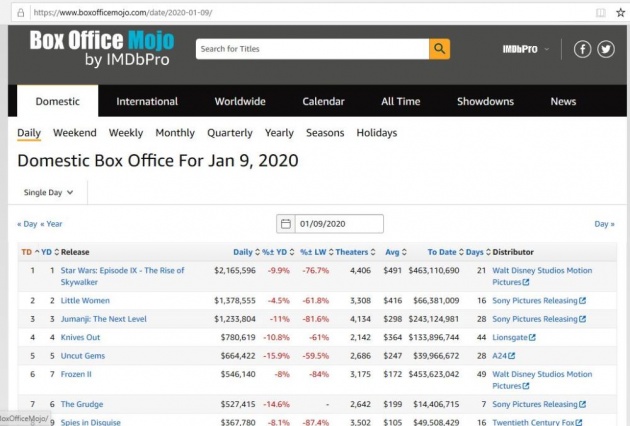 Reviewed at Crouch End PictureHouse Screen Two, North London, 11:30am screening, Friday 27 December 2019