Pictured: Disobedient but traumatised house guest Stephanie (Blake Lively) smokes in her host's flat in the thriller, 'The Rhythm Section', adapted from his 1999 novel by Mark Burnell and directed by Reed Morano. Still courtesy of Eon Productions / Global Road / Paramount Pictures
How could a thriller, backed by a Hollywood studio (Paramount) with a lead (Blake Lively) whose last solo above-the-title film (The Shallows) grossed $119 million worldwide open in over 3,000 theatres to just $2.7 million? OK, The Rhythm Section was released in the weekend of Superbowl LIV (54), but other movies (1917, Bad Boys for Life) did OK. There was something about the movie, encapsulated by its advertising campaign, that failed to ignite the public's interest.
The Rhythm Section is the movie in which Lively sustained a hand injury in an action sequence that caused production to shut down in December 2017. The release date, set for February 2019, was hastily postponed, finally to January 2020. You might have thought that would have piqued interest in the same way that Tom Cruise injuring himself whilst filming Mission Impossible – Fall Out helped publicise that movie. The curiosity must have been experienced by people so few in number that they formed a support group.
Then there is the source material. Northumberland-born writer Mark Burnell's novel, published in 1999 which was the first of a series to feature Oxford University graduate turned assassin, Stephanie Patrick. Now, I know what you're thinking: why aren't there any women studying sharp shooting and Krav Maga appearing on 'University Challenge'? Do you think the host of the long-running British television quiz, Jeremy Paxman, would take that chance?
In adapting his novel for the screen, Burnell has taken a few liberties. In the novel, Stephanie is recruited (according to the plot summary) by a covert intelligence organisation and assumes not only the identity of a German assassin, Petra, but also that of Marina, an international businesswoman living in London. In the film, there isn't any such organisation and she's just Petra. Burnell has simplified the plot to such an extent that it continually invites the question, 'how do they [the characters giving exposition] know that?'
The director, Reed Morano, whose last film, I Think We're Alone Now, starring Peter Dinklage and Elle Fanning, only had a limited release in US cinemas, isn't to blame for the audience staying away, even though she indulges in too many silent 'happy family' flashbacks in which Stephanie (Lively) recalls her parents and sibling who died in a commercial airline accident that killed all passengers and crew. However, the decision not to show the airline accident or the immediate aftermath is odd. Instead, we are introduced to the traumatised Stephanie, now a drug addict calling herself Lucy and prostituting herself in London, discovered by an investigative reporter, Proctor (Raza Jaffrey). Lucy doesn't take kindly to this man with a cheaply printed business card telling her that her family was murdered and that the bombmaker who did it is walking freely around the streets of London. She gets her minder to eject him, not before taking his money (£150). Proctor isn't deterred and invites him to stay with him, where he has the obligatory spare room filled with newspaper cuttings and notes on the wall. Stephanie then goes cold turkey.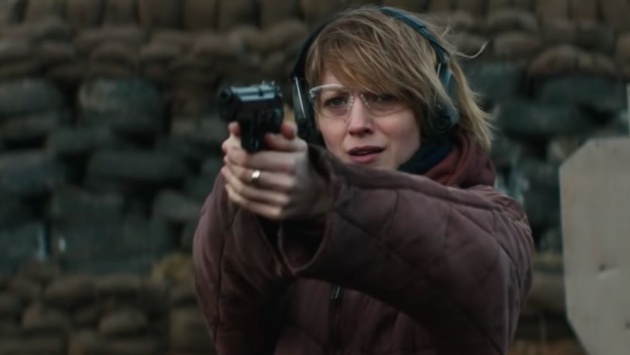 Pictured: 'What did you call me?' Stephanie (Blake Lively) undergoes target practice in the thriller, 'The Rhythm Section', directed by Reed Morano. Still courtesy of Eon Productions / Global Road / Paramount Pictures
The question I asked myself during this slow-burner opening is, 'why does Proctor need Stephanie?' Normally, investigative reporters need witnesses or whistle-blowers to help them connect people to actions. There is simply no reason for Proctor to look for Stephanie; she can't tell him anything. In Burnell's rewriting of his own plot, Proctor might have sought Stephanie out to fund his continuing investigations, but if she is prostituting herself, spending all her money on drugs to numb the pain of survivor guilt, she can't really help. He might have wanted to save her from her habit, but he doesn't have a plan. The plot doesn't really take you with it. Instead, it gives Stephanie the opportunity to make a series of mistakes: to steal money from Proctor; to buy a gun; to confront the bombmaker in a university cafeteria and then not to pull the trigger. This in turn leads to her bag being stolen and Proctor being killed in his apartment. But how did the bombmaker know where Proctor lived?
Stephanie decides to head for Inverness in search of Proctor's source, a well-informed ex-MI6 agent known only as 'B'. The Rhythm Section was produced by Barbara Broccoli and Michael G. Wilson, whose company makes the James Bond movies, so you might imagine what 'B' might stand for (besides a curse word). We don't find out, though my best guess is Bernard; no one under fifty owns up to being given that name. Stephanie starts her journey on a National Express-type coach (renamed 'National Premier') which somehow morphs into a small mini-bus. Stephanie asks to get off in the middle of a deserted glen.
Arriving at an isolated cottage, Stephanie is accosted by 'B' who turns out to be played by Jude Law, reprising the 'dodgy mentor' role he played in last year's Captain Marvel. He isn't best pleased to see her and wants to know if she has been followed. After their unpromising introduction – he is only represented by his black leather boots (of course, that's what 'B' stands for) - Stephanie persuades 'B' to train her to be an assassin. Why would he do this? Apparently, because of her desire for revenge.
After training her to run in said black leather boots – but not to clean them, strangely – 'B' gives her the 'you won't get closure from revenge' speech. He trains her to use to a firearm ('always two bullets' [to kill someone]) and in the first of two memorable set pieces leaves her at the edge of a loch (or lake) to either walk back or swim back, Stephanie having not convinced 'B' that she is physically fit enough to be a world-class assassin. When asked when she will be ready, 'B' replies 'when you are past menopause'. Stephanie looks at the loch and strips to her underwear. Bundling her clothes (and boots) together and tying them on her back, she shivers as she approaches the water and swims back towards 'B's cottage. Morano films her from high above, looking directly down at Stephanie in the water; Lively is a star when swimming.

Pictured: 'Don't hit me in the B.' 'B' (Jude Law) issues last minute firearms training instructions in the thriller, 'The Rhythm Section', directed by Reed Morano. Still courtesy of Eon Produictions / Global Road / Paramount Pictures
Driving a jeep as part of her training – of course, one needs a jeep in London – Stephanie is forced off the road by 'B'. 'Good luck walking back,' he tells her. Stephanie passes his jeep and takes its keys. 'Good luck walking back,' she retorts.
By this point, the film is hitting its stride. We then have the scene that confirms Stephanie's battle-worthiness – not the start of her menopause, rather a fight in the kitchen. Naturally, Stephanie can't best 'B', but she gives almost as good as she gets and delivers a blow to the groin when he gets cheeky.
From this point, the film goes international. However, Stephanie needs funds. She goes to Proctor's financier, the father of one of the victims of the bombing. He doesn't want to know. His wife is more sympathetic. Stephanie gives her his father's wedding ring, with her family's seat numbers engraved on the inside, as collateral.
Without wishing to explain the rest of the plot, Stephanie goes to Tangier, New York and Marseille. At every turn, 'B' tells her that the person she is searching for is connected to Mohammed Reza (Tawfeek Bahom) aka the bombmaker. She pulls a gun on an old man, Lehman (Richard Brake) in Tangier who looks like he's waiting for a haircut. He appears to be disabled but puts up a good fight; Stephanie cuts her hand on some glass during the struggle (the accident whilst filming). In the film's most bravura sequence, Stephanie steals a car and is pursued by Lehman's associates; the car chase is filmed in a single take from inside the car that she is driving. By the standards of 1917 (director Sam Mendes' multi-Academy-Award nominated 'single take' war movie), the sequence is modest. On its own terms it is thrilling.
Stephanie's source is Mark Serra (Sterling K. Brown) who sells her Lehman's location, whilst she is pretending to be the long-dead hitwoman, Petra (I'll spare you the details). Having killed Lehman messily, Serra hires her to kill a nasty guy in New York, whilst posing as a high-class prostitute. 'B' assures Stephanie that this guy played a part in the bombing. (But how does he know?) Stephanie learns the hard way that a botched job leads to collateral damage. The finale takes her to a confrontation with Reza and a meeting with the mysterious U-17, who sounds like a cross between a submarine and a movie rating.
There is a sequence involving a bus and a bomb (no, not like Speed) where you think the French police would turn up and arrest Stephanie. It doesn't happen. Stephanie does acquire a lethal syringe from Lehman that she puts to good use.
Essentially, The Rhythm Section is an origins movie, one in which the protagonist wards off human contact. There is a sex scene (no spoilers) but it is intercut with a dialogue scene in order to be de-eroticised. Morano and her collaborators try to avoid some of the clichés of the female hitwoman genre (yes, it is a thing – see Luc Besson's Nikita and the remake Point of No Return) by never presenting Stephanie as an object of desire. There is a point in the final scene in which she asserts control, rather than suppressing her emotions as before. However, the audience doesn't feel released. Once the film goes into action movie mode, it veers away from portraying Stephanie's trauma. She struggles instead to kill people and only shoots when shot at, as a scene in Marseille attests.
What about the title? It is explained rather clumsily by 'B' as 'the heart' and 'breathing', both necessary to be in peak condition - for an assassin as well as a world class hot dog eater. In other words, it's a non-title; it doesn't refer to anything we see or feel.
The soundtrack is pick and mix – it includes 'Dream a little dream' and a song by Elvis Presley as well as a moody sub-Hans Zimmer score produced but not composed by Herr Zimmer.
Lively sports an English accent throughout as well as awful hair but asserts herself in some of her scenes with Jude Law. Law appears to be coasting; 'B' has a back story which includes killing someone he shouldn't have. However, when there is collateral damage and 'B' says, 'I'll live with that the rest of my life,' Law doesn't convince us. He'll live with that until his next bowl of Corn Flakes.
Action movies are normally sold on set pieces, exposition involving imminent threats and a question. If Morano is guilty of something it is not providing trailer-friendly spectacle. The obvious trailer would have 'B' telling Stephanie that her quest for revenge will fail (cut to fighting) that she'll never be ready (cut to Stephanie's car being hit) and that she'll never get solace (cut to Stephanie pulling a gun on Lehman). Add the line, 'who says?' Then a gunshot over the title and you have a trailer. The other problem is, quite apart from the stereotyping of Middle East terrorists, that audiences have seen this all before.
Reviewed at Cineworld West India Quay, East London, Thursday 6 February 2020, 18:10 screening