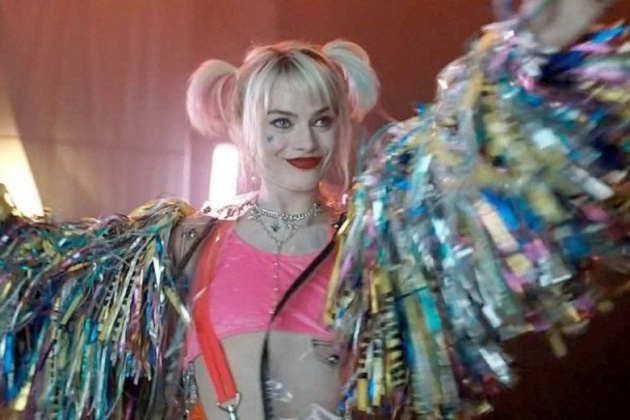 Pictured: 'Hey, I'm recycling - recycling the plot of every other superhero movie.' Harley Quinn (Margot Robbie) in 'Birds of Prey and the Fantabulous Emancipation of one Harley Quinn', written by Christina Hodson and directed by Cathy Yan. Still courtesy of Warner Bros / DC
A long title isn't a barrier to box-office success – but it doesn't help. Birds of Prey and the Fantabulous Emancipation of one Harley Quinn is a bit of a mouthful and it should come with a consumer advisory warning: the film isn't fantabulous. For the most part it is very tedious, straight-jacketed by the cloying, fingers-on-a-chalkboard central performance of Margot Robbie as the 'one' Harley Quinn of the title, all fake New Yorker drawl (based on Mira Sorvino's character in Mighty Aphrodite) and no sympathy. Harley is a child rejected by her father, as the lively animated opening tells us, and she is rejected by her boyfriend, one 'T Joker', too. Being the girlfriend of Gotham City's chief villain gives her a form of immunity, she squawks in voiceover. So long as no one knows they broke up, she's fine. However, one drunken night, she decides to steal a gasoline tanker and drive it into the chemical plant where she and the Joker met. This is one of those plants where no guards are on duty and the chemical explosion doesn't cause birds – or even Batman – to drop from the sky. This is a film without superheroes, only villains sitting smugly at tables until they are shot by a crossbow wielding woman (Mary Elizabeth Winstead) seeking vengeance. 'Do you know who I am?' she asks. Haven't read the comic book, sorry.
The film is a spin-off from Suicide Squad, the 2016 film about a group of villains from the DC Comics universe recruited for black operations. These excluded the Joker (Jared Leto) and his partner in crime, Harley. The most important thing you need to know about it is as follows. Budget: $175 million. Worldwide box-office gross: $746 million. Warner Bros and DC Comics must have hoped for proportionate numbers for Birds of Prey, but it opened to a weekend gross of $33 million. At time of writing, it may not even earn $100 million – its budget – at the US box office. Up until 2017's Wonder Woman (budget $120-150 million, gross $821.8 million), no DC Comics woman-centred movie had made money; witness Supergirl (budget $35 million, gross $14.3 million) and Catwoman (budget $100 million, gross $82.1 million). Birds of Prey looks like business as usual.
Pictured: Roman Sionis (Ewan McGregor) contemplates his sinuses in the less than serious 'Birds of Prey and the Fantabulous Emancipation of one Harley Quinn', a comic book spin off movie. Still courtesy of Warner Bros / DC
The key to successful superhero movies – regardless of gender – is the following. Tell the audience something they don't know but keep something back. Ideally, a filmmaker should have an opportunity to re-imagine the character or at least put the superhero in a situation that suggests genuine peril. There should also be an emotional core that makes the superhero want to be like other people even though they have superpowers.
DC Comics have published the most iconic superheroes of the 20th Century: Superman and Batman. Marvel Comics, working with a range of Hollywood studios but finally with Disney, have made the better movies. They have blended genuine spectacle and developed backstory with a sense of humour. Inevitably, they all have the same plot. Somebody wants them something that will give them untold power. I can't see the appeal. I don't want untold power; I just want to avoid queuing for the bathroom each morning. Untold power is usually illustrated with flashes of light, devastating explosions and a sequel. Yet we come back eagerly to watch the same story, played out with different characters and variable flashes of light.
The object at the centre of Birds of Prey is the Bertinelli Diamond, which has within its reflective edges the codes to bank accounts. Crime lord Roman Sionis (Ewan McGregor) wants it. He also wants to team up with the powerful Golden Lion gang. When the boss of the Lions, Mr Keo (François Chau) refuses, Roman has him and his family tied upside down and subjected to facial removal by his trusted lieutenant, the palindromic Zsasz (Chris Messina). Who knew the Golden Lion gang wasn't so powerful? There is an element of daring in this mainstream movie. Zsasz is obviously in love with Roman, so much so that he detests any woman who takes Roman's fancy. This includes Harley but also singer Dinah Lance (Jurnee Smollett-Bell) aka Black Canary, who becomes Roman's driver. Certain countries censor movies that portray homosexuality and it is rare for a big budget superhero movie to be so explicit. But if Bohemian Rhapsody and Rocketman can make a ton of cash, both featuring gay pop stars, then superhero movies need not be so coy.
Nevertheless, writer Christina Hodson (Unforgettable, Bumblebee) and director Cathy Yan (Dead Pigs) are saddled with the dead weight that is Harley Quinn, who is like a demented cheerleader who hits people. Harley is a needy little girl trapped in a what looks like a pom-pom that she wears across her shoulders. She has no respect for anyone's feelings - or legs, as when she responds violently to Roman's driver disrespecting her. If Harley was witty, or trying to exorcise something, she might be more watchable. That's a big 'might'. She's like a whoopee cushion that is all whoop but takes the pee. She is so in control of what she is doing – and is allowed for the most part to do it – that there is no tension.
Birds of Prey doesn't take itself seriously. It is 109 minutes of events that come between a woman and her fat, lathered cheese sandwich that she buys on partial credit. When she is chased by police detective Renee Montoya (Rosie Perez) she watches said sandwich fly out of her hand, come apart and fall in pieces into the road. The film's a bit like that too – an inedible sandwich.
The use of captions to describe the grievances of various men who wish to exact revenge against Harley, including unwanted cosmetic surgery and broken legs, would be entertaining if there was a real sense of danger. However, punches are pulled. This is the sort of movie when a bunch of men surround Harley then take it in turns to be beaten up by her instead of attacking her in unison or even pulling out a gun. When the Bride faced the Crazy 88 in Kill Bill Vol 1, there was no such formal queue system. Moreover, there was messy blood, not the kind that's here. It's hard to believe this earned a Restricted rating in the United States; it feels constrained.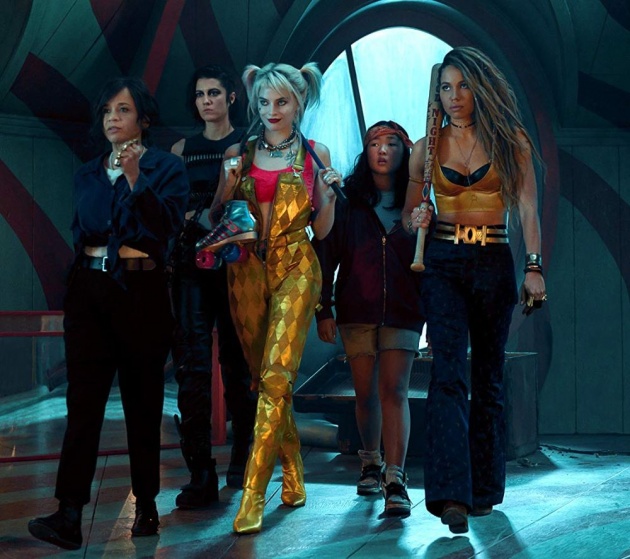 Pictured: Birds of Prey assemble. Rosie Perez, Mary Elizabeth Winstead, Margot Robbie, Ella Jay Basco and Jurnee Smollett-Bell in 'Birds of Prey and the Fantabulous Emancipation of one Harley Quinn', written by Christina Hodson and directed by Cathy Yan. Still courtesy of Warner Bros / DC
In as far as Harley develops a relationship with another person, she tends to like small business owners and a young pickpocket named Cassandra Cain (Ella Jay Basco), who hides her loot in a pink plaster cast. Cassandra is Harley's biggest fan. She needs fanning because the film is, well, stinky. Cassandra also steals the diamond, then swallows it, feeling no discernible nausea. If young girls were to see this movie – they can see this with any irresponsible adult – they might think swallowing diamonds is a great idea. I think the filmmakers had a duty of care to explain that it isn't. Make that the post-credits sequence.
Roman is otherwise known as Black Mask (also the name of a publisher of comic books) and when he puts on the afore-mentioned facial covering, we expect Ewan McGregor to alter his performance. Alas, he moves from second to first gear. He illustrates the ongoing (bland) comic book villain problem.
The only member of the cast to emerge with any dignity is Winstead, whose character is trying to announce herself to the world but doesn't have a catchy moniker. There appears to be depth to Helena Bertinelli, the orphan girl who was trained to be an assassin and the hesitation in Helena is welcome. She appears to have genuine comic timing.
There are a couple of moments that raise a smile: a set piece in which Harley rams a man's head against a car horn at regular intervals and a pastiche of Gentleman Prefer Blondes with Harley singing 'Diamonds are a girl's best friend' in a Marilyn Monroe-red dress and biting a man's fingers. There is plenty of action but no real zingers.
I have read a few enthusiastic reviews of Birds of Prey, but I saw it in a near-empty auditorium in its first week of release. It doesn't have that must-see factor. In its own way, it is an origins film, but the story could have been told in five minutes. Robbie is returning to the role in James Gunn's official sequel, The Suicide Squad, but with this movie my enthusiasm has been diminished.
Reviewed at Cineworld West India Quay, Screen Five, East London, Tuesday 11 February 2020, 17:10 screening