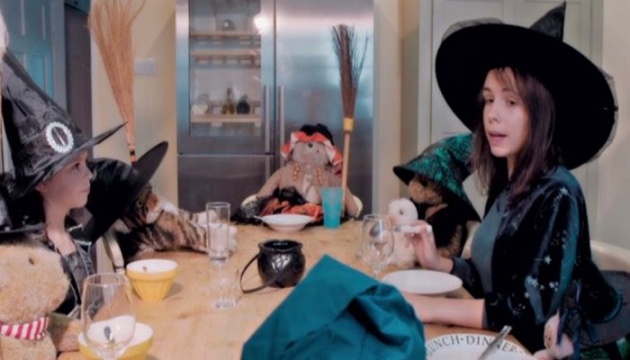 Pictured: Holly (Holly Wilderspin) attends Witching School hosted by her love-lorn older sister Maisy (Scarlett Marshall) in the British micro-budget teen comedy, 'Soundtrack to Sixteen;, directed by Hillary Shakespeare from a screenplay she co-wrote with her younger sister Anna-Elizabeth. Still courtesy of Shakespeare Sisters
At the end of the micro-budget, London-set teenage comedy, Soundtrack to Sixteen, a credit dates the film as 2013 - it was filmed between July and August of that year. After an extensive period of post-production, it is receiving a limited UK cinema release in 2020. It can take seven years for a woman film director to go from her first to her second film. A seven-year post-production period is practically unheard of. During this time, director Hillary Shakespeare, who also co-produced and co-wrote the film with her younger sister Anna-Elizabeth, worked towards a PhD at the Oxford Robotics Institute. Anna-Elizabeth studied for a degree in German literature. They have since shot a second (micro-budget) film, Much Ado, a contemporary adaptation of Much Ado About Nothing involving a rugby team, currently in post-production.
Are the Shakespeare sisters merely playing at being filmmakers or do they 'have' something? The evidence suggests the latter. The film has two relatable if not always likeable central characters, sixteen-year-old Maisy (Scarlett Marshall) and Ben (Gino Wilson) who attend the same private Sixth Form college in Central London. It also has some not-so-relatable situations – travelling on a London bus in one's pyjamas. Although conventional in many respects – the pair bump into each other in the opening sequence after Maisy stalks a boy, Nathan Beals-Harper (George Fanzio) for whom she has a crush – it has a fair number of laughs and completely wins you over. Who doesn't want to see a girl and a boy share their first kiss, even if the actors playing them have just eaten a Chinese take-away before filming the scene? Or a trick or treat scene in which Maisy and her younger sister are offered toothbrushes?
There is, however, a spectre that hangs over it, that of the British (Channel Four) television series, The Inbetweeners, which aired between 2008 and 2010 and also dealt with characters in between childhood (still playing with toys) and young adulthood (going to parties and listening to cool music). The difference is in tone - The Inbetweeners milks humour out of the most humiliating and explicit forms of embarrassment - and spirit – there isn't a sympathetic character in The Inbetweeners. Soundtrack to Sixteen doesn't feel cynical or lacking in human kindness. When she isn't chasing Nathan, Maisy enlists her best friend to help her bury her mouse, rather than flush it down the toilet. Maisy's pet mouse ate his brother, which is symptomatic of not mouse-on-mouse cannibalism, rather Maisy not feeding it enough.
Maisy plays with her younger sister, Holly (Holly Wilderspin) indulging in games of Witching School with Sylvanian Families and eating invisible soup. Only she is easily distracted by her phone, the model of which dates the movie somewhat. Maisy gets a shock when her best friend and two others in their group get invited to a party; she is left out. In anger, Maisy switches tables and hangs out with another group of girls, one of whom liked her in primary school but essentially only sees her as a cheap taxi service – Maisy's father drives them to a party.
Ben is an interesting character. Considered smart at GCSE level, he finds himself struggling at AS Level, to the extent that even the boy who copies his homework gets a higher mark than he does. This tips Ben over the edge. During one particularly dull lesson in English literature, in which his thoughts are spoken as voiceover, he stands up and utters a swear word. He is sent out of the classroom as a result.
Accepting that he is never going to get three grade-A's, Ben rebels, coaxing his three friends into forming a band – only they are tuneless and rubbish. He deliberately neglects his Physics and tries to appear cool. He tries to get another boy to tell him the address of an upcoming house party, failing miserably. One of his group, however, pays a girl for that information.
The party reveals Maisy to be out of her depth, when being asked to dance with her companions and then in a game of 'never have I ever'. Maisy pretends to have seen a naked man and names him as Nathan Beals-Harper. However, when asked to describe his physique, Maisy is caught in a lie and runs out to join the toilet line, where she feels less judged. There she meets Ben. They have stuff in common. However, his companions, one of whom is semi-conscious in alcohol-induced delirium (aka sh-t-faced), force his early departure.
They seem destined not to meet each other again until Maisy attends a pyjama party where she is not allowed to share the bed. Instead, she is asked to sleep on the floor in the corner. She is not even allowed to join in the conversation. Humiliated, Maisy leaves in her pyjamas, catches a bus and sits at the back of the top deck with Ben.
The use of voiceover to illustrate both Ben and Maisy's thoughts works well, especially in the opening when they both see the same passing girl and come to different conclusions – Ben thinks she looks like a badger. The film is about teenage anxieties, minus body odour, facial hair and pimples, and it feels honest – if, that is, girls really do worry about whether they will ever kiss a boy. The film also uses caption cards to illustrate the passing months. There is a humorous montage in which teacher after teacher explains that sixth form is much harder than GCSEs, to the extent that the final teacher, repeating the same sentence, writes it down.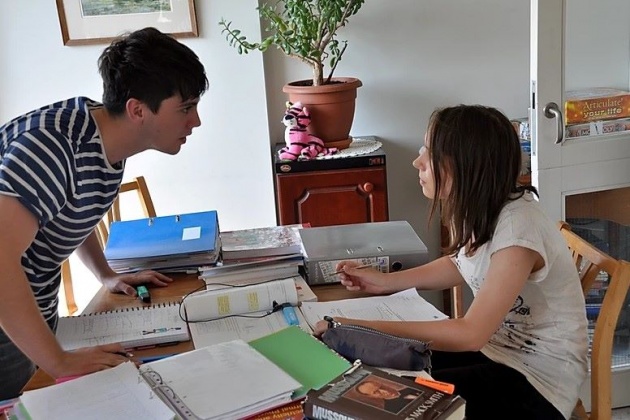 Pictured: A study group goes awry. Ben (Gino Wilson) and Maisy (Scarlett Marshall) air their differences in the teenage comedy, 'Soundtrack to Sixteen', co-written (with her sister Anna-Elizabeth) and directed by Hillary Shakespeare. Still courtesy of Shakespeare Sisters
Many incidents turn Ben into a rebel, not least getting a 'C' for his explanation of magnetism – he subsequently tears up his presentation and flushes it down the toilet. His work does resemble that of a Year 8 student; even the drawing seems childish. Ben knows that he comes across as a nerd, but he wants the grades to go with it, to be able to study at a good university. His relationship with Maisy makes him realise that being a rebel doesn't suit him, though this specific story point is not explicit - it may have ended up on the digital 'cutting room floor'.
There is a good scene in a library when Ben complains that boys at the next table are making too much noise. One of the boys walks over and asks to look at Ben's history essay or at least his headings. Ben holds the essay to his chest and storms out.
The title refers to a compilation CD that Ben makes for Maisy, modelled on the CDs he made for himself from the age of eleven, featuring the songs that defined his year. The soundtrack of the film consists of songs donated royalty-free by upcoming bands. The music doesn't stand out; but don't hold that against the movie.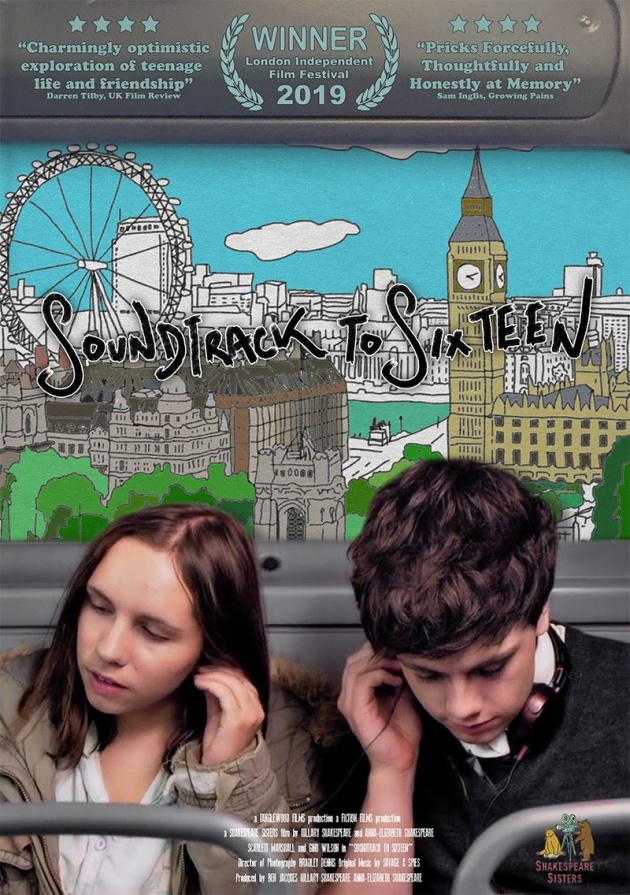 Reviewed at Prince Charles Cinema, Central London (Screen One), Saturday 14 March 2020, 14:45 screening