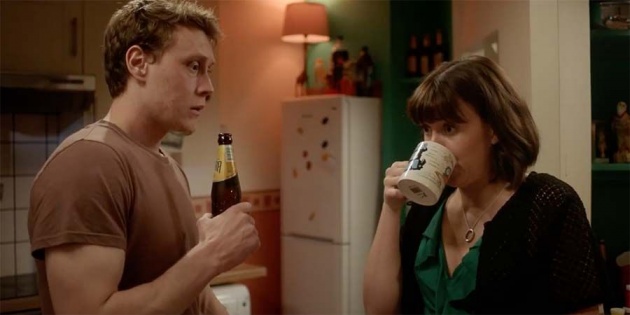 Pictured: Ryan (George Mackay) and Laura (Alexandra Roach) share a drink in the British one-night romantic comedy, 'Second Date Sex', written and directed by Rachel Hirons. Still courtesy of Sparky Pictures (UK) Icon Film Distribution (Australia)
If the spread of Covid-19 had not forced a three-month lockdown, Rachel Hirons' entertaining British romantic comedy, Second Date Sex, would have had a belated UK cinema release in April. It had one UK cinema screening, on 13 February for Galentine's Day, 'traditionally' a day to celebrate female friendship. The non-Greetings Card day originated the American situation comedy, Parks and Recreation, in an episode first broadcast in 2010. Hirons' film is self-explanatory: Ryan (George Mackay, with the wisp of a goatee beard) and Laura (Alexandra Roach) are on a second date, though for the most part they don't leave Ryan's house, and they have sex in that very British way, with much fumbling and no montage. Well, there is a montage, but that comes later.
The film bears the date 2018 and since then Mackay has become a big deal, running for King and country in director Sam Mendes' award-winning World War One single-take marvel, 1917. Roach is equally accomplished, having played the young Margaret Thatcher in the award-winning The Iron Lady, for which Meryl Streep earned her second 'Best Actress' Oscar. Yes, I thought Streep won more, as well.
Ryan and Laura meet in the bar in a noisy London nightclub where they both gesture in the direction of the barman. Laura flashes Ryan a smile and they have a faltering conversation that spirals into general discomfort. In a few short exchanges, Ryan announces that he is glad Laura's rabbit, also called Ryan, has died, because 'I'm the only one' and explained that his daughter would be 'just another girl he wouldn't have sex with', because he thought of calling his daughter Laura. Ryan has a flatmate, Dan (Michael Socha) who thinks he is something on the dance floor. That something is embarrassing. Dan is loud and boorish where Ryan is quiet; Socha played a similar role in the British horror comedy, Double Date. Somehow though Ryan persuades Laura to let him buy her a drink, a Tia Maria. She persuades him to swap his beer for the same drink. 'I've converted him,' she cries.
So how does Ryan persuade Laura to go on a second date? Hirons wisely holds that information back, plunging us instead into their nervous preparations. Laura resists wardrobe advice from her mother, who covers her with air freshener – 'better than pheromones,' she explains. Ryan panics about his missing shirt, which Dan has requisitioned for his night out. 'You won't need it, you'll be naked,' he explains. But would you go into a house if the man answering the door had no clothes? Depends what kind of party. Instead, Dan offers Ryan his silky sheets and the house to himself. However, there is a third tenant (Tom Bell) who nobody knows anything about it. He answers to any name they call him and, as well discover, pops up unannounced at inopportune times.
Hirons does not write characters so much as behaviours. She relies heavily on the physical awkwardness of her leading actors. Mackay is great at looking anxious, as if he is the last person to be volunteered for anything. His masculinity is not threatening or assertive. Rather, Mackay looks like he has rapidly achieved puberty, only his mind has not caught up. Laura appears to be attracted to Ryan's helplessness, even though she is just as terrified of intimacy as he is. She is not naïve though, expecting sex to be part of the evening. Roach shows Laura's anxious but helpful sides and is adept at physical comedy, greeting the eventual removal of her jeans by Ryan with a polite 'thanks'.
Ryan and Laura are comedy descendants of Ron and Eth as played by Ian Lavender and Patricia Brake in the 1970s British television comedy, The Glums. Lavender's and Brake's performances were heightened, awaiting the gruff, deflationary appearance of Ron's beer-swilling father, Pa Glum (Jimmy Edwards). There are no father figures in Hirons' film. You feel the characters could spin off in any direction, though Laura would prefer to go 'South West, towards Megabus', as she explains towards the end, struggling to understand the directions on her phone.
Ryan's idea of a night-in is Cobra beer (for him) and port and Irn Bru for her, though he phones Dan to find the location of the port. Laura has been advised to give Ryan the bracelet test. Gently remove your bracelet and offer it into his personal space. If Ryan gives it back, then he does not want her. If he puts it on his wrist, then he wants her. Ryan ends up placing it around a lava lamp, which could mean anything. Laura, meanwhile, has taken advantage of Ryan's en-suite bathroom to shave her public hair around her underwear, which is something we did not see in the 1970s.
Ryan has limited entertainment options in his room: though his laptop has a Pikachu screensaver, it has been set by Dan to porn. In a flashback to 'last Friday', Ryan explains he had a fish called Wanda, named after the film; his DVD collection is limited to The Godfather and the 1999 film, Cruel Intentions. They settle down to that. Laura mentions that it was the film on which Reese Witherspoon met her future husband, Ryan Phillippe. She does not mention that it is a modern-day version of Les Liaisons Dangereuses. This character detail tells you she is a low-brow, gossip column reader, not an appreciator of Pierre Choderlos de Laclos.
The couple settle down to the movie, but Laura knows what is coming. Eventually they attempt intimacy, with Laura making the first move under the duvet and Ryan reciting the alphabet as he attempts to reciprocate, searching for her G-spot.
The encounter does not go as planned and Laura leaves. Except she is totally lost. Ryan escorts her to the bus stop. Here, he explains that he was hurt by his ex-girlfriend, Tufts (Emma Rigby) who he caught with one of his mates. He helped fix the house's heating controls – but that is no excuse. He had not come to terms with the end of their two-and-a-half-year relationship, texting her (almost stalker fashion) every day. Laura is sympathetic and returns to the house with him.
She has her own sad story but will only tell it if Ryan asks her questions. Ryan discovers that she was engaged to be married and that her fiancé confessed that he was bisexual, but he does not guess that he was gay and ended the relationship for that reason. They had a house together, but she moved back with her mum in Wales. She does not live in London. Instead, she travelled on the afore-mentioned Megabus.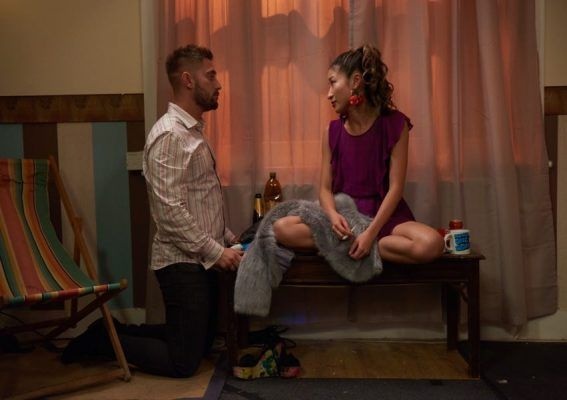 Pictured: Dan (Michael Socha) promises to be a good father to the unborn child of Tali (Kai Alexander) in the British romantic comedy, 'Second Date Sex', written and directed by Rachel Hirons. Still courtesy of Sparky Pictures (UK), Icon Film Distribution (Australia)
The evening seems to be back on track until there is a knock on the door and a surprise visitor, whom Ryan explains is his father. Then Dan returns with his date. Adam reappears and there is an unexpected confrontation. We discover that Laura hated her rabbit and Ryan was called 'pissy' since he had night-time urination issues. Confronting a difficult issue, Ryan makes an important decision.
Hirons does not disguise some continuity errors. At one point, Ryan, described as wearing a towel 'like a girl' has his nipples covered up. In some shots in the same scene, his nipples are uncovered. Later, a female character is seen with an eyeshadow patch over her left eye, caused by crying. In other shots, the eyeshadow smudge is less pronounced. However, these can be forgiven.
The film's brisk running time - 81 minutes – is testament to the tight focus. It is padded out by an outtake over the end credits that shows Mackay and Roach's obvious chemistry. Hirons' scores a fair number of laughs. Like her previous film as a screenwriter, Powder Room, this has its origins in a stage show. Unlike Powder Room, which had an all-female cast, this has more dramatic momentum and is more cinematic. The flashbacks build the audience's warmth towards Ryan and Laura, even as if he gives her a drunken piggyback rode while she is eating chips and he asks a passer-by which of them is crazy. The passer-by tells him to piss off. Second Date Sex is filmed in wide-screen and makes good use of its set design including some weights used by Ryan to demonstrate unsuccessfully that he does one hundred lifts each day – after five he is straining. It even features a video copy of A Fish Called Wanda, the farcical elements of which are a point of reference.
The film has an alternative title, 'A Guide to Second Date Sex', only Hirons doesn't use it, the same way that Martin Scorsese includes a title card 'I Heard You Paint Houses' in his 2019 film known commercially as The Irishman.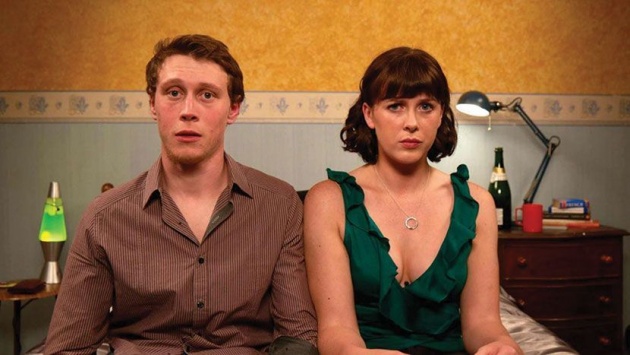 Reviewed on BFI Player (UK streaming service), Sunday 5 July 2020. Pictured above: George Mackay and Alexandra Roach in a production still from the film 'Second Date Sex' (courtesy of Sparky Pictures)