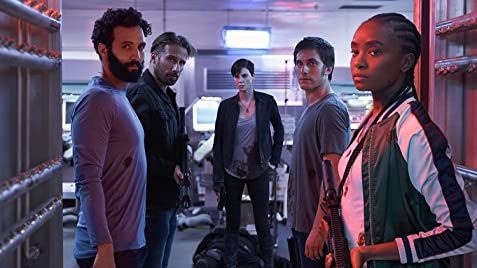 Pictured (from left to right): Joe (Marwan Kenzari), Sebastian (Matthias Schoenaerts), Andy (Charlize Theron), Nicky (Luca Marinelli) and Nile (Kiki Layne) assemble in 'The Old Guard', adapted from his own comic book by Greg Rucka and directed by Gina Prince-Blythewood. Still courtesy of Netflix
Right now, the United States of America resembles the alternate reality depicted in the X-Men movies. The government is right-wing. 'Othering' is rife. Belligerence rules over detached, evidence-based analysis. If there are superheroes, they operate outside of government, serving the people better than those elected as their representatives. Currently, fighting the Covid-19 pandemic, Americans want their guns. They do not want face masks. We are seeing how that works out for them.
The Old Guard, a modestly budgeted action film released on Netflix, is a missed opportunity, to reflect on heroism in the age of President Trump. America is no longer committed to long term military action overseas to protect against the threat to itself. It has no interest in the moral high ground. Instead, its principal weapon is its market, its ability to trade on its own terms. Tariffs have replaced bullets; they kill less but hurt more. As for problems that require a coordinated, global response, the White House takes its cue from Russia and China: limit the ability of the rules-based international system to act, hunker down and watch other countries flail. America has gone from the world's policeman to the world's traffic cop. This is intended to play well to a domestic audience, too consumed by divisions within society (especially over race) to look outside. Covid-19 in fact justified the perception of the threat from outside but, as a by-product, it exploits belligerence, the perception that 'I could not possibly carry the virus', to devastating effect. One response is to re-open Disneyland, a metaphor for looking the other way.
The source material for The Old Guard is a graphic novel published in 2017 written by Greg Rucka (Stumptown) and illustrated by Leandro Fernández, about a group of immortal soldiers headed by Andromache of Scythia aka 'Andy', who regenerate after being fatally wounded and live to fight another day again and again. You would think they would get bored of fighting and open up a gym – not much use at the moment, though – but they can be contacted by intelligence agencies and hired to intervene in trouble spots where conventional mercenaries won't do. Following the success of her 2017 comic-book-inspired action flick, Atomic Blonde, actress Charlize Theron, working through her production company, Denver and Delilah, developed it as a star vehicle and hired Gina Prince-Blythewood to direct. 'Denver and Delilah' is, incidentally, named after Theron's dogs. The film offers a prominent role for Kiki Layne (If Beale Street Could Talk) as Nile Freeman, an American soldier who has her throat cut by an Afghan terrorist (he objects to a woman touching him) but then miraculously recovers. She is about to be sent to Germany for tests when Andy rescues her and offers her a job in another task force. Nile throws herself out of a jeep in response.
'So how old are you?' Nile asks Andy repeatedly. Andy is not forthcoming; no one is going to have Charlize Theron say she is 2,500 years old or explain how she gets a large axe in her plane luggage. Although up for the next mission – whatever it is – Andy is tired. She suffers from flashbacks of the immortal, Quynh (Ngo Tranh Van) whom she could not save from incarceration deep underwater. Two-thirds of the way through the film, she discovers that her recuperative power has deserted her.
The other members of the long-life team are Sebastian (Matthias Schoenaerts), whose experience in normalcy, raising a son who died from cancer, did not go so well and a couple, Joe (Marwan Kenzari) and Nicky (Luca Marinelli), who do everything together, including getting captured. Goaded in a stereotypical homophobic way ('what is he, your boyfriend?') Joe responds with a long speech, 'no, he's more than that,' paying homage to their long and enduring relationship. It is one of the biggest finger signs to homophobia seen in a mainstream movie – it ends in a kiss - and one that has garnered enthusiastic support as a game changer. (Though, hang on, this is a film to be watched in private spaces, not in a crowded movie theatre.)
In other aspects, the film is disappointing. Essentially, Andy and her crew are fully functioning zombies, and not just in the way that they get surrounded and shot at with relative ease. They work for good but cannot feel it. 'Are you the good guys?' they are asked. 'Depends which century you are talking about.' Although they are immortal, they somehow never got around to killing Hitler or Pol Pot. Instead, they save 'little' people like Marie Curie, those who become pre-eminent in their field and contribute something game changing in the world. The fact they did not end the Third Reich when they had the ability (if not transportation) does sit badly. You wonder what they did between 1939 and 1945 – spend time in Jersey?
Overlooking this moral blip, the film focuses on their betrayal by Copley (Chiwetel Ejiofor), the contact who assigns them missions. Having located them in Morocco, he despatches them to Juba in South Sudan to rescue some kidnapped girls. In reality, schoolgirls were kidnapped by the terrorist group Al Shabaab in Nigeria, but you can trust the screenwriter to conflate Africa as one big country. There, Andy and her crew find themselves set up and subject to machine gun fire, Copley having sold them out to Merrick (Harry Melling), the young British CEO of a London-based pharmaceutical firm. However, the scene does not make sense. Copley and Merrick want Andy's crew for their recuperative power. Yet the soldiers who shoot them are not told that they are likely to recover instantaneously and fight back. You would have thought they would have been instructed to secure them within sixty seconds rather than just stand in self-congratulation. Still, it gives us the vampire-zombie movie-Terminator 2 T-1000 moment of Andy's crew getting up and firing back.
Picking flaws in a genre movie is easy and not always the point. However, what really struck me was the unreality of the action sequences. Choreography is an apt description for Andy's slick despatch of numerous masked gun-toting lackeys, moving swiftly from one to another. Theron is impressive in the action sequences, but I never felt she was taking out bad guys, rather being in a bloodless video game style simulation where the 'bad guys' don't fight back. It would have made more sense if Andy's crew had a code: they rescue people but don't kill (thus accounting for their wartime activity) but action movies are marketed on heroes using guns, so the film is compromised from the get-go.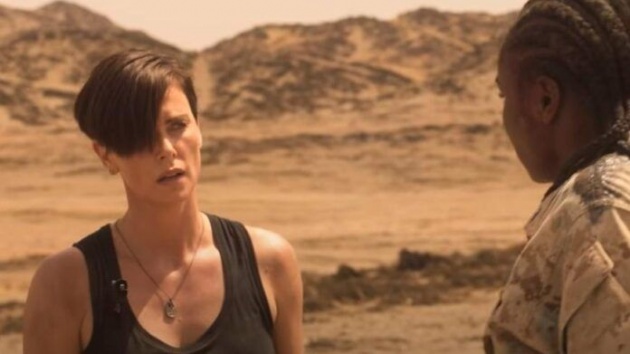 Pictured: 'I'm going to level with you. Immortality sucks.' Andy (Charlize Theron) gives Nile (Kiki Layne) the what's up in the comic-book adaptation, 'The Old Guard', written by Greg Rucka and directed by Gina Prince-Blythewood. Still courtesy of Netflix
Rarely has an action film been predicated on the creation of a beauty product – super-regenerative skin – but this one is. Having been betrayed by Copley, Andy's crew set out to find him, especially disappointed that they have been photographed. (There is an early scene in Morocco where Andy deletes a tourist's selfie in which she is shown in the background.) You might wonder why Andy and the crew do not disguise themselves. They have guns but no hair dye – go figure.
The introduction of Nile into the group gives the film a much-needed jolt. Each of them has a nightmare involving her. This always happens when they get a new member – part of the 'forming, storming, norming and performing' dynamic of any team. Nile is not a willing inductee, fighting Andy on the plane taking them from Afghanistan to France. (We are promised Paris, but we just get a deserted church outside the city.) The plane set piece in which Andy exploits her ability to speak Russian is a highlight. However, Nile is not a fully developed character. 'I wish I could hear my mama's voice,' she says, having just been re-united with her cell phone. I said 'huh' as well.
Like Marvel comic book movies, The Old Guard has a villain problem, with Merrick seeming more like an office junior than a CEO. His scenes are embarrassing. The denouement takes place in London, with the 'money shot' (though sadly not one you can use in the trailer) involving a long drop shown as a continuous take from close to the person falling.
Overall, The Old Guard gets some of the small things right rather than the big ones. It is marketed as 'the first comic book film directed by a black woman'. I do not think that Prince-Blythewood was given quite the budget afforded to Patty Jenkins or Anna Boden and Ryan Fleck, so let us not get too carried away. The film has some bone crunching moments that prompted some 'oohs' from my sofa. However, it does not have the visceral energy and flair of Atomic Blonde. For Theron, it seems like a backward step.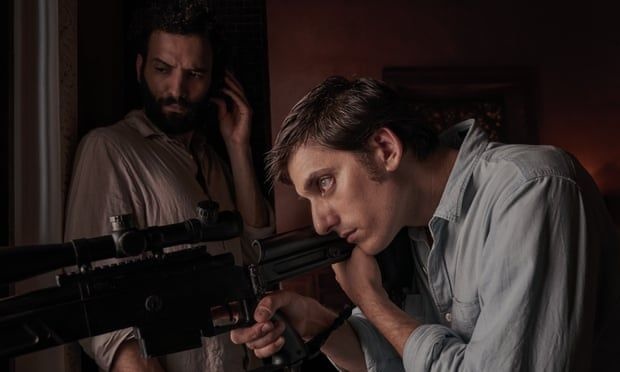 Pictured: 'I hear an order for Baklava. Andy's going to identify the ingredients again.' Joe (Marwan Kenzari) and Nicky (Luca Marinelli) in a scene from the comic-book adaptation, 'The Old Guard', written by Greg Rucka and directed by Gina Prince-Blythewood. Still courtesy of Netflix
Reviewed on Friday 10 July 2020, streamed on Netflix (19:30).