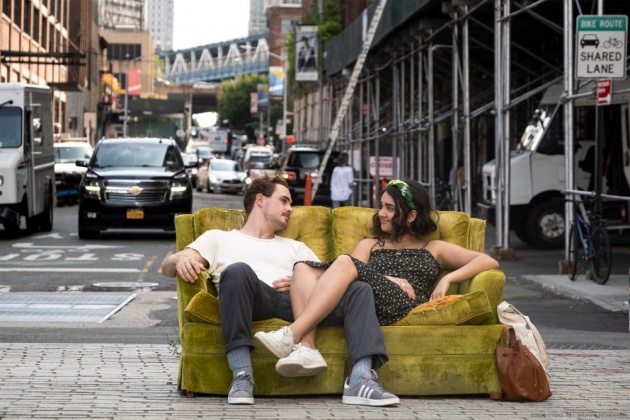 Pictured: Sofa so good. Nick (Dacre Montgomery) and Lucy (Geraldine Viswanathan) in a publicity still for writer-director Natalie Krinsky's New York City-set romantic comedy. 'The Broken Hearts Comedy'. Still courtesy of Sony Pictures
With movie theatres currently closed in both New York and California, it is a surprise, nay, a welcome token of faith, that any new Hollywood studio film is unveiled in cinemas. Credit to Sony Pictures for releasing the romantic comedy The Broken Hearts Gallery in many American states – and overseas territories – where cinemas have re-opened with protocols that require social distancing, unlike Republican Party rallies which do not - I guess Trump supporters think his saliva is holy water.
This thoroughly mainstream film also boasts that rare credit 'written and directed by'. Writers new to cinema – especially women – are not normally trusted by Hollywood to direct their own work. Journalist turned screenwriter Nora Ephron had to wait until after the success of When Harry Met Sally (director: Rob Reiner) before making her debut as director in 1992 with This Is My Life, which in turn led to the far more well-known Sleepless in Seattle. Like Ephron, Canadian-born, Los Angeles-based Natalie Krinsky made her name in print, writing the column 'Sex and the Elk City' for the Yale Daily News before going to Hollywood and working in the writers' rooms for the television series 90210, Grey's Anatomy and Gossip Girl. The Broken Hearts Gallery is a script that she wrote ten years ago that helped her get his first gig in television. It ended up on the 2011 Blacklist of admired yet unproduced screenplays before it got to the attention of the Canadian American production company No Trace Camping. The rest, as they say, is herstory.
The film opens with a pre-credit sequence in which cheerful optimist Lucy (Geraldine Viswanathan) tells her two flatmates and best-friends-for-life Amanda (Molly Gordon) and Nadine (Philippa Soo) the story of the yellow rubber duck. Her boyfriend tried to win her a big prize at the fairground but after all his attempts to hit the target in a shooting gallery, all he ended up with was the squeaky bath time novelty. Lucy knew then that the relationship was over, but she kept the booby prize. Now her friends might have advised her that 'he gave a duck' and that in any case fairground shooting games are all rigged. The only person who wins anything at a fairground is John Smith in Stephen King's The Dead Zone and we all know how that ends up. Incidentally, The Dead Zone is my favourite Stephen King novel and ill-served by director David Cronenberg when adapted as a movie. Eight and a half years later and Lucy has a new boyfriend, Max (Utkarsh Ambudkar) and a dream job in a New York City gallery. However, by the end of that evening, she will lose both.
Krinsky writes dialogue with high-culture references. 'What's up, Grey Gardens?' Lucy is asked. A small percentage of the audience would know about the 1975 Maysles Brothers documentary of the same name about a mother and daughter, Edith and Edie Bouvier Beale; a few more might have seen the 2009 HBO film of the same name starring Jessica Lange and Drew Barrymore. The point is that Lucy retains mementos of her past. There is a line about confetti being trash falling from the sky. We are in a high-quip environment, but also a post 'Me Too' one, as a later scene demonstrates.
Lucy's evening is told in flashback to Nick (Dacre Montgomery), whom she mistakes as Adolfo, her Lyft driver, though why Nick pulls up next to her is anyone's guess. 'I'm not Adolfo,' protests Nick. 'I thought I selected no talking', counters Lucy. Lucy explains how she was given the task of introducing Max at a gallery event only she happened to see him with an attractive woman – his ex, just back from Paris, he explains later. Calming herself with excessive alcohol, Lucy starts her speech by embracing all genders and ends by falling over. 'Eva [the gallery owner] thinks it would be a good idea if you didn't come in tomorrow,' Max tells her. Lucy thinks she is being given a day off for a rest – isn't their boss sensitive? 'No, you shouldn't come back at all.' Nick had a bad evening too, but Lucy doesn't ask about it. Near the end of the ride, Adolfo calls. Lucy cancels her Lyft. 'What kind of man drives a stranger to her house?' Lucy asks Nick and then panics about being locked in the car. Of course, the car door is open. In her apartment, Lucy receives instant comfort from Amanda and Nadine, who – almost by rote - wrap a duvet around her, present her with a bottle of wine and a DVD of Eternal Sunshine of the Spotless Mind.
Three weeks later and the smell from Lucy's room is unbearable. Her friends advise her to get rid of all the mementos of the past, including Nick's tie which she acquired on that final, awful night. Lucy decides not simply to rid herself of these items but return them to their original owners in a cathartic gesture. But who wants old concert tickets? Lucy spots Max entering a smart restaurant and endeavours to return his tie, only the restaurant's greeter stops her. Sitting at the bar, by New York movie coincidence, is Nick who intervenes, bundling her out of the restaurant. As Lucy complains that Nick manhandled her, a woman passer-by intervenes, stating that all women victims are to be believed. She attacks Nick. Lucy escorts the comedically-bruised man to the Chloe, an old YMCA in Brooklyn that Nick sunk all his inheritance into in order to convert it to the kind of boutique hotel that attracted him to the city in the first place. (When I stay in NYC, I'm just grateful that the walls aren't too thin, and I can get to watch ABC.) Lucy is impressed. 'What's upstairs?' 'Phase Two.' However, Nick doesn't have the money to finish it and has been denied a loan. Lucy still has Max's tie in her hand. 'What if I take it from you?' Nick asks. Lucy decides to pin it to a wall and write an inscription next to it. 'You're writing on my wall?' Nick complains in mock outrage. However, he doesn't stop her. Instead, he stops by her apartment – he remembers where she lives from the ride home – to show her something. Someone has pinned a map next to Max's tie, with another inscription. Lucy has a lightbulb moment – to start a gallery at Nick's hotel showcasing break-up items. She also offers to help renovate it. Nick's best friend, Marcos (Arturo Castro) says he should be glad of the free labour. Marcos has been working for free himself but takes paid work elsewhere as he has a pregnant wife to support. In the true manner of romantic comedies, Nick reluctantly agrees.
In case you think the Broken Hearts Gallery (as it comes to be known) is a great idea ripe for exploitation, two artists in the early 2000s, Olinka Vištica and Dražen Grubišić conceived of the Museum of Broken Relationships, which first opened as a travelling exhibition before being established at a permanent site in Zagreb, Croatia in October 2010. In 2017, it boasted 100,000 visitors, being in the top twenty tourist attractions in Zagreb. It too features personal objects left by former lovers. The Museum predates Krinsky's screenplay; this is a classic case of more than one person having the same idea at broadly the same time. In Krinsky's film, there is nothing so wild as the 'ex-axe', used to chop up an ex-lover's furniture. Instead, there is a plaster cast on which is drawn reproductions of the tattoos that were hidden underneath.
Krinsky's film follows the classic plotline of 'two people who become friends before they realize they are in love'. Lucy does indeed turn up to work at the Chloe, with a hard hat and coffee with a dairy substitute which has suddenly become fashionable even amongst those who are not lactose intolerant. There is also a reference in the film to being 'sex positive', but let's just park that. Lucy offers herself as an interior designer. She and Nick visit old stores and scour the city on moving day – the first of the month – carrying between them a worn-out yellow sofa, which apart from the one scene (and the film's poster art), we never see again. However, Lucy encounters Max again, out with his ex, and Nick pretends to be her assistant. Meanwhile, the Broken Hearts Gallery gains traction on social media, amassing likes, video testimonies and donations, including a bottle of champagne that was bought by its donor to drink with his lover, who sadly died. The donor consumed the rest of his alcohol supply but not that bottle. Amanda and Nadine are suitably choked.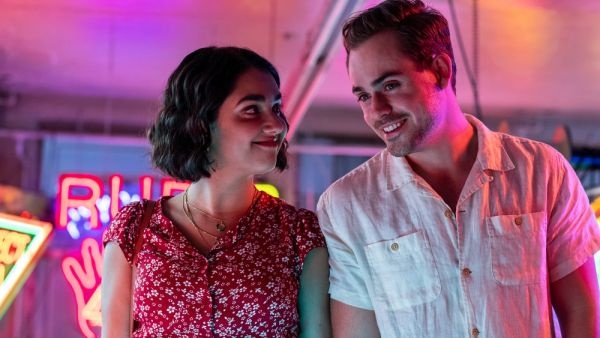 Pictured: Lucy (Geraldine Viswanathan) and Nick (Dacre Montgomery) in search of neon in a scene from 'The Broken Hearts Gallery', a 2020 film written and directed by Natalie Krinsky. Still courtesy of Sony Pictures
There are complications. Max breaks up with his ex and tries to get back with Lucy. After introducing Nick to his Alzheimer-afflicted mother (Sheila McCarthy) with whom she used to play Monopoly, Lucy discovers that Nick didn't name the hotel after his grandmother – something she assumed. Nick's ex is played by the model-turned-actress Suki Waterhouse who explains to camera 'no one broke up with me, ever'. The Act Four break occurs after Lucy sleeps with Nick having been led upstairs. Here, Krinsky uses the camera to hint at danger, tracking across the hotel floor to a shelf full of trophies, the inference being that Lucy will end up as merely one of Nick's conquests.
With Lucy having been taken to a neon sign company by Nick, Nick returns in order to make the grand gesture, even announcing it as 'the Grand Gesture', the climax of any generic romantic comedy. Other set pieces include awkward karaoke, in which Lucy and Nick perform the duet, 'Don't Go Breaking My Heart' at a 'horror karaoke' party for Amanda; the song is later reprised over the end credits in a version by Demi Lovato and Q-Tip.
Bernadette Peters steals the film as Lucy's employer, Eva Woolf, giving a speech about 'Brad Pitt talking about architecture – he goes on and on and on'. Peters pronounces 'architecture' as if the word lodged in her throat, difficult to swallow, a complete mistake.
While Krinsky's film doesn't have the big comedy set pieces that would mark it as a classic – you know, that 'I'll have what she's having' moment (if you've seen When Harry Met Sally) it wins you over with its combination of romantic comedy tropes, witty dialogue and acknowledgement that career women no longer have to justify themselves. There is a lesbian relationship and a comedy spouse, Jeff (Nathan Dales), Amanda's partner, who doesn't say anything – except once (another trope). Give a filmmaker enough tropes and they'll hang themselves; only Krinsky doesn't. That her comedy has an South Asian-American lead goes without comment; Krinsky moves seamlessly from grand gesture to dance number, not quite in the Bollywood style (no one is lip-synching) but enough to leave you, gentle viewer, with a smile on your face.
Reviewed at Cineworld Wood Green, North London Saturday 11 and Sunday 12 September 2020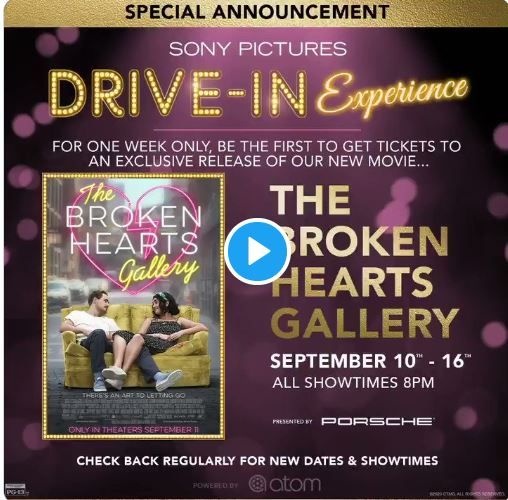 Pictured: an advert for drive-in screenings of 'The Broken Hearts Gallery'. Courtesy of Atom / Sony Pictures