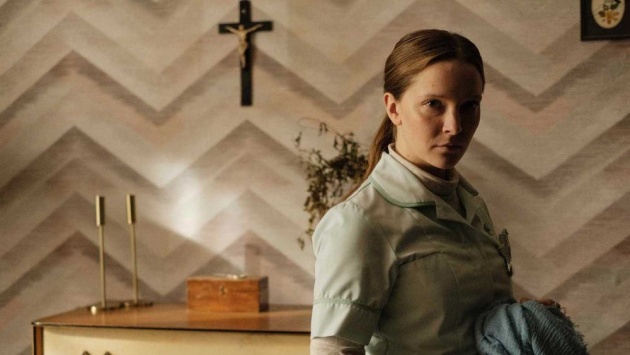 Pictured: 'Don't cross me!' Morfydd Clark as the intimidating Maud in the British film, 'Saint Maud', a study of religious fervour written and directed by Rose Glass. Still courtesy of Studio Canal / Film Four
Contains spoilers
What makes a horror film? Usually it is a supernatural element, the presence of an otherworldly entity that breaks into our world either through a host (say a young girl or child's toy) or is summoned in some way through a token act of ignorance. The British film Saint Maud, written and directed by 31-year-old Rose Glass, doesn't conform to the horror movie template. There is no demon to be expelled. However, its title character is possessed by a religious fervour, a desire to save souls, even if at the same time she is dismissive of the soul under consideration. 'I don't like arty types. They're self-absorbed,' she remarks in voiceover without a trace of irony.
Maud (Morfydd Clark) has delusions of self-importance, believing herself to be on a mission. She is a nurse working for a private agency who lives in dingy digs in an unnamed seaside town - the film was shot in Scarborough in the North of England. She is also traumatised. At the beginning of the film, in fragmented images, we see a body dripping with blood and Maud cowering against a wall with her arms outstretched. Her latest patient is forty-nine-year-old Amanda Köhl (Jennifer Ehle), a one-time dancer and choreographer who is, according to the imdb plot synopsis, 'ravaged by cancer'. She is confined to her home at the top of a cliff, a classic horror movie location, and relies on a wheelchair. However – and not surprisingly – her wits are intact.
Described in a rude way by the live-in nurse whom Maud replaces, Amanda is initially receptive to Maud and welcomes her evening repast, spaghetti bolognaise. She respects Maud's religious devotion – or appears to. 'Who is that saint on your necklace?' she asks. 'Mary Magdalene,' Maud replies. Amanda didn't know such necklaces were sold. 'I ordered it through the internet,' Maud explains. A gentleman caller reveals a different Amanda - drinking and vomiting. Maud cleans up the mess. Whatever Maud feels about this caller is as nothing to her thoughts of Carol (Lily Frazer) who dismisses Maud's protestations. She and Amanda have, as we Londoners say, a right laugh as well (we suspect) some physical intimacy. As Carol leaves, Maud sees her counting some bank notes. Has Amanda paid for sex or has asked Carol to run an errand? We suspect the former.
Maud, we observe, has a case of the shudders. In one scene, in which the light dims in and out, she climbs a flight of stairs and experiences abdominal pain. It is either pain or religious ecstasy. At any rate, her mouth opens wide – Clark excels at this. She shares a similar moment with Amanda during physical therapy. Lying next to her after manipulating Amanda's leg, they shudder together. Maud explains this as religious moment. God is there; He can help. Amanda for her part gives her a present: a book filled with paintings by William Blake (born 1757, died 1827), whose attitude towards religion is, as they say, challenging - for example, imagining the Devil as a rebel against an imposter religion.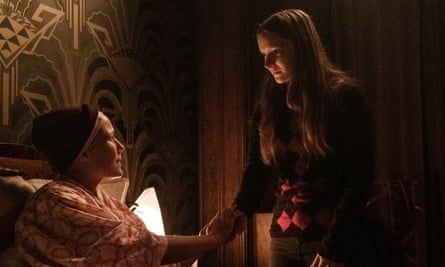 Pictured: Amanda (Jennifer Ehle) and Maud (Morfydd Clark) share a moment of understanding in the British film, 'Saint Maud', written and directed by Rose Glass. Still courtesy of Studio Canal / Film Four
Convinced that she has made a connection with Amanda, Maud attempts to send Carol away, saying that she is not helping with her treatment. 'Are you disgusted because I am a woman?' asks Carol. Maud denies this. Amanda's initially good mood disappears when she receives a message – we see what Maud sees and don't know what the message says. At any rate, Amanda wants to go straight to bed, never mind the time.
During a trip out Maud runs into a former colleague, Joy (Lily Knight), who refers to her as Katie. It seems that Maud has changed her name, though she does not tell Joy this. Their encounter is awkward; Joy is surprised that Maud had not moved away and that she is still nursing 'after what happened' at the hospital where they both worked. 'Nobody blames you,' Joy insists, before giving her number to a reluctant Maud.
Amanda surprises Maud by arranging a party for herself. Carol attends. Inebriated and surrounded by a throng of admirers, Amanda drunkenly refers to Maud as her saviour. Their brief conversation ends with Maud slapping Amanda. The crowd converges (non-naturalistically) around her. She is expelled – permanently. Maud loses her job and returns to her digs, unable to nurse or do anything. 'You're lucky she didn't sue you,' a woman from her agency tells her.
Maud then goes through her own dark night of the soul. She visits a pub and tries to assimilate in a socially awkward way by smiling and laughing in the same way as the group of young people next to her. She attracts the glance of a young man who is with a male friend. He comes over. We see them in a corridor. Maud handles him for pleasure. The man returns to his friend and the pair leave. You imagine their conversation ('you'll never guess what just happened?') Maud becomes steadily more drunk. She phones Joy but her former colleague cannot meet her. She bumps into a man, making him spill his beer. 'You owe me a drink, little lady,' the burly man purrs. We next see Maud on top of him. They are having sex. He reaches for her breast. She swipes his hand away. After concluding, the man tells her that he knows her. 'You knew a friend of mine. You're that nursey nurse.' Maud leaves. There may be a connection to the events at the very beginning of the film, but we aren't sure. Less, as they say, is more.
By the sea, Maud sees her replacement take Amanda out. She contrives a meeting. The new nurse won't say much about her client, but she claims they get on. Joy pops round, complimenting Maud for her room, intrigued by the religious iconography – Maud has cut out pages from the William Blake book and pasted them to the wall. During these moments spent alone, Maud levitates – or she imagines she does. Then she has a conversation with Her Instructor, who speaks in Welsh. This presence, conjured by her fevered imagination, may be God or the Devil but certainly points her in a particular direction. Then Maud returns to Amanda's house. The choice of shots to illustrate her journey – descending a flight of stairs, passing an arcade, then a Ferris Wheel before ascending a sleep hill – mirrors Maud's first visit to Amanda's residence. Maud confronts her former employer and then experiences a presence in the room purportedly occupying Amanda's body. In the final scene of the film, Maud wanders onto a beach in a thick white robe, imagining the people all around her falling to her knees. She douses herself with flammable liquid and lights a match. This image of religious ecstasy is disrupted by a shot of flames engulfing Maud, who screams in pain.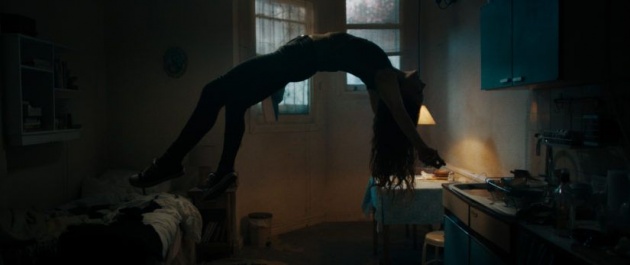 Pictured: Float on. Maud (Morfydd Clark) is embraced by religion in a whole new way in the British film, 'Saint Maud', written and directed by Rose Glass. Still courtesy of Studio Canal / Film Four
Saint Maud is at a primary level a character study of someone sure of their purpose who makes a bad choice and doesn't ask for help from the right people. In her eyes, Maud/Katie has found solace and she can help others. The film is about the embracing of religion to mask pain. Maud is seeking transcendence. At one point, she kneels on some stones; at another, she fashions a shoe with pins sticking up from the insole and attempts to walk whilst wearing it, experiencing extreme pain; both practices are known as self-mortification. Maud isn't that different from a Paul Schrader character – the film has been likened to Taxi Driver, which Schrader wrote. Both films feature the camera zooming in to a street drummer; in Taxi Driver the drummer mimics 'the syncopated style of Chick Webb' (1905-1939).
The film succeeds because Glass doesn't explain everything. She shows us what Maud sees. Maud looks through a set of framed posters of Amanda's shows, now removed from the walls and placed in a cupboard. She observes Amanda watching one of her old performances. We don't fully know Amanda; the film isn't a clash between two opposing well-drawn characters. We don't know much about Maud either. We are given clues that allow us to construct a backstory. Maud doesn't have family, only an employer. We sense that she wasn't blamed for the horrific incident at the hospital but there is an ambiguity.
Maud isn't a clear-cut victim either. She is as single-minded as Sister Ruth (Kathleen Byron), the hate-filled nun who confronts Sister Clodagh (Deborah Kerr) in the climax of Michael Powell and Emeric Pressburger's Black Narcissus. Glass' film is literate (in quoting Blake) and worked through. It is the work of an auteur confident in mise-en-scene. There isn't a wasted moment – the film runs at 84 minutes. The score by Adam Janota Bzowski is unsettling. Finally, the ending is earned. It is easy to end a film with a suicide for dramatic effect, but in the case of Saint Maud it is entirely logical. Maud doesn't want to be judged by men but by God.
Reviewed at Crouch End PictureHouse, Screen One, North London, Friday 25 September 2020 ('Surprise Film') and at Wood Green Cineworld, North London, Thursday 8 October 2020, 15:50 screening (the day before its temporary closure)