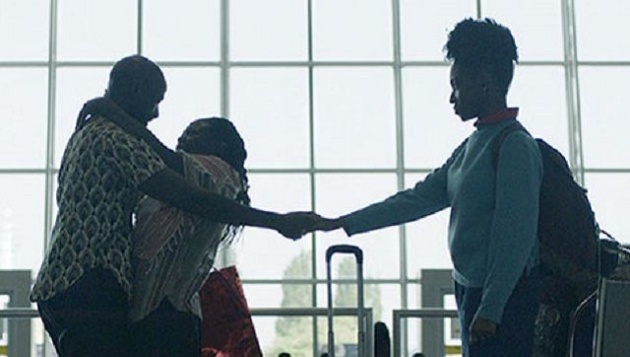 Pictured: Walter (Ntare Guma Mbaho Mwine) hugs his wife Esther (Zainab Jah) and holds the hand of his daughter Sylvia (Jayme Lawson) in the New York-set immigrant drama, 'Farewell Amor', written and directed by Ekwa Msangi. Still courtesy of Mubi (UK) / IFC Films (US)
Contains spoilers
The opening of Farewell Amor is deceptive: a single static shot of people waiting in the Arrivals hall of John F. Kennedy International Airport. Our eyes are drawn to a figure holding a sign in the centre of the frame. However, it isn't this figure who is important, rather Walter (Ntare Guma Mbaho Mwine), a tall and as we discover soft-spoken Angolan who steps forward from the left of the frame to greet his wife, Esther (Zainab Jah) and teenage daughter Sylvia (Jayme Lawson), whom he has not seen for seventeen years. While Walter headed to America at the end of the Angola Civil War, Esther and Sylvia migrated to Tanzania (specifically Dar Es Salaam) where Esther found and enthusiastically embraced God. As she hugs her husband, calling him 'Amor', she allows her handbag to fall to the ground. Sylvia quickly picks it up and puts it on top of suitcases stacked on a luggage trolley that she is pulling.
As Walter, a taxi driver, takes the pair into New York City, Esther exhorts her daughter to look out of the window. However, Sylvia is glum and detached. Walter invites them into his one-bedroom apartment where he has erected a banner: 'Esther and Sylvia – Welcome to America'. He has converted the lounge into a room for Sylvia, 'to have your own space'. While Walter helps Sylvia enrol on her first day of school, Esther tidies up the apartment, putting up a sign: 'Jesus is the Head of this Household' (the words accompany an image of palms pressed together in prayer). Walter is surprised when Esther bares his breasts in bed. She wants to make love. However, Walter is not aroused. He thinks about Linda (Nana Mensah), the nurse who left him. As Walter is pulled on top of Esther, we see flashbacks of Linda. Walter's only keepsake from their relationship is a white sheet kept in a plastic bag hidden in the back of a cupboard. Away from Esther, Walter opens the bag and inhales, before restoring it to its hiding place. He heads out in his cab to a dance hall, where he meets Linda who is sitting with two men, one of whom is clearly her new boyfriend. Dancing with another woman until he notices Linda, Walter invites her to join him on the dance floor. Linda seeks approval from the man next to her who nods. Walter and Linda dance, but she makes it clear that she has moved on. Walter's disappointment is palpable.
Tanzanian-American writer-director Ekwa Msangi has expanded her 2016 short, Farewell Meu Amor for this, her feature debut, developed with support from the Sundance Institute. Msangi divides her film into three sections, headed 'Walter', 'Sylvia' and 'Esther' respectively. Each section begins with the airport reunion but then follows the title character. Some events are repeated but the scenes have a different emphasis each time, informed by new information given to us which changes our perspective. The same technique is used in director Anne Fontaine's 2020 film, Police (also known as Night Shift) about three Parisian police officers (played by Virginie Efira, Omar Sy and Grégory Gadebois) tasked with taking an asylum seeker to Charles de Gaulle airport for deportation.
The first section of Farewell Amor deals with Walter's discomfort, refusing (as he cleans his cab) to discuss the reunion with another cab driver. He brings home a bottle of wine, but Esther won't touch it. Each time he asks Sylvia a question, Esther answers it, saying that Sylvia wishes to study to be a doctor, 'the first doctor in our family'. 'I'm good at mathematics,' Sylvia adds, one of her rare lines of dialogue in the first section. Walter wants to take the family out for a drive on Sunday, but Esther insists on going to church. Walter winces as he puts money into the collection dish and watches Esther sing along to 'Let it Shine' – his wife is standing up, dancing, throwing herself into the music, while he and Sylvia remain seated. Although Sylvia doesn't respect her father for leaving the family behind - she maintains an aloof attitude - she has more in common with him than she thinks, specifically a shared love of dancing. One evening, Walter surprises her by entering the lounge. Sylvia bangs her arm. Concerned about the bruising the next day, Walter takes her to hospital, where Sylvia is examined by Linda. Towards the end of the examination, Sylvia reaches for Linda's neck. The gesture doesn't immediately make sense but as we discover later, Sylvia recognises the necklace that Linda is wearing as the same one given to her mother. In the corridor after the consultation, Linda castigates Walter. 'You said you would never rub your family in my face,' she cries. Walter apologises. Linda rips the necklace off her neck and gives it to Walter. The relationship is finished. Recognising this to be true, Walter takes the white sheet that is hidden away and puts it in the donation box in the building's corridor. In the apartment, Esther gives him a pile of letters passed to her by a neighbour, all of which are addressed to 'Linda Walter'.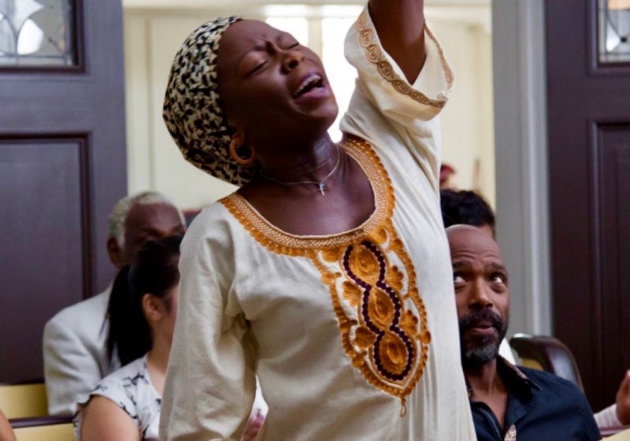 Pictured: Esther (Zainab Jah) joins in a chorus of 'Let It Shine' to the disdain of her husband Walter (Ntare Guma Mbaho Mwine) in a scene from 'Farewell Amor', a film written and directed by Tanzanian-American Ekwa Msangi. Still courtesy of Mubi (UK) / IFC Films (US)
The second section focuses on Sylvia's love of dance, her avid viewing of YouTube videos on her phone and her conversations with her best friend Neema back in Tanzania; text conversations fill one half of the screen when they message each other. Early on in her enrolment, Sylvia is given a leaflet for a dance competition. There are two enticing words: cash prizes. Walter explains to the school administrator that he does not have Sylvia's birth certificate: records of births were burnt in the civil war. Nevertheless, Sylvia is enrolled. Waiting for a bus after school, Sylvia listens to music through her wireless earphones and moves to the beat. Devon Johnson aka DJ (Marcus Scribner) sees her. She walks away from the bus stop, but DJ follows her. He asks about her nationality. She lies that her father is a diplomat. DJ (once again) pushes the dance competition, mentioning that a team is looking for a new member. 'I don't know the steps,' Sylvia explains. DJ is insistent: she just needs to know how to dance.
Dancing means a lot to Walter too. 'This country is very hard for black people,' he explains. 'Especially if you are from another country.' Other people feel threatened. 'But when I am on the dance floor,' he continues, 'I can be myself.' He even has sparkling dance shoes (akin to pumps) to prove it. In another scene, he explains to Esther that it was only when he was dancing with her that he forgot the Civil War and the behaviour of other people (whether they were spies). Dancing represents a blend of escapism and self-expression; you can substitute it for any immersive art form that requires an audience.
Sylvia tries out for the dance team but does her own version of the steps. She is told by another girl to copy her instead. Sylvia eventually quits – the inference is that you cannot express yourself if you follow someone else's choreography. DJ consoles her. He accompanies her to Walter's apartment. They sit together in her room; we notice suitcases by her bed, limiting available space. 'I lied,' Sylvia explains, 'My father isn't a diplomat.' 'I figured,' says DJ. 'What kind of diplomat lives in the hood?' They are having a nice chat when Esther interrupts them. 'I didn't know you were home,' Sylvia says quickly. DJ makes his excuses to leave. 'Say hello to your family,' Esther tells him.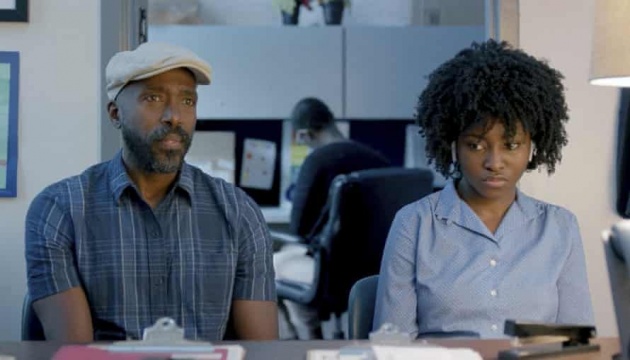 Pictured: Walter (Ntare Guma Mbaho Mwine) and Sylvia (Jayme Lawson) in a scene from the New York-set drama, 'Farewell Amor', written and directed by Ekwa Msangi. Still courtesy of Mubi (UK) / IFC Films (US)
The final section focuses on Esther. She continues to forge her close relationship with a church in Dar Es Salaam, her advisor adding, 'don't forget to send offerings to thank God'. For a while, Esther believes that she has been delivered. She has saved $1,000 and wants Walter to send it to her church. Walter looks at the fan of bank notes (a mixture of currencies) and is appalled. 'I have been working double, [sometimes] triple shifts,' he says, noting that she had money to contribute all the time. In an earlier scene, Walter looks at a pile of bills. 'When my immigration status is confirmed, I will get a job,' Esther explains. At any rate, Esther goes to the money transfer booth by herself, handing over the cash.
Esther strikes up a friendship with Nzingha (Joie Lee), her loud but engaging neighbour, who refers to Esther as 'queen' and takes her to the Egyptian market to shop. Esther is worried about Walter's cholesterol and wants to buy the correct flour. It is Nzingha who gives her the pile of letters as well as a make-over as Esther prepares for a dinner date with her husband. In the restaurant, Walter compliments his wife and gets up to dance asking her to join him. 'Sit down,' Esther tells him. 'You'll embarrass yourself.' 'Then let's get embarrassed together.' Esther does stand up, and the other diners (even a white couple) are more admiring than horrified. At home, Walter is ready to make love to Esther, but then he notices the white sheet. 'I found it in the donations box,' explains Esther. Walter discards it. Esther then complains to the church in Dar Es Salaam that she and Walter are 'unequally yoked'.
In the film's finale, Sylvia takes part in the dance contest, while Esther tears down the welcome banner in the apartment and wanders the streets. She texts her daughter, 'let's leave this place'. Though Walter has come to watch Sylvia dance, he leaves the darkened hall, more like the venue for a boxing match than a performance showcase event, and searches for Esther. He finds her outside a locked church and speaks to her. Sylvia, having kissed DJ in gratitude, competes in a dance off, wiggling, pulling faces, bending forward, stretching out her arms as if defending her territory. Msangi slows the image down to linger on Sylvia's prowess. The three family members are reunited early the next morning. 'They noticed me,' says Sylvia, referring to the dance contest (Esther had forbade her to dance, but she entered away). They prepare breakfast, interacting as a whole family unit for the first time, free and jovial, Sylvia holding two bowls and presenting them to her mother, Walter bringing fruit to the table.
Farewell Amor is an uplifting and positive tale of immigrant family life that acknowledges the way people adapt when forced apart – Walter chose Linda whilst Esther chose religion. It also celebrates Africa – the culture that separates Walter and his family from African Americans. A little confusingly, Walter has a Barack Obama calendar from 2008 hanging on his wall but we sense that he kept it as a reminder of a more optimistic time. There is no mention of President Trump in the movie; culture as represented in the film exists out of time. The technique of showing scenes from different perspectives does slow the film down a little and I did miss Walter's point of view in Sylvia and Esther's sections. Nevertheless, each scene feels as if it was constructed with care, even moments such as Sylvia setting off a school metal detector and Walter being told by a security guard to step back; this is a reminder of America's defensive crouch against otherness. Admittedly, the dance-off is a generic trope – people don't need to win contests to be validated. Happily, I report that I was uplifted and believe in the film's positivity. After all, farewell is not goodbye.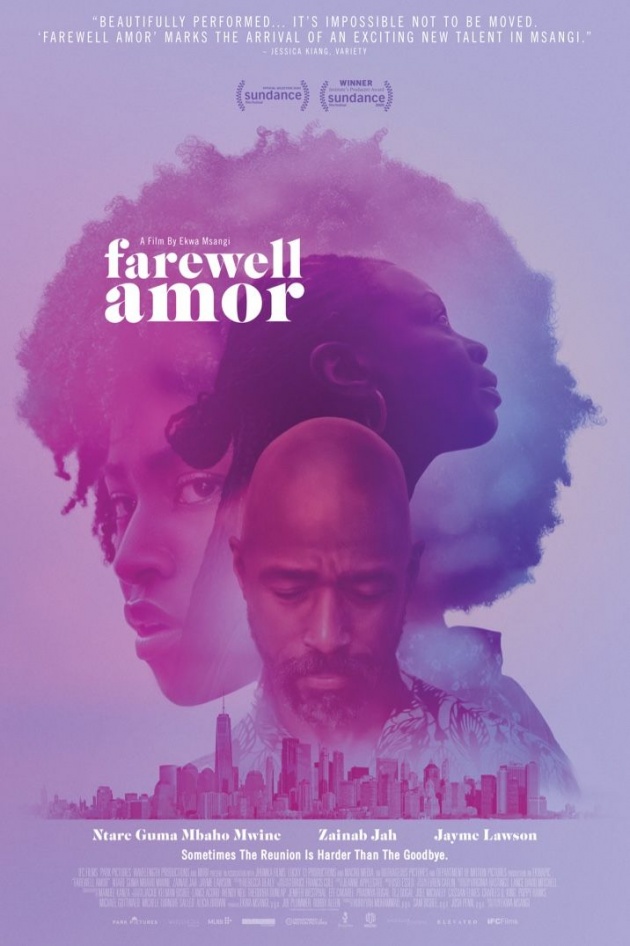 Reviewed on Saturday 19 December 2020, streamed on Mubi (UK)