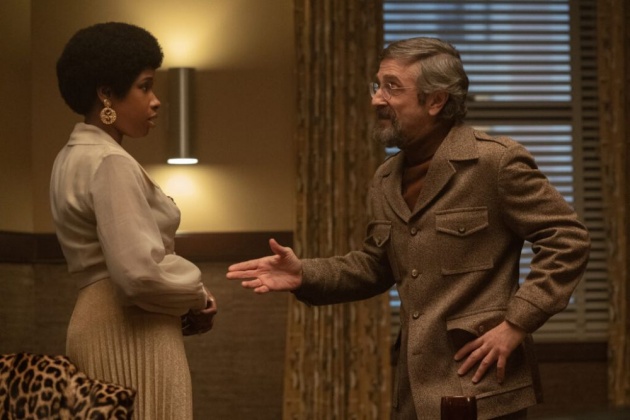 Pictured: 'Gotta hand it to you, Miss Franklin.' Aretha (Jennifer Hudson) meets record producer Jerry Wexler (Marc Maron) in the Liesl Tommy-directed Aretha Franklin biopic, 'Respect'. Photo credit: Quantrell D. Colbert. Still courtesy of MGM Studios (US) / Universal Pictures (UK)
What do we want from a musical biopic? First, we want to see a contemporary star as near as damn impersonate or at least embody a long-dead musical artist. Second, we want to know something about the subject. Where did they come from? Who spotted their talent? How did they get their big break? What happened afterwards? Third, we want to be uplifted. The subject is redeemed for all of their lousy life choices by their music, a musical choice. Biopics sometimes end tragically but the performer invariably leaves something behind. Invariably, we leave the cinema humming or singing the artist's songs.
Biopics can be award magnets. Sissy Spacek, Jamie Foxx and Renee Zellweger won Oscars for playing Loretta Lynn, Ray Charles and Judy Garland in Coal Miner's Daughter, Ray and Judy respectively. They can make stars out of unknown actors like Gary Oldman (who played Sid Vicious in Sid and Nancy) and Sam Riley (who starred as Joy Division lead singer Ian Curtis in Control). The British musical biopic is less uplifting than its Hollywood cousin and also less successful. They can crash and burn. You don't want to see Johnny Flynn as David Bowie in Stardust, a film that missed the mark as well as box office. Playing an iconic performer is also a double-edged sword. Fans know the subject almost as well as the filmmaker and they can quickly spot a fake. Generally, the more successful musical biopics at the box office tend to be women's pictures. Reese Witherspoon earned an Oscar for playing June Carter, the musician wife of moody Johnny Cash, in Walk The Line. This is because audiences prefer men in sports movies – defined by action – than in films about voices, characters struggling to be heard.
Respect a film about the rise, fall and rise again of soul singer Aretha Franklin (played with some style by Jennifer Hudson), is, on paper, a solid commercial bet. It has been criticised for being a biopic by numbers, hitting familiar plot points. There is an element of child abuse and mental torture, exploitation by a controlling male, escape, an equally abusive relationship with the performer's so-called saviour and a moment when the artist expresses themselves. The artist makes their own mistakes but then gets it right. There is also the pleasure of the creation of a popular song and performance scenes that have you (or maybe just me) on the edge of your seat. There are moments when Respect soars – and there are surprises too. The most interesting aspect of the film is how it appears to skip over some of Aretha's more horrifying experiences, but then returns to them. In one notable image, halfway through the film, we see a very pregnant Aretha, aged twelve, showing her belly in profile, a reminder that she was a child rape victim. It more than explains her ambivalent attitude to parenting.
Before diving into Aretha's story, it is worth pointing out what the film doesn't do. It shows Aretha admiring Black Panther activist Angela Davis (shown in archive footage). However, we don't see Aretha offer to pay Davis' $250,000 bail. The film ends with the filming of 'Amazing Grace', a comeback concert that took Aretha back to her gospel roots, but we don't find out why the documentary was never released until after Franklin's death. We see a boy slip into Aretha's bedroom and offer 'to be her friend', but we never find out if he was ever held to account for raping her. We see young Aretha refuse to speak but never quite understand why she returned to her father's pulpit. There is a scene in which Aretha's sisters remind her that their father, Clarence La Vaughn ('CL') Franklin (Forest Whitaker) beat their mother and how they would sit on the roof and sing to drown out the noise. Significantly Aretha cannot remember ever doing that, much to her sisters' surprise. It is as if Aretha's story is almost too dark and despairing to tell. Director Liesl Tommy and screenwriter Tracey Scott Wilson (who shares story credit with Callie Khouri) allow us to gain an impression of CL based on his business dealings rather than dwelling on his failure to prevent his daughter being abused. The most significant omission comes from the title song itself, namely the chorus 'sock it to me, sock it to me, sock it to me,' which is replaced by 're – re – re' as sung by Aretha's backing singers. The song's original chorus appears to invite domestic violence – and Aretha surely was mistreated – but the lyric change is perhaps one re-write of history too far. What you get from the biopic is that Aretha had a lot of children and one heck of a contested legacy. For all the power of her voice, she didn't top the music charts very often.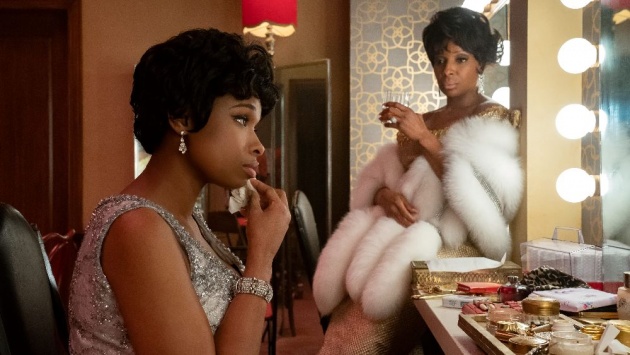 Pictured: 'Listen to the Queen.' Aretha Franklin (Jennifer Hudson) is dressed down by Dinah Washington (Mary J Blige) in a scene from the musical biopic, 'Respect' directed by Liesl Tommy. Still courtesy of MGM (US ) / Universal Pictures (UK)
Aretha's traumatic childhood in Detroit is rendered in broad strokes: the sudden loss of her mother relayed over the telephone, causing young Aretha to dash out into the street; the unfriendly intruder who rapes her when she is just twelve years old; the silence that enrages her father, a relative at least gets her to sit by the piano; and Aretha being coerced to perform. In a scene that signals a relatively modern movie cliché, the camera tracks round Aretha while she is singing as a young girl and by the time the camera movement is complete, she has matured into a young woman, the child actress Skye Dakota Turner replaced by Hudson, who plays Aretha from age 17 to 31.
Aretha's father knew Martin Luther King, and the civil activist makes a cameo. Actor Gilbert Glenn Brown has a point to prove, that an African American has the bearing and stature to play Dr King. He has the goods and briefly makes us forget David Oyelowo's performance in Selma. The young Aretha also attracts would-be music producer and manager Ted White (Marlon Wayans), who was twelve years Aretha's senior. CL is none too keen on him but realises that Aretha is hungry to get signed by a record label. He satisfies her unspoken yearning by taking her atypically to New York, where she is signed to Columbia Records. She records standards but her albums fail to take off.
An early highlight is a nightclub scene in which the young Aretha recognises that Dinah Washington (Mary J Blige) is in the audience; like Dr King, Dinah is a family friend. Aretha starts performing one of Dinah's songs causing the music legend to knock over her table. 'You don't disrespect the Queen when she's in the house,' Dinah roars. Aretha flees the stage in distress. In Aretha's dressing room, the two women talk. Not staying mad for long, Dinah, who died only a few years later in 1963, gives Aretha some career advice: she needs to start singing songs that mean something to her, not covers. However, the record label has no intention of letting Aretha develop her voice. During this time, she gets together with Ted, who promises her 'the night of her life', just 'not right now'. A false promise if ever I heard one.
After a confrontation in the Franklin family home, in which Aretha brings Ted for dinner and CL shows him his gun (I thought preachers dealt with psalms, not arms) Aretha and Ted get married. Unstimulated by her recording sessions, Aretha finds another producer, Jerry Wexler (Marc Maron) who encourages her to leave the city and record with a bunch of white musicians. Ted is well vexed; he's white musician intolerant.
The trip to the North Alabama town of Muscle Shoals proves fruitful for Aretha. There Aretha can direct musicians. Arrangements grow organically and we are treated to a song being teased into being. It was at Muscle Shoals where Aretha recorded her first hit, '(I Never Loved a Man) The Way That I Loved You'. However, early recording sessions result in Aretha being the subject of flirtatious behaviour. Ted gets red eyed and even though one of the musicians insists that the offender has been fired, Ted goads the messenger into uttering a racist derogatory turn. 'You hate me because I'm a n-,' says Ted. 'I don't hate you because you're a n-. I hate you because you're an asshole.' Cue the inevitable hotel room tussle.
Aretha thinks nothing had come out of her sessions. But then back in New York, one of her new songs is played on the radio. The rest is history.
There is a little residual jealousy between Aretha and her sister Carolyn (Hailey Kilgore) who is signed to another label. Aretha's career takes off and a European tour is proposed. We then have the third highlight: Aretha pelted with flowers during one show (it's a cultural thing). When the flowers land on Ted, he swats them away with irritation. However he is such an 'asshole' that we laugh at his discomfort. Tensions grow between Ted and Aretha. Although we are not shown it in sequence, Ted strikes her in a hotel lobby.
Aretha and Ted divorce, though Ted remains part of Aretha's team. She has a number of children, who are looked after by her family. Tommy shows her flair for getting the small moments right, when Aretha goes to her father's house having left Ted. CL had told her not to come back. There is a short but palpable pause before Aretha knocks on the door, an intake of breath.
Ted had complained that he wrote Aretha's hits. 'I just put your name on the record to make you happy,' comes the rebuke. The Franklin family reflect on the murder of Dr King; Aretha sings at his eulogy in an emotional performance that teeters on floods of tears.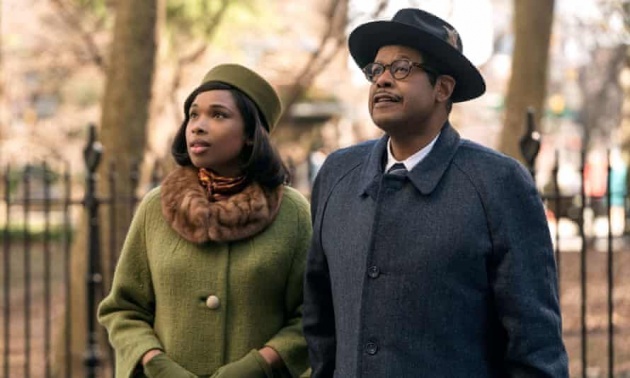 Pictured: 'Hey, girl. I can teach you something about playing a musical legend.' Jennifer Hudson and Forest Whitaker in a scene from the musical biopic, 'Respect', written by Tracey Scott Wilson and directed by Liesl Tommy. Still courtesy of MGM (US) / Universal Pictures (UK)
Towards the end of the film, Aretha loses the plot, insisting on tours even though she has developed a reputation for not turning up. Alcohol gets the better of her and in the film's fourth memorable set piece, she totters onto the stage, cannot compete with her backing singers and collapses.
We learn of her admiration for Angela Davis. Spurning her father's offer of going on the road with him, Aretha decides to record a gospel album, including that performance of 'Amazing Grace'.
Aretha Franklin is best known for the songs 'Respect', 'You Make Me Feel Like a Natural Woman' and 'Think', which she performed (aged 37) in the 1980 film, The Blues Brothers. I actually thought in that movie that she was a lot older. She has surprisingly few songs that one can say are hers. The film doesn't really examine her maternal self. Instead it ends with footage of the elderly Aretha performing in front of President Obama in 2016 – happier times.
Will Respect lead to an Oscar nomination for Jennifer Hudson? The singer-actress does indeed disappear into the role and distinguishes herself in the musical sequences, her facial contortions emphasising the crafting of a sound. The film itself has grossed $23 million in the US since its 13 August 2021 release date. Overseas it has grossed $5.5 million, making one-fifth of that sum in the UK. The studio (MGM) may yet decide to get behind Hudson towards the end of the year, so there's a chance. However, 'Best Actress' is likely to be contested between Kristen Stewart for Spencer, Lady Gaga for House of Gucci, Jessica Chastain for The Eyes of Tammy Faye and Frances McDormand for The Tragedy of Macbeth. Yes, there's definitely room for Hudson.
Reviewed at Screen 10, Cineworld Ashford, Kent, Sunday 12 September 2021, 16:20 screening
.