Pictured: Getting ready for a hairpin turn, Alexia (Agathe Rousselle) goes to work in a scene from 'Titane', a French horror black comedy from writer-director Julia Ducournau. Still courtesy of Neon (US) / Altitude Films (UK)
Contains spoilers from the outset
Julia Ducournau would have been the last director to expect to win the Palme D'Or at the 2021 Cannes Film Festival for a film, Titane, about a female serial killer who has rough sex in the backseat of a car with the car itself. Since when did realism and serious intent get neglected by the jury? It turned out that Jury President, Spike Lee, forgot that he was supposed to wait until the end of the ceremony before announcing the Grand Prize, but then Spike doesn't do anything conventionally.
Titane gets more outrageous the longer it goes, with the protagonist's nipples leaking oil rather than milk as she pretends to be a fire chief's missing son whilst battling to contain her pregnant belly. The film retains a dark sense of humour and finally a point of human connection as the protagonist makes a sacrifice (of sorts) to the father she never knew she needed.
The film pays homage to the so-called cinema du papa, a contentious French genre that sets out to illustrate the maxim that father knows best. France has never had a female Head of State in spite of all that liberty, equality, and fraternity stuff. Conversely, it has an inferiority complex in the European Union. Ducournau does not so much subvert the tropes of the cinema du papa rather shows the sadness that lies beneath it. Given the chance to be a father again, a man will lie to himself and test moral boundaries, just as in Mary Shelley's Frankenstein.
After a signature car crash at the beginning of this, her second film, Ducournau gives us an image of a young girl with a metal brace around her head that reminds us of Brigitte Helm in Fritz Lang's Metropolis. Young Alexia (Adèle Guigue) quietly loves the car in which she was travelling after she kicked the back of her father's seat and caused an accident that resulted in metal being inserted into her head. Papa (Bertrand Bonello) was playing 'Wayfaring Stranger' by the band 16 Horsepower that annoyed her considerably – since when did 'I'm just a poor wayfaring stranger/travelling through a world of woe,' become suitable sentiments for a kid? As an adult, and portrayed by newcomer Agathe Rousselle, Alexia is still messing around with cars at an auto-show in which she straddles suggestively on a Cadillac bonnet. Alexia has a fan base, including a young man (Thibault Cathalifaud) who follows her to her car and presses her for a kiss. We perceive Alexia to be in serious danger, but she can handle herself and – we discover – it isn't the first time. There is a series of unsolved disappearances and after the first half hour of the movie we have no doubt that Alexia is responsible.
Alexia also makes friends with another dancer, Justine played by Garance Marillier, the star of Ducournau's debut feature, Grave (Raw). Ducournau likes to re-use character names. Alexia was the name of the main character's sister (as played by Ella Rumpf) in Grave and Marillier is playing a character called Justine for the third time in a Ducournau film, after Grave and the short Junior. Alexia is attracted by Justine's nipple rings and there is a wince-inducing bathroom scene in which Alexia gets her hair caught. Justine assured Alexia that the nipple ring doesn't hurt but Alexia puts that sentiment to the test.
Titane becomes certifiably bonkers around the twenty-minute mark. Alexia is cleaning up after killing her super fan with her hairpin - we are introduced to her as an adult in a long tracking shot in which she adjusts said hairpin. – when she hears a loud thumping outside. It turns out that the fan isn't the only one driven wild with desire. The Cadillac is summoning her. We next see Alexia inside the car, holding onto a pair of seat belts in the back, experiencing orgasm as the Cadillac jerks on its suspension. This scene might have shunted a proportion of the audience towards the exit but because of the earlier killing, we remain gripped by the serial killer story. Alexia causes Justine pain when she kisses her in a later scene – driven by a desire to bite metal – and a trip to Justine's shared house turns into a bloodbath. We feel for a young man who comes out of one of the bedrooms. 'How many are here?' Alexia asks. The young man reels off a list. It is the film's second biggest laugh. Alexia rolls her eyes before continuing her killing spree. When she gets home, she locks her parents in their bedroom and goes on the run.
Ducournau and her script consultants, Jacques Akchoti, Simonetta Greggio and Jean-Christophe Bouzy, seed the film's second most outrageous development through a news broadcast and a poster referring to a missing boy. Alexia decides to cut her hair, break her nose (in another wince-inducing scene) and pass herself off as Adrien, the son of a fire chief, Vincent (Vincent Lindon). Adrien is also the name of a character in Grave. Alexia presents herself (as Adrian) to the police. Vincent is summoned to collect him. Alexia's plan is to run away at the earliest opportunity. She remains silent. Vincent meanwhile is overjoyed. He wants to make up for lost time. There are edgy scenes as Vincent walks in on Alexia while she is hiding her womanhood and a dance scene that turns violent.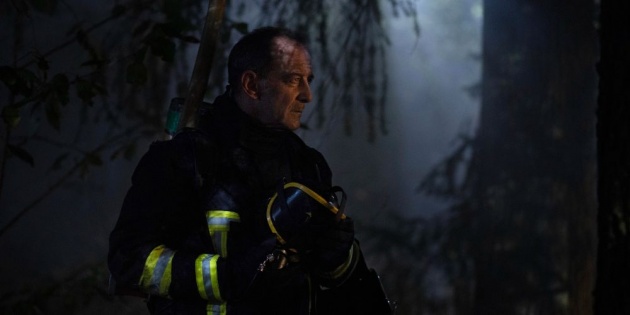 Pictured: Fire chief Vincent (Vincent Lindon) in a simulation exercise in a scene from the French horror film, 'Titane', written and directed by Julia Ducournau. Still courtesy of Neon (US) / Altitude Films (UK)
At the fire station, there is some scepticism about 'Adrien', principally from a junior colleague, who had saved Vincent a meal and regards himself as Vincent's surrogate son. 'Adrien' is brought to the station and at one point is summoned onto a call. An old woman (Catherine Frot) lets the fire crew in. Her son is in bed. There is something wrong with him. But then the woman herself collapses. 'Adrien' is encouraged to administer CPR to the tune of a well-known song, which forms the film's biggest laugh.
In the second half of the film, Alexia's attraction to metal is forgotten as she discovers she is pregnant. She is forced to tape up her belly in order to conceal her state from Vincent.
Ducournau's references don't just stop at Metropolis. Tattooed between Alexia's breasts are the words 'Love is a dog from hell,' the title of one of Belgium's most famous movies (as directed by Dominique Deruddere) derived from short stories by Charles Bukowski. There is a signature image from that film, a man with a bandaged face. Here, Alexia has a bandaged body.
Alexia meets Adrien's mother (Myriam Akheddiou), who isn't fooled. 'Promise me that you'll care for him [Vincent],' she tells Alexia, after discovering her pregnancy. Vincent requires injections and asks 'Adrien' to administer one. Vincent almost dies. At the finale, after a tragic incident, 'Adrien' cannot resist one last dance on top of a fire truck. Then (so to speak) the oil spills.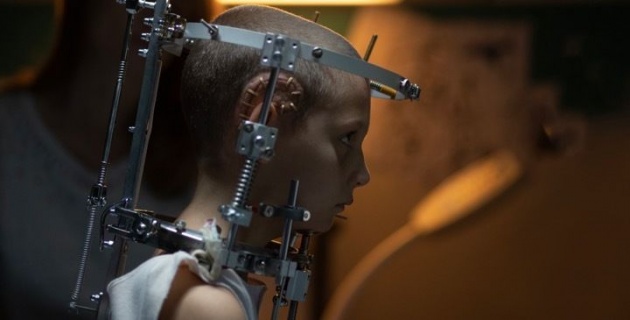 #
Pictured: Young Alexia (Adèle Guigue) in a scene from the French horror film, 'Titane', written and directed by Julia Ducournau. Photo: Carole Bethuel. Still courtesy of Neon (US) / Altitude Films (UK)
The finale is both a moral corrective and wish fulfilment on the part of Vincent. But you can never really recover what you've lost – you can only pretend to do so. This, I think, is the meaning of the final image. Why did this film resonate so much with the Cannes jury? Probably because it did not pull its punches and wasn't afraid of seeming ridiculous. Ducournau 'went for it'. There is no apology in her ambition and the film is consistently effective in both its horrific and comedic moments. Alexia isn't a victim – she has agency throughout. She doesn't kill for pleasure but for survival, thus re-writing the 'serial killer movie' playbook. The film deals with her emerging love for Vincent as a father figure as well as his feelings for the person filling his void. Lindon makes Vincent terrifically vulnerable, likable and above all unequivocal. 'As far as you are concerned, this is my son,' he tells his crew. 'I am God, and this is Jesus.' He is a proud father, professing loyalty no matter what. Moreover, he follows through.
If anything, Ducournau inverts the proposition by which fathers assume power. They can only do so once they have children. It is children who confer a status upon men, who define them, and not their own inherent power. A father can only know best if there are children to listen. Otherwise, men know nothing at all. Ducournau extends a sympathy hug to the incomplete male in the final moments of the movie. It is a messy, vaguely threatening gesture, full of wonder and terror.
Reviewed at BFI South Bank (National Film Theatre), Screen One, London, Thursday 30 September 2021, 09:30am London Film Festival press screening.
For a review of Grave please see: https://www.bitlanders.com/blogs/52-films-by-women-vol-2-1-raw-dir-julia-ducournau/542382