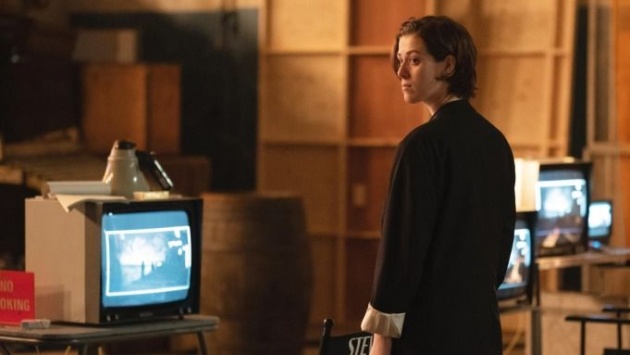 Pictured: Julie Harte (Honor Swinton Byrne) at the monitor in a scene from the British film, 'The Souvenir Part II', writer and director Joanna Hogg's sequel to her 2019 film, 'The Souvenir'. Still courtesy of A24 Films (US), Picturehouse Entertainment (UK)
There is a pitifully small group of people – filmmakers or people who can identify with the struggles of putting one's vision onto celluloid – who will enjoy Joanna Hogg's arthouse sequel, The Souvenir Part II. The rest of the world will find cinematic pleasure elsewhere. I had a great time – and for a film that is also about grief, that is saying something.
Hogg's 1980s-set follow-up is 'partly' autobiographical. Her protagonist, Julie Harte (Honor Swinton Byrne in what maybe her final screen role – her only one, in fact) shares Hogg's initials. In the 2019 'part one', Julie's boyfriend, Anthony (Tom Burke), a heroin addict who may have been a member of the Foreign and Commonwealth Office (the film is set in the 1970s) had died. Anthony was unreliable, had borrowed money from Julie and had even broken into her flat to ensure he had cash for a fix. In the sequel, Julie returns to Raynham Film School – everyone's favourite film school, in my humble opinion - to make a film inspired by her experiences, or, more accurately to directly represent them.
It is a cliché that artists take their trauma and try to turn it into a meaningful piece of work in order to expiate or make sense of what had happened – go backwards to go forwards, so to speak. You make art about what you care about. In shooting her movie, Julie steps outside of herself. She represents her relationship to Anthony through a series of telling moments, because that is what film is – telling moments. Julie doesn't try to understand Anthony through the finished film, but her collaboration gives her some perspective on him. Her lead actor, Pete (Harris Dickinson) provides some insight about Anthony's pain him as he struggles to understand his character, wearing a long, multi-buttoned coat. Every conversation about the film is really about Julie's past; how she didn't understand what was happening around her and – to an extent – how she is judged by her ignorance.
Returning to the role of Julie, Swinton Byrne gives a confident, convincing performance as a film director in the making. Julie is far more assertive, even when taken to task about her film's shortcomings. Three male lecturers call her in. 'Pink [binding] ribbon aside, your script is not professionally presented. There are no headings. This school turns out professionals. Frankly, if you continue in this manner, the film school cannot back you.' Julie has a plan B: to borrow £10,000 from mummy (Tilda Swinton, Swinton Byrne's real-life mother). Julie also borrowed money in the first film, fuelling Anthony's habit. This time, she resolves to pay her mother back.
Shooting goes less than smoothly. 'I think we should change the angle,' Julie announces after a set is built. 'The camera shouldn't see more than the character sees.' Julie's (mostly male) crew is understandably upset. Then she decides to turn a day scene into a night scene, causing a lighting change and Pete to take off his coat. 'The budget is the budget,' Marland (Jaygann Ayeh), Julie's production manager explains. Marland may be based on writer-producer Trix Worrell who was at the National Film and Television School around the same time as Hogg and gets a 'thank you' in the credits. There is a heated conversation in the car about Julie's working methods in which Julie remains silent. Pete puts a consoling hand or her arm.
Julie does try to move forward emotionally. She visits an American psychiatrist (Gail Ferguson) and has a drink with her editor (Joe Alwyn), whom she looks at admiringly. Julie invites him back to her place and gets an emphatic rebuff – the editor is returning home to cook dinner for his boyfriend, who is ill. This may be a reference to AIDS. It certainly takes the film briefly away from its narrow emotional focus and evokes the 1980s as much as the smoking indoors (on set and in a cinema), Julie watching the fall of the Berlin Wall and crying and a brief reference to the short-lived Poll Tax, resistance to which helped seal the end of Margaret Thatcher's premiership. (I have no doubt though that Julie's parents voted Conservative.)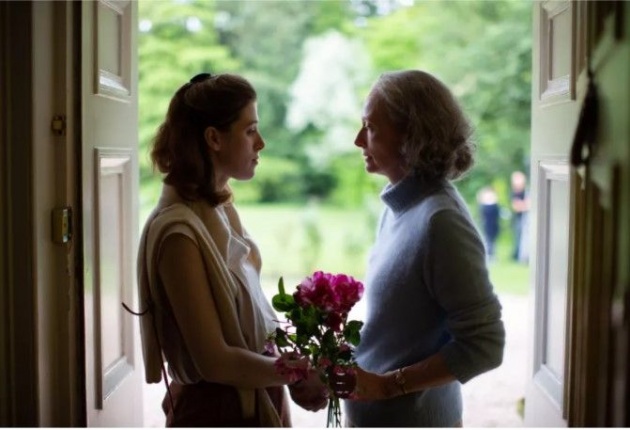 Pictured; Julie (Honor Swinton Byrne) comes home to her mother, Rosalind (Tilda Swinton) in a scene from the British sequel, 'The Souvenir Part II'. Still courtesy of A24 Films (US), Picturehouse Entertainment (UK)
There is a point at which Julie is vomiting in her parent's bathroom and you think, 'what lovely wallpaper'. It is, indeed, very flowery. This is followed by a later vomiting scene in Julie's own flat, where the décor is nowhere near as nice. Julie's own artistic endeavours are contrasted with her mother's. Her father (James Spencer Ashworth) is keen to show Julie her mother's first 'artefact', an attempt at an Etruscan pot (now a sugar holder). When her parents' three dogs are about, her mother asks her to put the pot out of the way. It falls from the mantelpiece and smashes. 'That's one term's tuition', her father says plaintively. Mother bends to clear up the mess – the 'sharp bits' – waving Julie away and suppressing her emotion. Earlier in the scene, Julie spoke about having to justify her work to her tutors. 'They give no direction.' 'Typical art school. They should try farming,' father says. 'I'm the director,' responds Julie. Julie refuses to describe her film to her parents. 'I had to explain it a thousand times at school,' she adds. Then the pot is smashed. The scene demonstrates that in creating art, the sensitivities of others are ignored. You simply don't have any headspace for them. This isn't Julie's intention – and she certainly wants to make amends. Her mother pulls her hand away, nursing her cut. Harm is a by-product. In another scene, Julie has to explain to an actress that she doesn't have a part in her film, having cast another student, a film director (Ariane Labed) to portray her surrogate self instead. 'Don't say it isn't personal. Of course, it's personal,' the friend seethes, wine glass in hand. Film directors everywhere will recognise the pain of this conversation. One choice made is another choice excluded.
Julie's own endeavours are contrasted with those of another student, Patrick (Richard Ayoade, playing him as the life of the party, except the one at the end). Patrick shows a scene to Julie. 'I wish I had made it,' Julie says admiringly. 'That's a cliché answer,' replies Patrick, who has two cigarettes on the go, one in each hand. He demands to know, 'how did it make you feel?' Patrick's select audience is polite and non-committal. 'I want to take the feeling from this scene and move it to the next to create an emotional flow. So how does it make you feel?' He doesn't get the answers that he is looking for so storms off. 'I love it,' says Julie to another student. That isn't what Patrick wants to hear.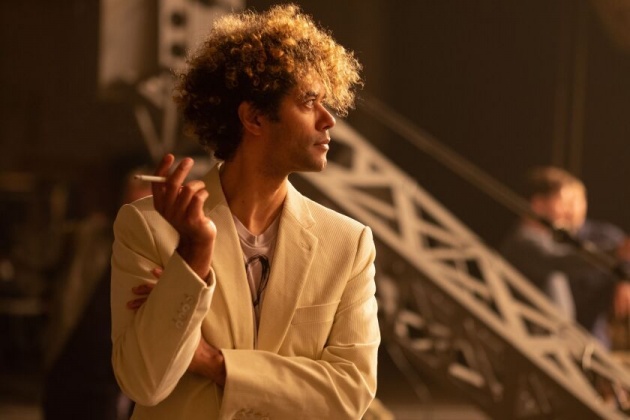 Pictured: Patrick (Richard Ayoade) smokes a cigarette in a scene from the British film, 'The Souvenir Part II', written and directed by Joanna Hogg. Still courtesy of A24 Films (US), Picturehouse Entertainment (UK)
Hogg often uses cutaways to compliment the action. Flowers budding. Julie's mother in her garden. Pigeons in the rafters. Old newsreel footage of Sunderland (referenced in Part One). At one point, Julie runs through the field – one might say Theresa May-style – flowers up to her thighs. The cutaways suggest Julie's quiet, contemplative centre. No fireworks. They also place her in a version of England, the so-called 'green and pleasant land' of William Blake's verse.
The film climaxes at a student screening. I immediately wanted to know which old cinema they used for the setting. (Having grown up in the 1970s and 1980s, it is certainly evocative.) Julie is invited to the stage where she is given the microphone by her tutor. 'I would like us to raise an imaginary glass of champagne to absent friends,' she tells them.
We have seen the rushes of Julie's film. But what we see on screen isn't the film that Julie Harte made, rather the one in her head, in which she and Anthony play the leading roles. Some critics have described it as reminiscent of the dream sequences of David Lynch. Others of Michael Powell and Emeric Pressburger, in particular, The Red Shoes. Ultimately, no filmmaker ever really makes the film in their head. The finale isn't so much a triumphant screening as an articulation of Julie's or Hogg's real vision. Such visions don't receive validation (awards or great reviews) but exist as the final measure against the work. Julia trusts her own feeling, even if it includes a gondola and the theme from Jean de Florette (used twice).
As for Patrick, Julie comes across him in Soho. (Misleadingly, there is a shot of the Empire Leicester Square showing John Badham's film, Dracula, a product of the 1970s not the 1980s.) Patrick had dropped out of RFTS. 'They shut me out. They wanted to make their film. I wanted to make mine. So I walked.' 'Do you think Anthony worked for the Foreign Office?' Julie asks him. 'He was a junkie,' says Patrick. There is a pause. 'Which way are you going?' 'That way,' replies Julie, walking in the opposite direction to Patrick. 'Excellent choice,' he cries, Ayoade improvising his ecstasy as Patrick heads down a dark, seedy alley.
The film ends with a party that bookends the one near start of The Souvenir Part One. Julie is asked if she has a man in her life? 'No,' she replies. As the party continues, we see it taking place in a sound stage. The camera moves from right to left as we see a film crew outside. The last word we hear is Hogg calling 'cut'.
Reviewed at Leeds International Film Festival, Vue 'The Light', Screen Twelve, Sunday 14 November 2021, 20:15 screening