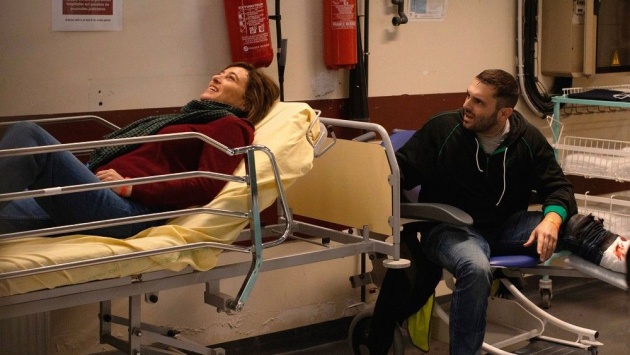 Pictured: Waiting for treatment, Raf (Valeria Bruni Tedeschi) and Yann (Pio Marmai) in a scene from the French comedy-drama, 'La Fracture', co-written and directed by Catherine Corsini. Still courtesy of Unifrance/Le Pacte
Director Catherine Corsini's Paris-set comedy-drama, La Fracture (English title: 'The Divide') begins with the sound of snoring. At first you think, 'it must be someone in the audience'. Then we see a twitchy foot emerging from the bottom of a duvet. The foot belongs to Raf (Valeria Bruni Tedeschi), a needy cartoonist who is hammering out texts – I love the French word 'texto' – to her long-time and soon-to-leave-her partner, Julie (Marina Foïs). Raf qualifies the words she is writing, replacing one harsh descriptor with something more balanced. No sooner has she sent one text than she hammers out another, cancelling out the first. The joke is that the recipient is lying right next to her, snoring away. 'Did you get my texts?' Raf asks the next morning with perfect sweetness (Bruni Tedeschi does sweetness rather well). 'What?' replies Julie, 'The one sent at 5:42, 5:46, or 5:48?' Raf is clearly too much. She and Julie have fought before but Julie, who has decided to find her own apartment, has reached breaking point. Both women are middle-aged; they have history. Between them stands Julie's teenage son, Adrien (Marin Laurens), who is skipping college to take part in a protest by the growing gilet jaunes ('yellow jacket') movement. He doesn't see Raf and Julie's fight as the end of the affair – he has become accustomed to their off-on dynamic.
Driving into the city in his truck with a group of his friends is Yann (Pio Marmaï), who has travelled 700km in his work vehicle to protest. Yann still lives with his mother and cannot afford a place of his own; his job does not allow him to progress in life. He is one of the have-nots, though for much of the film he is treated as a comedy character, someone who doesn't think through the consequences of his actions.
Neither Yann nor Raf are people with whom the viewer would like to spend much quality time. However, they are thrown together in the waiting room of a busy Paris hospital after Raf falls over, chasing after Julie on a cobbled road, and Yann is caught in the blast of a stun grenade, after goading riot police and receiving three warnings. Raf, who initially wanted to accompany Julie to a mutual friend's party before her accident, only cares about being reunited with her estranged lover. Yann wants to get treatment as soon as possible to be back at work the next day – he fears for his job.
Among those tending to the injured is Kim (Aïssatou Dialla Sagna), who has problems of her own. Her partner is looking after their sick baby at home and calls her for advice. Kim is sympathetic to the gilet jaunes movement. Like most of her colleagues (but unfortunately not all), she won't provide the names of those who took part in the protest to the police.
Corsini, who collaborated on the script with Agnès Feuve (whose credits include The Night Doctor) and Laurette Polmanss (who co-wrote Corsini's two most recent films, Summertime and Un Amour Impossible), is known more for slow-burning dramas than comedies. Here, emotions are right on the surface and in the viewer's face.
Both Raf and Yann are entitled in different ways. They both compete for medical attention and have different relationships with the vending machine; Yann loses his money trying to buy an unhealthy snack whilst Raf gently coaxes a bottle of water from it, then offers Yann some change. 'I'm not poor,' he insists. The pair are given different coloured wristbands. Raf's is red – she needs to be seen urgently. Yann's is blue; he has to wait.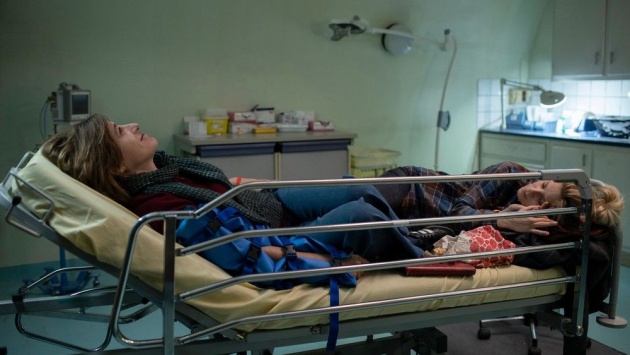 Pictured: Will an injured elbow make Raf (Valeria Bruni Tedeschi, left) more lovable? Julie (Marina Fois, right) thinks not in a scene from the French comedy-drama, 'La Fracture', co-written and directed by Catherine Corsini. Still courtesy of Unifrance/Le Pacte
Julie eventually makes it to the hospital and is reunited with Raf. In the waiting room, she also meets an old friend, Laurent (Jean-Louis Colloc'h) who is there with his partner. Shorn of daily familiarity, Julie and Laurent converse with nostalgia and fondness, a far cry from Raf's exchanges with Yann, as Raf tries to score points by mentioning her involvement with political activism in the early 2000's.
Raf's petulance and anger doesn't get her treated any faster, even though she is given a bed to lie in. She is testy with medical staff and when she is eventually seen describes herself as having taken part in the protests (duly noted to be used against her). Julie meanwhile is frantic with worry about her son, who is in the midst of protests on the Champs Elysees. Raf is able to speak to him whilst Julie is away and eventually passes on the message.
Yann's desperation is acute. He has to return his truck the next day or else risk being fired – he makes a promise to his employer over the phone that he looks increasingly unlikely to keep. Then fighting breaks out outside the hospital. People are desperate to get inside in order to flee the riot police.
The film boils down to a conversation between Raf and Yann: what did Yann hope to achieve by taking part in the protest? Yann explains that he hoped to speak to President Macron himself, to tell him how bad things are. His naivety almost makes him sympathetic, except that you find yourself thinking, 'surely he didn't expect that'.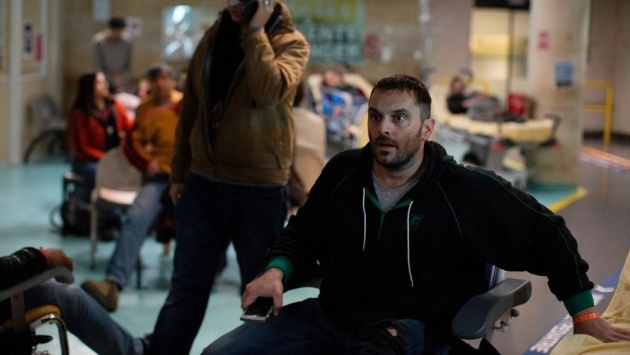 Pictured: 'I'm a lorry driver. Get me out of here!' Yann (Pio Marmaï) gets worked up in a scene from the Paris hospital-set comedy-drama, 'La Fracture', co-written and directed by Catherine Corsini. Still courtesy of Unifrance/Le Pacte
In the chaotic final third, Kim's partner brings their child into the hospital against Kim's wishes, though it turns out to be the right thing to do. The baby is feverish and in need of medical attention. Yann discharges himself even though he can barely walk by disguising himself as a hospital employee. He meets a policeman who confides that the police should have 'gone in' sooner. The officer conveys a sense of relish in beating up protestors and is glad to confide in someone whom he imagines shares his views. However, the officer sees Yann's injury. Rather than report Yann, he lets him go. However, there is a coda. It isn't long before Yann is back in hospital, having crashed his lorry.
Corsini contrasts the splitting up of a couple with the divisions within France. Her film is aimed at a domestic audience – which isn't a criticism. However, she isn't interested in characters who represent a wider group of people. Raf and Julie are not a typical couple, just as Yann is not a completely representative protestor. Yann gives the impression that he is going to a football match, rather than trying to effect political change.
The two out-patients arrive at mutual respect. Raf sketches a picture of Yann which she later offers to him. However, Raf is not completely softened. Drawing is an impulse, a way to keep herself busy. It is also a way in which she expresses her views of the world. Corsini makes the point that there is something wrong in a world where Raf's work is more valued than Yann's. After all, plenty of people can draw. In the United Kingdom, there is a desperate shortage of lorry drivers.
Raf and Julie represent social progress – two women not castigated by society for their relationship. The world leaves them alone to fight amongst themselves rather than expresses homophobic indignation. Yann's problems are entirely economic: his lack of finance inhibits him starting a relationship.
La Fracture is such an atypical Catherine Corsini film that you are shaken in a pleasant way by a director rethinking her aesthetic. The state of France – disappointed by reforms that have left people worse off – clearly has encouraged her to make a grittier, messier movie. It is not a film where characters change. Nevertheless change is essential. Both Raf and Yann do themselves harm through their stubbornness. They need to slow down and reflect rather than always be seen to be 'on it'. This, finally, is the film's raison d'être.
Reviewed at Curzon Soho, Screen Three, Shaftesbury Avenue, London, Thursday 14 October 2021, 20:45 screening (London Film Festival screening)