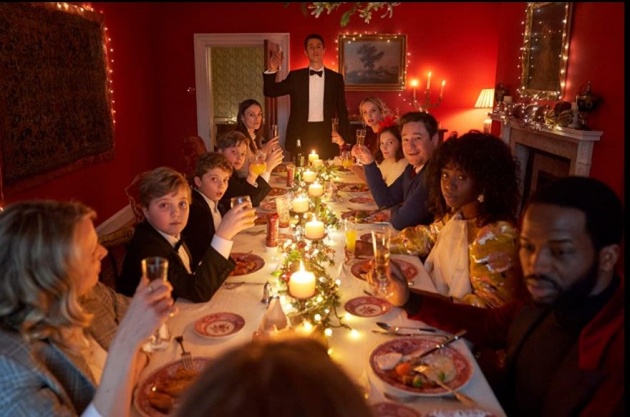 Pictured: Simon (Matthew Goode, standing) raises a glass to the mostly fatalistic throng in the comedy, 'Silent Night', written and directed by Camille Griffin. Photo credit: Robert Viglasky Photography / Altitude Films (UK)
Contains significant plot detail
The English dinner party comedy gets a make-over in writer-director Camille Griffin's feature debut, Silent Night. In it, a group of old schoolfriends are hosted by Nell (Keira Knightley) and Simon (Matthew Goode) for an evening of eating – only one potato each, unfortunately – and drinking - numerous flutes of Prosecco are consumed - as well as games and revelations, before all the guests and their four children are required to take a pill to spare them of the effects of poison gas, making its way across the country and killing everyone in its wake.
The film was conceived before Covid-19 took hold, though in practice anti-microbial resistance – a virus that resists all vaccines – has been discussed at the United Nations for years. What Silent Night gains in being zeitgeisty, it loses in execution, being not quite as funny as one would have liked.
At the start, there is simply no clue that any of the characters are driving or hosting their way to their death. Art (Roman Griffin Davis, last seen in Jojo Rabbit and the real-life son of the director) is chopping carrots when an object slams against the window, causing him to cut himself. Nell is listening to the radio, singing along to 'Christmas Sweaters', a novelty song performed by Michael Bublé written especially for the film, apparently the catchiest tune in catchy-tune-town. Art's main job, having had the blood from his finger stemmed with spit from both mum and dad is to free the chickens. There are no suicide pills for livestock, or for immigrants and homeless people – the latter detail is the film's one nudge towards political satire.
Before his saliva glands are called into service, Simon is adjusting his bowtie. His other two sons, twins Hardy and Thomas (twins Hardy and Gilby Griffin Davis, also the director's real-life sons) are on the Playstation. This being a low-budget film, I'm genuinely surprised that Griffin was allowed to reference such quality brands like Playstation, Coca Cola and Fanta. Normally, these brands are shown alongside major movie stars like Will Smith in King Richard for the purpose of telling you that if they are cool enough for The Fresh Prince of Bel Air, then you might also like to partake. I expect that the legal department of the Coca Cola Company hasn't seen the movie. The film also uses a clip from E.T. The Extra Terrestrial which passed the copyright process – Steven Spielberg is thanked in the credits.
What sort of people would gather for a farewell with people they haven't seen for ages rather than be with their parents or close relations? I suppose the intention is to make mass suicide normal which, in the age of Brexit, it is, if economic self-harm is a form of business suicide. Knightley is cast for her jolly hockey sticks persona which is a good attribute to have in the face of an impending apocalypse.
The motley supporting cast is headed by Sandra (Annabelle Wallis), a shallow and narcissistic woman – sadly, I have encountered her type. Her put-upon husband is Tony (Rufus Jones), a walking sponge of indifference, though the apple of their sweary daughter's eye. Eleven-year-old Kitty (Davida McKenzie) is a Violet Elizabeth Bott-type who runs in to find Art and insists on having sticky toffee pudding for dessert. She trades curse words with Thomas and Hardy bursting into the bathroom and generally has inherited the worst aspects of her mother's personality. 'You're wearing my education on your feet,' Kitty curses her mother, a pointless complaint under the circumstances.
Far more companionable are Bella (Lucy Punch) and Alex (Kitty Howell-Baptiste), the former is also one of Nell's closest friends. Alex is rather delicate, refusing alcohol – she asks for water and is given Fanta instead. During a party game, Bella confesses to having slept with Tony, to help cement his relationship with Sandra. (You offer an alternative to make you appreciate what you have already.) Sandra thunderously disapproves but it is the end of England, so what can you do?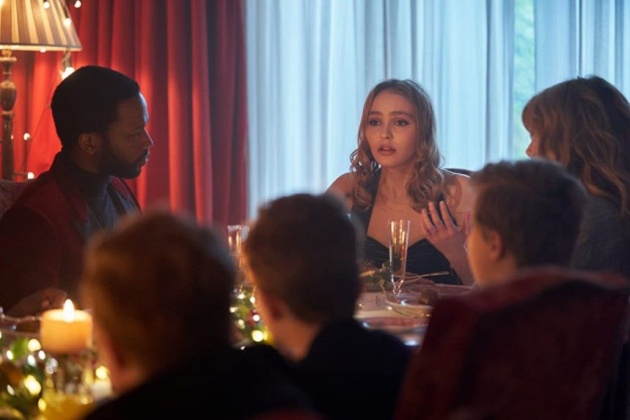 Pictured: James (Ṣopé Dìrísù) and Sophie (Lily-Rose Depp, centre) in a scene from the comedy, 'Silent Night', written and directed by Camille Griffin. Photo: Robert Viglasky Photography / Altitude Films (UK)
James (Ṣopé Dìrísù) has brought his young American girlfriend, Sophie (Lily-Rose Depp) to meet his friends. Sophie is pregnant and an outsider. James, a doctor, feels he has to justify her: 'she's a good person'. Sophie expresses some dark cloud-scepticism – she doesn't want to take the pill, advertised on the website 'exit.gov.co.uk'. This puts her in the same camp as Art, who would prefer that his pill is given to an immigrant or homeless person. His questioning is prompted by a newspaper headline
Art is the real focus of the drama and for good reason – the director knows that her young son is a star, as he proved for Taika Waititi. He defies his parents and, in the second half of the movie, runs away, to be confronted by some victims of the dark cloud. Before then, in a lighter moment, Simon and Tony return from robbing a supermarket to satisfy Bella's need for sticky toffee pudding (the packaging suggests Waitrose, a middle-class UK brand) and Nell's bedroom is claimed by Sandra – Bella is disappointed.
The black comedy really kicks in during the second half, notably when Alex vomits up her pill – having finally succumbed to alcohol – and the twins ask Simon for Coca Cola to accompany the fatal medicine. One of the boys complains that the two glasses aren't level; Simon has to fetch a second can. Then they complain that it is room temperature, so he has to fetch some ice. Before then, at lunch, Sandra asks Simon why he never fancied her. She confesses to having a crush on James, who is similarly indifferent.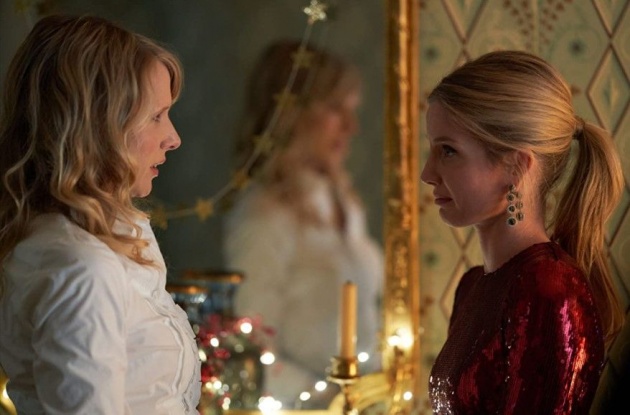 Pictured: Bella (Lucy Punch, left) and Sandra (Annabelle Wallis, right) exchange a greeting in the English comedy, 'Silent Night', written and directed by Camille Griffin. Photo: Robert Viglasky Photography / Altitude Films (UK)
James is the calm, medically minded centre of the film – Art comes to him to confess his concerns about the pill. In a later scene, when Nell discovers that Art is with Sophie, she is furious. 'I'm his mother,' she screams.
The cloud is represented by two cutaways (effect shots) making it way through a deserted Oxford Street, London's main shopping thoroughfare, and through a London Overground station. Having found some dead passengers, Art is carried home with blood on his face. He collapses and subsequently doesn't take the pill.
The film's producer, Trudie Styler, has a cameo as Nell's mum. Nell calls her and thanks for the house. One wonders whether the location really belongs to Styler and her pop star husband, Sting. When Bella realises that Alex has thrown up her pill, she stabs her, arguably a less painful death. In a different form of demise, we watch Nell suck at a game of Charades.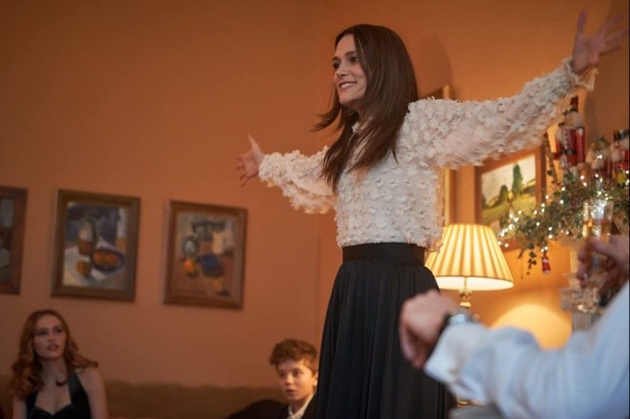 Pictured: Nell (Keira Knightley) makes a claim to be the Angel of North London in a scene from the English comedy film, 'Silent Night', written and directed by Camille Griffin. Photo: Robert Viglasky Photography / Altitude Films (UK)
End of the world movies have a certain inevitability – Griffin imagines that gas masks will be of no help to the population. However, the very final shot might give comfort to Covid or other sceptics as a young character's eyes open in classic horror movie tradition. Silent Night can be applauded for its starry cast being upstaged by a child, but it doesn't have the wit of a similarly dark themed dinner party comedy, the 1992 Peter's Friends, co-written by Rita Rudner, which deserves reappraisal.
Reviewed at the Gulbenkian Arts Centre, University of Kent, Canterbury, Saturday 18 December 2021, 19:00 screening